Are you looking for the best hotels in Temecula Wine Country? As a Temecula local + travel writer, I have had the luxury of scouring my hometown in search of the very best hotels in Temecula Wine Country. In this article, I will share all of my favorite Temecula Winery Hotels, Old Town Temecula Hotels,  hotels near Pechanga, and even some vacation rentals that might interest you. And, because I love a good deal I am also sharing a local secret that will help you score great Temecula hotel deals every time you visit!
The Best Hotels in Temecula Wine Country- including hotels near Pechanga
Hotels in Temecula Wine Country
Ponte Vineyard Inn-  This is the place to go for warm friendly service. Ponte Winery's space is beautiful both inside and out, and every room has a great view of the grounds. Their Cellar Lounge restaurant is one of the only places in wine country with a full bar for anyone who needs a break from wine and is looking for cocktails. Ponte Vineyard Inn also happens to be the #1 Hotel in Temecula Wine Country & a Top 10 Hotel in the U.S. as rated by Tripadvisor. Learn more about Ponte Vineyard Inn Ponte Vineyard Inn here.
South Coast Winery Resort and Spa- Staying in either the hotel tower or one of South Coast Winery's 82 villas will definitely make you feel like you're living the dream in Tuscany. Many visitors return again and again because they love going to the acclaimed Vineyard Rose Restaurant on site, getting pampered at the Grapeseed Spa, and of course to get a taste of their California award-winning wines. Learn more about South Coast's accommodations here.
Carter Estate Winery and Resort-  Carter Estate Winery and Resort is the place to live like you're in luxury with their gorgeous suites, private poolside cabanas, and in-room spa services. This spot tends to be a little quieter, making it the perfect spot for a serene getaway or bridal shower. Check out their website here.
Peltzer Guest Retreat- Peltzer feels like it would be in a quiet rural setting with its timeless farmhouse chic decor and friendly pups roaming around, and yet it's still in a great location making tons of other wineries around it accessible for guests. There is just one 1-bedroom suite making it truly your own for a honeymoon or small family vacation. Check it out here.
Inn at Churon Winery- Churon Winery is perched up on a hill like a little castle right in the middle of wine country, making it a perfect place to stay if you want to chance to go explore around you. All the rooms are spacious with jacuzzi baths and hints of French decor.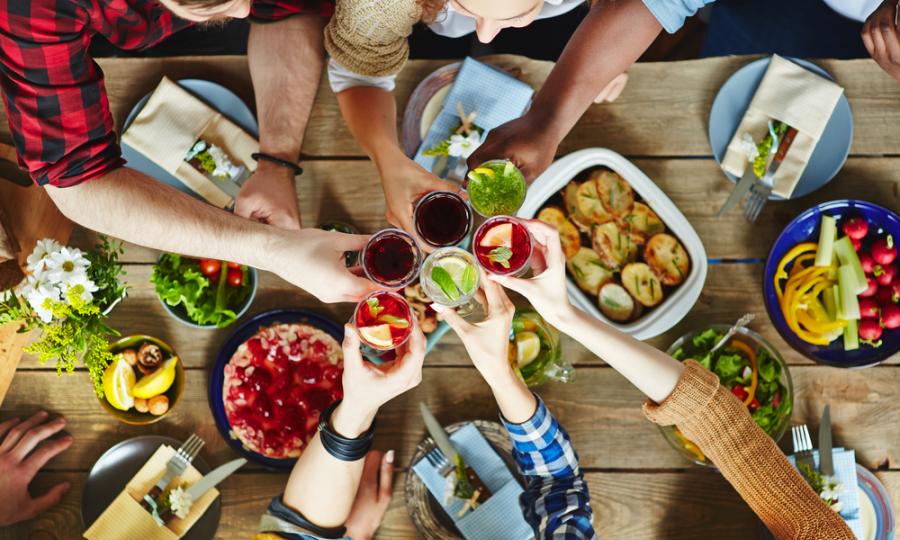 Pin for later-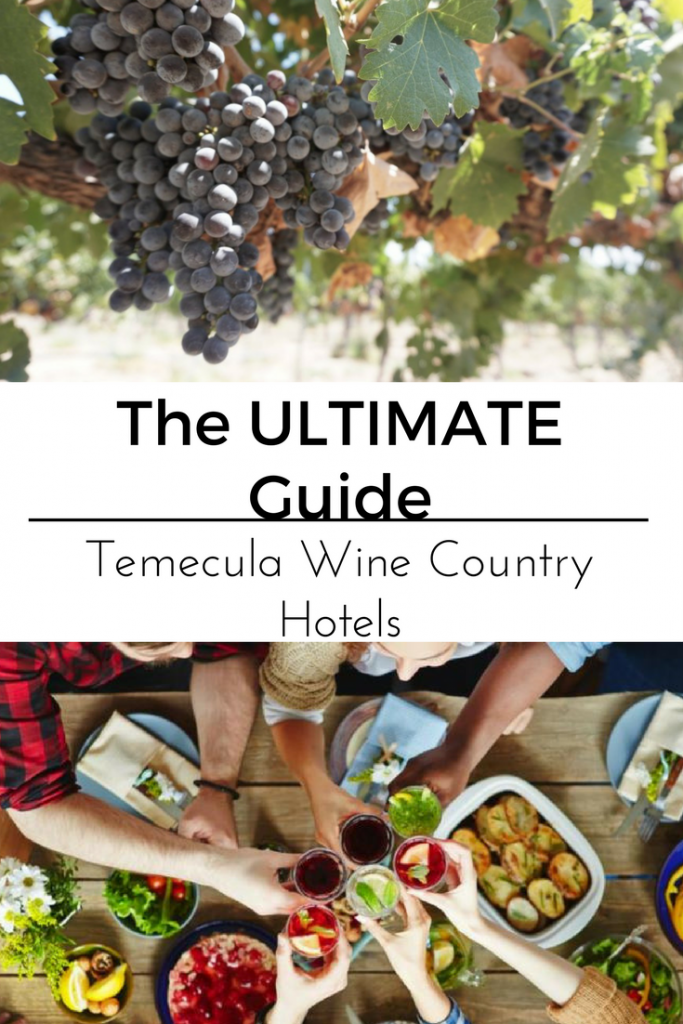 Old Town Temecula Hotels
Springhill Suites Temecula Valley Wine Country-  This Springhill by Marriott is located right off the I-15 freeway at the entrance of wine country AND it is within walking distance of Old Town Temecula, making it super convenient and easy to access all the attractions Temecula has to offer. See their site for details.
*Please note that the hotels in Old Town are, well, older. Expect outdated furnishings, also some back up to the freeways and the walls are older both of which can equal loud noises so earplugs may be a good idea.
Palomar Inn Hotel-  Temecula actually has some pretty awesome history, and if you stay at the Palomar Inn it'll be just like you are a part of it. There are only 10 rooms in this landmark built back in the 1920's meaning you get the cozy feel of a small family-run inn. Learn more here.
The Hotel Temecula- This hotel originally arrived when the railroad did in 1883 and they have museum quality artifacts to prove it. The owners will be able to tell you story after story about the town, so it really is an experience. We've heard its historic charm creates a really romantic setting too.
Ramada Temecula Old Town- This Ramada is an affordable option that keeps you close to all that Old Town Temecula has to offer.
Rodeway Inn- The Rodeway has all the basics for your typical hotel stay, but it's the location that really makes this place special. It sits right on the edge of Old Town meaning it's in walking distance from all the bars, shops, and restaurants but it is also easy to escape away to Wine Country. Please note this hotel is a budget option and
COMING SOON… Traux Hotel is coming soon to Old Town Temecula, complete with rooftop pool and bar. Check it out here! I cannot wait for this beauty to open!!!
Temecula Resorts
Temecula Creek Inn The Temecula Creek Inn is located right on a beautiful golf course, so it's the best place to stay if golf is your Temecula plan. Cork Fire Kitchen is one of the best spots for brunch in town and it's right on site. (Check out their brunch + all of the brunch options in Temecula here)
Pechanga Resort and Casino- Pechanga Casino isn't all about gambling, it's actually a great place to stay while you enjoy Temecula. There are award-winning dining and spacious guest rooms, plus they are undergoing a $285 million hotel addition so staying here is only going to get sweeter!!
Temecula Bed and Breakfast Options
Inn at Europa Village– Europa is the perfect place to re-charge and be treated to the full bed and breakfast experience. Chef Dean is on site to whip you up some amazing meals and the long experienced innkeepers, Dean and Nicole, are there to take care of the rest.
Rainbow Inn Bed and Breakfast- Although this B&B is in Fallbrook, it's a great place to stay and all the attractions of Temecula are still pretty easy to access. The hosts are great and the views of the valley are stunning.
Temecula Airbnb & Vacation Rentals
Wilson Creek Manor- The Wilson Creek Manor is available for full rental on weekends and as individual suites during the week. It is right across from Wilson Creek, one of the most popular and happening wineries in town. There will never be a shortage of things to do.
Vineyard House- This is the dream house, so why not bring your family along and pretend you live in it for a few days? It's got 5 bedrooms and an amazing backyard, but don't forget to wander off-site because there are also wineries within walking distance.
Mediterranean Estate- This is another dreamy home vacation rental with a touch of Mediterranean style. There's 7 room plus an optional casita making it a great place for a multi-family vacation.
Wine Country Cottage- The only way to truly experience the wine country life is to stay in a cottage with a big patio to sit out on while you watch the sunset over the vineyards. The Jeep Wine Tour will pick you up right at your door from this location and the Hot Air Balloon Tour is a five-minute walk away, making it the best spot for adventurers.
Cottages at Temecula Creek-  These cottages were built on the premise that Temecula needed something unique and off the beaten path to make the accommodations themselves an experience. Try these out when the travel bug bites and you need something different.
Que Syrah- This is a great vacation rental for any large group wanting to spend some time together, from wedding parties to work retreats to family get-togethers. It can hold up to 24 guests in its luxury suites and fun common areas.
Airbnb- There are tons of great listings for full homes in Temecula, so make sure to download the Airbnb app and check them out. Click here to SAVE $40 off your first stay.
Budget-Friendly Stays in Temecula
Listed below are some great options if you'll just be in Temecula for a short stay or decide to make a last minute trip and are having trouble finding a hotel. As always I recommend checking Tripadvisor to read travelers recent reviews before booking.
Hampton Inn and Suites
Embassy Suites Temecula Wine Country- The Embassy Suites is a great place to stay as a family with their cozy suites that have a "mini living room" and their happy hour specials that let mom and dad relax by the pool while the kids play. Breakfast is included and they'll even make you an omelet.
La Quinta Inn and Suites
Holiday Inn Express
Best Western Country Inn
Extended Stay America
Fairfield Inn and Suites
Quality Inn Temecula Wine Country-  The Quality Inn is a great place to stay on a lower budget and still get all the amenities you need and great customer service. There's free hot breakfast, free wifi, and a pool and hot tub.
Our Top 5 Things to do in Temecula
1 Head to the Wineries
Most people head to Temecula specifically for the wineries. If you want to know which are my favs check out this post here. I do recommend you get there early or visit during the week. By mid-afternoon, on the weekends the wineries are bumping (especially Saturdays).
2 Shop & Dine in Old Town
Old Town Temecula is a charming area full of unique shops, delicious eateries, & more. Stroll down the streets and through the shops. Don't miss a free tasting at the Temecula Olive Oil Company, walking through the fragrant Temecula Lavender Company (it smells heavenly in there and the lavender is all grown right here in Temecula), then check out the delicious spices and tea at the Old Town Spice & Tea Merchants, their staff is incredibly knowledgeable and can help you find the perfect spice, sugar, salt, or tea that you are looking for. They also make the BEST iced tea there. *Hint- you may run into one of our popular Temecula chefs in there as many of them purchase their spices from the Old Town Spice & Tea Merchants.
3 Check out Pechanga
Whether you are into gambling, golfing, relaxing at the spa, or chowing down on a delicious meal Pechanga has you covered. They also host amazing musical and comedy talent (we loved watching Seinfeld perform there) and I have heard their improv comedy club is great too!
4 Take a Tour
Hop on the Grapeline, grab some friends and hire a limo driver, or check out my favorite tour Temecula Valley Jeep & Wine Tours (be sure to tell Julie I sent you). Whatever your style I promise the wineries are more fun when someone else is in charge of getting you from point A to point B safely.
5 Ride in a Hot Air Balloon
One of my FAVORITE things about living in Temecula is waking up to hot air balloons in the sky. It never gets old, I just LOVE it!! We have many amazing balloon tour companies to choose from. Check them out on Tripadvisor here.
Have You Visited the Hotels in Temecula Wine Country Yet? Share your experience in the comments below.
Make sure to check out our local tourism office at Visit Temecula Valley for awesome itinerary options and more great info on visiting Temecula.
Looking for more about Temecula? Check out these related posts-