Having grown up in the Los Angeles area and now living a mere 90 minutes from the city, I have gotten to experience a ton of amazing things to do in Los Angeles. I think one of the things I love most about Los Angeles is the wide variety of activities you can do.
One day you can be at the beach enjoying the sun and the surf and the next day you can be up in the mountains in the snow. One thing I honestly had no clue was enjoying a zipline in Los Angeles. So, when I heard about Ziplines at Pacific Crest, I knew I wanted to check it out.
One weekend, I told the boys we will be ziplining in LA and we headed off to Ziplines at Pacific Crest. It is only 75 miles outside of downtown L.A. and I was happy that the drive was not up a windy mountain terrain.
I think my biggest concern was if it was going to be entertaining enough for my older boys. We have zip lined numerous times and I've noticed the thrill has waned a bit on some courses.
---
Zipline in Los Angeles at Pacific Crest
Ziplining in Los Angeles is an exciting adventure that offers breathtaking views of Southern California from high above the trees. One of the most popular zipline destinations in the area is Ziplines at Pacific Crest, which offers a variety of courses for thrill-seekers of all ages and skill levels.
One of the highlights of the zipline experience at Pacific Crest is the biplane courses, which allow you to soar through the air for up to 20 minutes at a time.
These courses are designed to provide an adrenaline rush, as you zip from platform to platform and enjoy the breathtaking views of the surrounding landscape.
In addition to the biplane courses, Pacific Crest also features sky bridges, which are high-flying walkways that connect the different platforms. These bridges offer a unique perspective of the area and are a great place to take a break and enjoy the views.
Whether you're a seasoned zipliner or a first-timer, the courses at Pacific Crest are sure to provide an unforgettable ziplining adventure. With its breathtaking views, thrilling biplane courses, and thrilling sky bridges, this is one experience that you won't want to miss while in Southern California.
---
Ziplining in LA at speeds of up to 55mph through the forest
When we got to the zipline tour I immediately realized we were in for a treat as the guides were cracking jokes and getting the kids in the spirit to do some zip lining. I saw my 14-year-olds eyes light up when he heard that you can go as fast as 55 mph on these zip lines.
Have no fear, before you go sailing 55 mph you will be well trained by your guides. Plus, you go on a couple of smaller ziplines to start with, to practice ziplining and braking. If anyone is uncomfortable after the practice ziplines there is a way for them to exit the course.
Let me tell you that was definitely one of the best parts of this course we went sailing on the Redtail zip line and the first words out of my son's mouth were "whoa that's fast" as he flew across the forest. When you are flying through the trees at that speed it is unlike any other experience. I was the last one to go (besides our guide) and when I arrived the boys were laughing and chatting about how amazing that zipline was.
---
Well Trained Guides
Each tour has two guides that come with you on every trip to make sure you are completely safe. One guide goes before everyone on each zipline to help when people land and the other guide goes last to set you up on the ziplines. Not only are the guides entertaining but they are very well trained. Our guides had been working at the facility for several years.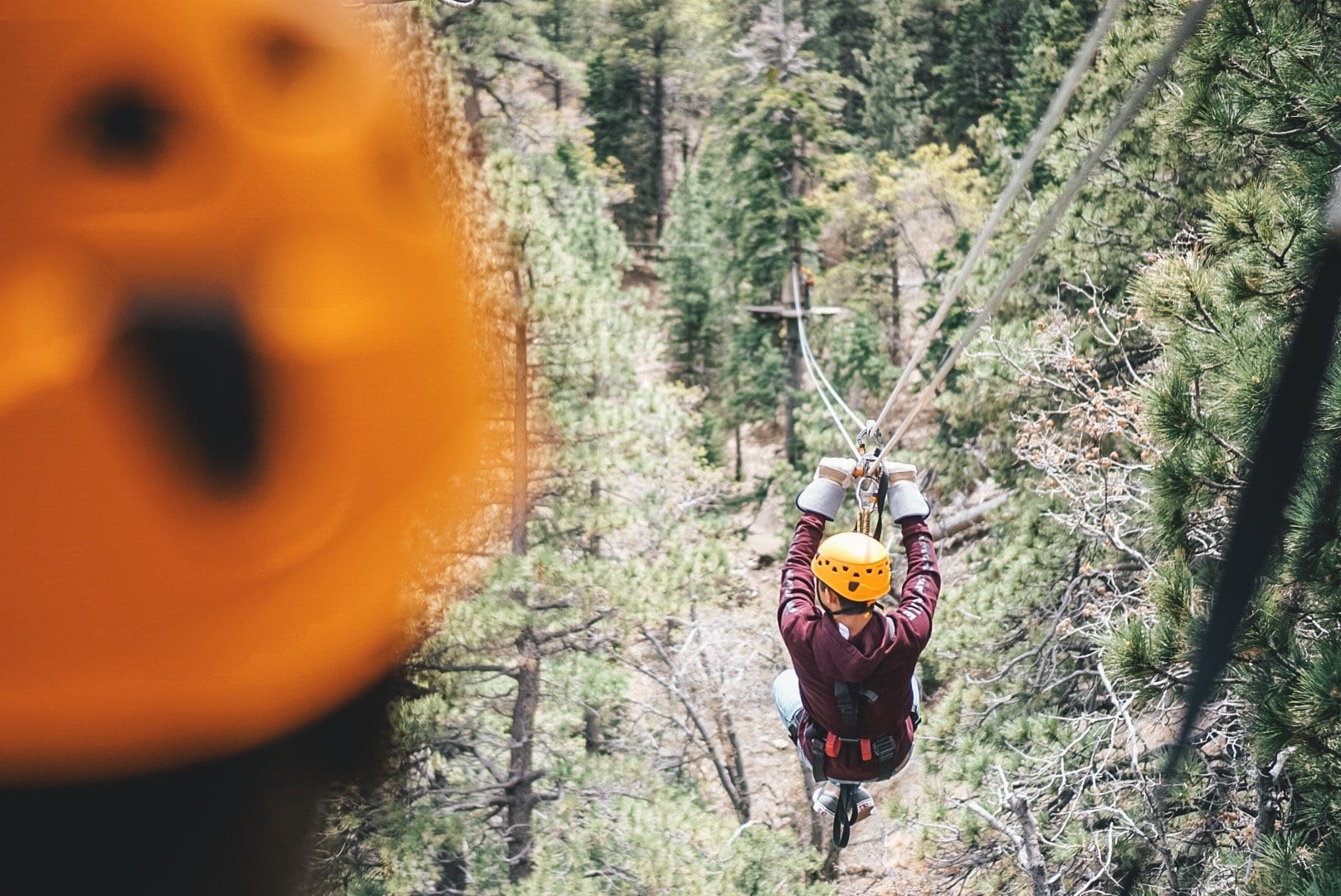 Along the way the guides keep the adults and kids entertained with different tidbits about the forest and of course some bad jokes. We found ourselves nibbling on a fir tree (turns out it tastes like an orange peel) and putting our noses inside the bark of another tree as it smelled just like butterscotch. The three hikes we took to the zip lines were pretty small and to be honest, I didn't even really notice the hike as the guides kept us entertained.
---
9 Exhilarating Ziplines, one is 1500ft. Long & More!
The Canopy Tour we took involved 9 ziplines that had us soaring 300 ft. above the forest floor. One of the ziplines was such an experience as it was 1500 ft. long. But, besides the 55mph ziplines and sailing 300 ft. above the forest floor (like that isn't enough) there is actually a ton more on this tour.
---
Rappel from two giant big pines (one is 90 feet high)
After landing after one of the zipline I see my sons eyes looking a bit nervous. I looked to see what the next zipline was, but it was not a zipline, we were getting ready to rappel 90 feet down an enormous pine tree. I would say the hardest part of the rappel is the jumping off, after that, it doesn't seem too bad, but boy does your stomach sink when you first step off that platform.
---
Two "Indiana Jones" style bridges.
The other adventure is traversing across some crazy bridges hanging high over the forest floor. The bridge that really stuck out in my mind was the one where our guide had us sit down and hang our legs over the edge. Wowza. That was amazing.
The views are unbelievable and even though you are strapped in, the feeling of sitting that high, with your feet dangling above the forest floor gives you some serious butterflies.
---
Overall
Overall, I could not be more impressed with Ziplines at Pacific Crest, it truly was the best ziplining we have ever experienced in California and right up there with some of the ziplining in places like Kauai and Costa Rica. The Canopy Tours range from $155-$165 and after this experience, we think it is totally worth it!
If you are in the L.A. area I would say this is an absolute must do. There are also other tours available, so check them out. It's a great way to see the other side of Los Angeles that is often overlooked. The mountains are stunning and this is an absolutely exhilarating experience.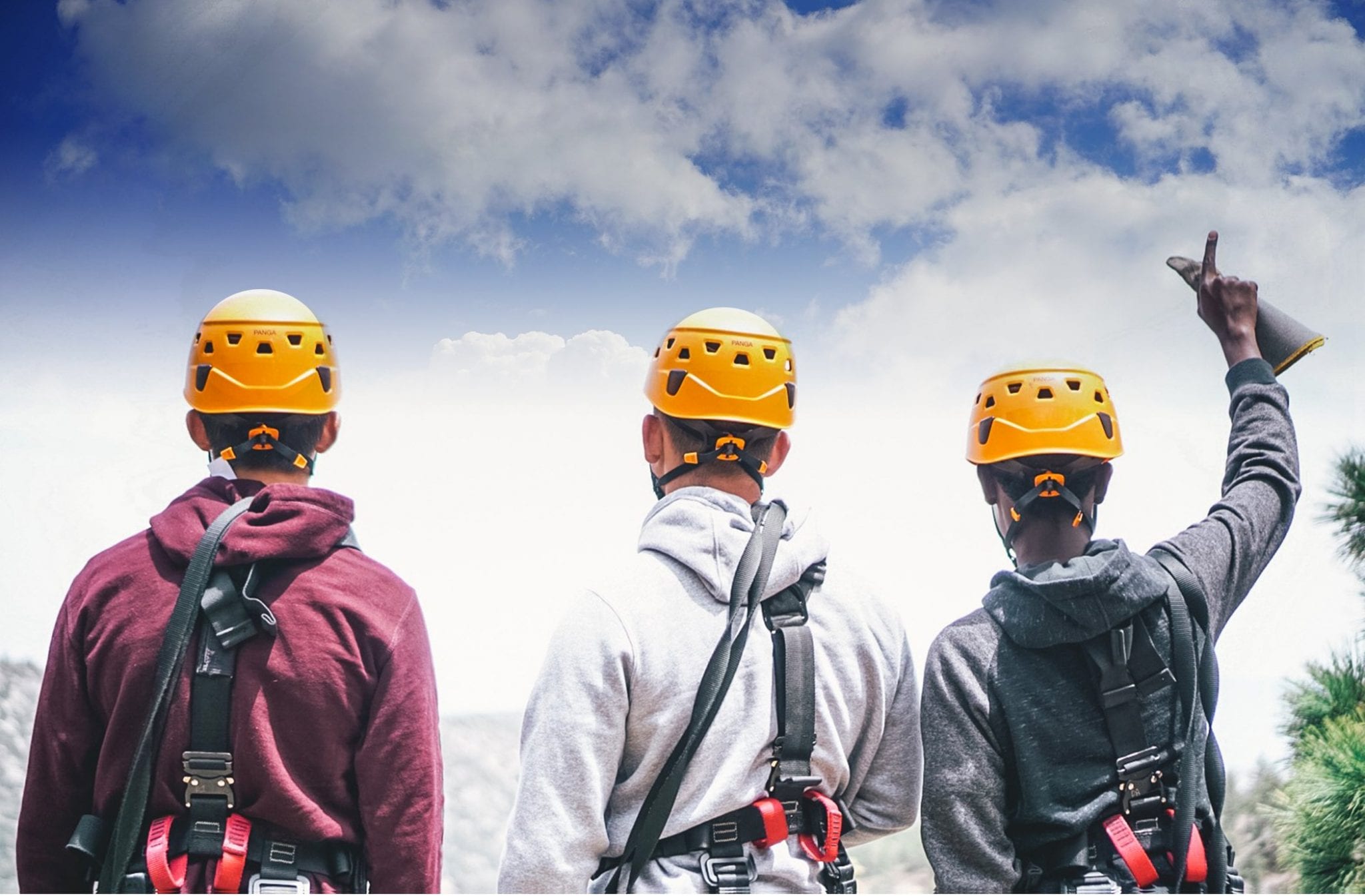 ---
Pin-It for Later: Zipline in Los Angeles! I've Found the Best Experience Ziplining in California
---
If you enjoyed reading about zipline in Los Angeles, you might also enjoy:
THE BEST KAUAI ZIPLINE EXPERIENCE HANDS DOWN!
ZIPLINE MAUI – A GUIDE TO THE BEST ZIPLINES IN MAUI
SKYLINE ECO-ADVENTURES ZIPLINING IN MAUI- A REVIEW
Pin for later –