Have you ever visited the Grand Canyon in Arizona? If you haven't, you definitely owe it to yourself to experience one of the most popular destinations in the world. Every year, millions of people come to see the canyon's amazing vistas and unique geology.
While the South Rim is the most popular stopping point for most travelers, The North Rim offers a different perspective of the canyon and is often less crowded than the South Rim.
Hiking to the bottom of the canyon is another great way to experience its majesty. Although it is a demanding hike, you are rewarded with views that cannot be seen from the rim.
Regardless of where you start, it's all about how you finish, and each of the AirBNB Grand Canyon properties I've located below will make sure that you end your trip on a beautifully high note.
---
Our List of Airbnb Grand Canyon Rentals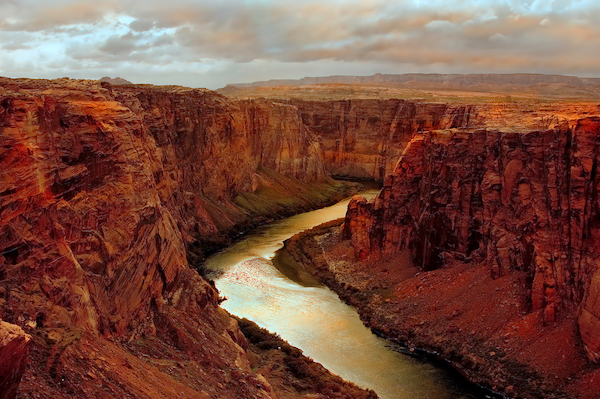 ---
If you plan on seeing the North Rim of the Grand Canyon, there are a number of campgrounds and privately owned properties, but nothing quite like AirBnB Grand Canyon rental called the bunkhouse.
Located roughly 10 minutes south of Colorado City, Arizona, at the LV Bar Ranch, this bunkhouse puts you in a prime position to visit a number of national landmarks, including Zion National Park, Sand Hollow Reservoir, Coral Pink Sand Dunes State Park, and the North Rim of Grand Canyon National Park.
The bunk house comes with a full kitchen, three beds, and one bath, and can sleep up to six guests. Amenities include a 65-inch television, WiFi, hot showers, air conditioning, and a fire pit.
Free parking is offered on the property as well. Your furry friends are allowed as long as you let the property owner know beforehand because there are horses and other animals already located on the land.
---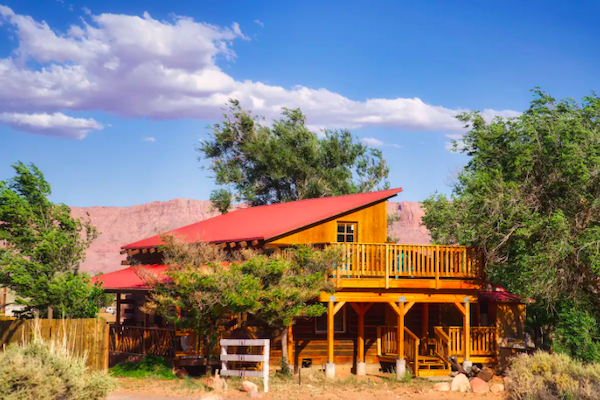 Another AirBnB Grand Canyon North Rim property that's located near Marble Falls, Arizona, which is approximately an hour and a half away from the North Rim entrance, this absolutely stunning cabin sleeps up to seven guests in two bedrooms.
Hike through the Vermilion Cliffs National Wilderness Area, or open the loft doors and take an afternoon to breathe in the natural beauty of the cliffs while the stress of everyday life melts away.
There's no television on the property to distract from the gorgeous surroundings, but the property does have WiFi for your needs. Nearby are the Glen Canyon Recreational Area, the Colorado River, and, of course, the North Rim of the Grand Canyon.
The cabin is rustic but stylish and comes fully furnished, has a full kitchen, a living area, a spacious bathroom, a dining area, hot water, a washer, and a dryer. It's the perfect base camp spot for exploring the northern part of the Grand Canyon and surrounding areas.
---
The Grand Canyon National Park's largest lodging facility is located in Grand Canyon Village, which rests inside the park. The room is perfect for two while it sits near the South Rim and is a quick walk from the canyon. It is a cozy place big enough for a couple looking to reconnect and recharge.
The room is a no-frills option because let's be honest, you're going to be out on the miles and miles of trails that the national park is known for. Bright Angel trail, the South Rim trail, and the Trail of Time are close to your doorstep.
Plus, you're a short way from the Grand Canyon Park Headquarters and scenic vistas such as Hopi Point, Yaki Point, Shoshone Point, and Duck on a Rock Viewpoint.
The lodge area features a cafeteria and curio shop nearby, a bathtub for relaxing the day away, cable television, WiFi, a refrigerator, and a coffee maker. You are going to want to add this as a must-stay for your AirBnB Grand Canyon list!
---
Outdoor adventurers will love this camper option that sits off of Highway 64 and is just 20 minutes from the Grand Canyon entrance.
The camper is one bedroom and one bathroom and can sleep up to four guests, which is perfect for those travelers who are looking to hit the canyon and trails early in the morning.
The camper includes all water, electricity, and septic needs, plus comes with a stand-up shower stall, a kitchen with a 3-burner stove, microwave, refrigerator, and a dinette to enjoy the evening with.
Amenities include a sofa couch, two swivel rocking chairs, a bar area, television, and a DVD player. It's located in a camper park, but you'll want to buy groceries in Flagstaff or Williams before heading out. Nearby is a gas station, convenience store, and a small restaurant.
---
The King Tent is a glamping option for couples and is located on the Wander Camp property off Highway 64 on the way from Williams to the Grand Canyon's South Rim entrance.
This is an off-grid location meaning there is no electricity at the camp, only solar lanterns and plenty of dark skies, which is perfect for star gazing. Although it may lack certain modern amenities, the camp does have warm showers, running water sinks, and basic toiletries.
Guests will need to bring towels and other desired toiletry items. Pets are welcome with a nonrefundable pet deposit of $20 per night.
Your tent includes a King bed and is within walking distance of shared bathrooms, so you'll get to know the neighbors in an intimate way while still preserving your own privacy.
---
Up to six guests can enjoy this three-bedroom, one-bath AirBNB Grand Canyon cabin located approximately 30 minutes from the Grand Canyon. It's off-grid and solar-powered on 10 acres of near-secluded land.
The Big Sky Cabin offers just that: plenty of unobstructed views of the mountains and perfect conditions to celebrate the day's sunrise and sunset. Nearby is the small town of Williams, the family adventure park Bearizona, and Flagstaff, which are all wonderful to explore.
Your group will have hot water, a dryer, an indoor fireplace, and a full kitchen, as well as a fireplace and barbecue grill outside. You'll need to be mindful of your power usage, but you shouldn't worry because there is a backup generator for cloudy days.
---
Just north of the town of Williams, this tiny home dubbed the "Velvet Underground" (points if you know the band) is an eco-luxury dream that is a pristine home base to return to after a long day on the trails at Grand Canyon National Park.
The tiny home sits on an 80-acre ranch and provides uninterrupted views of Red Butte and the San Francisco Peaks, and offers plenty of dark skies in the evening, making it the perfect place to watch the Milky Way float through the sky.
There are a few nearby casitas that are also rented out, but you'll have plenty of room to yourself. A commons building gives visitors a chance for an amazing outdoor dining and lounging experience.
A word of caution before booking: the road to the tiny home is a 4-mile, completely unpaved road that has deep dips in places. After the rain, the road can be muddy and is, at some points, extremely rocky. A four-wheel drive vehicle with higher clearance is highly recommended.
---
If you want amazing views, this AirBnB Grand Canyon rental called the Farmhouse at Humphrey's Peak will give you amazing views.
Located north of Flagstaff in the small community of Fort Valley, this AirBNB rental sits on a piece of picturesque property where guests will admire mountain views after spending the day in Flagstaff shopping and dining.
The newly built guesthouse sleeps up to four guests, making it an ideal stop for families on their way to adventures in the Grand Canyon or around Northern Arizona.
If you have little ones, they're going to love running around in such wide-open spaces and exploring the land.
Amenities include a full kitchen, air conditioning, heating, WiFi, smart TVs, a private gym, a gas fireplace, and a King size bed with a full bathroom and a sleeper sofa.
Outside you'll find a gas grill on the private patio, an outdoor dining area, and bikes that you can take out to explore the surroundings.
---
You'll have the run of the entire Bonito House when you rent this gorgeous AirBNB Grand Canyon listing. It's a great option for those traveling through the area on an extended stay or those popping in for a quick weekend to explore Flagstaff and beyond.
This charming 1940s-era home, which is part of the Flagstaff Townsite Historic Residential District, sleeps up to four guests split between two bedrooms with one bathroom. It's beautifully decorated inside and out and nestled on a quiet downtown road.
Inside you'll find hardwood floors, a large living area lined with windows, a fully stocked kitchen, and all new furnishings. Outdoors you'll discover a large, fully fenced backyard for the kids, a barbecue grill, and an outdoor eating area.
It's an hour to Sedona, roughly an hour and a half to the Grand Canyon, and a quick walk to downtown Flagstaff. It's a great option for small families looking to get away and have some fun.
---
Looking for a quick, adults-only getaway? You've come to the right… yurt. Yurts are larger, more structurally sound tents and this one is only five minutes from historic downtown Flagstaff.
The Downtown Perch yurt is designed for couples who like to try new things and new adventures, and it's located near incredible hiking trails and the iconic Lowell Observatory in the northern part of the city.
Here you'll get skyline views of the city to the south, but be warned, there is just a bit of train noise since it's located near railroad tracks. But you'll get past that because of the new memories you're making.
Pets are allowed, and you'll have complimentary WiFi, plus some family-friendly board games, air conditioning, an indoor fireplace, heating, a small but workable kitchen area, plus an open backyard. A private patio and a separate but private bathroom are located just steps away.
---
Frequently Asked Questions about Airbnb Grand Canyon Vacation Rentals
What are some Grand Canyon National Park tips?
Bring plenty of water, even for short trails during cooler months. Water is hard to come by and most people underestimate how much water they'll need to consume. Also, it is $35 to enter the national park area. If you plan on visiting more national parks in the United States consider purchasing an America The Beautiful pass for $80 and have your fees waived.
What are some good restaurants in Flagstaff?
Tinderbox Kitchen
Josephine's Restaurant
The Northern Pines Restaurant
Satchmo's
What else is there to do in the Flagstaff/Grand Canyon area?
Visit iconic Sedona, Arizona in the south
Visit stunning Page, Arizona and Horseshoe Bend in the north
Lowell Observatory in Flagstaff
The Arboretum at Flagstaff
Visit kid-friendly Bearizona Wildlife Park outside of Williams
---
If you enjoyed our list of Airbnb Grand Canyon Vacation Rentals, you might also like:
10 AMAZING AIRBNB SCOTTSDALE, AZ RETREATS YOU'LL LOVE!
SPRING BREAK ARIZONA ULTIMATE GUIDE – BEST THINGS TO DO!
THE 10 BEST RESORTS IN ARIZONA IN 2022!
PLANNING AN ARIZONA ROAD TRIP? 7 INCREDIBLE PLACES TO CHECK OUT!
EXPLORE CULTURE AND THE ARTS IN TEMPE ARIZONA
---
Pin-It for later: 10 Amazing AirBnB Grand Canyon Vacation Rentals
Latest posts by Ashland Hendrix
(see all)