If you are going to Hawaii, the one thing everyone will say is you have to go to a luau. I can honestly say I have been to quite the share of luaus in my lifetime and quite a few on Maui. I can honestly say that each one is different.
Yes, each one will have a large feast, and entertainment but the variety of entertainment and style of the show dramatically differ.
If you are looking for the best luau in Maui, check out my breakdown of the top 8 and also the type of person this luau is best suited for!
---
Our Countdown to the Best Luau in Maui
Luaus are an iconic part of a Hawaii vacation, and while there is a ton of things to do on Maui, from snorkeling to ziplining, to the incredible road to Hana, I highly recommend hitting up one of these Maui luaus. I rated them based off the style of luau you are looking for, so let's check it out.
---
8) Kaanapali Beach Luau – Best Classic Luau
This is the best classic luau on the island. This is a great luau for the family who is looking for the classic entertaining luau with some good old fashioned cheesy jokes. You are greeted with a shell necklace and some photo opportunities.
Waiters will escort you to your seat where you are served drinks while listening to some classic Hawaiian music as well as some Don Ho and Elvis Presley.
You can take a walk around the luau and explore the imu pit where the kalua pork is cooked. The view of Lanai from this part of the island is beautiful as well as the sunset pictures.
After you explore the grounds you can hit up The Ka'anapali Beach Luau buffet. The buffet features salad, taro rolls poi, island fish, chicken, and Kalua pork. There is also a Keiki (children) buffet featuring chicken strips, hot dogs, mac and cheese etc..
After you grab some food, the entertainment begins, the emcees are pretty funny and will keep the family laughing, you might be lucky enough to find yourself on stage.
You will see the classic dances from the different islands a coconut cutting demonstration and the night will conclude with fire dancers.
(Price $90 for Adults & $48 for Children)
---
7) Maui Nui Luau at Black Rock
The Maui Nui Luau has something no other luau has, cliff diving. You can check out the performers do cliff dives off of black rock (weather permitting)
This Maui Nui Luaua luau has a satisfying, savory all-you-can-eat buffet with authentic Hawaiian food, as well as fascinating performances. Take in the delicious self-service buffet including lomi lomi salmon and of course a view of
the breathtaking sunset. Lei salutations and imu ritual Hawaiian dance performance diverse dances from the Polynesian culture.
---
6) The Grand Luau at Honua'ula – Most Beautiful Luau
Wailea, is one of the most beautiful areas on Maui, with tons to do including incredible resorts and amazing dining. Located on the grounds of the incredible Grand Wailea (check out my review of the Grand Wailea Here)
Take a journey to ancient Hawaiian Islands during this wonderful Maui Luau!! It takes you back to the time when the seafaring Polynesians discovered Hawaii! It touches on the voyages of La'amaikahiki and Moikeha who first came to Maui.
The Grand Wailea Luau talks about the gods and goddesses that watched over the people and how they were able to live together in harmony. Through song and dance you'll learn about Pele the goddess of fire, Lilinoe the goddess of the mist, Kananaka the mermaid of Maui, and Naulu the goddess of the clouds.
All the stories together will create an exciting culture-rich evening full of traditional chants, food (inlcuding some of the best kalua pig you will ever have, and hula to bring you and your family the history of Maui! While definitely one of the more expensive luaus, the grounds incredible food make it a worthy experience. Check out my full review here!
Prices as of January, 2022
Standard Seating (plus taxes and fees)
Adults: $116.67
Child (6-12): $62.50
Infant (0-5): Free (QTY = 1-2)
Infant (0-5): $20.83 (QTY = 3rd or more)
Premium Seating (plus taxes and fees)
Adults: $130.21
Child (6-12): $97.92
Infant (0-5): $66.67(QTY = 1-2)
Infant (0-5): $20.83 (QTY = 3rd or more)
Get the Lowest Rates on Maui Luaus!
---
5) Feast at Lele – A Luxury Maui Luau (A Foodie Luau)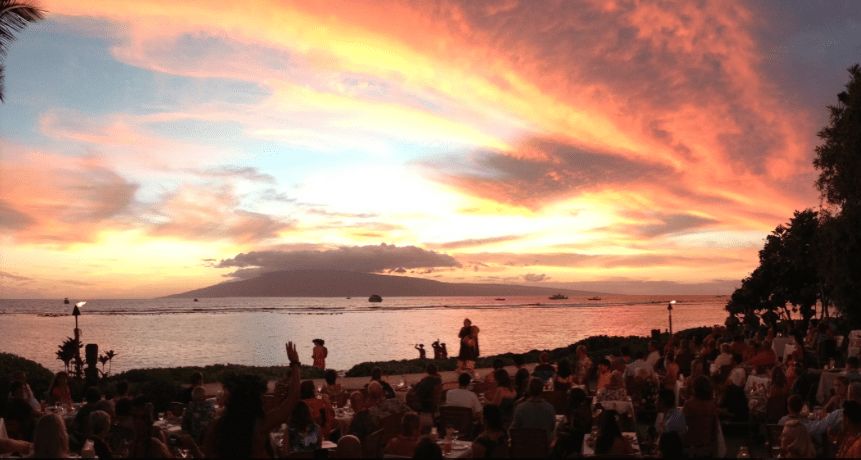 Take a journey across Polynesia just steps away from a beautiful white sand beach! This Luau not only explores the music and culture of the Polynesian islands, it provides you with the culinary specialties of them too. Enjoy a Polynesian dinner, with complimentary drinks, and beautiful live music in on of the liveliest cities on the island!
This Maui luau definitely has the best food of all the Maui luaus. They feature a five-course meal. Each course is based on a different Polynesian island, including Hawaii, New Zeland, Tahiti, and Samoa.
The first course is staples from Hawaii and includes
TRADITIONAL POLYNESIAN STAPLES
Banana & sweet potato chips served w/
a tropical ginger & ogo seaweed salsa.
FIRST COURSE
IMU ROASTED KALUA PUA'A
Pork seasoned w/ hawaiian salt,
cooked traditional style in an underground oven
& shredded.
PIPIKAULA & POI
Paniolo dried cured beef & Maui poi,
w/ pickled vegetable salad.
The second course is from New Zeland includes:
HARORE KUMARA
Medley of stewed mushrooms & onion,
served on orange & purple sweet potato.
MITI HANGI
5 hour island scented braised short ribs
in a kiwi fruit jus.
The 3rd Course Takes you to Tahiti
E-IAOTA (POISSON CRU)
Fresh island fish & vegetable marinated
in lime juice & coconut milk.
GINGER MOA
Marinated chicken breast in a mango soy sauce
w/Tahitian lime aoli & mango relish.
The 4th & 5th Course is from the island of Samoa
PALUSAMI
Braised coconut cream corned beef
w/ baked ulu wrapped in taro leaf.
STEW FIGOTA
Fresh island fish in a mussels, clam, calamari
and shrimp stew w/ coconut banana cream.
Dessert
Vanilla coconut mousseline cake w/ caramelized pineapple
& salted caramel. Whipped haupia cream (coconut pudding)
w/ island fruit sauce.
Feast at Lele
505 Front Street
Lahaina, HI 96761
Get the Lowest Rates on Maui Luaus!
---
4) The Royal Lahaina Luau Myths of Maui Luau – Best Maui Luau for Families on a Budget
This traditional Hawaiian Luau is on the Ka'anapali Beach located at the Royal Lahaina Resort. Indulge in a night of beautiful sunset views, hula dances,fire knife dance. Of course you have a delicious all-you-can-eat buffet with traditional island cuisine and complimentary cocktails, beer, wine, and assorted non-alcoholic beverages.
All the while enjoying live Hawaiian music with an enchanting and exciting stage production featuring dances from Hawaii, Tahiti, Samoa, New Zealand and of course fire dancing!
Myths of Maui – 2780 Kekaa Drive
Lahaina, HI 96761
Get the Lowest Rates on Maui Luaus!
---
3) The Feast at Mokapu | A Luxury Luau
The Feast at Mokapu | A Luxury Luau at Wailea Resort, Maui is the newest luau on the island and it is quite spectacular, however it is very pricey with tickets starting at $280 ($140 for kids). This is a very authentic luau, but not as authentic as our #1 choice.
Enjoy a generous serving of traditional Hawaiian food that has been skillfully prepared by their culinary staff. Additionally, handcrafted beverages made to your specifications will be offered to complement this delectable luau.
---
2) Drums of the Pacific – Longest Running Luau
The longest-running luau on Maui is called Drums of the Pacific, and it is located at the Hyatt Regency right next to Ka'anapali Beach.
The experience will transport you to several Polynesian islands off the bat with a fresh flower lei, but the show's standout feature is the spectacular exhibition of Samoan fire-dancing and flame-eating.
This luau's feast is served buffet-style and includes dishes like kalua pork, huli huli chicken, lau lau, Molokai sweet potato and lomi lomi fish that are typical of other luaus.
Overall, the Drums of the Pacific Luau is an amazing experience which is why we have it on our list as one of the best luau in Maui!
---
1) Old Lahaina Luau – Best Overall Luau in Maui
This is by far the most authentic Hawaiian luau experience we've ever had and I simply loved it. This Six-time recipient of the Hawaii Visitors and Convention Bureau "Keep it Hawaii" award is amazing and by far the best luau in Maui in my opinion.
You walk into a beautiful ocean setting, the drinks and food are simply amazing, in fact, my kids wanted to go back just for the food.
My favorite thing is you can have mat seating which is on the ground right by the stage. I love hearing the drums of Hawaii play next to the Pacific Ocean.
It added such a unique experience to the luau. The show is both entertaining and very educational, even my two-year-old loved it. You can check out my full review of the Old Lahaina Luau Here
---
Do you want to get the lowest rates on your next trip to Maui?
Get the Lowest Rates on Maui Luaus!
Old Lahaina Luau – Get the Lowest Rates on Maui Luaus Here!
Check out my Ultimate Guide to Maui for families
---
Pin for Later: The Best Luau in Maui [Here are the top 8 choices]
---
Map of the Best Luau in Maui
---
If you enjoyed reading about the best Luau in Maui, you might also enjoy:
TURTLE TOWN MAUI [A MUST VISIT] + IT'S FREE AND FUN!
BLACK SAND BEACH MAUI! HOW TO VISIT THIS INCREDIBLE BEACH
21 AMAZING THINGS TO DO IN MAUI WITH KIDS [ULTIMATE MAUI GUIDE]
---
Frequently Asked Questions about the Best Luau in Maui
What is the best luau in Maui?
Here are our top 3!
Old Lahaina – Most Authentic
Royal Lahaina – Best Budget
Drums of the Pacific – Longest Running
Feast at Lele – Best Food
Is a luau in Maui worth it?
If you have never been to a Luau, yes. Otherwise, it depends. We typically visit Maui once a year and do a luau once every few years.
How much is a Luau on Maui?
A luau typically runs about $90 – $140 per adult
How long is a luau
Luaus typically run 3 to 4 hours.