Hawaii has a special place in our hearts, and it really is something special no matter where you are on the islands. From the beautiful views to the traditional Hawaiian cuisine, you really can't go wrong! However, no one does it better all around than The Grand Wailea. We've been coming here ever since we got married back in 2003!
The grounds, the pool, the luau, and the food are all amazing. One of the things we love so much about this resort are all the food options! From travelers looking to get a taste of the Hawaiian culture to families who are needing kid-friendly dining options, The Grand Wailea restaurants do not disappoint.
There is a ton to do at the Grand Wailea that you will often times find yourself at the resort for a large part of your trip. So, we have a guide to all your dining needs while at this magnificent resort. Let's take a look at some of the most popular restaurants at The Grand Wailea and everything you need to know about dining there.
---
Breakfast at the Grand Dining Room
There's no better way to get your day started than by fueling up on the delicious assortment of breakfast options they have at The Grand Dining Room.
Not only is the food amazing, but you can sit outside and enjoy the beautiful panoramic ocean views. It's truly one of the most beautiful spots to eat and relax before you venture out on your planned activities. Plus, they have lots of kids options, so it's a great family-friendly spot.
Dining Options
There are two dining options, a la carte and the family buffet. The family Buffet includes a wide variety of fruit, smoothies, eggs, yogurt parfaits, breakfast potatoes & hash browns, bacon, sausage, malasadas (my favorite), bread pudding, fresh juices and more. Plus they have an omelet bar where I love to get my egg white scrambles.
A La Carte
Loco Moco: Kimchi fried rice, ground angus beef patty, fried egg, Maui onion gravy.
Wailea Beach Benedict: Ham, poached egg, Hollandaise sauce and choice of potatoes
Haleakala Sunrise: Eggs, house potatoes, toast, and bacon or sausage patty
Grand Acai Bowl: Acai, Haupia yogurt, granola, coconut chips, and honey
Create Your Own Omelet: With choice of cheese, veggies, and meat
Maui Waffle: Topped with strawberries, lavender compote, and whipped cream
Avocado Toast: Avocado, herbs, tomato
Grand Continental: Fruit, pastry, parfait
Hours:
Monday-Saturday: 7 am -10:30 am
Sunday: 7 am -10 am Buffet, 11 am- 1 pm Brunch
Brunch
Sunday brunch at the Grand Dining Room costs $65 for adults and $30 for kids ages 6-12. Kids five and under dine free! If you happen to be at The Grand Wailea on a Sunday, their Grand Dining Room brunch is a must! The food options are endless and completely worth the price tag for a true Grand Wailea dining experience.
There are so many delicious selections including:
Fresh fruits
Parfaits
Fried chicken and waffles
House-made pastries & desserts
Seafood table
Traditional breakfast items
Cheese
Lobster mac & cheese
2 glasses of sparkling wine complementary with Sunday brunch!
Pro Tip* – Typically, we book a bed and breakfast package at the resort and that saves us money versus paying once we arrive.
---
Volcano Bar: Great Poolside Dining
Volcano Bar is a great dining option if you are looking for a quick grab and go bite to eat to enjoy by the pool. You can grab some lunch and cocktails, or a kid-friendly meal for the kiddos. Typically we grab some nachos, a couple cookie smoothies for the kids and a cocktail for mom and dad and life is pretty goof.
Hours:
Bar: 10 am – 5 pm
Grill: 11 am – 3.30 pm
Lunch: 11 am – 4 pm
Dining Options:
Nachos
Hummus
Fries
Fruit
Various salads
Sandwiches & flatbreads
Burgers
Sushi
Tacos
Quesadillas
Chicken fingers
Hot dogs
Grilled cheese
Ice cream
Smoothies
Beer
Topical alcoholic beverages
---
Botero Lounge
The Botero Lounge is a great dining option for adults. While technically, I wouldn't call it one of the Grand Wailea Restaurants, You can grab a drink and a bite to eat while enjoying nightly entertainment at the Botero Lounge.
The music at the lounge is the perfect relaxing vibe to cap off another wonderful day in Maui. The lounge is now serving up some amazing sushi rolls that I recommend you give a try and an amazing mule drink. My kids love to head over to the mermaid and toss pennies while mom and dad get to relax and enjoy a cocktail and listen to some great music
Hours:
Daily: 2 pm – 12 am
Entertainment: 6 pm – 9 pm
Sushi: Tuesday – Saturday, 5pm – 9pm
Dining Options:
Salads
Miso soup
Sushi
Sushi rolls
Desserts: Green tea trifle, Yuzu fruit
Cocktails
Beer
Wine
Champagne
---
Bistro Molokini
Enjoy local foods in a casual dining atmosphere with the entire family. The Bistro Molokini is a great option for lunch and dinner and has a large variety of kids and vegetarian options. You can grab a wide variety of dishes in an upscale but relaxed environment.
My favorite dish on the menu was the fish tacos, and also I recommend grabbing a mai tai from the bar as they are delicious, and you're in Hawaii, you deserve a Mai Tai.
Hours:
Bar: 10 am – 9 pm
Lunch: 11 am – 5.30 pm
Happy Hour: 5 pm – 6 pm
Dinner: 5.30 pm – 9 pm
---
HumuHumu; Grand Wailea's Fine Dining Restaurant + The Best Table on Maui!
Dining at Humuhumu's is a once in a lifetime experience! You will dine above the lagoon for the best view of the sunset, and enjoy seasonal Hawaiian foods made by well-known chef Alvin Savella.
If you really want the best dining experience, I recommend calling to reserve table 70 which is considered to be the best seat in the restaurant and let me tell you it truly is. You sit out on what seems like your own little island with some of the most spectacular views you can imagine.
If you want this seat, call as far in advance as possible. Keep in mind that this does come with an additional cost, but is known to be an amazing dining experience always with a different 5-course meal and wine tastings.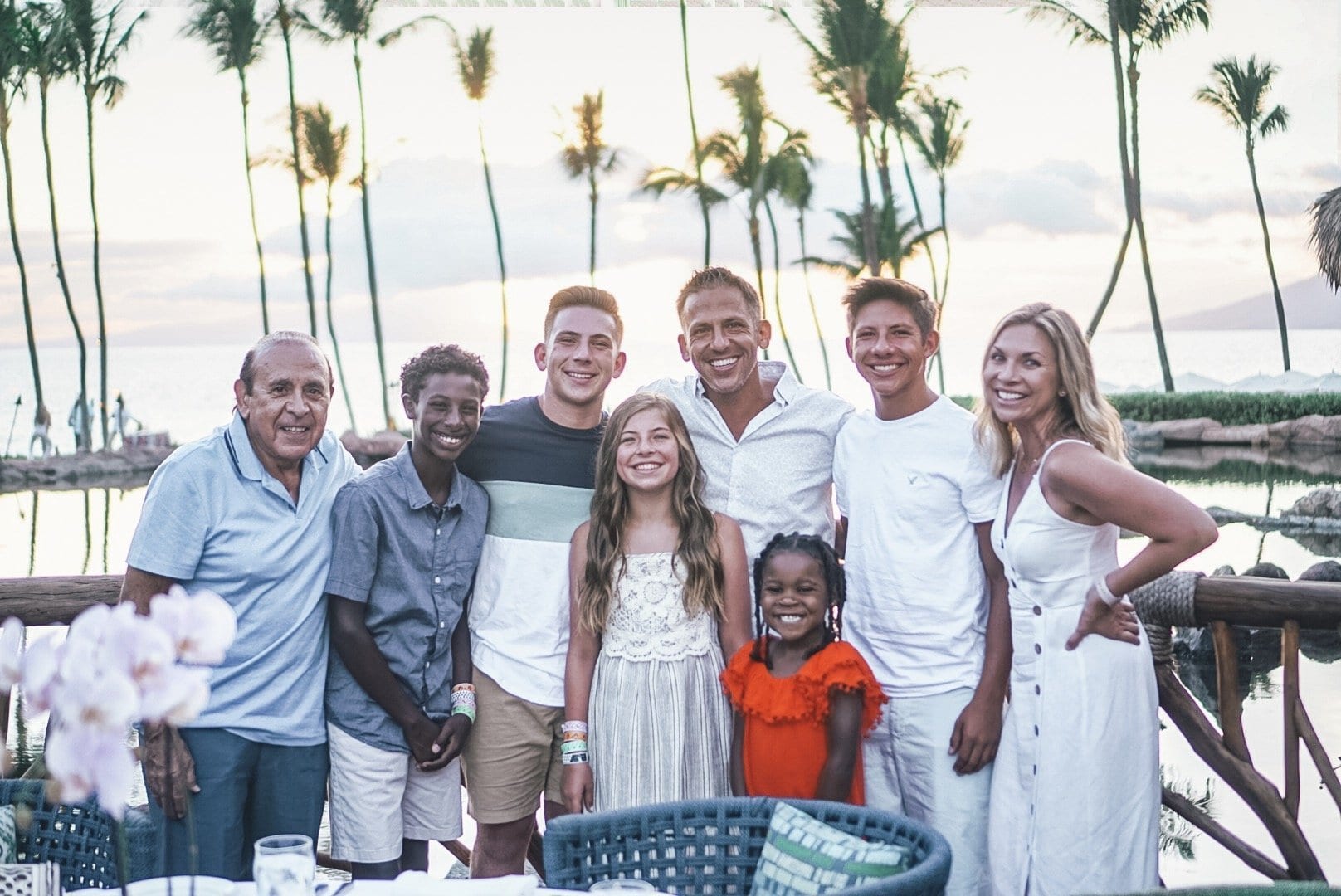 Another perk is that if you are traveling with little ones, kids under five eat free, and they have their own kids menu. There are also vegetarian options and dinner options for larger parties as well, so this is a great option if you are traveling with a large group.
Here are some of the amazing dishes we tried out.
For starters, I highly recommend getting the scallops which were honestly the best scallops I have ever had in my life. If you are adventurous, try the octopus, it is really good but some of my kids were a bit freaked out eating octopus.
When it comes to entrees it is hard to go wrong, we had the mahi mahi and hulu hulu chicken, both were truly top notch. Lastly, for dessert check out the green tea Japanese cheesecake, it is not only delicious but quite the work of art. You can see all the delicious meals at the 2:21 mark of the video below.
Hours:
Bar: 5 pm – 10 pm
Dinner: 5 pm – 9:30 pm
---
Sum Up of the Grand Wailea Restaurants
If you're planning a Hawaiian vacation and are looking for a resort that really offers it all when it comes to cuisine, look no further. The Grand Wailea offers options ranging from traditional Hawaiian cuisine to quick grab and go bites, and lots of options for the kids.
You really can't go wrong with any of the restaurants at The Grand Wailea, and we barely left the resort to dine elsewhere. Form starting your day at The Grand Dining Room to ending your day at one of the various restaurants on the resort, you will definitely have a full belly your entire vacation.
---
Have questions about Grand Wailea Restaurants or Hawaii advice for other travelers? Leave a comment below!
---
Frequently Asked Questions about Grand Wailea Restaurants
What was filmed at the Grand Wailea?
The Grand Wailea resort in Hawaii has been the location for various film and television productions, including the TV series "Top Chef", "The Bachelorette", and "Keeping Up with the Kardashians".
Additionally, scenes from the movie "The Hunger Games: Catching Fire" and the TV series "Hawaii Five-0" were also filmed at the resort.
Other things filmed at the Grand Wailea are:
"Lost" (TV series)
"MasterChef" (TV series)
"The Real Housewives of Beverly Hills" (TV series)
"The Descendants" (movie)
"Mike and Dave Need Wedding Dates" (movie)
"Just Go with It" (movie)
Who is Grand Wailea owned by?
The Grand Wailea, a luxury resort located in Maui, Hawaii, is owned by the real estate investment trust (REIT) company Blackstone Group.
Blackstone acquired the property in 2013 as part of a larger acquisition of the hotel chain Waldorf Astoria, which includes the Grand Wailea as one of its properties.
---
If you enjoyed reading about Grand Wailea Restaurants, You May Also Enjoy:
The Grand Wailea- Amazing Water Slides + World's Only Water Elevator
Maui Must Do- Visit the Beautiful Black Sand Beach of Maui
Grand Wailea Luau- One of the Best Luaus on Maui
---
Pin-It For Later: Grand Wailea Restaurants: Amazing Food & The Best Table on Maui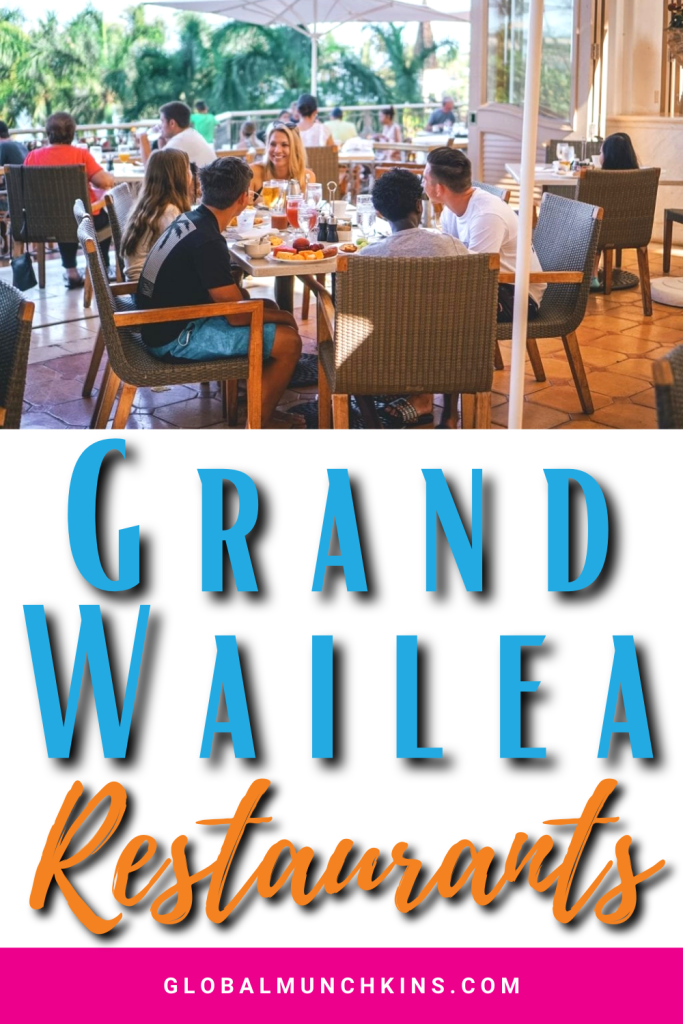 Latest posts by Mama Munchkin
(see all)