Your Maui vacation wouldn't be complete without a luau! Chances are, you will come across dozens of different traditional Luau celebrations to attend because they are a great way to really dive into Hawaiian traditions while on vacation. If you are vacationing in Maui, though, there's nothing quite like the Luau at The Grand Wailea!
What to Expect at the Grand Wailea Luau Maui
Luaus are all about telling the story of when the Polynesians first discovered the islands of Hawaii. Luau cast members share the journey of the voyage to the beautiful Hawaiian island of Maui, and the Grand Wailea Resort puts on a beautiful show that all guests rave about.
As you can tell from the Grand Wailea Luau reviews, this luau is really like no other! Whether or not you are staying at this beautiful hotel, it's definitely worth the trip to attend their Luau. The Grand Wailea has a way of bringing the Hawaiian traditions to their guests, making it fun, entertaining, and providing delicious food and drinks.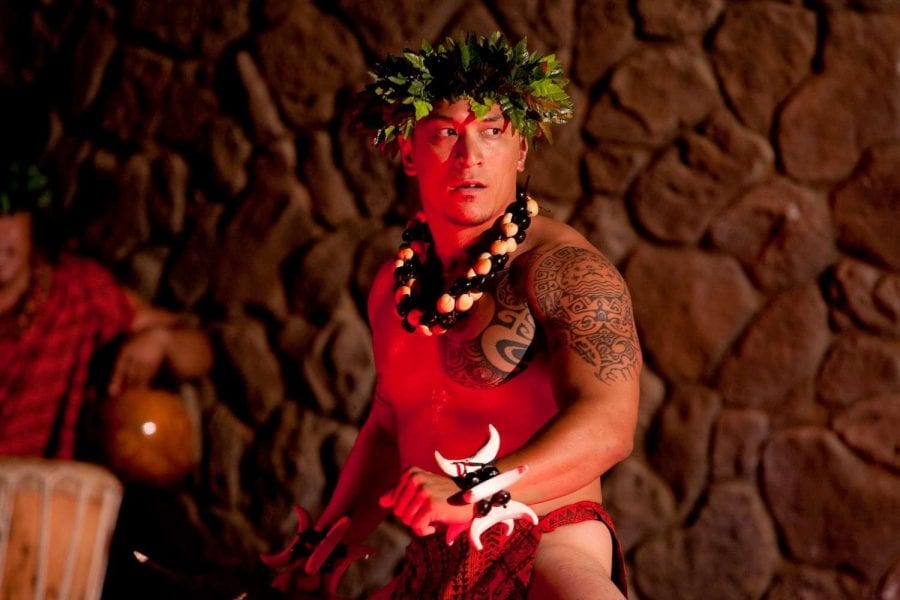 A Break Down of the Luau Itinerary
Pre-Show Activities: At all Wailea Luaus, you will be greeted with a Flower Lei and experience pre-show cultural activities such as a hula lesson, temporary tattoos, and Hawaiian lawn games. You can also get a photo with a Luau cast member in their full Luau costume at an additional charge during the pre-show activities. This is also a great time to socialize with other guests and to get to experience some of the fun traditions Hawaii has to offer! If you have kiddos with you, this part is the most fun! You can get the whole family together to play a traditional Hawaiian lawn game before dinner and the show.
Torch Lighting, Ceremony & Dinner: Next comes the torch lighting and ceremony dinner where you will enjoy traditional Hawaiian cuisine from the Luau buffet. Hula lessons will also be available at 7:30 PM after the Luau buffet and before The Voyage kicks off. Again, if you have kids with you, this provides some fun entertainment before the show begins.
Dessert & Drinks: Desserts and drinks will also be offered including island-style desserts and tropical beverages.
The Voyage: After everyone has eaten and is enjoying their beverages and desserts, The Voyage will begin where cast members will tell the story about the first migration made by the Polynesians and the trek they made to reach their new home. The voyage is told in a nine-part act which includes The Migration, Dream Hula, Kahekili, Pele's Voyage, The Mo'o, Swing Hula, Naulu, Fire Knife, and Chad Militante. You can expect lots of traditional Hawaiian hula dancing in addition to beautifully colored Hawaiian costumes, and fire dances which always leave guests on the edge of their seats.
What Does Your Luau Experience Include?
When you purchase a Grand Wailea Luau ticket, the following is included in the price.
Pre-show activities
Seating for the show– the prices depend on whether you want standard or premium seating.
A main Hawaiian entrée– served buffet style
Island-style desserts
Beverages– alcoholic and non-alcoholic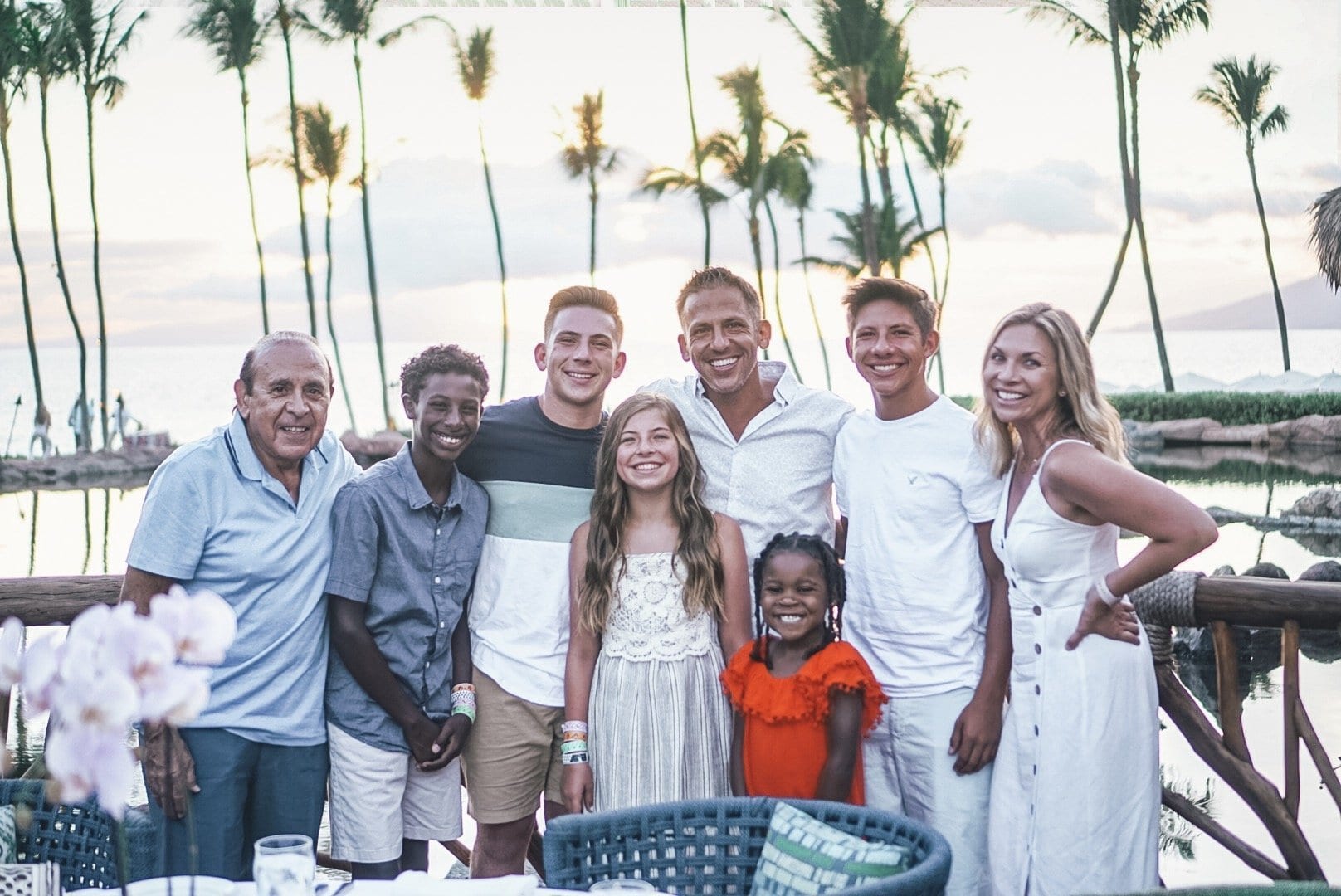 What's the Food Like at the Grand Wailea Luau?
At The Grand Wailea Luau, you will get the chance to enjoy some delicious traditional Hawaiian cuisine. You will be offered an appetizer and salad as well as an entrée, dessert, and beverages of your choice. Grand Luau Wailea reviews rave about the food, so expect to be in for a treat!
Here is the current Grand Wailea Luau menu.
Note that if you have a food allergy or sensitivity, be sure to call reservations at The Grand Wailea as far in advance as possible to see if they would be able to accommodate your dietary.
Appetizers
Appetizer options at the Grand Wailea Luau include the following:
Ahi Poke
Lomi-Lomi Salmon
Fresh Poi Green Papaya Salad
Potato Mac Salad
Maui Grown Lettuce Bar
Cucumber Namasu
Maui Gold Pineapple & Kumu Farms Coconut Chips drizzled with local honey
Sweet Bread Rolls with Macadamia Nut Butter
Entrée
Maui Paniolo Grilled Flank Steak Housemade Teriyaki Sauce
Baked Moloka'i Sweet Potatoes & Toasted Mac Nut Butter
Roasted Mahi-Mahi Young Coconut and Local Citrus Sauce
Shoyu Chicken and Long Rice
Traditional Kalua Pig
Stir Fried Vegetables Wok fried and seasoned with soy sauce, ginger and garlic
Island Fried Rice with Kumu Farm Vegetables and Fried Garlic
Maui Chow Fun Vegetables and Housemade Pork Char Siu
Dessert at the Grand Wailea Luau
Chocolate Fudge Brownie
Coconut Cake
Pineapple Upside Down Cake
Traditional Hawaiian Haupia Guava Mousse
Freshly Brewed Hawaiian Paradise Coffee
Assorted Teas
Beverages:
There will be a bar open for business offering refreshing island-style beverages for Luau guests. Beverage options include:
Mai Tai's
Pina Colada's
Mixed drinks
Beer
Wine
Soft drinks
Grand Wailea Luau Pricing
There are two different price options depending on what type of seating you are looking for, and if you want the option to arrive at the Luau 30 minutes earlier than other guests.
Standard Seating for the Grand Wailea Luau:
Adult Tickets: $130
Children Ages 6-10: $85
Children 5 and Under: Complimentary
Premium Seating:
Grand Wailea Luau premium seats include the first two rows.
Adult Tickets: $155
Children Ages 6-10: $100
Children 5 and Under: $70
If you are looking for Grand Wailea Luau discount tickets, you have a couple of options. We recommend checking out sites like tombarefoot.com, Expedia, and mauiticketsforless.com. Just be sure to always read the cancellation and refund policy before booking this way. Grand Wailea Luau Costco tickets are another option available.
Location and Times of the Grand Wailea Luau
The Grand Luau takes place right on the grounds of The Grand Wailea which is coincidentally in Wailea, Hawaii.
The Luau at the Grand Wailea runs during various times throughout the year, and starts at six PM and runs until nine PM. For those who purchased premium seating, VIP entry starts at 5:30 PM where you can arrive and get comfortable at your table before other guests arrive.
If you are visiting Hawaii and are interested in going to this amazing Luau at The Grand Wailea, you should call the resort and ask about their next available Luau right away because they need to be booked well in advance. They are hosted in the evenings, but times may vary depending on the season you are visiting, so always call to inquire, and remember that tickets are required to attend.
If you are traveling to Hawaii and are looking to experience a traditional Luau, look no further than The Grand Wailea Luau. Even if you aren't staying at this resort, you can still attend this magical event. From the pre-show activities to the cuisine, and their portrayal of The Voyage, this Luau will certainly not disappoint, and will be a memorable part of your vacation that the whole family can enjoy.
Interested in learning more about The Grand Wailea Luau, take a look at the full Luau program here.
Have you visited Grand Wailea in Maui? Do you have any tips of your own or more question about the luau? Leave me a comment below!
Other Articles You May Enjoy:
The Best Maui Surf Lessons- An Inside Look at the Royal Hawaiian Surf Academy
Top Things To Do in Lahaina! One of the Best Little Towns in Maui!
Maui Must Do- Visit the Beautiful Black Sand Beach of Maui!
Latest posts by Mama Munchkin
(see all)