Fort Lauderdale, Florida, is known for its impressive mansions, massive yachts, and gorgeous beaches. However, things to do in Fort Lauderdale with kids make it the best family vacation destination.
Whether you're looking to explore the city, get into nature, relax on the white sand, or eat at a unique restaurant, Fort Lauderdale has activities for everyone at your party.
We've compiled 13 things to do in Fort Lauderdale with kids. Pack your bags; beautiful South Florida is awaiting your arrival!
---
Best Things to Do in Fort Lauderdale with Kids
---
Butterfly World
In 1988, Butterfly World opened in Coconut Creek, Florida. This facility is the biggest butterfly park in the world, with over 20,000 butterflies.
Why Should You Go?
The Butterfly World is divided into a few sections: Grace Gardens, Aviaries, and the Insectarium/Museum.
In the Paradise Adventure Aviary, guests can find ponds with fountains and butterflies. The aviary leads into the Hanging Garden & butterfly area, where you will see hanging pupa and hatching butterflies. While in the Tropical Rain Forest, Aviary includes tropical plants, birds, waterfalls, and butterflies.
You will be in an outdoor botanical garden filled with tropical plants in the Grace Gardens area. At the same time, you are emerging into the Wings of the World Secret Garden, where you will find the most extensive collection of Passion Flower vines.
The Insectarium is filled with butterflies, scorpions, beetles, moths, and other insect specimens. While in the Bug Zoo has live spiders, water bugs, walking sticks, mantids, and wasps.
This is a great place to bring kids and families, especially those looking to learn about a butterfly's life.
---
Mai-Kai Restaurant
When you think of things to do in Fort Lauderdale with kids, I hope good food is on your mind because Mai-Kai Restaurant is the place to go.
Why Should You Go?
If you want to blow your kids' minds with a great dinner and a show, the Mai-Kai Restaurant fits the bill. At this historic restaurant, they not only serve some of the best Asian food around, but they also deliver a fabulous Polynesian Show.
Of course, most kids do not love Asian food but do not fret. They also serve mac and cheese, chicken fingers, and other children's delicacies. Not to mention kids love getting their drinks served in a pineapple!
But that's not the real draw for coming here. The main attraction is the Islander Revue Polynesian Show they put on. This show will make you feel like you are in Hawaii instead of Florida. If you visit during the summer months, they have children performing every Sunday, which is a big hit among the younger audiences.
---
Sawgrass Recreational Park
Were you looking to go on an airboat ride through the famous Florida Everglades? You can do so at the Sawgrass Recreation Park!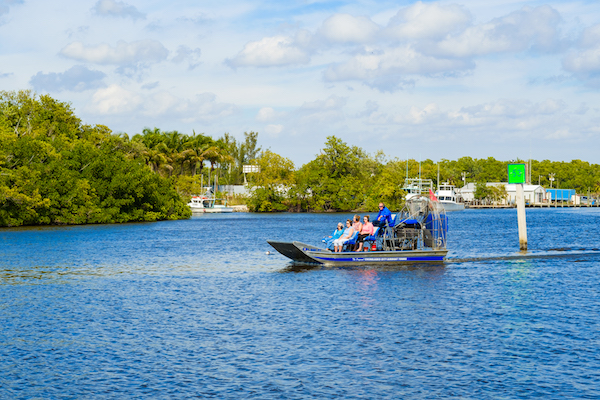 Why Should You Go?
There are many things to do with kids at the Sawgrass Recreational Park. A popular item is the airboat tour, where you are on a guided tour to learn about the ecosystem from the area.
Those with older kids also offer nighttime airboat tours a few nights a week. These tours are called Gator Nights because you will see many gators.
That's not the only thing this recreational park has to offer. There is also a reptile exhibit and an exotic wildlife exhibit. The reptile exhibit allows you to hold a young baby gator, and you can visit the turtles and iguanas. While at the exotic wildlife exhibit, you'll see various animals that will surely make it a memory you won't forget.
---
Museum of Discovery & Science
The Museum of Discovery & Science was made for kids!
Why Should You Go?
There are quite a few interactive exhibits in the Museum of Discovery & Science that you can make a few days out of this place. However, there is also an IMAX theater here as well.
What's great about the Museum of Discovery & Science is there are exhibits designed for toddlers and big kids and everything in between. If you have a dinosaur lover in your group, they will love digging for fossils and taking photos of them in a megalodon mouth.
For those looking for something a little more thrilling, an airboat ride simulator is fun for the entire family. Don't forget to stop in the outdoor and indoor aquariums to see the abundant marine life.
While the younger children in your party will not want to leave the Discovery Center, this area was designed with them in mind.
A great unique way to get to the Museum of Discovery & Science is by using the water taxi!
---
Fort Lauderdale Water Taxi
A great way to get around Fort Lauderdale is their water taxi service. This is a hit with kids and grown-ups alike.
Why Should You Go?
Whether a grown-up or a child, taking a taxi on the water is a fantastic time. Fort Lauderdale has over 300 miles of navigable waterways that wind through the city.
Whether you choose the water taxi to take in the views or to get you to your next destination, it is always a big hit with everyone. Not to mention that the captain and crew on board have a wealth of knowledge about where they should eat, where they should go, and what not to miss on your vacation.
The water taxi offers a day pass, which will allow you and your party to jump on and off between their 19 stops and over 50 places to go. There are stops along the Las Olas Boulevard!
---
Bluefoot Pirate Adventures
If your child is into pirates, you must book the Bluefoot Pirate Adventure attraction.
Why Should You Go?
The Bluefoot Pirate Adventures is perfect for all ages kids. It is an hour-long pirate cruise where kids get to dress and talk like a pirate and battle with other pirates using water cannons. This is an immersive pirate experience that kids love. Getting them off the boat will be hard because they'll love it that much.
---
EZride Surf School
If you are vacationing here, chances are you may not live near the beach, but you've seen people surfing. If you ever wanted to learn how to surf, EZride Surf School is the place to go!
Why Should You Go?
This is for people who know how to surf or just to learn how to surf. The only condition is that everyone must be over the age of 5. This school is taught by certified personal surf instructors that will teach you what you need to know about surfing on the water.
There are many surfing locations in Fort Lauderdale, and all of these spots are beautiful places where you'll learn and have a great time.
---
Explore Hugh Taylor Birch State Park
Hugh Taylor Birch State Park is a state park located in Fort Lauderdale, Florida. One of the main attractions of the park is its beach area, which offers visitors a chance to swim, sunbathe, and enjoy water sports such as kayaking and paddleboarding.
The park also has a number of nature trails, including the Coastal Hammock Trail, which winds through a dense mangrove forest and provides scenic views of the Intracoastal Waterway. This park is a great place to relax and enjoy with the kids.
---
Flippo's Fort Lauderdale
Are you trying to find things to do in Fort Lauderdale with kids on a rainy day? Look no further than Flippo's Fort Lauderdale.
Why Should You Go?
Flippo's Fort Lauderdale is an indoor center filled with many entertainment activities. They have a ropes course, laser maze, and a bunch of inflatables you can run, slide and bounce off.
For those younger kids, there is also a toddler zone just for toddlers under the age of 3. This is where they can have fun without worrying about the bigger kids hurting them.
Flippo's Fort Lauderdale is perfect for those rainy days in Fort Lauderdale, and this will surely wear the kids out.
---
Young At Art Museum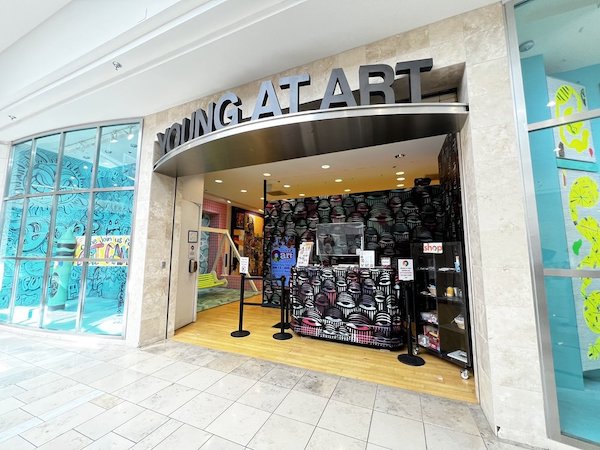 If your children love to make art, they'll have a blast at the Young at Art Museum.
Why Should You Go?
The Young at Art Museum is perfect for teens and children that want to learn about creativity and art. There are many exhibits and types of art in this museum, including WonderScapes, Knight Gallery, GreenScapes, Bedlam Lorenz Assembly, ArtScapes, and CultureScapes. These exhibits are interactive.
They also have special art workshops throughout the year. You'll want to check out their website to see if anything is happening during the time you'll be going.
They do also offer parties geared towards kids here as well.
---
Sea Experience Glass Bottom Boat Tour and Snorkeling
Looking to spend some time out on the water? Book yourself a Sea Experience Glass Bottom Boat Tour.
Why Should You Go?
This is perfect for families that love to be out on the water. This tour will bring you out on a glass-bottom boat for 2.5 hours. You will be able to see the natural wonder reef system, which is about a half-mile off the coast.
You will then be able to snorkel or scuba dive off the boat getting close to marine life such as turtles, various fish, and even sting rays.
---
Enjoy and Explore Downtown Fort Lauderdale
Downtown Fort Lauderdale is not only a great spot for adults but also a perfect destination for family fun. Another option is the Fort Lauderdale Children's Theatre, which offers engaging performances for kids of all ages.
As we mentioned above, for a unique experience, take that water taxi ride we spoke about along the New River to see the mega yachts and beautiful waterfront mansions. Kids will love this scenic ride and the chance to spot wildlife along the way. Finally, no visit to downtown Fort Lauderdale is complete without a day at the beach. The Atlantic Ocean is just a few minutes away, where families can enjoy swimming, building sandcastles, and soaking up the Florida sun.
---
Visit the Flamingo Garden
Next on our list of things to do in Fort Lauderdale with kids, is Flamingo Garden! Flamingo Gardens is a botanical garden and wildlife sanctuary located in Fort Lauderdale, Florida!
One of the main attractions of Flamingo Gardens is its collection of flamingos, which are free-roaming and can be seen throughout the gardens. Visitors can also observe other animals such as alligators, otters, and birds of prey in their natural habitats.
Overall, Flamingo Gardens is a unique and educational attraction that offers visitors a chance to explore Florida's natural beauty and learn about its diverse ecosystems and wildlife.
---
Map of Things to Do in Fort Lauderdale with Kids
---
Frequently Asked Questions about Things to Do in Fort Lauderdale with Kids
Is Fort Lauderdale Beach kid-friendly?
With 20 miles of shoreline, there is plenty to do with the kids, from fishing to beach volleyball, building sandcastles and surfing
When is the best time to visit Fort Lauderdale?
The best time to visit with the least amount of crowds would be between December and April.
What is Fort Lauderdale best known for?
Fort Lauderdale is famous for its beaches, arts, culture, and events. Along Las Olas Boulevard, enjoy Fort Lauderdale shopping, dining, and the historic districts.
---
If you enjoyed reading about things to do in Fort Lauderdale with kids, you might also like:
DESTIN FLORIDA ATTRACTIONS YOU'LL LOVE- [10 SPECTACULAR] THINGS TO DO IN DESTIN FLORIDA
15 OF THE BEST THINGS TO DO IN NAPLES FLORIDA
---
Pin for later: 10 Exciting Things To Do In Fort Lauderdale With Kids