A trip to Hawaii is still my favorite vacation of all time with the kids. It has the perfect balance of fun things to do for them and relaxation for mom and dad. Tons of people know that they want to visit Hawaii, though many people don't know which is the Best Hawaiian Island for Kids.
Almost all of the islands have gorgeous, family-friendly resorts, long stretches of tropical beaches, and local culture.
The thing is, every island is also vastly different, featuring activities that others may not. If you need some help deciding which island to visit on your next Hawaiian vacation, we're here to help!
Here's a breakdown of the best Hawaiian islands for kids with activities and resorts that fit your family's vacation style.
---
Best Hawaiian Island for Kids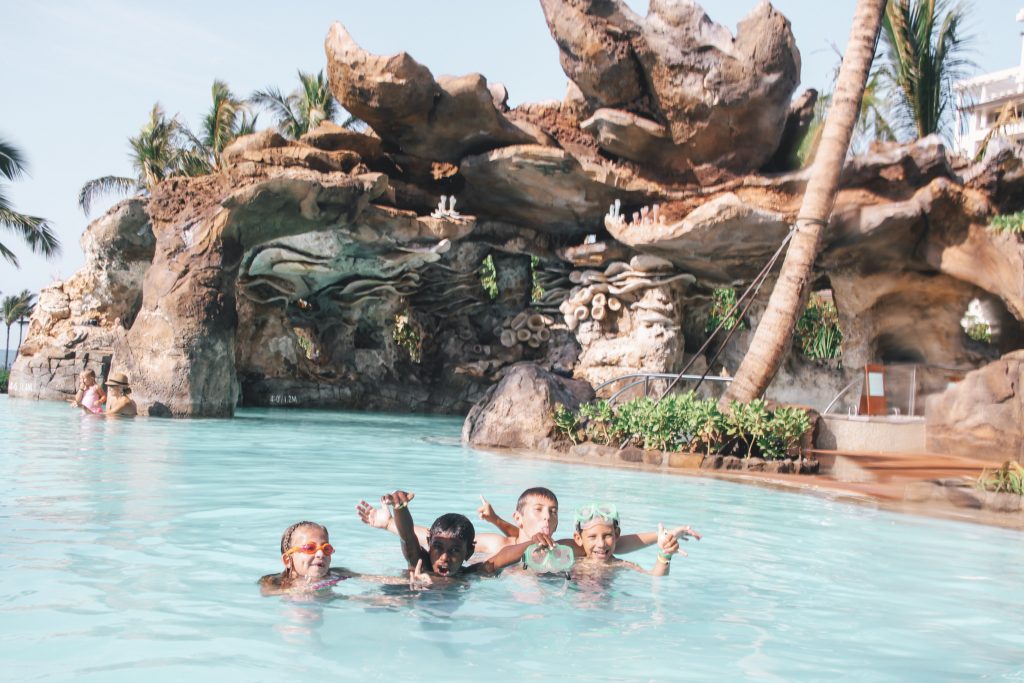 Overall Best Hawaiian Island for Kids & Families with Little Ones- Maui
Maui is the Hawaiian island that has it all making it the best overall choice for families with kids. Not to mention, it is our family's personal favorite!
From kid-friendly beaches to some of the most awesome hotel pools and tons of activities to choose from, this is an island with something for everyone. Check out our full guide for the top things to do with kids in Maui here! 
Of course, everyone who visits Hawaii is looking to spend time on the gorgeous beaches. For those who aren't strong swimmers, or for parents with little ones, visiting a beach with rough waters is a no-go. Maui is home to some of the most gorgeous beaches with calm waters.
Keawakapu and Wailea both have incredibly calm waters that are perfect for those who don't have their island feet yet.
Of course, Maui has some wonderful views too. Haleakala Crater is a 10,000-foot volcano and one of the largest dormant volcanos on Earth! Visitors are known to climb up to the summit to catch some otherworldly views. Make sure to hop on the Road To Hana as well! T
his 52-mile scenic route features some pretty amazing highlights, including bamboo forests, freshwater caves, waterfalls, and black sand beaches. Not to mention, the views along the way are incredible.
Calm Waters & Easy to Find Sea Turtles
The waters in Maui are the calmest of any of the islands (especially the west side (Kihei & Wailea). In fact, there is a spot that is so calm, you can see sea turtles from knee-deep water. We visit this spot every year, we call it secret turtle town. In the springtime be on the lookout for humpback whales.
You will see them pop out of the water every once in a while, and you can even take a whale watching tour.
On top of the calm waters and unique activities, there are tons of resorts and condos in the area to stay in that are family-friendly. Our favorite resort is the Grand Wailea because of the awesome amenities and water park! Book your stay here.
---
Best Hawaiian Island for kids – Adventure Seeking Families- Kauai 
Kauai is one of the best Hawaiian islands for adventurous families with kids who want to explore the great outdoors beyond the shoreline.
Kauai is one of the oldest islands in the Hawaiian chain and is nicknamed the Garden Isle. Their lush and tropical rainforests feature endless amounts of trails, waterfalls, and outdoor activities.
You and your family can glide through the treetops on the best zipline course (and we have been on many), get dirty with an ATV offroad tour through the wild, or explore the island by foot on one of the many amazing hiking trails.
We highly recommend the Kalalau Trail! This 11-mile path runs from Kee Beach to Kalalau beach through the wild Na Pali Coast, a place where the only land access is by foot. There are a few different trails to take too, perfect for both seasoned and beginner hikers!
Kauai also has an abundance of untamed greenery, glimmering waterfalls, and a vast number of beaches, all of which come together to create a beautiful island hideaway.
This makes it one of the best islands to capture some incredible views. Hanalei Valley Lookout is a great place to catch a panoramic view of Hanalei Valley with the river winding back up into the mountains.
We also recommend catching the sunset at St. Regis Princeville if you can. Plus, you can indulge in their one-of-a-kind happy hour! Check out 18 Secret Off the Beaten Path to do in Kauai from 2 Travel Dads
---
Best Hawaiian Island for kids – a Classic Experience- Oahu
When it comes to deciding which Hawaiian island to visit with kids, Oahu stands out as the best choice. Known as "The Gathering Place," this island is packed with family-friendly activities and attractions that cater to kids of all ages.
Families with kids who are looking for the classic Hawaiian island vacation experience should visit Oahu. This island is filled to the brim with all kinds of activities that will keep you busy day and night. Almost any Hawaiian activity that you can conjure up, Oahu probably has it, from surfing to spam on a stick, sunset cruises, and luaus.
Once you arrive on this beautiful island, be prepared to hit the beach! Check out the famous North Shore for tons of beachfront activities and restaurants. If you are an experienced surfer, there are plenty of surf spots around the island. For newbies, you can spend some time taking lessons with one of the many awesome surf schools on the island.
Swim with the Manta Rays
For a truly unique experience, consider night swimming with manta rays. This is a must-do activity for families visiting Oahu, and there are several companies that offer guided tours. Kids will love the chance to see these gentle giants up close and personal.
Explore & Adventure
Of course, there's more to Oahu than just resorts. Outdoor adventures abound on this island, from hiking Diamond Head to exploring Hawaii Volcanoes National Park. Kids will love the chance to get up close and personal with lava tubes and other volcanic formations, and the park offers guided tours that are perfect for families.
Aulani, A Disney Resort & Spa
Of course, we can't talk about Oahu without mentioning Disney's Aulani Resort. Stay here and enjoy a breathtaking atmosphere with tons of activities that are separated from the massive crowds of Waikiki. It is an incredible place for families of all kinds, but especially those with young kids.
When the sun finally goes down, you can hit the dancefloor to indulge in the rhythmic pulse of the island at one of the island's celebrated luaus. There are so many to choose from! We recommend the Disney Aulani Luau in Ko Olina, while at the end of the luau is a touch of Disney the rest of the night is a beautiful authentic luau experience
One of the top reasons to visit Oahu with kids is Aulani a Disney Resort Spa. This beautiful resort is designed specifically for families and offers a variety of activities and amenities that will keep kids entertained for days.
Aulani alone makes Oahu one of the best Hawaiian Island for kids! From character breakfasts to water slides to a lazy river, there's something for everyone at Aulani. Learn more about Aulani here! 
Culture & History
In addition to these activities, Oahu also offers a range of cultural attractions that are worth visiting. Pearl Harbor is a must-see, as it offers a glimpse into one of the most important events in U.S. history. The Polynesian Cultural Center is also worth a visit, as it provides a fascinating look into the cultures of Hawaii and other Pacific Island nations.
Waimea Canyon State Park
Finally, don't forget about the natural beauty of Oahu. Waimea Canyon State Park is a stunning destination that offers breathtaking views of the island's lush valleys and towering cliffs. Whether you're hiking, biking, or simply taking in the scenery, this park is definitely worth visiting.
---
Best Hawaiian Island for Kids and Families Who Love to Hike- Kona
If you plan on visiting the big island, going to Kailua Kona, the principal western city, is a must. Here you will find some of the most diverse and picturesque landscapes to soak in. The beaches here have the clearest blue waters and you might just spot a sunbathing sea turtle. It is one of the most magical Hawaiian island experiences you and your kids can have!
We recommend heading over to Makalawena/Pu'u Ali'i Beach if you're looking for a Heaven On Earth type of experience. It is a 25-minute beautiful hike over the lava rock landscape to get there. You can pack a lunch and spend the whole day here snorkeling and exploring!
If you want to explore the rainforest, we recommend pairing up with a tour company. You can find a wide variety of guided tours to some of the island's most stunning locations, including the top of Mauna Kea for a bit of stargazing, atop Volcanoes National Park for some lava pictures, or through the pristine, waterfall-laden rainforests. Wasabi Tours is a great company to book through, check it out!
Check out 13 Spectacular Things to do on Kona – from No Back Home
Active Volcano
In addition to the amazing hikes, Kona is the only island where you can see an active volcano. Our kids loved this, don't worry there are plenty of places to see the volcano from a very safe distance.
---
What's the best Hawaiian Island for your family?
There is no other place on Earth quite like Hawaii, so it's no question why so many people visit once and end up going back again and again. Kids love the amazing beaches and the delicious shaved ice. There is a multitude of activities for all types of families to enjoy. Plus, beyond that, you'll find the Aloha spirit of the local Hawaiians who help to create a memorable and remarkable experience for all of their guests.
We hope that we've inspired you to take a trip to the Hawaiian islands with your kids, or at least helped to create your perfect island itinerary. Happy travels!
---
Pin-it for later: Best Hawaiian Island for Kids – Amazing Activities, Resorts & More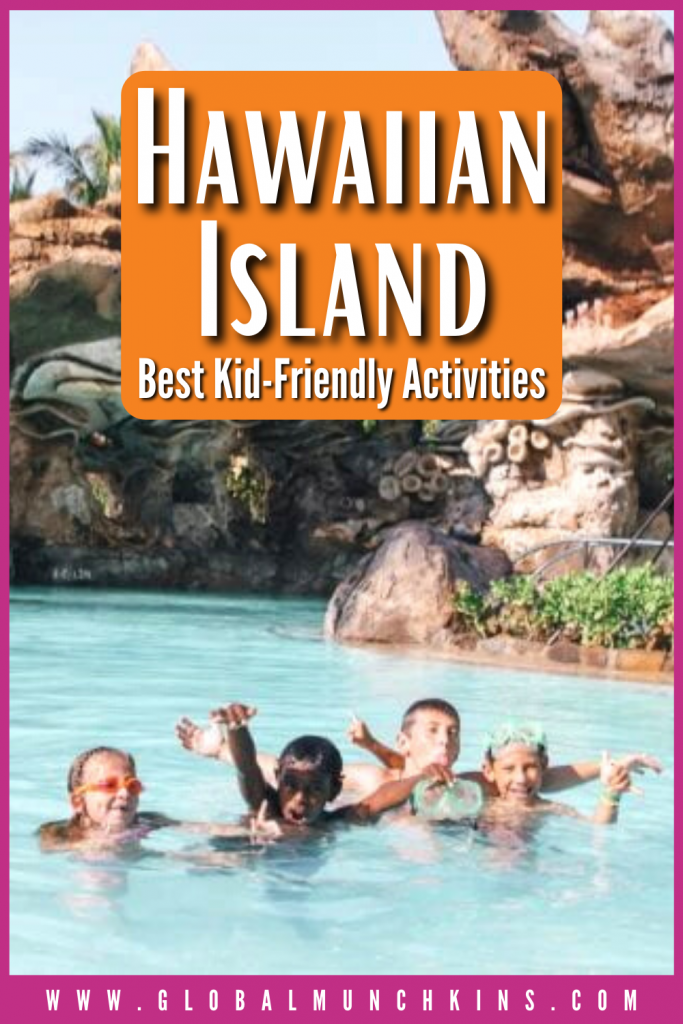 ---
If you enjoyed reading about Best Hawaiian Island for Kids, you might also enjoy:
21 AMAZING THINGS TO DO IN KONA HAWAII – #6 IS AN ABSOLUTE MUST!
ULTIMATE PACKING LIST FOR HAWAII + [ FREE PRINTABLE LIST ]
HOW WE HAD AN AMAZING HAWAIIAN VACATION IN 2020 (YES, 2020)
---
Frequently Asked Questions: Best Hawaiian Island for Kids
What part of Hawaii is better for kids?
Oahu is considered the better part of Hawaii for kids. This is because Oahu offers a wide range of family-friendly activities and attractions, such as Aulani, a Disney Resort & Spa, outdoor adventures like hiking Diamond Head and exploring Hawaii Volcanoes National Park, night swimming with manta rays, cultural attractions like Pearl Harbor and the Polynesian Cultural Center, and natural beauty like Waimea Canyon State Park.
With something for everyone, Oahu is a great choice for families with kids of all ages.
Which Hawaiian island has the best beaches for kids?
Several Hawaiian islands have amazing beaches that are great for kids. However, Maui is often considered the Hawaiian island with the best beaches for kids.
Latest posts by Michael Mamian
(see all)