So you're headed to the big island? You better be prepared to have some of the most fun you've ever had in your life! There are a million things to do!
Typically, the big island is split into the Hilo and Kona sides. We are going to be breaking down everything you need to know about the Kona side, where you can expect stunning beaches and a variety of incredible water activities.
Our list of the Best Things to do in Kona Hawaii
Read on for our list of the 22 things to do in Kona Hawaii that you can't miss!
---
1. Take a Day Tour in Kona, Hawaii
You are probably headed to Kona to take in all the natural beauty. One cool way to experience Kona is to go on a day tour. Wasabi Tours is well known for being one of the best with funny and informative tour guides. Not to mention, the tours are fairly small, so you won't feel like an ultra-tourist.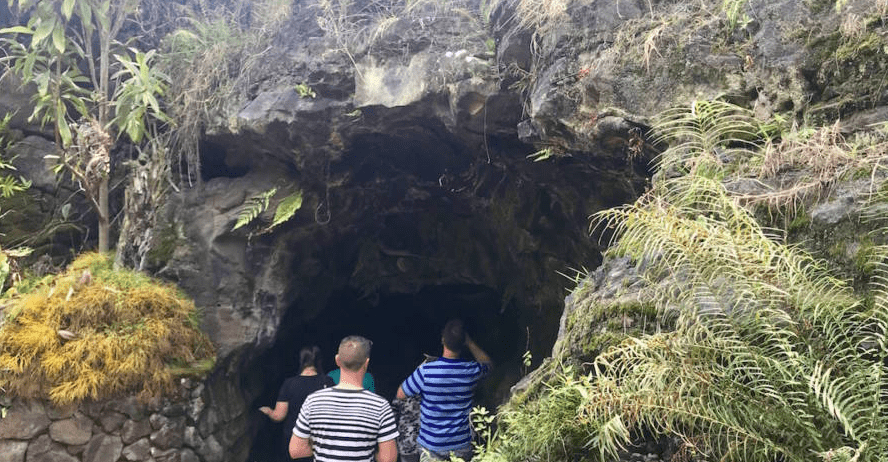 There are a number of tours to choose from, but I recommend the Twilight Volcano and Stargazing Tour. It is 12 hours long, so you will definitely get your money's worth! The tour includes the chance to stick your toes in the black sand beach, walk through among lava flows from the past, and visit Hawaii's Volcanoes National Park.
---
2. Adventure To A Waterfall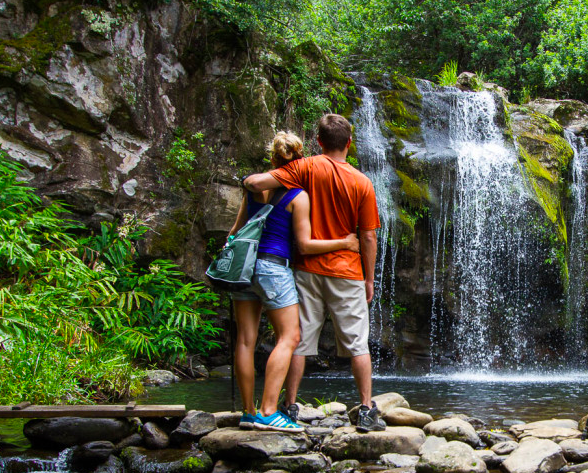 A list of things to do in Kona would not be complete without an adventure to a waterfall! If you're up for a serious excursion, the Kohala Waterfalls Adventure is an eight-hour tour that goes to some of the most scenic parts of the big island.
You'll get to do everything from a relaxing hike through a private natural reserve to a high-energy off-roading experience in a six-wheeler. The guides are awesome and you'll be sure to learn a lot about the history and culture of Hawaii.
---
3. Race Across Kona
If you're looking for a fun activity that the whole family can enjoy in Hawaii, Fantastic Race Kona is awesome. It is a self-guided race and tour that makes use or problem solving to find hidden treasures.
It's both tons of fun and super educational. Every team is given a riddle with a variety of clues to help them seek out buried treasure and unravel the mysteries of Hawaiian deities. Book your Race Across Kona here!
---
4. Kona Coffee Tours
Everyone loves coffee! If you want to learn more about some of the best coffee in the US, you have to tour the Kona Joe Coffee Farm. There is a self-guided tour, but we highly recommend joining one of the hourly guided tours of this adorable Kona farm.
This way you get to learn about the entire process of making coffee. Plus, when you're all done with the tour, they give you a small sample to take home with you!
---
5. Take In The Magic At Pu'uhonua-o-Honaunau in Kona, Hawaii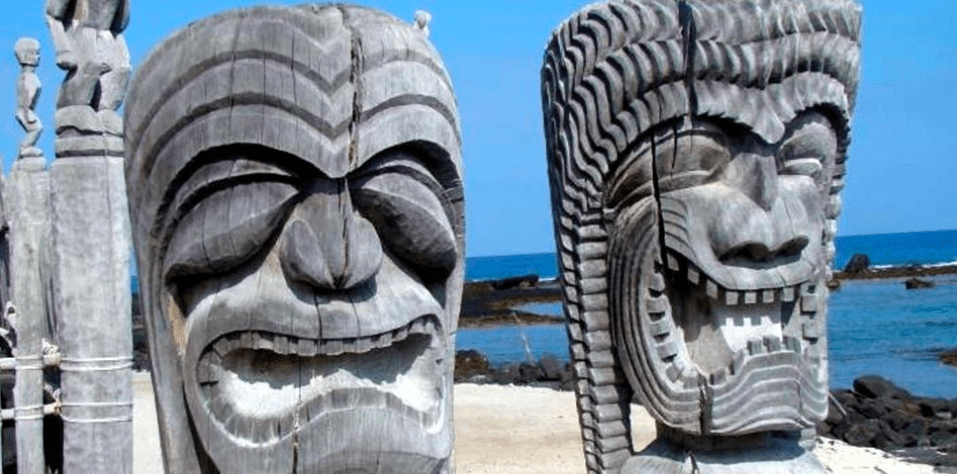 Another attraction south of Kona is the Pu'uhonua o Honaunau National Historical Park, which is located at 1871 Trail, St. Kailua Kona HI 96740.
This park is a sacred site for Native Hawaiians and is known for its historic temples, petroglyphs, and ancient artifacts. It's a great place to learn about the island's history and culture.
Pu-uhonua-o-Honaunau is one of the most sacred sites on the island of Hawaii. Here you can learn more about Hawaiian history and culture than just about anywhere else. You'll find a variety of fierce Kii totems, the Great Wall, and the ancient fishing pools.
The park rangers give daily talks as well, which better helps visitors to understand the culture so that they can better appreciate it.
Learn more about this sacred site here!
---
6. Go On A Raft Expedition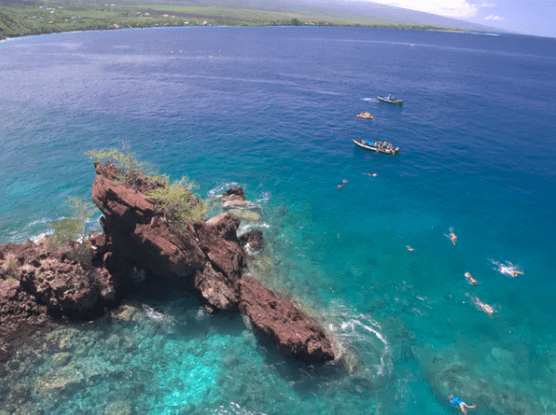 Captain Zodiac Raft Expeditions is one of the most thrilling raft things to do in Kona, Hawaii. They've been taking people on tours for over four decades, and with insane expertise, they are sure to show you an awesome time exploring the gorgeous coastlines.
You can choose from a wide variety of tours, there are both snorkeling tour and rafting options. You can also choose to be a part of a private charter. Here you'll get to meet tons of wildlife and get up close with lava tubes.
---
7. Enjoy Some Island Burgers
After a fun day enjoying the Kona Coast, get some of the islands most famous burgers. Annie's Fresh Island Burgers is a must-stop Hawaiian destination.
They are one of the best burger joints on the island, known for their grass-fed beef burgers. Here you can dine on locally-sourced and organic produce, farm-to-table entrees, and wild-caught fish. There are so many burgers to choose from too, so even picky eaters won't get left behind.
---
8. Take In Some History At Kona, Hawaii's Kailua Village
No island can survive without a heart, and the heart of Kona district just so happens to be Kailua Village. Once upon a time, this village was a bustling fishing village, though it now remains as a bright, entertaining coastal town with tons of options for shopping, dining, and accommodation.
There are tons of great historical sites as well, which you can enjoy with self-guided tours.
---
9. See The Seahorses!
Seahorses are endangered, and in an effort to save some of the most magical creatures on Earth, Ocean Rider Seahorse Tours provides ways to help these animals thrive. There are over 20,000 sea dragons and seahorses on their farm.
You and your family will have an opportunity to watch and feed them on one of the scheduled tours. The little ones will love the interactive pools! Learn more here!
---
10. Explore Kaloko-Honokohau in Kona, Hawaii
Kaloko-Honokohau National Historical Park is one of the best places that combines both information on the history and culture of the island, as well as a variety of outdoor activities.
There are tons of great hiking trails, great views of the ahupuaa, a variety of old petroglyphs, and a few sacred temples. Here you can take in the beauty of what was once ancient Hawaii while relaxing along the beautiful shores.
---
11. Step Back In Time And Into Hulihe'e Palace
Learn a little about Hawaiian culture and the Hawaiian monarchy. It dates back a long way, and when you visit the Hulihee Palace, you can see how this royalty lived in the 1800s.
It was originally a summer vacation home for the Hawaiian king, though now this gorgeous, Victorian-style home has turned into a museum where visitors can marvel at the array of ornamental furniture and relics. Tours are twice throughout the day, and on Sundays they have a free concert!
---
12. Swim With the Dolphins!
Did you even go to Hawaii if you didn't swim with the dolphins? There's nothing quite like slipping on a snorkel mask and hopping into the clear, blue waters of Kealakekua Bay to get a closer look at some of the island's most beautiful sea creatures.
Dolphin Discoveries offers one of the best ways to explore the area. Plus, they have a 98% success rate at finding dolphins and whales in the area, so you're sure to see some! Book your tour here!
---
13. Tour The Deeper Blue
If you want to get out a bit deeper in the ocean, we highly recommend joining one of the Fair Wind Big Island Ocean Tours. They have all kinds of different tours for different guests, including a Manta Ray Adventure, Snorkeling Excursions on the marine reserve to spot sea turtles and dolphins, and much more!
Each of the tours lasts about three to five hours, and they provide all of the necessary equipment to get you in the water! Check out their different tour options here!
---
14. Visit the Summit of Mauna Kea
Kailua Kona is one of the only places in the world where you can drive from sea level to 14,000 in just about 2 hours, and from the top of this dormant volcano, you will have views of like no other. You will see lava, desert, the valley, and Mauna Loa.
This expedition is not for the faint of heart as you are rapidly climbing in altitude, however it is truly an adventure like no other. You will need a 4-wheel drive vehicle and it is highly recommended to stop at the Visitor's Center on your way up. Check out this stargazing tour that will take you to the top!
---
15. Learn To Surf in Kona, Hawaii!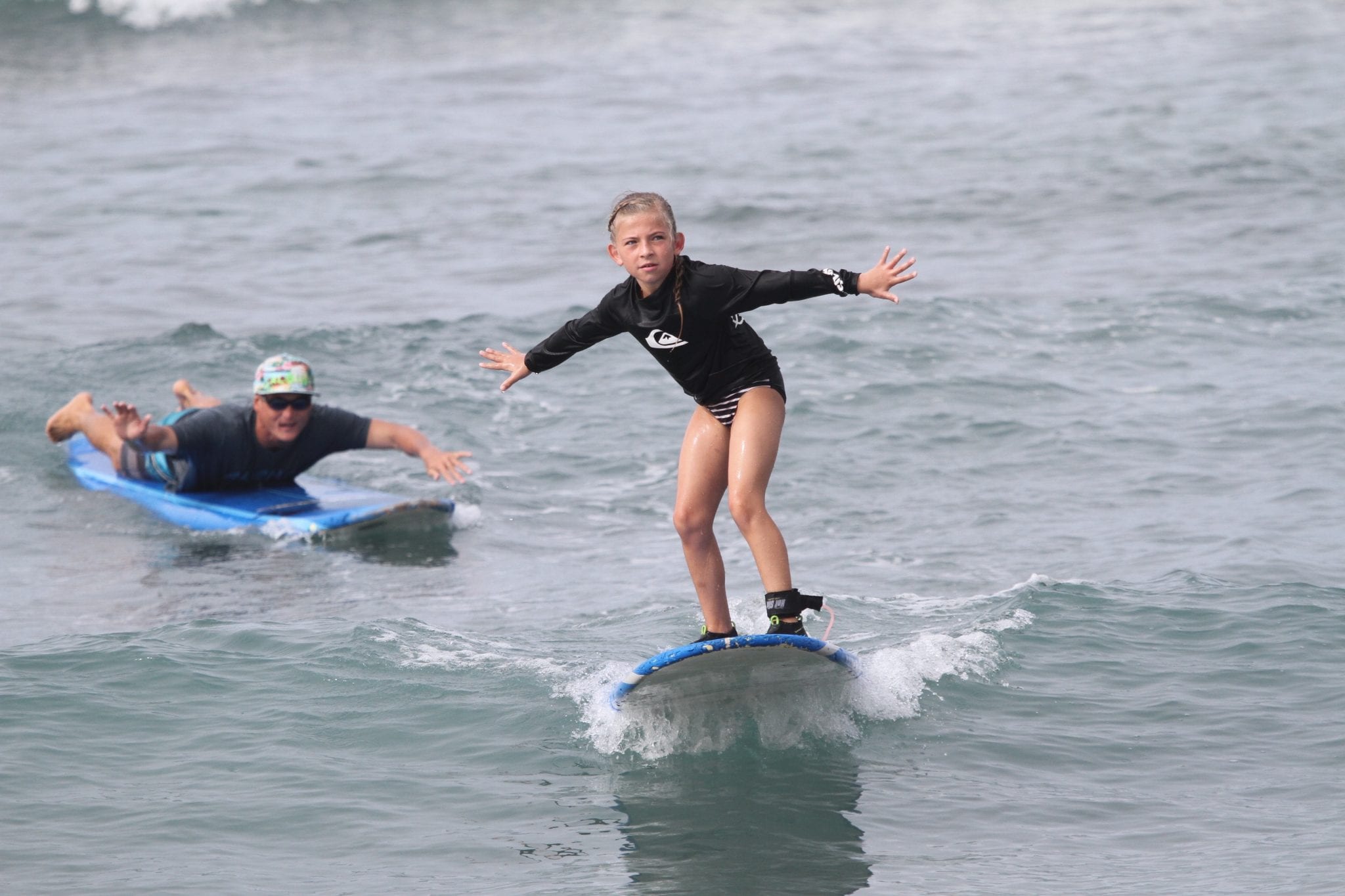 One of the best ways to add an entirely different level of excitement to your Hawaiian vacation is to surf on the island! HYPR Nalu has decades of teaching experience under their belts. You can learn to stand-up paddleboard too!
There are both private and semi-private tours, each of which gets you educated on the philosophy and mechanics of surfing so that you can get in the water and catch waves within the first few hours. Learn more here!
---
16. Find some amazing Snorkeling Spots
There are so many amazing snorkeling spots in Kona, whether you are on the north side of the island or the south side. Kealakekua Bay is one of the most popular places to check out some amazing sealife.
---
17. Visit a White Sand Beach
Kikaua Point Beach Park is located about 20 minutes north of Kona and has some amazing white sand beaches. This is a great spot to see sea turtles and the little cove will feel like you are enjoying a private beach club.
A little furthe down the road you can visit one of the more beautiful white sand beaches, Kua Bay. (Manini'owali Beach). To get there, Travel North from kona on Hwy 19 from the airport roughly 4.6 miles and take the second exit to the left.
---
18. Visit Captain Cook
One of the top things to do in Kona, Hawaii, is to visit the Captain Cook Monument. This monument is located in Kealakekua Bay, where Captain Cook first landed on the island. The monument is a great spot for snorkeling, and you can also take a boat tour to see the bay and surrounding area.
---
19. Dine at Huggo's on the Rocks
For a delicious dining experience with a beautiful ocean view, head to Huggo's on the Rocks. This restaurant is located right on the water in Kailua Kona town and is known for its fresh seafood and cocktails. The atmosphere is relaxed and casual, perfect for a beach vacation.
---
20. Stay at King Kamehameha's Kona Beach Hotel
If you're looking for a luxurious place to stay in Kona, Hawaii, check out King Kamehameha's Kona Beach Hotel. This hotel is located right on the oceanfront and offers beautiful views of Kailua Bay. The hotel features a spa, outdoor pool, and multiple restaurants, making it the perfect place to relax and unwind.
---
21. Go Whale Watching
One of the most exciting things to do in Kona, Hawaii, is to go whale watching. During the winter months, humpback whales migrate to the warm waters around Hawaii to mate and give birth. You can take a whale watching tour to see these magnificent creatures up close and personal.
---
22. Explore South Kona
Explore the southern region of Kona. This area is known for its pristine beaches, snorkeling spots, and stunning natural beauty. One must-visit destination is the Kahalu'u Beach Park, which is a popular spot for snorkeling and swimming with colorful tropical fish. You can also take a dip in the warm waters of the Honaunau Bay, where you can see historic Hawaiian temples and statues.
---
Mahalo!
Hawaii is a truly magical place, and Kona is one of the best spots to visit for those seeking out the beauty of the island. We hope that you have a wonderful time exploring this gift to the world and make sure to plan ahead of time so that you can get
---
If you enjoyed reading about things to do in Kona Hawaii, You May Also Like:
How Much Does a Trip to Hawaii Cost? + Money Saving Tips
The ULTIMATE Guide to Disney's Aulani- Aulani Review [Top 10 Tips & Photo Tour]
15 of The Best Hotel Pools for Families in 2020!
---
Pin-It for later: 22 Amazing Things to Do in Kona Hawaii – #6 is an Absolute Must!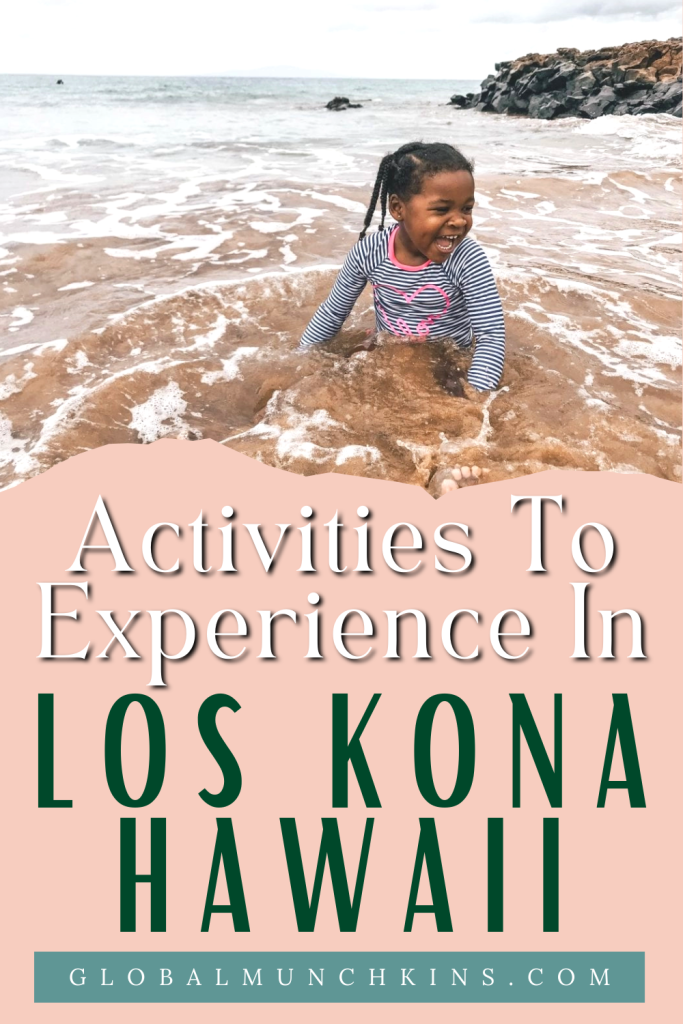 ---
Frequently Asked Questions about Things to do in Kona Hawaii
What is Kona Hawaii known for?
Kona, Hawaii is known for a variety of things, including its beautiful beaches, sunny weather, and lush natural landscapes.
Kona is also known for its coffee, which is grown on the slopes of nearby Mauna Loa volcano and is considered some of the best in the world. Additionally, Kona is known for its rich cultural heritage and history, with ancient temples and other historic sites scattered throughout the area.
Visitors to Kona can also enjoy activities such as snorkeling, whale watching, hiking, and exploring local towns and markets. Overall, Kona is a popular destination for those seeking a mix of natural beauty, cultural experiences, and outdoor activities.
What is the best month to go to Kona?
The best month to go to Kona, Hawaii, largely depends on your personal preferences and what you want to do while you're there. Generally, Kona has warm and sunny weather year-round, with temperatures typically ranging from the mid-70s to the mid-80s Fahrenheit (around 24-29°C).
If you're interested in whale watching, the best time to visit Kona is from December to April, when humpback whales migrate to the area. This is also peak tourist season, so keep that in mind if you prefer to avoid crowds.
If you're interested in visiting during the quieter season, the shoulder seasons of May and October can be a great time to visit. During these months, you may find fewer crowds and better rates on accommodations and activities.