Rhode Island might just be the smallest of the 50 states, though its unique culture and larger-than-life attitude make up for its small size. If you're looking to enjoy Rhode Island's 400 miles of coastline (which seems crazy since the state that is only 37 miles wide and 48 miles long, but its shoreline on Narragansett Bay in the Atlantic Ocean runs for 400 miles, there is no better way to do it than with a vacation rental. Here are some of the best Rhode Island vacation rentals around.
Beachfront Vacation Rentals
Let's take a look at some amazing Rhode Island Vacation rentals which have an amazing beachfront location.
The Boat House
This little renovated boathouse cottage sits atop the water and boasts three bedrooms, one bathroom, a gourmet kitchen, and enough room for six guests! It was sustainably renovated and includes luxury furnishings and appliances. The Boat House comes with its own private beach for guests to enjoy, as well as a few kayaks that are perfect for taking out fishing. It's a truly wonderful place for those looking to experience a historical part of Rhode Island.
Judith Beach House
You can tell that the Judith Beach House is an absolutely classic home at first glance. Just a two-minute walk to Scarborough State Beach, this three-bedroom / two-bathroom home provides guests with direct ocean views from both the upper and lower decks. The home has original grey shingles adorning the outside walls, keeping with the style of your quintessential New England home.
---
Narragansett
This beautiful beach home sits adjacent to the ocean and admires the sight of the Newport Bridge. While situated in a quiet, family-friendly neighborhood, it still remains quite walkable to everything you might want to enjoy on your family vacations, including the Boon street shops and restaurants, the Narragansett Pier Marketplace, and the sea wall. With an open modern concept and room for 12, it's the perfect New England getaway for large families.
Newport Summer Oasis
This beautiful shingle-style home sits in the heart of Portsmouth, Rhode Island, and is part of the world-famous Aquidneck Golf Club and Resort. For those looking to enjoy golf and tennis, as well as horseback riding, relaxing in the spa, or boating in the marina, this home has access to it all. Some of the built-in, luxury amenities include a pool, hot tub, lounge chairs, an outdoor dining area, and a chef's kitchen. It's one of the perfect vacation rentals for your huge family getaway.
Multi-Level Beach Home
This spacious, light-filled beach home comes with ocean views and a gorgeous, private pool. There are three floors to enjoy, each with its own living area, perfect for multiple families. The home boasts a large gourmet kitchen and lush outdoor landscaping. The outdoor living area has a TV as well, perfect for big game nights with the grill fired up. Enjoy access to the private Hither Hills Beach or relax poolside with some drinks in hand!
Secluded Manor
Sometimes great vacations mean peace and quiet. In this lovely, secluded home, you get to enjoy a large property set far off the street. The house sits about a minute's walk from Second Beach, which offers some pretty ideal surfing conditions. You and your family can also enjoy the Norman Bird Sanctuary, the Sachuest National Wildlife Refuge, and a range of hiking trails. It's an ideal location for both rest and play.
Rhode Island Vacation Rentals In The Woods- Perfect For Fall
Bright and Modern A-Frame Home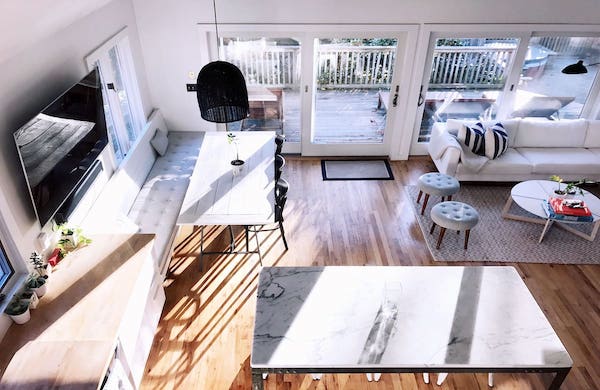 This modern and renovated beach cottage sits within historic East Hampton, moments away from Gerard Beach. It's one of the perfect vacation rentals for any season. The home comes with extensive decking and a large hot tub overlooking the nature preserve in the backyard. It provides guests with three bedrooms and a wide-open floor plan. Just 10 minutes from the property, you'll find access to East Hampton Villages and Amagansett.
Football Fans Lake Retreat
This three-bedroom and 1.5-bath home sits just 10 minutes from Patriots Stadium and just atop Lake Mirimichi. It comes with more than enough room for large groups of friends or families with space for sleeping 16. The house comes with huge rooms, a large deck for enjoying views of the lake, a variety of watercraft, and a fully-equipped modern kitchen for whipping up massive meals.
Private Island Retreat
Looking for your own slice of wooded paradise? Look no further. This small cabin space has enough room for eight guests and comes complete with complimentary kayaks and a rowboat so that you can enjoy the beauty of the surrounding lake. Whitins Reservoir has some of the best fishing in the state. Plus, you can enjoy the many miles of hiking and biking trails within the Douglas State Forest. Get that true "camping" experience by staying in this luxury cabin.
Private Lake Estate
This private lake estate is the perfect home for summer vacationers. It comes with enough room for ten guests and has kayaks, canoes, and paddleboards for everyone to enjoy the water. It comes with an open and natural layout from the ground up, including two master bedrooms that overlook the lake. The kitchen is modern and comes with tons of seating for the whole family. You'll also love the entertainment center in the basement, which has a small theater, ping pong table, pool table, dartboard set up, and more!