There are so many amazing family resorts in Florida. First, we fell in love with Disney World's magic. Then, we fell in love with Destin's beaches and lively Key West now I think it is safe we are head over heels for traveling to Florida overall. It is one destination we always highly recommend to families looking for a new place to vacation. Below you will find our list of the best family resorts in Florida! You can find everything from kid-friendly resorts in Florida to luxurious beachside stays, so we've broken it up into categories to make your search a little easier.
Best Florida Theme Park Resorts for Families
If you need something to look forward to this summer, a vacation in the Sunshine State may be just the thing! You will find that Florida is home to with pristine beaches, diverse cultural scenes, and of course, theme park resorts. With all of the options to choose from, finding the best one for you and your family can be quite tricky. Luckily, we're here to help.
Here are the top 9 Florida Theme Park Resorts for families!
Disney's Beach Club
Disney's Beach Club is an elegant yet charming New England-style resort hotel that is perfect for families! It sits right on Stormalong Bay, (the hotel's pool) which provides a bit of excitement and exploration for families who want to get out on the water! Our kids love the pirate ship slide, which is one of the longest water slides I have seen at a hotel pool.
You can rent a mini powerboat and fly around the lake during the day before coming inside for a luxurious dining experience in the evening. The Beach Club is walking distance to Epcot and sits a convenient boat ride away from Hollywood Studios!
At night, you will find movies on the beach for the kids to enjoy. You can enjoy a walk around the boardwalk which has nightly entertainers that are fun for the whole family.  Lastly, you have to try out their iconic ice cream shop beaches and cream, which is a classic ice cream shop. Save up your appetite for the kitchen sink.
Our family considers this resort home, and I would rank it as one of our favorites out of all the places we have traveled. 
Check out this article to see why, as DVC members, we absolutely love the Beach Club Villas.
Disney's the Animal Kingdom Lodge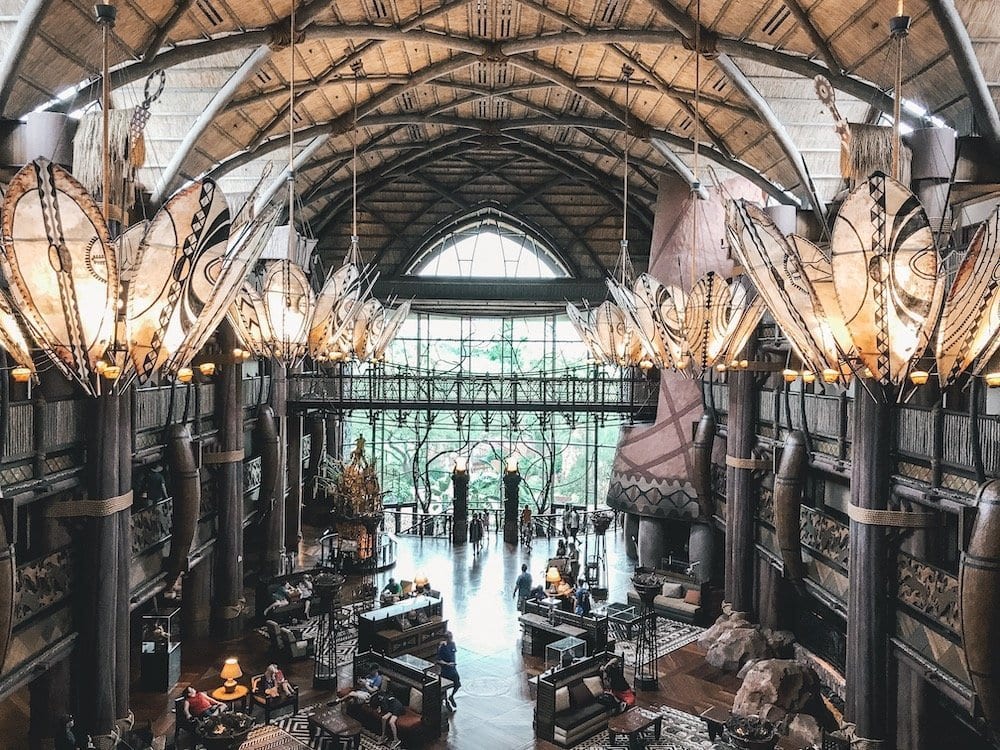 Stepping into Disney's Animal Kingdom Lodge is like stepping into the heart of Africa. This magnificent resort is inspired by the traditional African kraal. Here you'll find a horseshoe design, which provides guests with gorgeous views of the four savannas, as well as over 200 species of animals that call this place home!
You and your family will enjoy a number of exciting animal programs and dazzling pool areas. Not to mention, you get to bask in the excitement of an African Safari adventure!
Loews Royal Pacific- Best Family Resort in Universal Florida
Loews Royal Pacific is an exotic paradise like no other. It is the perfect place to experience tropical wonder, exotic dining, and hours of carefree adventure! Enjoy the white sand beaches and palms, which encapsulate a sparkling lagoon-style pool.
At night, you can hang out in the laid-back Polynesian lounge before ending your night in one of the fine island rooms or suites. If there were one word to describe Loews Royal Pacific, it would be "tranquil." There is nothing quite like it in Florida!
For more Universal Orlando tips, check out this article!
All-Inclusive Kid Friendly Resorts in Florida
Club Med Sandpiper
Club Med Sandpiper is one of the best all-inclusive family resorts in Florida. For those seeking out active family vacation, it is an excellent choice. Club Med Sandpiper sits along the St. Lucie River and takes advantage of the tropical climate throughout the year. The resort includes an adult-exclusive infinity pool, a dedicated poolside bar, and a Sports Academy with some of the top-ranked coaches in the world which is perfect for a little bit of competitive family fun.
The resort sits between Orlando and Miami. This makes it a great stop for families who want to experience some of the top Florida cities on their vacation.
Hyatt Regency Coconut Point Resort and Spa
The Hyatt Regency Coconut Point Resort and Spa is a great option if you are headed to Florida for Baseball Spring Training because of the location. The resort is conveniently located in the heart of Southwest Florida right in Bonita Springs, which is a quaint beach community. This gives you the opportunity to explore the surrounding areas if you choose!
The rooms are inspired by the modern, coastal ambiance of Florida, with clean and comfortable decor. Within the resort, you will have access to a golf course, lush gardens, tennis courts, and 5 restaurants & bars. They also offer a kids-club that will keep your little ones entertained with plenty of activities.
This resort has a water park that rivals all others in Florida. It has multiple epic waterslides, a lazy river, a heated adults-only pool, a hot tub, a walk-in adventure pool, and a cool waterfall pool. Your kids will have a blast, and so will you!
We saved the best part of all for last, though. Your stay here will include an excursion to their private island on the Gulf of Mexico and a bay cruise with dolphin sightings.
Best Family Beach Resorts in Florida
Margaritaville, Hollywood Fl
As you probably know, Margaritaville was inspired by the author and songwriter Jimmy Buffet. This destination resort and entertainment complex are perched upon the one-of-a-kind Hollywood Beach Boardwalk.
This Beach Boardwalk is a classic Florida destination that has been enticing visitors from around the world since the early 20th century. It is similar to lofty beach towns that you may find in California or Europe.
Margaritaville offers everything you could possibly want from a beach hotel, including water sports, shopping, concerts, and more! Plus, you can raise a toast at the end of the day with your favorite people. Just make sure to get salt on the rim!
Check out my full review of the resort here.
 The Ritz Carlton Naples
Who says the best family resorts in Florida can't have a touch of luxury? Nothing says luxury quite like the Ritz Carlton. This sun-soaked beach destination is perfect for those seeking out luxurious, garden and sea-inspired spa treatments, elegant dining next to Mexico's Gulf, a unique 36-hole golf course where the champions play, and a sunset that will leave your jaw on the floor.
Ritz Carlton Naples is easily one of the most jaw-dropping resorts in all of Florida. There is no doubt you will create fond memories when here.
Acqualina
The Acqualina Resort sits on one of the most incredible stretches of oceanfront in Florida. In fact, its location has given it the award for the #1 Beachfront Hotel In the Continental U.S. by Trip Advisor.
Here you will find unprecedented service and accommodations, including world-class dinings, a top-of-the-line spa, and an Acqumarine program for the whole family to enjoy! The lush, outdoor area features signature beach loungers and umbrellas for lounging around during the day. At night, you can retreat into town to enjoy the exotic Miami nightlife.
The Four Seasons Surfside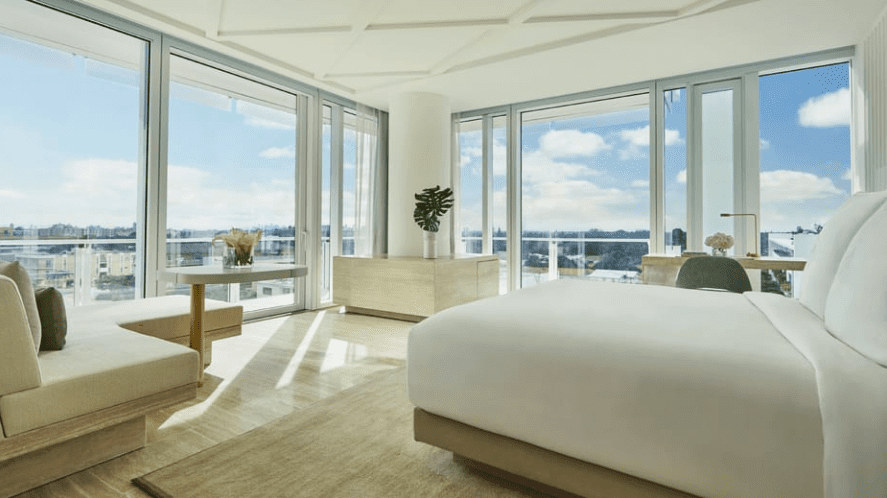 Surfside has been around since the early 1930s and has become a staple in the great state of Florida. This resort features the Four Seasons Hotel, which is synonymous with luxury, and the Surf Club. Here you will find a world-class spa, chic Italian dining, and of course, oceanfront excitement.
The resort is surrounded by several spots to dine, shop, and play. Make sure to dine at the Surf Club to taste the essence of the Amalfi Coast! While you're there, get yourself a legendary cocktail from the ballroom.
Playa Largo Resort & Spa, Autograph Collection by JW Marriott
If you are looking for a gorgeous family-friendly resort in the Florida Keys, you have to consider the Playa Largo Resort & Spa.
That is a wrap on our list of the best family resorts in Florida. So, which one of these incredible hotels fits your Florida dream vacation? We are pretty sure you can't go wrong with any of them when you consider the amenities like the epic water parks to their private beaches and family-friendly activities.
You May Also Like:
Airbnb Disney World; 15 Magical Airbnbs near Disney
Discount Disney Tickets; Disney World Tickets on the Cheap!
Universal Studios & Islands of Adventure Discount Tickets [11 Ways to Save]