There aren't many perfect tourist destinations in the world, but Acapulco comes close. Acapulco is one of Mexico's most popular tourist destinations, and when you consider the many positives about the area it's easy to see why.
The city's sheltered bay offers calm waters perfect for swimming, sunbathing, and sailing. It's also known for its lively nightlife, with a variety of bars and nightclubs to keep visitors entertained into the early hours. And of course, no visit to Acapulco would be complete without sampling the local cuisine. From fresh seafood to delicious tacos, there's something to suit every taste.
Before you dive into those options though it's best to find a place to stay. Acapulco is a tourist-heavy world of condos and apartments, but don't worry. I've searched for some of the very best AirBNB options (including a few houses!) that will work for couples, small families, or large groups.
---
Our List of the Top Acapulco Airbnb Rentals
---
Spectacular views of the ocean and beautiful sunrises are waiting for you if you choose this incredible modern luxury apartment that sits just a short distance from the sandy beaches.
The apartment is a part of the La Isla Residences complex and gives guests access to five different private pools. The younger ones in your group should definitely try them all out to see which they prefer (they're all awesome, by the way).
Inside the apartment, you'll find a main bedroom and bath with spacious closets and a TV for all the Netflix bingeing you can handle. There's also a second bedroom with an adjacent bathroom.
Guests will also have a beautiful living room with a second TV, plus a dining room, full kitchen, plus complimentary parking for up to two vehicles. The complex does have a gym, but who works out while on vacation? Amenities include a washer, hair dryer, outdoor shower, air conditioning, and WiFi.
You're going to be on the edge of town but just a short distance from the La Isla Shopping Center and Acapulco International Airport.
---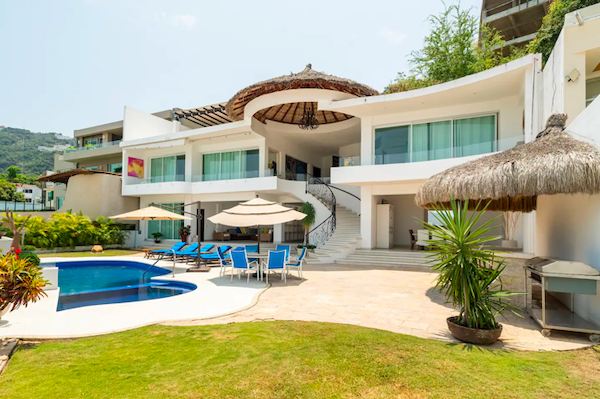 Casa Arcadia is a larger place where the entire crew can have some space to themselves while enjoying the sand and surf.
Up to 12 guests can relax in this beautiful luxury villa that is located in one of the more exclusive areas of Acapulco. The villa has wonderful views of Acapulco Bay and is a short drive from the Acapulco Botanical Garden. The Playa Bastien beach front is close by, as well as the Capilla de la Paz, a stunning clifftop chapel, giving your family plenty of options for entertainment while visiting.
Along with the views of the bay and the city, amenities at Casa Arcadia include a television, air conditioning, WiFi, a full kitchen, a private backyard, private patio, barbecue grill, and access to a private pool, plus free parking on premises. Assistance animals are also allowed on the property.
---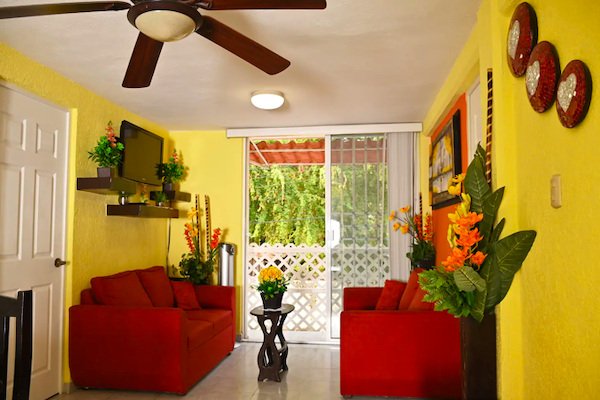 On the west side of Acapulco Bay lies a large peninsula that is home to the resort area of Las Playas. Here's where you're going to find this lovely three bedroom apartment that is meters away from two gorgeous beaches: Caleta and Caletilla.
This apartment is an ideal location for those traveling on a strict budget because not only is it incredibly cost effective, it's also within walking distance of the local shops, restaurants, and the Santa Lucia market.
Just because the apartment is lower in cost doesn't mean it's lower in quality. You're still going to get amazing views of the bay, three beautifully decorated bedrooms (2 have full A/C), ceiling fans, two full bathrooms, h ot water, WiFi, a full kitchen, and 24-hour security on the complex.
It's located on the ground floor, which is perfect for those with mobility issues, and sleeps up to seven guests comfortably.
---
A private balcony for watching the sun rise, cozy surroundings to reconnect, and an infinity pool to help pass the time. What could be better than this bright condo in the heart of Acapulco?
Up to four guests (and pets less than 10kg / 22 lbs) can enjoy this modern condo that is literally steps from the popular Playa El Morro beach. Seeing as you're in the middle of Acapulco, then that means you're only a short distance from the best restaurants, shopping, the Diana the Huntress monument, and the famed Parque Papagayo ecological park.
This is a one bedroom, one bathroom condo but it comes with extra perks. Amenities at the condo include a small but stocked kitchen, dining room, and living room that includes a sofa bed for an extra sleeping area (a screen can divide the room for privacy if needed).
Guests will also get access to a rooftop terrace that includes a large infinity pool plus outdoor eating and lounging areas. Complimentary additions like WiFi, cable television, and a phone with free calls to Mexico, Canada, and the U.S. also highlight this stay.
---
If you're an all-views, zero-frills type of traveler, this this private beachfront condo is the answer to your question about where to stay in Acapulco.
Here you're going to get an unobstructed view of Acapulco Bay because the condominium is directly on the beach with easy in-and-out access to Playa Icacos beach. You're also minutes away from popular restaurants, shop-til-you-drop locations, and the popular amusement park El Rollo Acapulco.
The condo comes with a fully stocked kitchen including a refrigerator, microwave oven, dishes, mugs, and more. You'll have access to a washer and dryer, air conditioning, WiFi, and other simple amenities, but trust us, you'll be so busy checking out Acapulco Bay that you won't have time for anything else.
---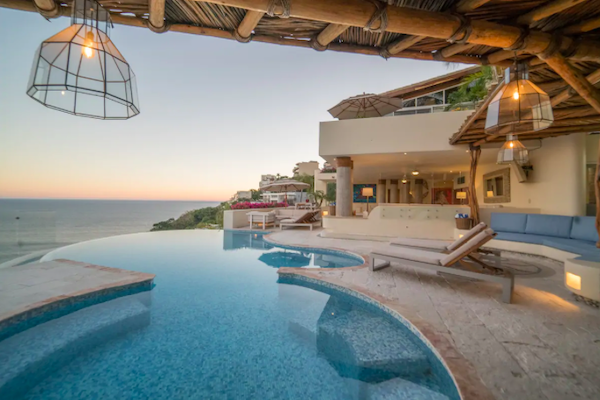 Be warned: you may never want to leave this spectacular home that is the ideal space for large families or groups traveling together.
Located in the Punta Diamante neighborhood of Acapulco, everything about this place screams luxury with amazing views of the bay and the sea.
It has an infinity pool with bar area, a spacious dining room and living room, TVs with cable television, air conditioning throughout, a fully equipped kitchen, plus a spa room that's perfect for relaxing.
The property includes eight bedrooms, 14 beds, and eight and a half bathrooms. Amenities also include a paddle court and exclusive beach club access. Your group will have a hot tub, washer, dryer, WiFi, and free on site parking.
For an added fee you can hire a local cook to provide delicious meals throughout the day. Talk about luxury!
---
You're going to fall in love with, or maybe fall back in love at, the Valentines House. OK, so the house might be a condo, but the sentiment remains the same.
The Valentines condo sits near the top of the condominium and overlooks Acapulco Bay, and is perfect for families with kids. The common area is located on the ground floor where you'll have access to two swimming pools (including a childrens pool), an infinity pool, two jacuzzis, games for children, an on-site restaurant, and more.
This two bedroom condo includes a hammock near the main patio entrance where relaxing and falling asleep to stunning Acapulco vistas is close to mandatory.
Amenities include a television, air conditioning, WiFi, a small but spacious kitchen, a nearby laundromat, plus free on-premise parking.
---
If you're a traveler looking to stay near Acapulco but not within the hustle and bustle of the city, then you should consider this beautiful Luces en el Mar Apartment.
Luces en el Mar is a small town roughly five miles northwest of Acapulco on a long stretch of land that also houses a Mexican Air Force base nearby. On one side you'll have the sea and on the other you'll have the calm waters of the Laguna de Coyuca.
Up to six guests can sleep comfortably in this three bedroom, three bathroom apartment where guests are encouraged to swim in the private pool, enjoy the complimentary WiFi, and cool down in the air conditioning.
It's literally steps to the sandy shore, where you'll spend the bulk of your time building sand castles and watching the tide roll in.
---
Look, we get it. Not everyone wants to stay directly on the water. Sometimes a large group wants all the comforts of home with a more traditional location away from the wonderful sand and surf of Acapulco Bay. Who are we to judge?
The VS House, as it's dubbed, is four bedrooms, four bathrooms and sleeps up to 12 guests. It's a nearly-brand new home with modern furnishings that will be a perfect place for a reunion or family vacation.
The home comes with a housekeeper to keep things tidy, offers an on-site cook to keep you fed, and a jacuzzi pool to keep you… well… jacuzzed. There's also an incredible garden with dining area for festive meals outdoors under the stars.
It's located inland near the Paraiso Diamante neighborhood to the east of Acapulco, but you'll still be a short drive from all the activities on the bay and the laguna.
Amenities include an outdoor shower, WiFi, a washer and dryer, an HDTV with Netflix access to keep you entertained, air conditioning, and a bluetooth sound system.
---
This dazzling piece of Heaven is perfect when you're traveling with large children (aka "adult men"). Why? Because it's right on the Tres Vidas Acapulco golf course.
The villa has four bedrooms, four and a half bathrooms, with eight beds and sleeps up to 12 guests. It's fully equipped and has perfect views of the sparkling ocean, is spacious and open to allow a bit of social elbow room, and is furnished with modern touches.
Along with panoramic views, guests will also love the open floor plan with a beautiful living room, dining room, and fully stocked kitchen.
You can also relax in the private pool with a roofed terrace, a bar, barbecue grill, television, and a Sonos ambient sound machine. Other amenities include a washer/dryer machine, and an optional cook for an additional cost. Just think about it: after you slice a shot into the ocean, you can have slices of fruit waiting on you to calm your nerves. It's perfect!
---
Frequently Asked Questions about Acapulco Airbnb Rentals
What attractions should you not miss in Acapulco?
The La Quebrada seaside cliffs that are famous for their diving shows 
Isla de La Roqueta
Barra Vieja Beach
Is Acapulco safe?
Tourist heavy areas are safe and most properties have on-site security and cameras. Like any larger city though, there can be elements and areas that are not safe. Always stay mindful of your surroundings, stay with your group, and keep flashy jewelry and large amounts of cash hidden away.
Best Restaurants in Acapulco?
Ika Tako
Tacos Tumbras
Umami Sushi Bar
Zibu 
Origen
---
If you enjoyed our list of the best Acapulco airbnb rentals, you might also like:
10 UNIQUE AIRBNBS IN TEXAS FOR THE ENTIRE FAMILY
---
Pin-It for later: 10 Beautiful Acapulco AirBnb Rentals