Fort Myers is famous for its beaches, water sports, and being a gateway to many more islands.
Like the rest of Florida, Fort Myers typically is sunny 340 days out of the year, making it the absolute best place for a tropical vacation. Apart from being bright, Fort Myers has a lot to offer regarding history dating back to the 1920s. 
That said, Fort Myers is riddled with many things to do, such as nature parks, art galleries, theaters, and outdoor activities.
But with so many things to do in Fort Myers, how can you narrow down what to do? To give you a helping hand, we've handpicked out the best things to do in Fort Myers, Florida! 
---
Our List of Best Things to Do In Fort Myers
---
Edison & Ford Winter Estates
The Edison & Ford Winter Estates date back to 1886, when the Edison Estate was built. Later in 1911, the Fort Estate was constructed. This estate was two inventors, Thomas Edison and Henry Ford winter homes.
Why You Should Go
The Edison & Ford Winter Estates are winter homes for Thomas Edison and Henry Ford. The estates are on 21 beautiful acres of waterfront land. It's one of the top attractions in Downtown Fort Myers.
Visitors can take a tour of the historical 15,000-square-foot museum that displays artifacts from the late 1800s and early 1900s time periods. You can view their homes where they've lived with their families during winter.
However, you cannot physically enter the homes anymore. You can view it from the clear barriers where the doors are. Guests are welcome to take as many photos as they please.
There is a separate museum on the property where guests can see the laboratories with vintage cars, electricity displays, and other artifacts that guests can touch.
It is recommended to take an entire afternoon to explore the whole estate because there is so much to see and so much to do.
---
Fort Myers River District
Want to see history and buildings dating back to the 1920s? You can stay in the Fort Myers River District while shopping and dining. 
Why You Should Go
With so many things to do in Fort Myers, it is recommended to take a trip down to the Fort Myers River District. This area has a mix of restaurants, theatres, and shopping. The streets are paved with brick and will transport you back in time.
When down here, visitors will see the 1920s Art Deco buildings. There are a lot of places to shop, view art, go out for the night, and many events are even held here.
A few restaurants in the River District are:
A few shops in the River District are:
---
Six Mile Cypress Slough Preserve
The Six Mile Cypress Slough Preserve is great for those visitors looking to get out in the natural, proper Florida habitat.
Why You Should Go
Before Florida was built up, South Florida was a part of the Everglades. What are the Everglades? It's a marshy type of land filled with snakes and alligators. Fort Myers is not a part of the Everglades, but the Six Mile Cypress Slough Preserve will show you the proper Florida habitat.
The Six Mile Cypress Slough Preserve is a 3,500-acre protected land where visitors can use the boardwalk and see many native animals. The boardwalk in the preserve allows guests to walk 1.4 miles. This is lined with many informational kiosks that will tell guests about the land, the animals, and the plants. Guests will even learn how this very preserve protects the Gulf.
Plants that you will encounter while here are:
Cypress Trees
Red Maple
Wood Ferns
Animals that call this preserve home are:
A Variety of Birds (Wading Birds, Roseate Spoonbills, Snowy Egrets, Blue Herons)
Turtles
Otters
Alligators
Do not forget to stop at the gift shop on your way out! The gift shop sells many things, and the proceeds help the preserve stay free for you to visit again.
---
Manatee Park
If you visit in the winter, you will not want to miss Manatee Park.
Why You Should Go
Even though Florida doesn't get cold like the rest of the states, our temperatures are a bit cooler, and the manatees start going to warmer pockets of the water.
Manatee Park is powered by the Florida Power Light (FPL) warm water. This park is a hot spot that draws in the manatees during the winter when the air gets slightly more relaxed.
While visiting the park, guests can kayak and travel through the park to see the group of manatees. This is the best way to see them since you may not be able to see them at the shore.
To see the beauty of many manatees, you should plan a visit anytime between November and March. Many guests see around 50 or so manatees while here at the park.
---
Lakes Park is a public park located in Fort Myers, Florida. It features over 150 acres of lush greenery, lakes, and walking paths.
Why You Should Go
Visitors can enjoy a variety of recreational activities such as fishing, boating, picnicking, a butterfly garden and playgrounds for children. The park also features a large playground, a train ride, a mini-golf course, and a nature center. There are also several shelters available for rent for events and gatherings.
The park is open daily from 7 am to sunset, and it is free to enter. The park is a great place to spend a day with family and friends, enjoying the beautiful Florida weather and scenery.
---
Smugglers Cove Adventure Golf is an 18-hole miniature golf course located in Fort Myers, Florida. The course is designed as a pirate-themed adventure and features a variety of obstacles and challenges, including caves, waterfalls, and shipwrecks.
Why You Should Go
The course is suitable for all ages and skill levels, making it a fun and enjoyable experience for the whole family. The course is open daily, and it offers a fun and unique way to spend time with friends and family. In addition to the golf course, the park also features a snack bar and a pro shop where you can purchase souvenirs and golf accessories. The park offers affordable prices and discounts for groups and season passes.
---
Calusa Nature Center & Planetarium
With all the fantastic things to do in Fort Myers, one that you should see is the Calusa Nature Center & Planetarium.
Why You Should Go
Off Ortiz Avenue is the Calusa Nature Center & Planetarium, which is 105 acres.
This attraction is jam-packed with events, programs, and exhibits to learn about the natural history of Southwest Florida. Guests will also have the opportunity to be close to animals and learn about the natural world.
While you are here, you should visit three nature trails, bird and butterfly aviaries, shows, and the museum. You will see many animals, including alligators, bald eagles, owls, hawks, and more.
The attraction also does a weekly solar observation session as well. You will need to contact them to find out when it is being held.
---
IMAG History & Science Center
One of the kid-friendly things to do in Fort Myers is the IMAG History & Science Center.
Why You Should Go
Here at the IMAG History & Science Center, there are over 60 interactive exhibits. This is geared towards the younger guests, but that doesn't mean the older guests won't have fun here either.
The exhibits involve learning about the Earth, space science, culture, technology, marine life, the natural world, and Florida history. The center even has a living lab. The living lab is home to turtles, snakes, and frogs.
People who want to touch and feed animals should head on to the LIVE! Animal Encounter.
---
Florida Repertory Theatre
Another thing to do in Fort Myers is going to the Florida Repertory Theatre.
Why You Should Go
The Florida Repertory Theatre has 21 years of experience with world-class and award-winning performances in this historic building.
Each of the performances draws in over 80,000 visitors annually. Locals love the Florida Repertory Theatre because it has many different genres in its productions, such as dramas, comedies, and classics.
While at the Florida Repertory Theatre, you should check out the Arcade Theatre, which was built in the early 1900s.
Before your visit, you will need to check out what productions are playing in the Florida Repertory Theatre during your stay.
---
Railroad Museum of South Florida
Opened in 1944, the Railroad Museum of South Florida has welcomed guests and taught them about the history of trains and railroads.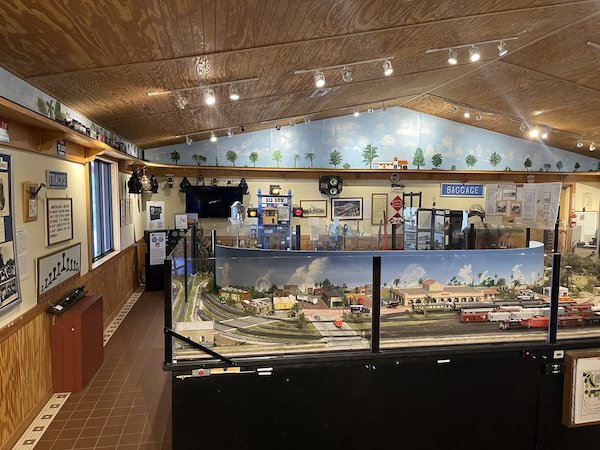 Why You Should Go
This museum is in a 3,200-square-feet building with an impressive collection of locomotives. One of the museum's biggest draws is its operational train system consisting of four small-scale trains and their regular-sized ones.
Their small-scale trains are available to bring guests on the 1.5-mile ride up to the northern part of the Lakes Regional Park where the museum is situated on. This train ride will allow passengers to see crossing signals, windmill, waterfall, pedestrian bridge, tunnel, trestle, and pass by various buildings.
Back in the museum, visitors will have the chance to see various loco-motive artifacts from past to present, including baggage carts, ticket punches, brass bells, rail tracks, tools, spikes, lanterns, etc.
---
Murder Mystery Dinner Train
Want a memorable dinner while in Fort Myers? The Murder Mystery Dinner Train will fit that bill!
Why You Should Go
This unique attraction will take you on a 40-mile train ride and put you in the murder mystery story while eating a delicious dinner. The dinner is a five-course meal prepared by some of the best-qualified chefs.
When you get on the train, you will be immersed in the story, where you'll be able to take notes, find clues, and try to decipher them with the other guests to see who is guilty and who isn't.
The mysteries and culprits will always change, so if you go for dinner one day, it may be different the next time you go!
This attraction has many seasonal events as well. It is highly recommended to come during these times because the trains are themed beautifully.
---
Fleamasters Fleamarket
Looking to fill in a weekend morning of shopping? Head down to the Fleamasters Fleamarket.
Why You Should Go
The Fleamasters Fleamarket is over 400,000 square feet with 900 unique shops alongside 20 vendors for food. The Fleamasters Fleamarket is open from Friday to Sunday year-round.
This fleamarket encompasses the local culture in Fort Myers and allows visitors and locals to spend their money at small businesses. You'll see companies selling souvenirs, clothing, art, home decor, collectibles, toys, sporting goods, handcrafts, and so much more.
The best thing about this flea market is that it is completely covered! This is great for those coming in the summer when South Florida gets very hot. 
---
Best Places to Eat in Fort Myers, Florida
Fort Myers, Florida is home to many great restaurants, offering a variety of cuisines and dining experiences. We went ahead and listed below our favorite places for you to check out the next time you are visiting Fort Myers!
Pelican's Snoballs is super delicious and honestly the best shaved ice I have had outside of Hawaii! I definitely recommend to add this place to your list of things to do in Fort Myers, Florida!
Love Boat Ice Cream is a tourist spot that is great for large groups! We loved that they had fun flavors to choose from!
This place has YUMMY farm fresh food and as an additional bonus they have farm animals!
This place seriously has the most amazing cinnamon rolls!
Probably some of the best Mahi Mahi tacos I have ever had.
Who doesn't love latte art and donuts? We highly recommend Bennet's Fresh Roast!
Super delicious iced coffee.
This place has 40 ice cream flavors and really yummy burgers and dogs! Perfect place to grab lunch.
Really yummy artisan pizza and if you ask they will actually teach your kids how to toss dough!
We checked this place out because it was a Parent's Magazine Choice. They serve soups, sandwiches and free soft serve… YUM!
What can we say… this place is truly scrumptious and the ice cream is so yummy!
The Farmer's Market
Whenever we travel, I always love looking for the local Farmer's Market. We recommend when visiting Fort Myers to research the most recent times for their market. It is fun to grab some grub, shop and look around!
This place has a very weird and different atmosphere! They are known for their American eats and desserts!
A delicious place to grab something sweet.
Another great place to grab some ice cream that is a local recommendation.
Another local favorite for delicious cakes and cupcakes!
Green Cup Cafe
Known for delicious açaí, coffee, salads, sandwiches and wraps.
This is an actual farm and garden! It is so beautiful and offer a farm to table experience.
Known for their coffee, iced coffee, pizza and yummy smoothie bowls.
This place is super cute! They offer waffles, crazy fun lattes and is definitely a fun Instagrammable location for tourists and locals!
Cafe Flore offers delicious New Orleans beignets, crepes and fancy iced lattes.
Another delicious community recommendation that offers yummy donuts.
Delicious açaí and yummy poke, we highly recommend this place!
Very fun and cozy place to sit and enjoy some yummy coffee!
Urban Buzz is a great place for drinks and food. It is towards the city and the parking is a pain. That said, we think it is definitely worth it!
If you are in the mood for Italian, you definitely want to check out II Pomadoro.
This place has amazing fancy dessert! They are known for making hand-crafted chocolate. You will definitely want to check this place out.
---
Map of Things to Do in Fort Myers, Florida
Frequently Asked Questions about Things to do in Fort Myers
Is there a lot to do in Fort Myers?
Spend a Day at Fort Myers Beach
Go fishing at the pier
Walk through Times Square
Tour the Edison Ford Winter Estates
Explore the Fort Myers River District/Downtown
See the Action from Fort Myers Beach Pier
Enjoy Nature at J.N. Ding Darling National Wildlife Refuge
When is the best time to visit Fort Myers?
For less tourists and better rates, book your trip to Fort Myers between March and May.
---
If you enjoyed our list of things to do in Fort Myers, Florida you might also like:
10 OF THE BEST FORT MYERS BEACH RENTALS AVAILABLE FOR YOUR SUMMER VACATION
---
Pin for later: 10 of the Best Things To Do In Fort Myers, Florida