Fort Myers Beach is a lovely tourist destination for spring breakers, snowbirds, and family summer vacations. We just visited Fort Myers with our little ones and had a blast. The beach is situated in Lee County, Florida, on Estero Island. With a little over 5,500 people, according to the 2020 US Census, there is more than enough room for guests to claim their spot on the beach and choose from a plethora of great Fort Myers Beach rentals.
Where Should I Stay on Fort Myers Beach?
This question is asked a lot by guests who do not know the area. The island is 6.2 miles long but has a lot of diversity for any type of vacation.
For instance, if the guest's goal is to be close to shops, restaurants, and live entertainment, guests will want to stay in the north section of the island, closer to the time square. While if that does not bother guests too much and guests are more there for the beach, guests can stay anywhere on the island.
A trolley runs on the island that will take guests from one end to another. The trolly is $0.75 per person/ride, $2 for an all-day pass, or $4 for a 3-day pass.
However, today, we will give you ten highly recommended Fort Myers Beach rentals below. 
Amazing Fort Myers Beach Rental w/ pool & Elevator- 1 block from the beach
This is the property we stayed at on our most recent visit to Ft. Myers. It is an absolute adorable place to stay. You can easily sleep up to 10 people. There are three levels and an elevator to take you from the 1st to 2nd level. The pool in the backyard is the perfect size to relax and kick back and then you can hop on out and watch some tv on their comfy lounge chairs.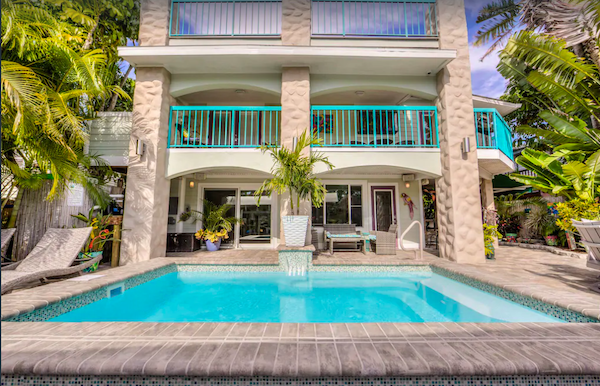 This villa is on the first floor and can comfortably sleep up to 6 people. It is situated on a canal and has a brand new saltwater heated pool for guests to enjoy. This villa has recently been remodeled with luxury finishes. Private parking is available on the property.
The villa is within walking distance of shops, the beach, and local restaurants. This is perfect for guests looking to be close to the nightly live music and other outdoor activities.
Further south on the island, guests will find Polynesian Village 11. This rental is a studio condo that can comfortably sleep up to 3 people. This is their place for guests looking to walk from their rental to the beach in just a few steps. This is perfect for a small family or a couple looking to soak up the rays of the Gulf of Mexico.
While this property does not have beach views, it is situated on the gulf side within a few hundred feet; guests' toes will be in the white sand.
Unlike the previous rental, this rental is a bit further south and is half a mile from time square and shopping. However, there is a trolley stop right outside this rental to take guests where guests need to go.
Are you planning a romantic trip to Fort Myers Beach? Penthouse Rekindles Romance is the perfect spot. Just under a mile and a half away from Lovers Key Beach (on the island's south side).
This rental has panoramic views of the Gulf of Mexico. You can view them from inside, but also you have the perfect view right from the balcony! This cozy little rental has everything one can think of, including books to read!
This place is close to restaurants for romantic date nights and very close to the beach access point.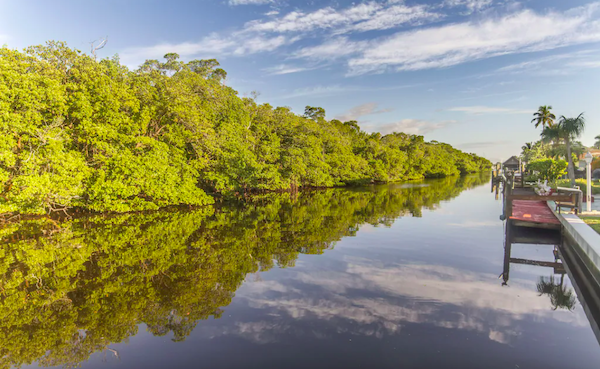 Hayo Hideaway is in the same area as the previous rental. Guests will have to walk to the other side of the island to get to the beach. But with this rental, guests will get more space.
Hanyo Hideaway has two bedrooms and can sleep up to six. Unlike all other rentals on this list, this one has a balcony perfect for those Florida sunrises and sunsets.
Guests won't be disappointed with this rental because the kitchen was recently renovated and now has new appliances and granite countertops perfect for cooking some fresh seafood.
The fastest way to get to Times Square will be to take the trolley if no car is available.
A Beach Paradise rental sits right on the beach. This rental even has a balcony where guests can sit out and enjoy the beautiful view of the Gulf of Mexico.
If that hasn't sold the rental, then hearing that it is on the sixth-floor will! This rental has one bedroom and has room to sleep 4. The bathroom has recently been updated, and the kitchen has received new modern appliances.
This rental is situated on the north end of the island and is within walking distance of Times Square, shopping, restaurant, and live entertainment.
A Dose of Vitamin Sea & D is a small cozy Fort Myers Beach rental perfect for a family of 5. This condo is on the island's north side, making it close to restaurants, shopping, and live entertainment. However, unlike the other northside rentals, this one is a bit further north and not in Times Square, giving it a quieter atmosphere.
This rental is on the first floor and has two bedrooms and two bathrooms. The kitchen and bathrooms have recently been renovated. This place also has a lovely screened-in lanai perfect for eating meals, drinking coffee, or watching the beautiful Florida sunsets.
Times Square Gem
Times Square Gem is perfect for large family vacations. With this recently renovated rental, guests can sleep up to 12 people. There are four bedrooms and two full bathrooms. While this is not a Gulf-facing rental, this rental is closer to San Carlos Bay. It is a few minutes' walk to get to the beach but has a beach cart and beach chairs that guests can take down with them to the beach. This makes the trip that much sweeter!
But that's not all that guests get when they stay here, they have access to a tandem kayak with life jackets and paddles and six bicycles (no helmets) to use during their stay.
Guests who don't want to take advantage of the beach can stay back and swim in the pool and hot tub on the property.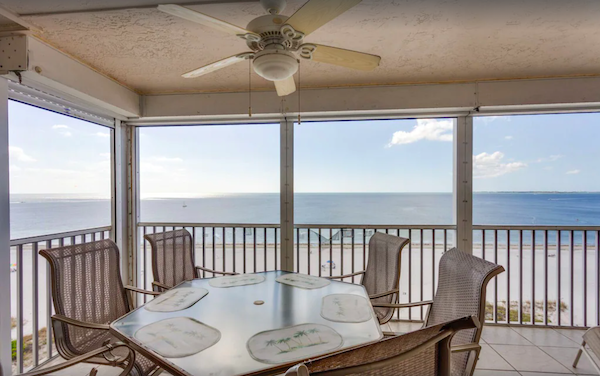 Gateway Villa 796 is a rental with views of the Gulf of Mexico. Located on the 7th floor, this rental has two bedrooms, two bathrooms, and a wonderful balcony overlooking the beach. The terrace is lined with sliding doors, so they will never miss a second of being able to look out to the Gulf of Mexico.
This rental is further north than Times Square, which is excellent for those looking to be close to the action but also has quiet.
The best thing about this rental is walking out of it and being directly on the beach. Guests cannot get any closer than this.
For guests looking to be here longer than a week, this rental is for them. The Gulf Front Condo has a one-month minimum stay requirement. This rental is situated a mile south of Times Square.
While here, guests will have a fully functional kitchen, covered parking, a gulf-side pool and spa, BBQ facilities, etc.
Guests are also just a short trolley ride from local restaurants, shopping, and live entertainment.
Looking for an authentic Florida feel rental? Lazy Lagoon checks off all the boxes. This cozy one-bedroom rental can sleep up to 4 comfortably and has the true Florida style. This rental is right in Times Square, meaning guests will be feet away from some of the best restaurants and shopping available on the island. However, this also means it can get quite loud with entertainment and other patrons walking the streets.

This rental is perfect for adult guests taking a weekend trip to the beach who wants to be close to the action and beach!
However, if guests do not want to stop and eat at the local restaurants, this rental does come equipped with a fully functional kitchen to make meals at home.
Gulf Moon at Blue Chair is a luxury suite with two bedrooms and one bathroom. This unit is fully renovated with its private deck. Unlike the rest of the rentals on this list, this rental is dog friendly. Guests can have a non-aggressive dog 25 pounds or less with them. However, guests will need to disclose this information when booking. Like many other rentals on this list, this rental is right where the action is!
Time to Soak up the Sun
Whether guests want to be right in the middle of Times Square or a bit further out, there is a Fort Myers Beach rental property to fit their needs. For instance, guests looking to be steps away from restaurants would love Lazy Lagoon over Gateway Villa 796. There is a perfect rental to fit your needs no matter your preference. What is your ideal rental like if you've been to Fort Myers Beach?
Frequently Asked Questions about Fort Myers
What can you do in Fort Myers with kids?
There is plenty to do for families in Fort Myers. Fort Myers Beach, Fort Myers, Sanibel, and Captiva Island, Florida offer a ton of family fun activities!
When is the best time to visit Fort Myers?
Between March and May, although you will come across the spring breakers during this time. In the Summer months, you will find the most people, but the weather is prime during these times and best for a beach vacation
If you enjoyed our list of Fort Myers Beach Rentals, you might also like:
VRBO MAUI – 10 INCREDIBLE PROPERTIES FOR FAMILIES
11 OF THE BEST KID-FRIENDLY ATTRACTIONS IN FORT MYERS
15 OF THE BEST THINGS TO DO IN NAPLES FLORIDA
Pin for Later: 10 of the Best Fort Myers Beach Rentals Available for Your Summer Vacation