Whenever people talk about Florida, they seem to talk about Orlando specifically. They also tend to talk about what things families with kids can do.
However, what about those who are just hanging out with their friends and are all adults? Read on to learn more about the 15 fun things you can do in Orlando for Adults!
Why You Should Go
Disney Springs used to be called Downtown Disney, and even though kids enjoy it too, it's still a great place to go to when you're with other adults! There are plenty of restaurants to frequent, and of course, the bars as well. They have a bowling alley called Splitsville where you can bowl and eat some really good bar food as well, it has a really nice and casual atmosphere.
This is where you can also find those restaurants like Rain Forest Cafe and Dinosaur Cafe that are both themed really well. I grew up in the area, so Disney Springs was always a fun place to visit, even back then, however, it was not until I was a little bit older that I really started to fully appreciate how awesome it is. If you can't exactly splurge on a ticket to Disney, but still want to experience the magic, you can experience it for free at Disney Springs!
Why You Should Go
International Drive is a fun area, and the full name for it is Orlando's International Drive Entertainment District. This is where you're going to find all of the bars and even some dance clubs if that's the sort of thing you are interested in! However, if you are not interested in those, there are still other fun things to do! International Drive is home to many of the places we're going to be talking more in-depth about later, such as the Ripley's Believe it or Not Museum.
There are many different restaurants to also visit on International Drive, such as Blake Shelton's restaurant called the Ole Red. Ole Red is located specifically in the Icon Park and also has live music playing! There are also other fun things such as go-karting, and even an escape room where they offer challenges that you and your friends have to complete in order to, well, escape the room!
Why You Should Go
Next on the list is the Icon Park! The Icon Park is home to none other than the Wheel, which used to be well known as the Orlando Eye. It also houses the Museum of Illusions, not to be confused with Ripley's Believe It or Not Museum. The Museum of Illusions combines psychology, science, and math to create illusions that people in your group won't be able to stop interacting with, trying to figure them out! The price of a general admission ticket starts at $24.99 a ticket, this allows you to go and look at the 50+ exhibits.
On the website for the Museum of Illusions, there are other ticket bundles you can buy that include admission to other places as well! There is also a Madamme Tussauds located in the Icon Park and if you are unfamiliar with that, it is a wax museum. It is full of wax figures made of many different celebrities of all kinds, ranging from Elvis to the Justice League.
Why You Should Go
If you and your friends are looking to spend a little money and go on a shopping spree of some sort, then you need to stop at the Florida Mall! According to Google, they have almost 300 stores to look at—exactly, 294 stores and services altogether. They have all of the typical, huge name-brand stores such as Forever 21 and Sephora.
This is a staple at the mall, no matter what mall. They have about three different locations in this mall alone, so it will be very hard to miss! One of the other cool things about the Florida Mall is its Crayola Experience. It sounds like it is just for kids, but adults can enjoy it too! There is an annual pass available for purchase, but if you want to, there is a store you can just browse around, and that is still awesome as well! And of course, go check out the M&M Store and go find out which M&M you are!
Why You Should Go
The Wheel is located in the Icon Park, and it was briefly mentioned in the Icon Park text, but I decided it needed its own dedication. I still know it as the Orlando Eye, but it is now called The Wheel. Anyway, it stands four hundred feet tall and is an observation wheel. Each rotation takes about twenty minutes and overlooks almost all of Central Florida. You can always add to your experience and turn it into the Sky Bar experience, which is exactly how it sounds.
In each capsule itself, it can play the history of Central Florida or if you wanted to, you could play your own music through Bluetooth! The best time to do this is either at sunset so you can enjoy the beautiful sky and colors, or the other best time would be whenever the theme parks are doing fireworks. For a while, there weren't any firework shows going on due to the pandemic, however, they are starting to come back!
Why You Should Go
Also located on International Drive as part of the Entertainment District is none other than TopGolf! I had the privilege of experiencing TopGolf for the first time recently and I cannot wait to go back. Even if you are terrible at golf (and trust me, my friends and I all were!) it is still such a fun time.
If you are looking to celebrate a birthday or any kind of special occasion, you can book a private event so it is just you and your friends! Even if you are not a fan of golf, they have other things for you to do as well. They have a rooftop terrace that has fire pits for those interested in talking around a fire like my friends and I do! They have a bar, a restaurant, and over 200 TVs to enjoy as well.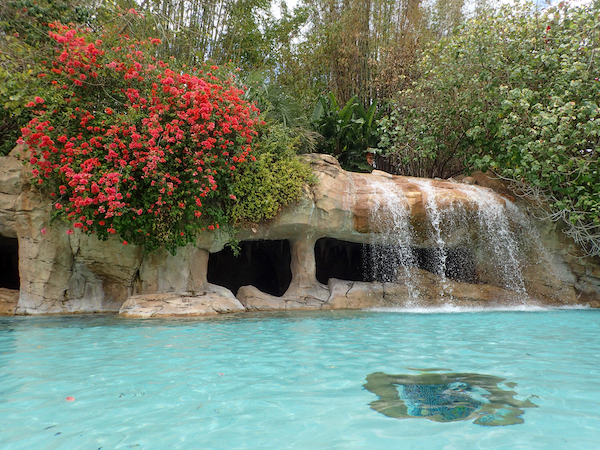 Why You Should Go
Have you ever wanted to swim with dolphins? Have you ever seen pictures of your friends swimming with them and wondered where they were? If they were in the state of Florida, there is a very high chance that they were at Discovery Cove! If you or a friend of yours are a Florida resident, you can book your experience with 20% off. There are different experiences you can book.
According to the website, there is a ticket that costs $364 per person that includes the swimming with dolphin thing as well as a ticket to SeaWorld and even Aquatica! You do get a lot out of it, such as swimming with dolphins, unlimited food and drink, snorkeling, and other up-close encounters with animals if you aren't interested in going to SeaWorld or Aquatica, however.
DISNEY'S BOARDWALK
Why You Should Go
This is a cool place that is about a quarter-mile long that has dining, shops, and even better nightlife. There were certain restaurants that used to have character meet and greet (which was also fun for adults) but due to the pandemic, those have been put on hold. You can actually walk to Epcot from the Boardwalk and there is a boat ride from the Boardwalk to Hollywood Studios! There are also complimentary transportation options available. The theming of the Boardwalk can be best described as classical vintage. There is a bar on the Boardwalk called Jellyrolls that is infamous for the dueling piano players, they are meant to entertain the crowd of those who are twenty-one and up.
Why You Should Go
The Universal Citywalk is similar to the Disney Boardwalk. It is open from 8 in the morning to 12 at night, it is open daily. The Citywalk is rated as #8 out of 163 when it comes to the nightlife in Orlando. It is full of bars, clubs, restaurants, and shops! Parking is free after 6 PM, which is always a plus, especially if that's when you plan to head out there! Some of the restaurants include places like Panda Express and the Whopper Bar, and my personal favorite is the hot dog place. They sell hot dogs that are two feet long!
FUN SPOT AMERICA
Why You Should Go
Fun Spot Orlando is minutes away from everything on I-Drive. You can rent a cabana (that is listed on the website as your own personal Fun Spot!) for your friends to share and hang out in the shade. A rental includes four chairs and a table and also comes with a lounger. There are several different kinds of fun passes, one of them being a single-day mega fun pass that sells for $64.95.
With a mega-fun pass, you can go on the go-karts, rollercoasters, thrill rides, and other kid spot rides. It also gives you access to the Gator Spot and Splash Pad in Orlando. It includes one sky coaster flight and the pass is also redeemable at either Florida location.
RIPLEY'S BELIEVE IT OR NOT MUSEUM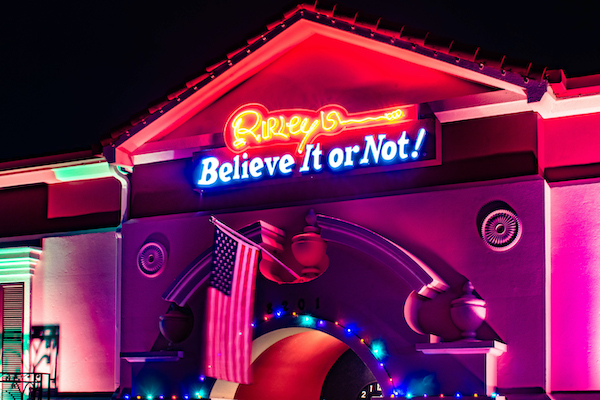 Why You Should Go
Ripley's is similar to the Museum of Illusions, and will blow your mind with the exhibits! People have stated that it takes them about an hour and a half to look at every exhibit, but depending on your group, it could take longer or shorter. On the website for Ripley's Orlando, it has listed that they are including a mirror maze very soon! Even if you have been to a Ripley's before, they are all different, besides a few exhibits that are seemingly standard to the company.
DISNEY THEME PARKS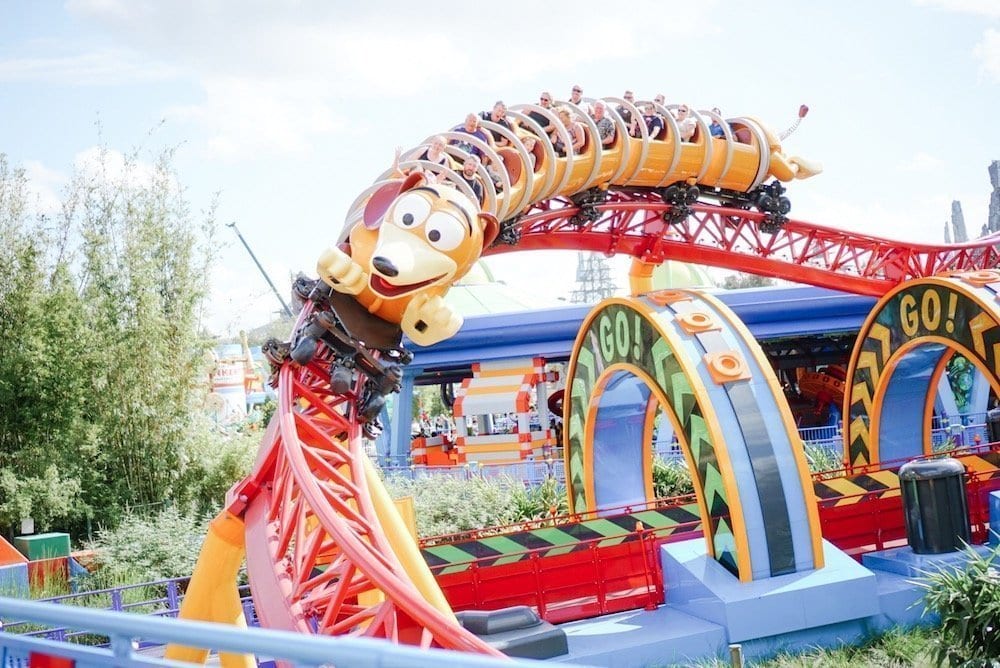 There are four Disney parks: Epcot, Hollywood Studios, Magic Kingdom, and Animal Kingdom. They each have their own hours of operation. At Epcot, they have the world showcase where people tend to do the Drink Around the World Challenge. It is also just a fun spot to try the food since they have food from different places as well. For those who want to embrace their inner-nerdy-self, Hollywood Studios is a perfect park to go to because of Galaxy's Edge.
Animal Kingdom is a fun place for animal lovers and they also have an awesome show of the Lion King. Magic Kingdom is the park that everyone thinks is classic Disney, featuring the wonderful Cinderella Castle that is a staple.
UNIVERSAL ORLANDO THEME PARKS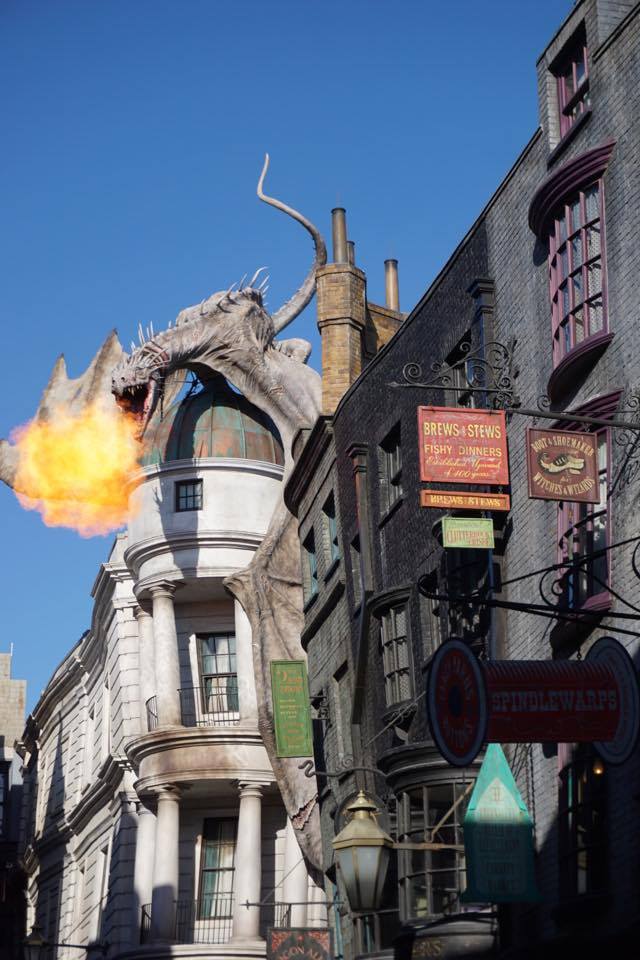 Why You Should Go
Universal Orlando has two parks: Universal Studios and Islands of Adventure. If you like Harry Potter, or Marvel, or anything of that sort, Universal is one of the places to be! Universal is also known for having more alcohol than other theme parks, and better food. Ticket prices range, depending on if you want to go to one or more parks, and also depends on what day you go on.
Universal has some pretty intense rollercoasters if your friends are looking for a thrill! They also have shows such as the Blues Brothers show, and they are also known for the Blue Man Group performances. I would recommend checking out the Leaky Cauldron in Universal Studios. I would also recommend purchasing the park hopper ticket, so you can visit both parks as often as you want during that one trip!
SEAWORLD
Why You Should Go
SeaWorld is an awesome place to go see animals in a way you've never seen before. You can book a tour to see behind the scenes and see how they all get treated by the trainers. There is also an option that you can book to dine with the Orca dolphins which is pretty cool as well! A new rollercoaster called the Ice Breaker just opened recently too, which goes both backward and forwards with 4 launches.
There is also a very steep vertical drop, a 93 feet tall spike at a 100-degree angle. This is marked as "high thrill" on the SeaWorld website. Of course, there is also the Kraken that everyone knows and loves, as well as the Manta. There is also Sesame Street Land to visit for those who want to channel their inner child.
WATER PARKS
Why You Should Go
We kind of touched on these earlier, but last on the list are the water parks! Water parks are not just for kids, no matter how people look at them. Water parks in Orlando include Universal's Volcano Bay, Aquatica Orlando, previously mentioned Discovery Cove, Disney's Typhoon Lagoon Water Park, Legoland has a water park as well, and there is also Disney's Blizzard Beach Water Park, which is temporarily closed.
Legoland has a water park that you may not want to go to if you want to avoid kids altogether. One of the Universal waterparks would most likely be one of the best for a group of adults and it would be the most fun!
Map of Things to Do in Orlando for Adults
Frequently Asked Questions about Things to Do in Orlando for Adults
What is there for adults to do in Orlando at night?
The Wizarding World of Harry Potter
Broken Strings Brewery
Universal Citywalk Orlando
Disney Springs
International Drive
ICON Park 
Top Golf Orlando
Walt Disney World – Epcot
Giraffe Ranch.
Which Disney World park is best for adults?
EPCOT is easily Orlando's most adult-oriented Disney theme park, with the World Showcase inviting you to drink and eat around the world.
Is Universal CityWalk Free?
It is completely free thanks to complimentary admission all day, every day. After 6 p.m., parking is free, too, and parking fees never apply if you arrive via public transportation or stay at an official Universal Orlando Resort hotel.
If you enjoyed our list of things to do in Orlando Florida for Adults, you might also like:
28 INCREDIBLE UNIVERSAL ORLANDO TIPS [SAVE MONEY & TIME]
21 AMAZINGLY FUN THINGS TO DO IN ORLANDO! [#17 INVOLVES A COFFIN!]
Pin for later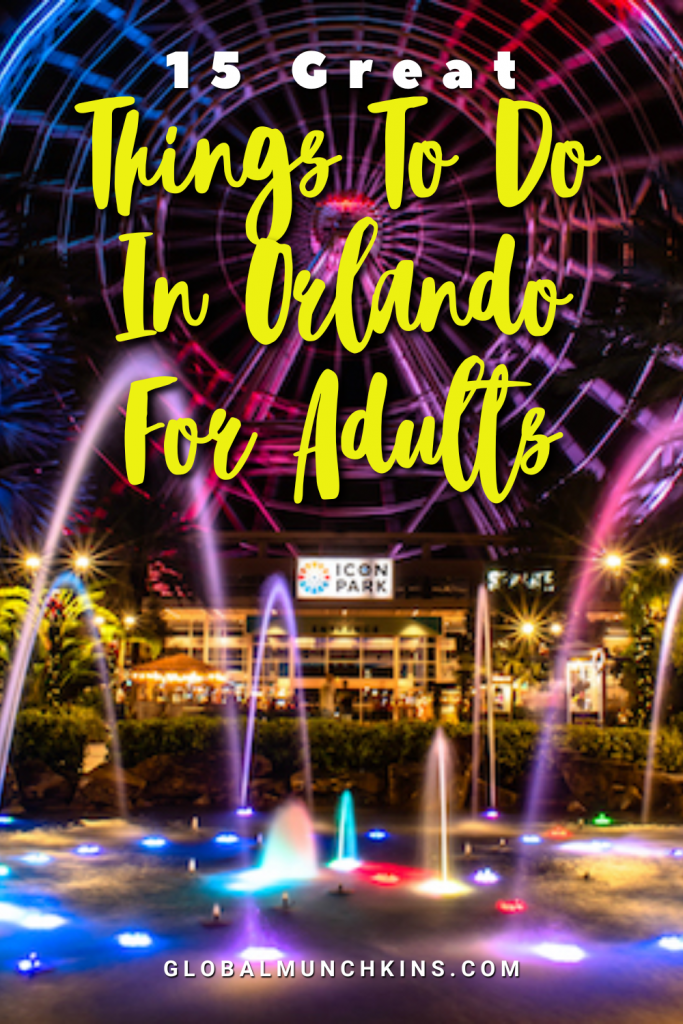 Latest posts by Ashland Hendrix
(see all)