Just 30 minutes from Temecula Wine Country is one of the largest cities in Southern California's Inland Empire, Riverside is filled with tons of fun attractions and sights to see!
From the lively downtown historic district to the beautiful botanic gardens and beyond, there are many reasons why people choose to visit Riverside.
If you're planning a little Riverside vacation or just stopping through and you don't know how to spend your time, come dive in with us as we explore 15 fun things to do in Riverside while you're there!
(Also, check out our guide on things to do in San Diego, just an hour away from Riverside)
---
Why You Should Go
As one of the landmarks of Riverside, Mount Rubidoux State Park offers one of the most popular hikes for tourists and residents alike. There are many cacti and wildflower-lined concrete trails that lead to the top of the mountain, where you'll find the symbolic peace tower. Once here, you get a gorgeous, 360-degree view of the entire Inland Empire.
---
Why You Should Go
The Mission Inn hotel is a true piece of history located in Riverside's Historic Downtown District. With gorgeous Spanish Mission architecture and a castle-like setting that will surely wow you and your family, it's a must-visit in Riverside. If you're not staying there, you can still take docent-led tours to get familiar with its history or make reservations at the award-winning restaurant inside.
---
Why You Should Go
The California Citrus State Historic Park is a 250-acre state park dedicated to the state's citrus legacy and preserving the cultural landscape of the citrus industry.
Walk along the paved trail that meanders throughout the gorgeous citrus grove environment. On weekends, you can head to the back porch of the Sunkist Center to sample fresh citrus!
---
Why You Should Go
Whether you're a cinephile or looking to bask in pure, American nostalgia, there's nothing quite like heading to the drive-in. The Van Buren Drive-In is near California Citrus State Historic Park and is one of the few drive-in theaters in the U.S. that is still in operation. You can find movies there throughout the week and plenty of concessions to enjoy while you watch!
---
Why You Should Go
In the foothills of Box Springs Mountain lies the UC Riverside Botanic Gardens. Here, you'll find four miles of gorgeous trails to enjoy, passing through several garden areas. From the expansive rose garden to the North American desert section to the awe-inspiring butterfly garden, there's so much to see here!
---
Why You Should Go
The Main Street Mall sits Downton and connects a number of historic sites and small shops. The area is very well-maintained with an abundance of shaded trees, gardens, and fountains, perfect for a day of shopping. When you're done shopping, sit at one of the patios of the many cafes in the area.
---
Another great and educational place to add to your list of things to do in Riverside with kids is the California Museum of Photography. The museum is at the University of California, Riverside (UCR) and is a museum and research center dedicated to the study and exhibition of photography and related media.
The museum's collection includes over 100,000 photographic prints, negatives, and slides, as well as over 1,500 books, periodicals, and other publications. The CMP also hosts a variety of exhibitions, lectures, workshops, and other public programs throughout the year. It's a great place for photography enthusiasts to visit.
---
Why You Should Go
You'll find more than 70 aircraft and more than a thousand artifacts at the March Air Field Museum. This unique outdoor museum features aviation artifacts from the past 100 years, including bombers, spy planes, helicopters, and more! You can get up and close with these artifacts and enjoy one of the docent-led tours.
---
Why You Should Go
Though it is only 60% complete at this point, the plan is for the Santa Ana River Trail to run for 110 miles between Huntington Beach and the San Bernardino National Forest. We recommend taking bikes if you can and stop at some sightseeing points, such as Fairmount Park and Martha McLean-Anza Narrows Park. It's a great way to escape from the city for a bit!
---
Why You Should Go
Enjoy more than 1,500 pieces of artwork and rotating exhibits at the Riverside Art Museum. From watercolor paintings to lithographs to posters and beyond, there are so many mediums to enjoy while you're here. Plus, every first Thursday of every month, the museum participates in the local art walk.
---
Why You Should Go
You'll find an abundance of outdoor space to explore at Fairmount Park. Circle around Lake Evans on a bike, play a pickup game of tennis, or explore the historic boat house. By May, roses in the park are in full bloom, great for photographers looking for natural inspiration!
---
Why You Should Go
The Riverside Metropolitan Museum dates back to the 1920s and has a collection of artifacts from all throughout the region. Enjoy three different collections, spanning through anthropology, natural sciences, and history. The museum is also in charge of the Heritage house, which is a turn-of-the-century Victorian Estate that gives guests a glimpse of life in the 1800s.
---
Why You Should Go
For live comedy, music, and entertainment, the Fox Performing Arts Center is the place to go. The place opened up in 1929 and went through its first renovation in 2007. No matter what kind of entertainment you like, you'll be sure to find something to enjoy here!
---
Why You Should Go
With 1,500 acres of outdoor expanse, Sycamore Canyon Wilderness Park is filled with sprawling running trails, hiking trails, and biking trails for exploring nature. You'll see an abundance of wildlife in the area, though make sure you're careful of rattlesnakes! If you have kids, check out the Ameal Moore Nature Center at the entrance of the park!
---
Why You Should Go
Just about three miles from California Citrus State Historic Park is Castle Park, a popular amusement park filled with carnival rides, a water park, and, of course, mini-golf. After a round of golf, make sure to check out Ride Park, which features over 20 rides, including a train and spinning flying saucers!
---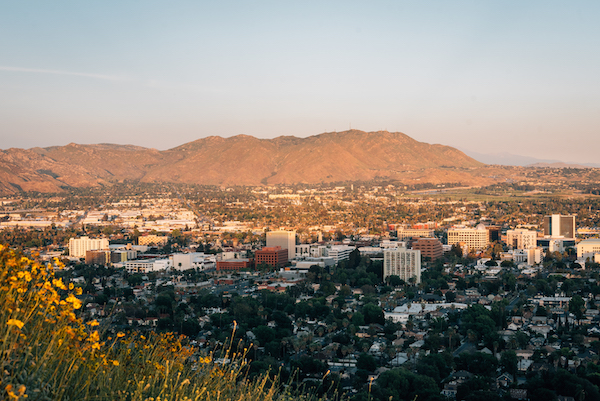 Why You Should Go
Box Springs Mountain sits adjacent to UC Riverside and gives people a chance to escape into nature the moment they get out of their cars. There's no better way to escape the hustle and bustle of the city than by getting 3,000 feet above the valley!
---
Map of Things to Do in Riverside, CA
---
Frequently Asked Questions about Things to Do in Riverside
What is best to do in Riverside for a few days?
Mission Inn
Mount Rubidoux Park
California Citrus State Historic Park
UC Riverside Botanic Gardens
Van Buren Drive-In Theater
March Field Air Museum
Main Street Mall
Riverside Art Museum
When is the best time of year to visit Riverside?
December through February are the cooler months, and you cannot miss the Mission Inn Christmas lights in the month of December!
---
Are you planning a visit to the state of California with kids? You might want to check out Travel Mama's article about the 15 Best Places to Visit in California with Kids! Check it out here.
---
If you enjoyed our list of things to do in Riverside, you might also like:
[12 AMAZING] THINGS TO DO IN ENCINITAS, CALIFORNIA!
3 DAY LOS ANGELES ITINERARY [HOW TO HIT EVERY SPOT!]
20 FUN AND KID-FRIENDLY THINGS TO DO IN TEMECULA
21 AMAZING SPRING BREAK IDEAS FOR FAMILIES YOU'LL LOVE!
---
Pin for later: 15 Exciting Things To Do In Riverside California with Kids!