I am so excited to share Jack's modern nursery with you it's, quite honestly, my favorite room in the house. It may be because I am so excited to have been blessed with another baby, but I think it turned out super cute!! From choosing the color palette, to the overall nursery design, we truly loved the process and how we put it all together.
When I found out I was pregnant we actually didn't have a room for the baby, with 5 kids already we had maxed out every single one of our bedrooms + our casita. However, there was a small loft next to our master bedroom and that is what we converted into this sweet nursery for Jack.
We knew we wanted a modern feel to the baby room and thought a beautiful accent wall would be a great look to the room overall. That said, I went to work on researching ideas for a simple modern nursery and came across MANY modern nursery ideas!
---
Converting the Loft to a Modern Nursery
To convert the nursery we added these beautiful French doors. Fun fact when the installers were putting them in we were actually away on a trip in the Maldives and they actually installed exterior doors.
We didn't realize this until we returned home and the construction was already complete. We decided to keep them and it actually has been nice because they reduce more noise than traditional interior doors would have.
---
Our Modern Nursery Furniture
Once we had a room I ordered this sweet crib and dresser, it's the Delta Children Poppy 4-in-1 Convertible Crib and matching Poppy 3-Drawer Dresser. The crib was listed as one of the top cribs on Rookie Moms.
I was so impressed with the quality once it arrived and it was pretty easy to assemble as well (aka Mike who is not at all handy put it together in less than 1 hour). I should note that the baskets inside the dresser were purchased separately at Target.
---
Our Modern Nursery Accessories
On top of the dresser, I placed this moses basket that serves as Jack's changing pad. I was worried about the size but it fits just right. I also added this sweet diaper caddy from Target to keep all of his diaper changing needs within reach.
Then I added these two adorable plushes from Red & Olive Co. they are handmade and fair trade which I love and they are super cute!! The mirror I found at Target and it was such a bargain.
I love the wood accent and I think it pairs perfectly with the wood legs on the dresser and crib. Plus, Jack loves looking at himself in it after every diaper change and it's just the sweetest thing in the world!!!
Oh, and how adorable is this hamper from Pottery Barn Kids? It was a bit of a splurge but it is of amazing quality and it just makes me happy!
---
Our Modern Nursery Glider
Next up I went on a search to find the perfect glider, which is what I thought I wanted. But, after trying several at Pottery Barn Kids and Buy Buy Baby I realized my 5'1 stature wasn't built for a glider.
I turned to amazon and eventually found reviews on this Ella Rocker, rated one of the best nursery gliders on the market. People mentioned it was great for shorter parents and they were right. I paired it with this super cute ottoman and couldn't be happier- it's sooo cozy!
---
The Perfect Modern Nursery Rug
To pull the room together and give Jack a soft place to play I ordered this shag rug and this carpet pad (total game-changer!). It's seriously the softest squishiest rug in the house. It couldn't have turned out better!
---
Books You Should Add to Your Modern Nursery
Reading is one of my favorite things to do with the kids and such an important skill to encourage so we added this mini-library right behind my rocker and filled it with the sweetest books. You can find links to all of my favorite children's books below.

---
The Talli Baby Tracker
Something else I wanted to point out, that happens to also be near my rocker, is this Talli Baby Tracker. It was a huge help for tracking all of Jack's feedings and diaper changes. It links with the Talli app (I cannot recommend this enough, it's honestly the BEST baby tracking app ever!!) and the app also pairs with Alexa so no matter where I am in the house or on the go nursing or changing Jack I have a super simple way to record it.
Use Promo Code: Rookiemoms and get $10 off your Talli purchase. Check out more here.
---
Modern Nursery Wall Decor
Next up was wall decor. We decided to go with this fun geometric wall design in blue (paint color here) as a feature wall. I knew I wanted a name sign and ModWoodCo. came through perfectly with this Jack Madden sign- I absolutely LOVE it!!!
Paint Color
The paint color is Marine Park by Valspar, we got it at Lowe's
The Canvas Sign
I also added the sweetest canvas sign that reads "How wonderful life is now that you're in the world". It reminds me on one of my favorite Elton John songs. The sign is from Between You & Me Signs– I absolutely adore them. They also made this sweet sign that we have downstairs too!
---
The Bedding
Jack's bedding is from Pottery Barn Kids, it's their Where "The Wild Things Are" crib sheet. I didn't want it overly themed so I just added the book and these two super cute crocheted dolls to his bookshelf and this little "born to be wild" sign to make everything cohesive.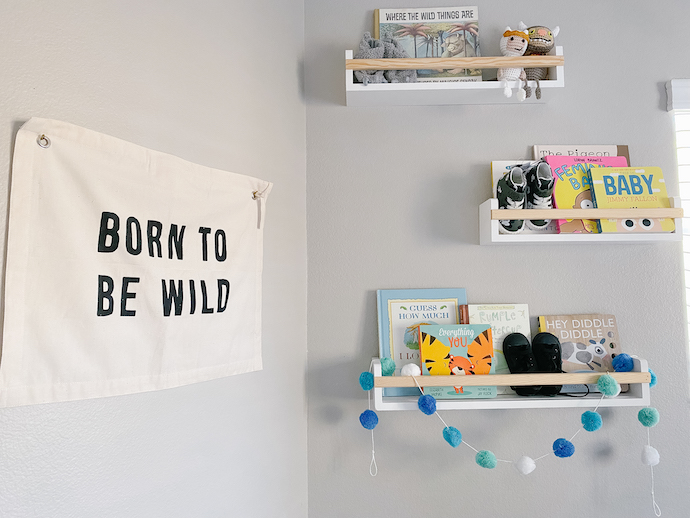 ---
Perfect Gift For the Modern Nursery
One of Jack's favorite places to hang out right now is in this Charlie Crane Levo Rocker, it's a bit of a splurge but is worth it if you are going to have more babies, are looking for a great gift, or want an heirloom piece to pass down.
---
Activities For the Baby
He also is OBSESSED with his Lovevery Playgym and so am I. I have had a bunch of play gyms over the years and I have never enjoyed tummy/playtime with a baby more than I do now and a lot has to do with the little guide that comes with the play gym.
I don't think I fully understood how to best utilize the play gym to enhance baby's development and I love all of the suggestions it gives me.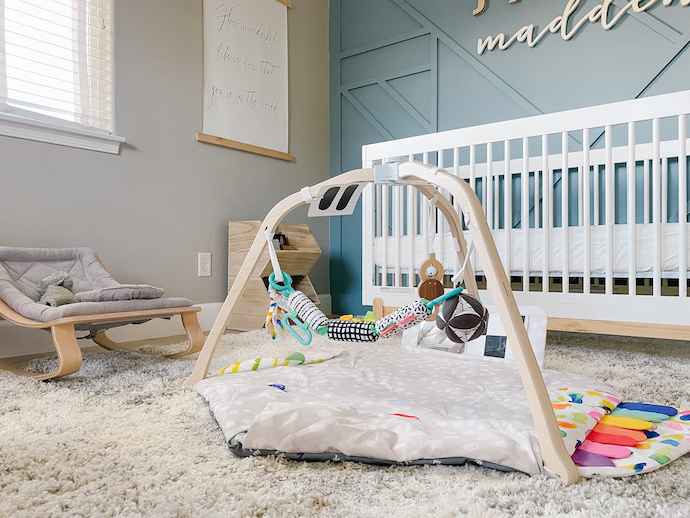 I also have their play kits subscription and LOVE it! I think both are a fantastic investment and also make wonderful gifts for new parents. The kits come every two months and inside they have beautifully crafted toys plus a mini-guide to help you and your baby get the most out of each new stage.
---
Need more resources on parenting, motherhood and pregnancy? Head over to Rookie Moms and gain knowledge, opinions, resources and MORE on all things motherhood!
---
Shop Our Modern Nursery Post

---
What are some of your favorite items in your nursery? Have any questions or need links? You can find me on Instagram, just shoot me a DM and say hello!
---
Pin-It for later: Jack Madden's Modern Nursery Tour
Latest posts by Mama Munchkin
(see all)