When it comes to finding fun for kids and families in Syracuse, you never have to look very far! While New York City has the bright lights, Syracuse brings you picturesque state and county parks, interactive museums, and all the entertainment that one of the world's largest malls can offer, you won't be lacking in options. From the warm summer months and even through the harsh winters, there is always plenty of indoor and outdoor fun to be had! Check out our list below of things to do with kids in Syracuse!
The MOST
Why You Should Go
In the heart of downtown Syracuse, Armory Square hosts the Milton J. Rubenstein Museum of Science & Technology (The MOST). At the MOST, you'll find tons of interactive exhibits that offer a hands-on learning experience for kids of all ages! With stations like the Dino Zone, Flight & Space, and the Science Playhouse, your little ones are sure to find something they love to learn about. They even have an events calendar is available on their website, so you can plan your visit around events that most peak the kids' interest.
Rosamond Gifford Zoo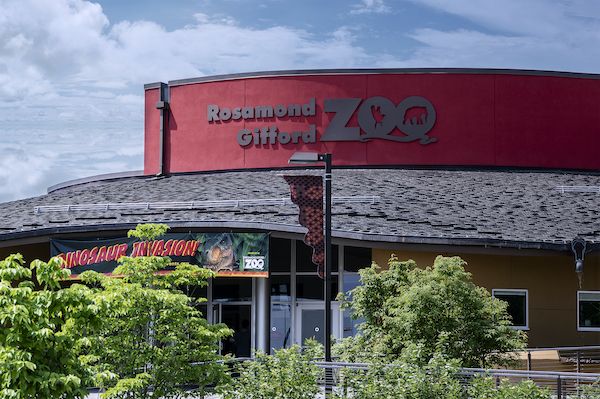 Why You Should Go
Located on the west side of Syracuse, the Rosamond Gifford Zoo at Burnet Park is home to over 100 different species of animals including Spotted Turtles, Asian Elephants, and Humboldt Penguins. With tons of indoor and outdoor exhibits, and even a domestic animal barn and wildlife trail, the kids and sure to love the experience from start to finish. Be sure to stop by the Curious Cub Gift Shop to grab something for your animal lovers on the way out – your purchase helps support the animals!
Onondaga Lake Park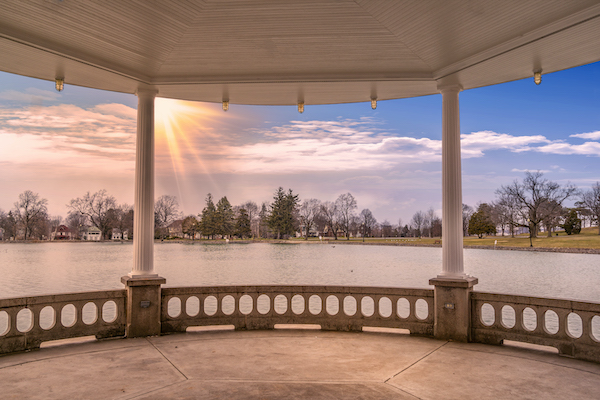 Why You Should Go
Deemed the "Central Park of Central New York," Onondaga Lake Park offers endless outdoor family fun for all ages! Located just northwest of Syracuse in Liverpool, the park offers beautiful views of the lake, 8 miles of walking trails, a large playground, a skatepark, a dog park, and so much more. The park even has a rental shop, where visitors can rent skates and various kinds of bicycles, including a seven-person conference bike – perfect for taking the family for an exciting ride along the lake!
WonderWorks
Why You Should Go
Offering over 100 exhibits of "edu-tainment," WonderWorks is the perfect place to spend a day with the kids. Spend some time learning about extreme weather, exploring the Wonder Art Gallery, or playing laser tag! For the adventurous kids, they even offer the world's largest suspended indoor ropes course . Located in Syracuse's Destiny USA, you'll find plenty of dining and shopping options to take advantage of after a day of fun and learning.
Heritage Hill Brewery
Why You Should Go
Don't let the name fool you into thinking that this one is adults only – Heritage Hill may have begun as just a restaurant and brewery, but it has become so much more than that. Located just a few miles south of Syracuse and exploding in popularity in recent years, they have cultivated a family-friendly atmosphere with awesome food, gorgeous views, and all kinds of entertainment. Special for the kids, they have a playground, obstacle course, and petting zoo. Grab a bite to eat and explore the fully operating farm on the property. With live music in the summer, hayrides in the fall, and a sledding hill in the winter, there is always family fun to be had anytime you drop by.
Green Lakes State Park
Why You Should Go
Home to two meromictic glacial lakes that give the park its name, Green Lakes State Park is the perfect destination for families. The park offers a beach with a supervised swimming area, as well as a jumping and diving platform. Take the family for the three-mile trek around the lake, with gorgeous views all the way around, or explore other scenic walking trails throughout the park. There is a campground, plenty of picnic areas and playgrounds, and unlimited outdoor fun to be had!
RPM Raceway
Why You Should Go
Another fun-filled option at Destiny USA, RPM Raceway is the perfect destination for adventure seeking families. They offer European-style go kart racing, where your family can exercise their competitive spirit in a safe environment. For the ones less keen on the karts, RPM also offers an indoor arcade with racing simulators, virtual reality games, and tons of classic arcade games!
Big Don's Wild River Outdoor Fun Center
Why You Should Go
While the main attraction might be mini golf, there is so much more fun to be had at Big Don's! You'll find an opportunity for entertainment everywhere you turn. Get lost in the 5000 square foot outdoor maze, or cool off in the Squirt Tube Frenzy water gun battle station. There are also areas set up to pan for gems, hunt for coins with metal detectors, and dig for buried treasure. Big Don's even has a mini mini golf course in their Bear Cub Village, where kids eight and under can find even more age-appropriate fun.
Canal Museum
Why You Should Go
For families that love learning about local history, the Erie Canal Museum should be your first stop. Located downtown and open seven days a week, step into a different world inside the 1850 National Register Weighlock Building. Inside, you will learn the history of the Erie Canal, and the role it played in developing our country. You can board a full-size replica canal boat, or step into Canal Town, where you will find a Canal era tavern, general store, and theatre. A special area for the kids offers space to read books about the canal, as well as try on clothing and play with toys from that era.
Highland Forest County Park
Why You Should Go
If your family loves the Adirondack Mountains, you don't need to drive three hours away from Syracuse to experience beautiful forested terrain. Take a visit Highland Forest, the "Adirondacks of Central New York." Here, you'll find over 20 miles of trails that can be explored year-round on foot, snowshoe, or even on horseback! On weekends in the winter, the family can hop into a horse-drawn sleigh for a gorgeous 20 minute ride through a winter wonderland.
Four Seasons
Why You Should Go
For families with a particular interest in golfing or skiing, head over to Four Seasons Golf & Ski Center. Operating for over 60 years, there is a good time to be had by all ages and skill levels. Whether you're a beginner looking for a private lesson, or a novice ready to tear it up, you'll find the family fun you're looking for here. Not a huge fan of skiing, snowboarding, or traditional golf? No worries! Four Seasons also has soccer and batting cages, as well as a mini golf course to satisfy every member of the family.
The Wild Animal Park
Why You Should Go
For the animal loving family, look no further than The Wild Animal Park. A few miles east of Syracuse in the town of Chittenango, this 40-acre zoo boasts nearly 50 species, and offers the opportunity to get up close and personal with some of the animals, including the giraffes! They also offer a drive thru experience, where you can take a tour through a variety of animals from the comfort of your vehicle. Keep your eyes peeled for updates, too – The Wild is expanding their operation, with plans to open a camping resort in the summer of 2023.
APEX Entertainment
Why You Should Go
Another indoor option for the family, APEX Entertainment truly offers something for everyone. Try your luck at one of their 50+ arcade games, or experience the thrill of their many virtual reality options. Challenge the family to a game of bowling, go for a spin in their bumper cars, or play a round of laser tag to get the hearts pumping. You are sure to enjoy hours of family fun at APEX!
Get Air
Why You Should Go
For kids and families with endless energy, check out Get Air Syracuse. Get Air offers thousands of square feet of wall-to-wall trampolines for kids and adults of all ages! Try all kinds of activities with the added fun of trampolines, like tag or dodgeball. There are slacklines, fidget ladders, and a giant foam pit for a fun free fall! Don't worry about the little ones – the kiddie court  is a fun area reserved for kids 46" and under to play, with all the same fun activities.
Critz Farms
Why You Should Go
A local favorite, Critz Farms offers year-round activities that are perfect for any family outing. Seasonal festivals, playgrounds, and farm animals are just a few of the fun things you'll experience when you visit. Depending on the time of year, Critz Farms also offers a variety of pick-your-own products, including blueberries, apples, pumpkins and even Christmas trees! Stop by during one of their many live music concerts and see what all the excitement is about!
As you can see, there's tons of family friendly fun to be had inside, outside and all around Syracuse! Now that you have a place to start, grab the kids and get out there!
Map of Things to Do with Kids in Syracuse
Frequently Asked Questions about Syracuse
Where can I take my kids in Syracuse?
Rosamond Gifford Zoo
Erie Canal Museum
The Great New York State Fair
Destiny USA 
NBT Bank Stadium
Webster Pond
Clinton Square
Museum of Science and Technology
What can I do in Syracuse for free?
Clinton Square
Historic Walking Areas
Central New York Regional Market
Syracuse Antiques Exchange
Antique Shops
City Market
Art Museums
Flea & Street Markets
Niagara Mohawk Building
E.M. Mills Rose Garden
When is the best time to visit Syracuse?
Fall and Summer are the best times to visit unless you are specifically hoping to do winter time activities.
If you enjoyed our list of things to do with kids in Syracuse, you might also like:
15 INCREDIBLE THINGS TO DO IN NEW YORK WITH KIDS [+ WHERE TO EAT & STAY]
Latest posts by Michael Mamian
(see all)