This is a sponsored post in partnership with Get Air Sports. All thoughts, opinions, and excitement are 100% our own.
Want to know the key to making your kid's birthday extra special? It's simple, book them a Get Air Trampoline Park Birthday Party. I am so not kidding! Ella is still talking about her Get Air Party!
Not only did Ella and all of her friends have the best time. But, the party was so incredibly easy to plan and execute- a total dream for parents. Check out the top reasons I think a Get Air Trampoline Park Birthday Party is a total winner. Plus, enter for your chance to win the GIVEAWAY below. You could win a Flippin' Awesome Party Package for your child ($360-$410 value).
3 Great Reasons to Book a Get Air Trampoline Park Party
1 Kids Will Love It!
The one rule when planning a kids party is make sure the kids have fun! And, what could be more fun than getting to jump at a trampoline park with all of your besties? This is really a no-brainer.
Besides the awesome time, the kids will have jumping Get Air Trampoline Park also builds in fun and excitement in the party room by supplying pizza, drinks, and even party favors depending on which package you book. *like the kids' glasses above depending on which package you book.
With your Get Air Trampoline Park Birthday Party you two whole hours of party time. That gives party goers a chance to hit the trampolines, the foam pit, dunk on the basketball hoop and play a few rounds of dodgeball. They will work up quite the appetite and when the loudspeaker announces its party time the kids will be ready to head in and eat!
Get Air Trampoline Park Parties are also great for kids of all ages. Little ones will LOVE the special gated area for jumpers under 46″. It ensures little ones can play safely and have fun!
2 It's Super Easy to Plan
One of the toughest parts about kids parties is organizing them. Trying to plan activities, food, party invites, decor, favors- it's overwhelming. Plus, who want to clean up their house only to have it destroyed by a bunch of kids?
With a Get Air Trampoline Park Party almost everything is handled for you. In fact, you get a party host to help handle the kids. They will serve them food, and clean up the mess too!
Get Air Sports also supplies fun party favors when you book their Flippin' Awesome Birthday Package. The party favors are packed with entertaining items like funky glasses, fake mustaches, punch balloons, finger traps, and more! They were a total hit at my daughter's party and I was really impressed with the quality and amount of items the party bags included.
You don't even have to bring in a cake because ice cream treats were included in the Get Air Trampoline Park Party too. The kids thought it was so much fun going downstairs to pick out their ice cream we actually had to pack up the cupcakes we brought so the kids could eat them at home.
BONUS- You can customize your party room!!
With all of the major details covered it was easy to throw in a few items to create the mermaid-themed party my daughter wanted. With so much already included (like plates, silverware, napkins, and tablecloths) I only had to pick up a few things to make a big splash!
The fun part was because it was such a small area that I was decorating I was able to make it look really festive without spending very much money. In hindsight, I would have totally passed on putting party favors together because the ones that Get Air supplied were so awesome that mine were not necessary.
3 Gets Kids Moving
In this digital age, it seems like everything kids love has to do with being glued to a screen which is why I love that at Get Air Trampoline Park kids are moving their bodies. Have you tried trampolining? It is an incredible workout.
There are so many exciting ways for kids to keep moving at Get Air Trampoline Park beyond jumping too! The dodgeball room was a total hit with all of our party guests and the birthday girl too!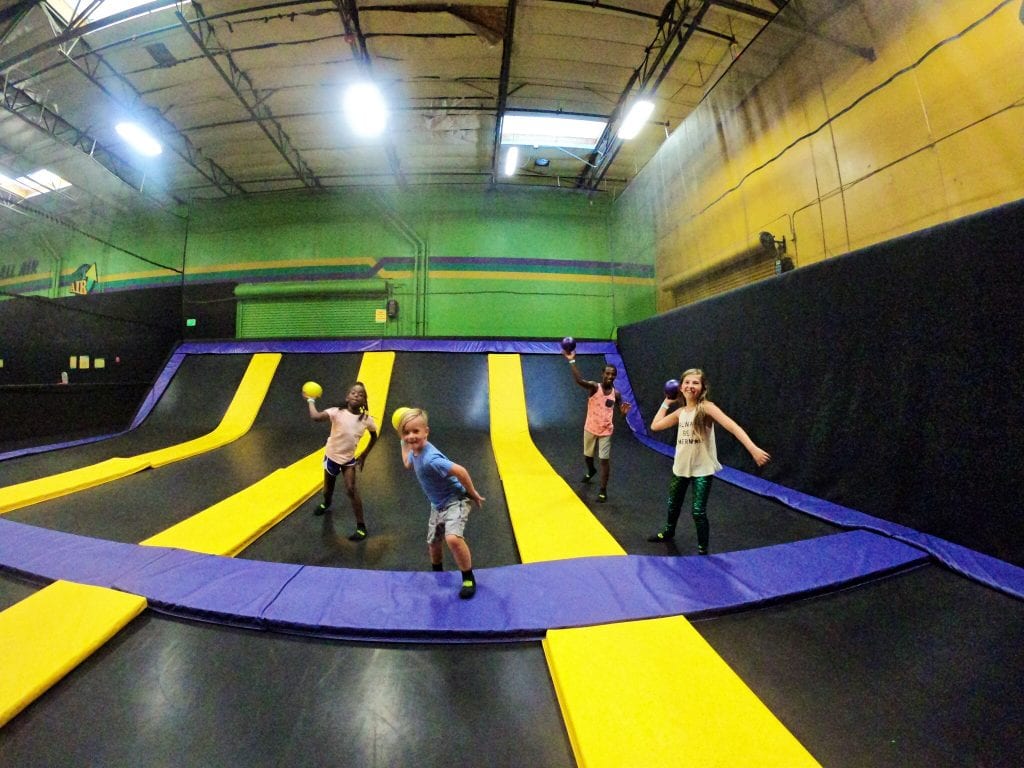 They also loved testing their skills on the different ropes courses, climbing walls, and of course, no one could resist jumping into the foam pits.
How Do You Book a Get Air Trampoline Park Birthday Party?
Booking a party at Get Air Sports is super easy. They have two party packages available and all you need to book them is a date and a deposit.
We opted for the Flippin' Awesome Party because it allowed me to bring in outside food without any added fees and it also included the party bags and treats. To me, this package makes the most sense and I really enjoyed having things like a veggie tray for the adults available to snack on.
Plus, kids will love the included party favors too!
What's Included in a Get Air Trampoline Park Party
Get Air Trampoline Park has two party packages that work great for birthdays but would also be awesome for team parties, family reunions and more. You can find information on both party packages + answers to commonly asked questions on the Get Air Sports website here.
The basic differences are that the Floatin' on Air party does not include extras like the party favors, ice cream treats, and there would be an added outside food fee like the Flippin' Awesome party does.
Here is what is included in the Flippin' Awesome Party (the one we chose & the one we are giving away below)
Cost for 10 jumpers

Jump socks for each jumper

2 hours combined jump and party area time

Birthday gift of a return jump pass and t-shirt for the guest of honor

Waived outside food fee

(2) Large pizzas

(2) 2-Liter sodas

(1) 5 oz. Mini Melts Ice Cream Cup for each jumper

(1) Party Favor for each jumper
You can also use their online birthday invites too. These are included at no extra charge, aren't they cute?
One of the things you will love about booking a Get Air Trampoline Park Party is the fact that set up and clean up is included. Plus,  you get a party host to help ensure your party goes smoothly too. They even had a cart to help haul presents back out to the car. It was amazing!!
Want to WIN a Flippin' Awesome Birthday Party Package for YOUR Child?
!!!
Don't forget about Get Air's Awesome Parties, pin this for later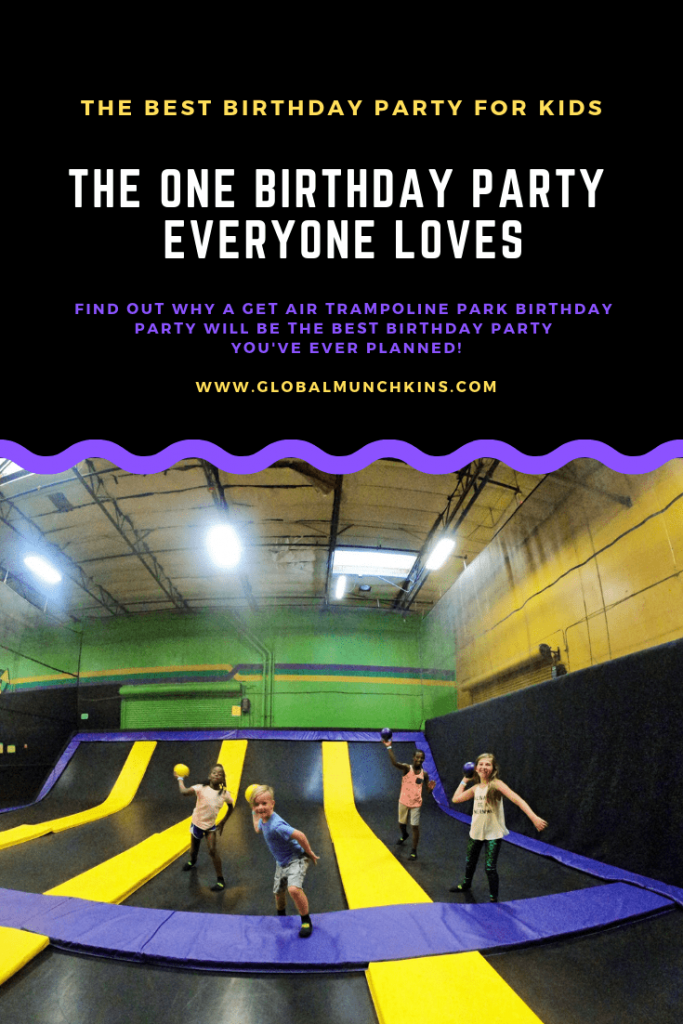 You may also like these birthday party posts-
*Disclosure- we teamed up with our partner Get Air Sports for the purpose of this blog post review and giveaway. However, our excitement over this party and all other thoughts you see are 100% our own!
More Get Air Trampoline Park Party Pins available for this post-