There is so much to see and explore in California, the state our family so proudly calls home. With 840 miles of beautiful coastline, gorgeous, snow-filled mountains, and some of the best amusement parks in the world, California is the perfect place for a family vacation. The hard part isn't finding things to do, it is deciding which amazing place to stay. So, we decided to give you a peek at the best family resorts in California!
Over the past 17 years with our kids, we have stayed in over 100 different hotels in California. Some, of course, stand out far more than others. Below are the best of the best!
Best Family Resorts in Southern California
Terranea Resort, Ranchos Palos Verdes
When it comes to beauty, there are not many resorts that compare to Terranea. This resort stretches over 100 acres of land on what is arguably the most beautiful part of the coastline. It is a place where luxury and adventure meet, making the perfect spot for both parents and kids.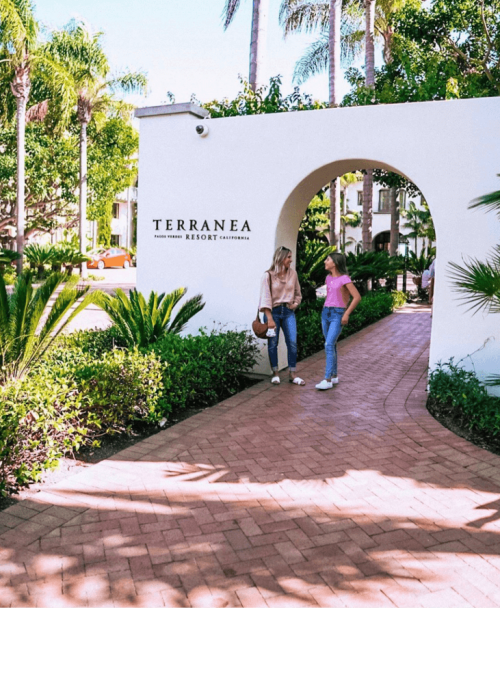 On our last visit, we stayed in one of Terranea's Casitas. This 3-room casita is perfect for any family looking for a place to get away from it all. You have a living room and kitchen, an outdoor fireplace for s'mores, and an indoor one as well. Then, you step out onto your deck for an incredible view of the ocean.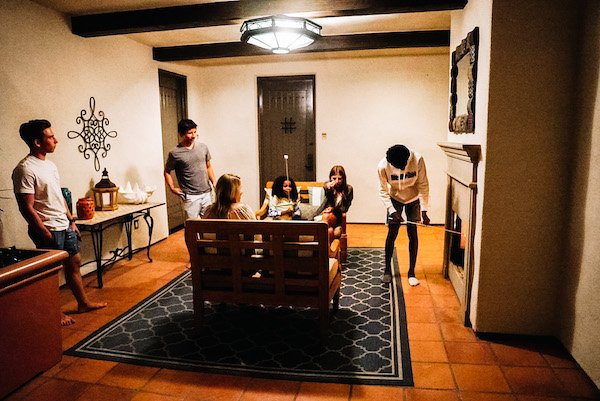 While at the resort, you'll find four large pools (one of which has a waterslide). We rented a cabana and enjoyed the poolside music while the kids splashed in the pool. There is also a pool strictly for the grown-ups that has stunning views of the ocean.
If yummy food is one of your favorite parts of vacationing, Terranea won't disappoint. There are six restaurants on the property. I recommend Catalina Kitchen for Breakfast and Nelson's for Happy Hour for a magnificent view of the sunset. There are also nine holes of golf, and tons of fun activities like archery, falconry horseback riding, and more. It really is an incredible resort for the whole family.
I think my favorite part of my stay is going for an early morning walk. As you walk around the property you'll see bunnies hopping around, the water on the ocean is like glass, it is such a peaceful start to the day. Learn more about the resort at Terranea.com.
Here is a peek at some of the amazing times we've had here!
---
Hotel Del Coronado
Hotel Del Coronado resides in the charming Coronado Village, which sits a few miles from some of the main attractions in San Diego. This massive, family-friendly resort is probably one of the most well-known resorts in the state. Though it was originally built back in 1888, all of the 679 rooms are completely modern.
We stayed at the resort a few summers back as they were just finishing up another extensive remodel. While we have always loved this hotel, they did make some incredible changes. Take a look at our most recent stay below!
The rooms sit right on the beach, allowing you to walk out and enjoy the warm waters and play on the sand. The staff is amazing and will set you up with chairs and umbrellas on the beach (there is a fee, but it's worth it).
At night, I highly recommend doing their nightly campfire S'mores. Try to time it around sunset as it makes for an even better experience.
They have a huge kids' club with tons of activities and two large pools for the whole family to enjoy.
---
The Seabird Resort, Oceanside
The Seabird Resort is another absolute delight. This is not just another California Coast resort. I absolutely loved the rooms and you can't beat the view.
The room we stayed in looked over the pool and then directly out to the ocean. It doesn't get much better than that! Inside the rooms are little touches that make your stay so much more welcoming, like the cozy robe and slippers and the high-end Illy coffee maker.
Inside the hotel is also a spa and a library! Ella's first stop was hitting up the library. The crown jewels of this hotel are the pool and the spa that looks out directly over the ocean. We even stopped by early in the morning on our check-out day to enjoy it one last time.
Just look at what an incredible stay we had!
---
The Waterfront Beach Resort, Huntington
The Waterfront Beach Resort is a Hilton resort situated in gorgeous Huntington Beach, Southern California. It opens up to ten miles of clean sand, blue water, and epic surf.
Whether you are looking to lounge on the beach in your own rented cabana or enjoy some water activities, including surfing, kayaking, and more, The Waterfront Beach Resort makes it possible.
There are plenty of firepits sprinkled along the sand for nighttime bonfires as well. Huntington Beach has plenty of cool little shopping centers and top-notch restaurants to enjoy as well. As for the resort, kids under four eat free, which is a pretty big selling point.
Oh, yeah! Did we mention they have a small dog policy? Our pup Paris sure was happy about this one.
---
Fairmont Grand Del Mar
The Fairmont Grand Del Mar is rated one of the best luxury resorts for families in California and one of the top five in the United States according to Tripadvisor. It is the perfect spot to stay with little ones as the San Diego Zoo and Legoland are both nearby.
The hotel sits a bit inland next to a gorgeous golf course and has the perfect California landscape with palm trees abound. The property is huge, making it perfect for hikes and long walks. You could spend the whole day sitting next to one of the grand pools or grab lunch at the wonderful Amaya restaurant. I would also recommend taking some time to enjoy the beautiful resort spa for a little me time.
If you're looking for serious luxury, the Grand Del Mar has you covered after a full day in one of America's most kid-friendly cities… San Diego!
---
Ranchos Las Palmas, Palm Desert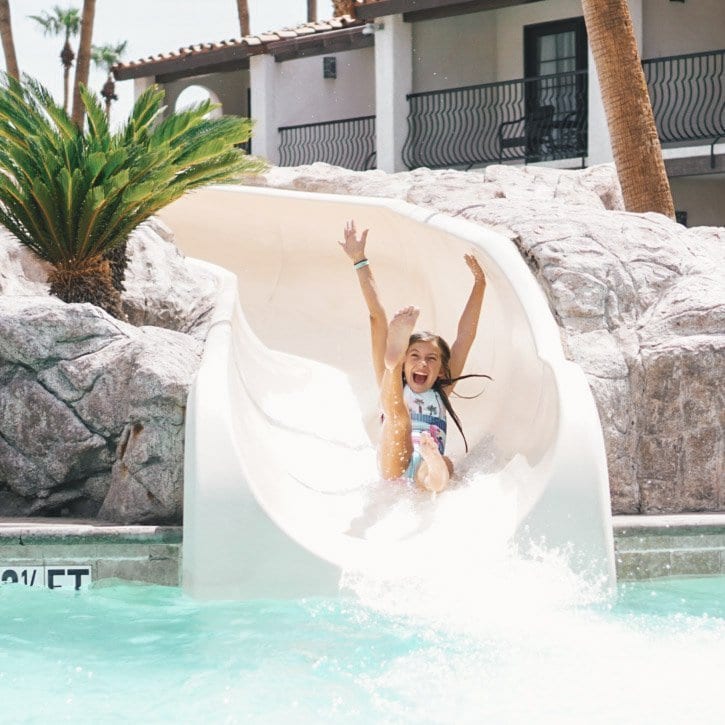 Out in the desert for the week with the family? Make sure to book your stay at Omni Rancho Las Palmas. Equipped with two large swimming pools and an awesome water park, it is the perfect place to enjoy the heat of the desert.
You can check out my full review here, but in the meantime look at how much fun we had!
Rancho Las Palmas sits adjacent to some of the best restaurants in Palm Springs and the hotel even accommodates small pets, which is not something you get often.
If you go in the fall or winter, we recommend taking some hikes around the desert. You might be surprised by how fun things there are to do in Palm Springs with the family.
---
Waldorf Astoria Monarch Beach Resort
Dana Point is known for its yachting community, which is why it attracts luxury-seeking vacationers from all over the world. From surfing to golfing to wine tasting, there is plenty to do. The Monarch Beach Resort sits a short walk from the beach and is perfect for families who want to enjoy the warm, sunny, Southern California weather.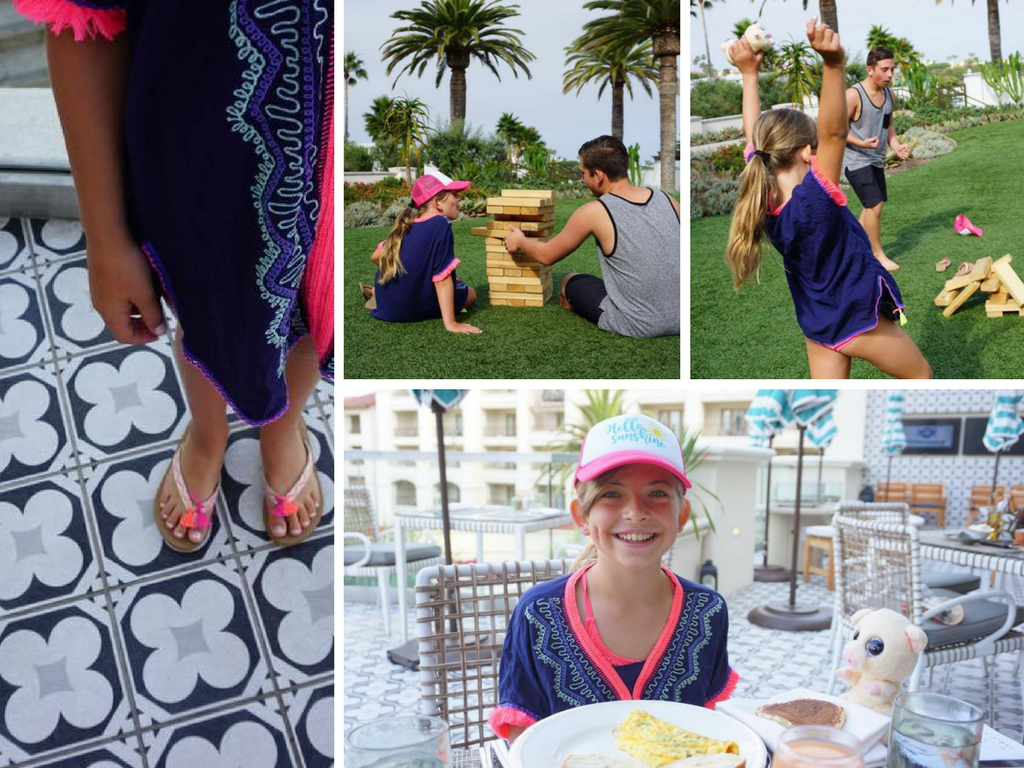 There are two different pools within the grounds of the resort, both of which are heated for wintertime visitors. One is for families while the other is strictly for adults.
If you choose to unwind there for a bit, you'll be happy to know that Monarch Beach Resort provides a top-rated kids' club and a wide variety of activities to keep the little ones entertained.
---
The Cassara, Carlsbad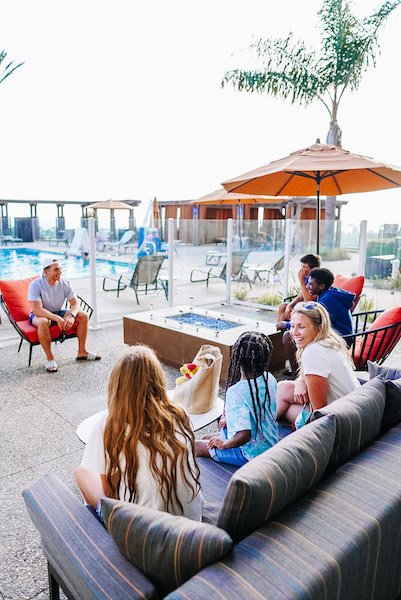 The Cassara in Carlsbad is a fairly new resort that sits on 12 acres of lush land overlooking the ocean. The best time to visit Cassara is in March and April as it sits just over the beautiful Carlsbad Flower Fields.
The hotel is also located near many of the awesome things to do in Carlsbad including Sea World, Legoland, and the San Diego Zoo.
On the other hand, if you never want to leave the resort, you'll find some pretty incredible on-site amenities! This includes an on-site brewery, two large pools, and a family splash pad for some fun in the sun.
---
Loews Coronado Bay Resort
If you consider your family to be on the active side, then you'll really enjoy the Loews Coronado Bay Resort down in San Diego Bay. Yes, this is the 2nd Coronado resort on this list, but it is definitely one of the best in California!
The resort is equipped with several pools, including a wading pool, a family pool, a hot tub, and an adults-only area, which features a separate pool and hot tub. The hotel has a wonderful kids' club too, where your little ones can enjoy up to a full day of activities while you have a drink by the pool.
Coronado has tons of things to do including great beaches nearby for those who want to try their hand at surfing or soak in some sun while enjoying the sounds of crashing waves.
---
Shutters on the Beach, Santa Monica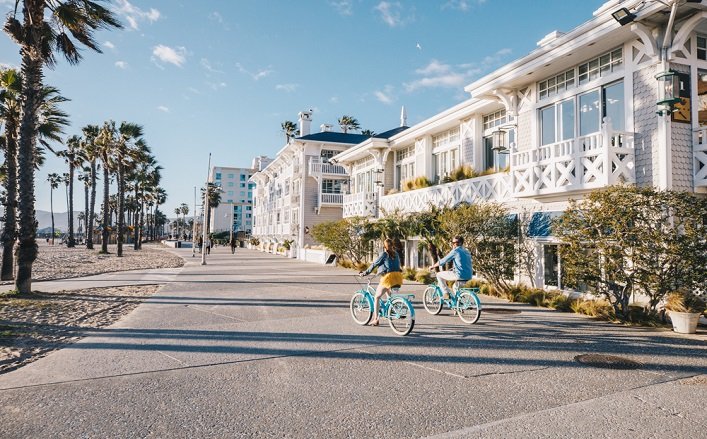 I am lucky enough to have called Santa Monica my home for a short period of time! It is one of the most popular travel destinations in all of California because it is simply lovely. With tons of shopping centers (make sure to visit 3rd St & Promenade), diverse restaurants (hit up the ones on Montana), vibrant beaches, and a massive, iconic pier with rides, games, and more, you're sure to find something to do.
At Shutters on the Beach, it gets even better. It is the only hotel that has beachfront access in Santa Monica. You can enjoy some quiet time on the rooftop pool, which overlooks the ocean waves or you can phone in the hotel babysitter while you go out and grab some dinner and drinks.
Shutters on the Beach rents out bikes, which is a big deal in Santa Monica. You and the whole family can take a ride down the long bike path and explore the city's surroundings.
---
Considering a California Road Trip? Check out this Ultimate 10-Day California Road Trip Itinerary from our friends at Trekaroo!
---
Great Wolf Lodge, Santa Ana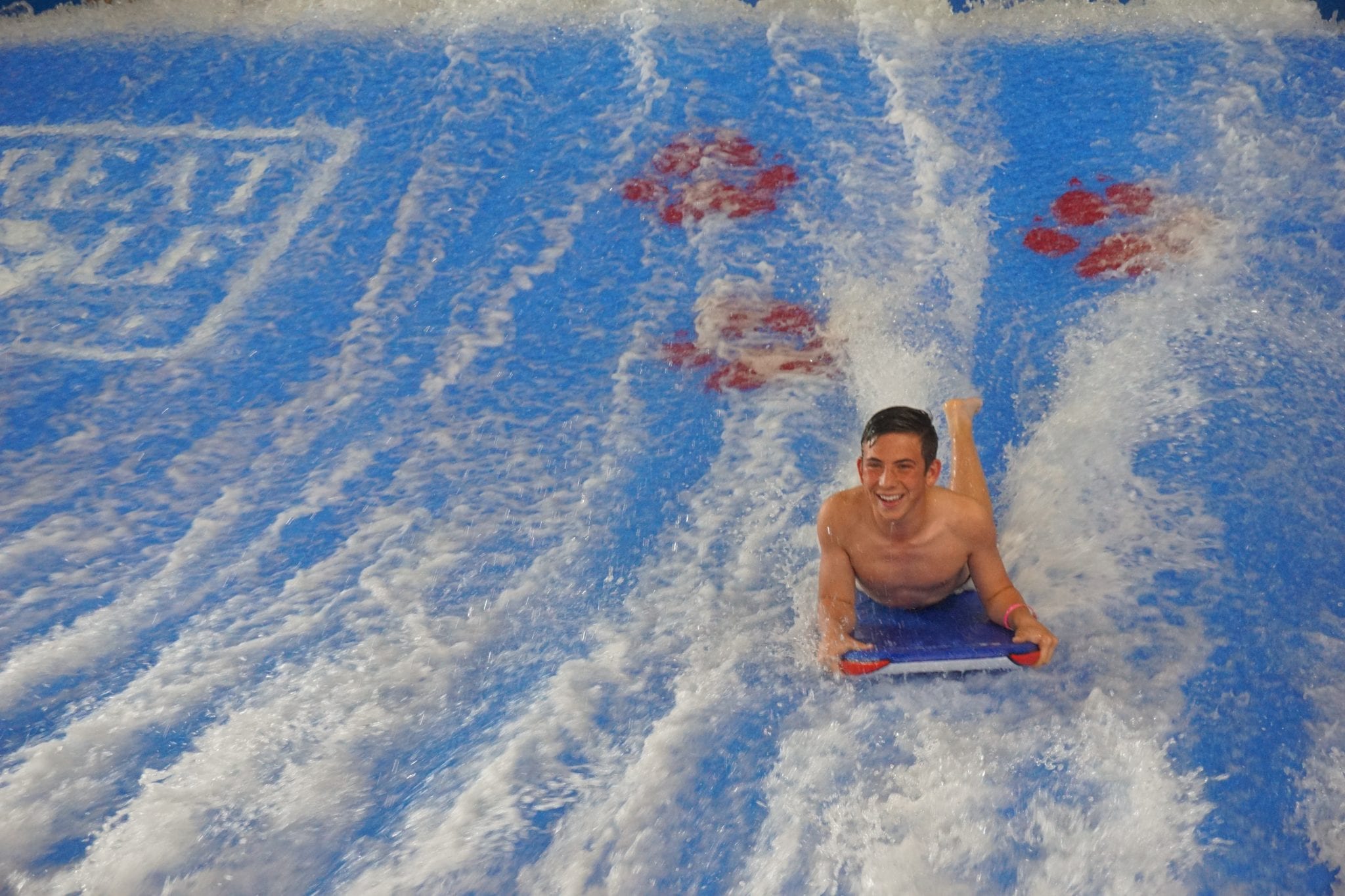 Just 2 Miles away from Disneyland is an incredible resort for families, where you might find your kids never wanting to leave. Great Wolf Lodge is located throughout the country and their Southern California Location is amazing.
There is a ton to do at the lodge including their most popular feature, a giant indoor and outdoor water park exclusive only for resort guests. In addition, there is mini bowling, 4-d theaters, arcades, Magiquest and so much more.
If you want to venture out, there are a multitude of things to do in the area including Disneyland.
---
Best Family Resorts in Northern California
The Ritz-Carlton – Northstar Lake Tahoe
There are plenty of reasons to love luxury resorts, though, for the most part, not many of them are suited for kids. That's why we were so excited when we found the Ritz-Carlton in Lake Tahoe, as the resort does an excellent job of mixing in luxury amenities with a kid-friendly atmosphere.
The resort has daily S'mores with unique marshmallow flavors created by the chef every day. The resort also offers a Ritz Kids package, where your little ones can find awesome activities indoors and outdoors depending on the season. They'll get to enjoy outdoor adventure activities, arts and crafts, and tons more.
If you are skiing, it is a great resort to be at, as the staff helps take care of your skis right as you get off the mountain (the resort is ski in and ski out). In addition, The Ritz has an Indoor Camp Out which features a separate dome tent for your kids. It is accompanied by the staff, perfect for those who want their own little getaway in Northstar
This place is definitely The Best Family Resort In California if you are looking to do some skiing or snowboarding!
---
Fairmont, Ghiradelli Square, San Francisco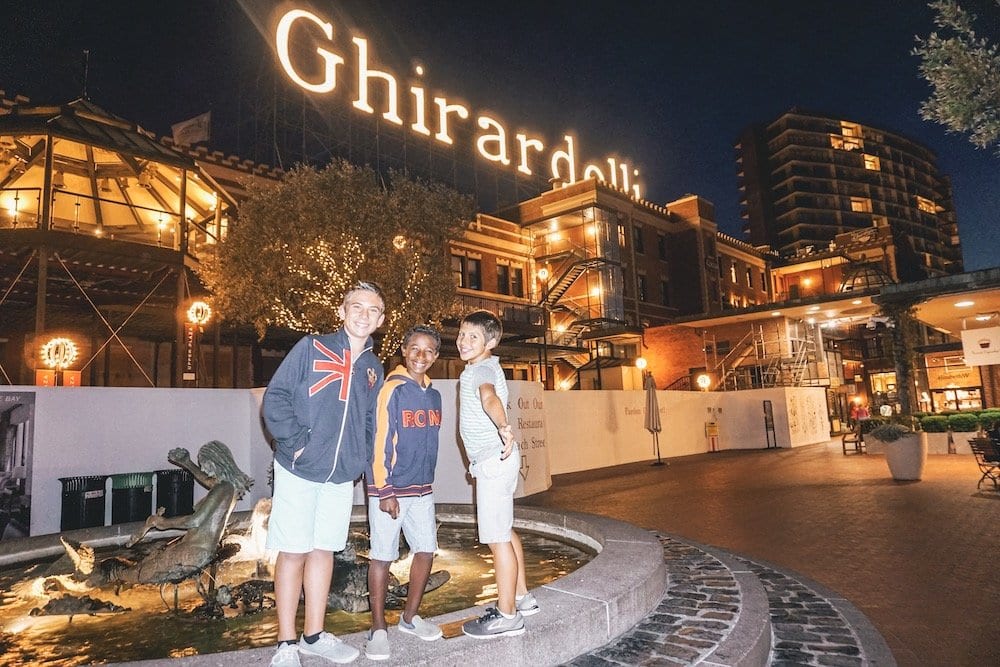 The Fairmont in Ghiradelli Square, San Francisco is the perfect place for families to stay when in San Francisco. It sits right around the corner from Twin Peaks, Alcatraz, Lands End, and plenty of other top San Francisco attractions.
This five-star resort comes with 53 suites, each of which has high-speed Internet and a kitchenette. Looking for the best eateries in the area? We highly recommend Home Plate, B Star, or Tony's Pizza Napoletana, as they are all kid-friendly restaurants with excellent food.
---
Tenaya Lodge, Yosemite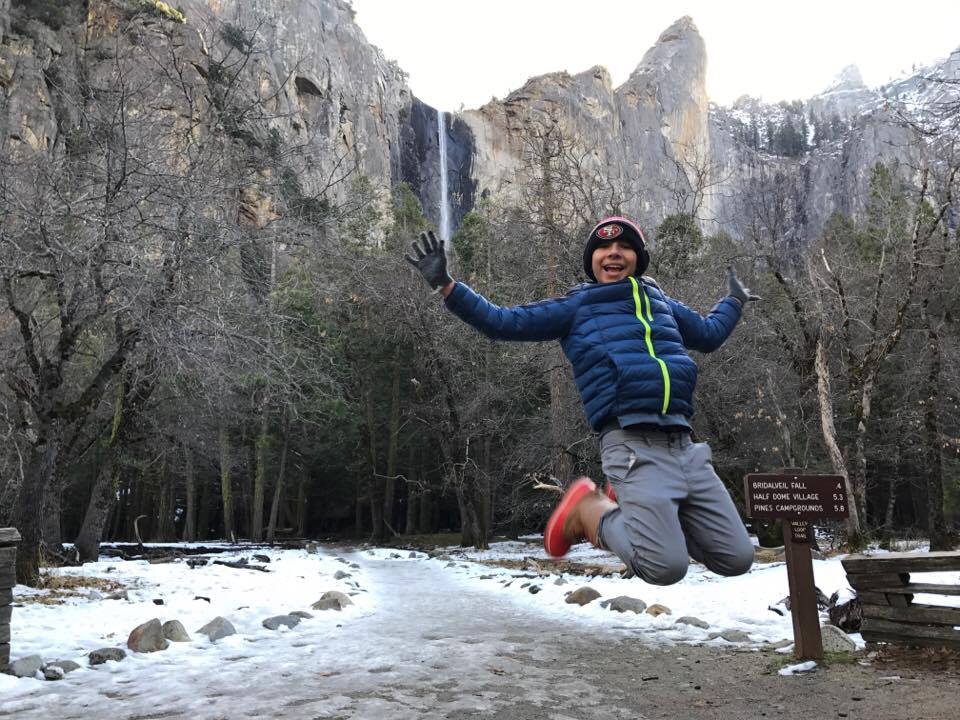 If you want to explore nature then there is no better place in California than Yosemite. It is simply stunning. From the majestic waterfalls to the beautiful hikes, you will be in awe while visiting one of our nation's most beautiful national parks.
Just cause you are out in nature does not mean you have to rough it. The Tenaya Lodge in Yosemite is an incredible resort for families to stay at and definitely one of the best resorts for families in California. If you have a large family like mine they now have Explore Cabins that sleep up to 6 people. You can check out my full Tenaya Lodge Review Here!
---
Best Resorts for Families on the Central Coast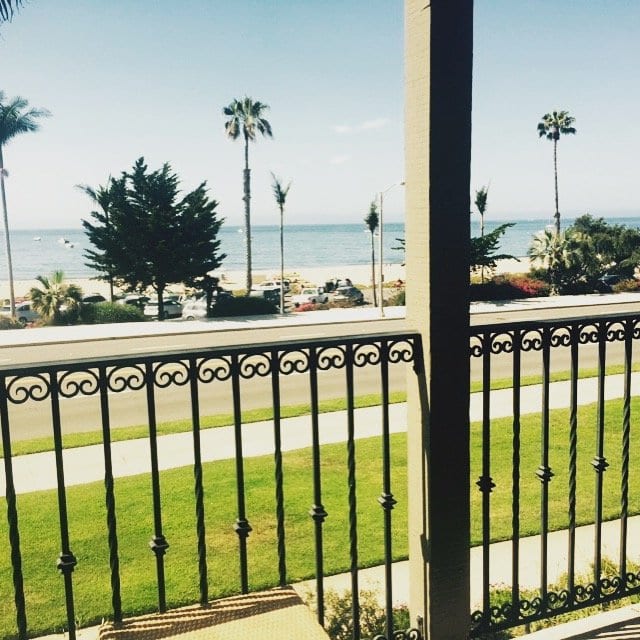 Hilton Santa Barbara Beachfront Resort
You can't talk about beach towns in California without mentioning beautiful little Santa Barbara. My husband went to college in Santa Barbara, so he insists on a trip to his "promised land" at least once every few years. Now our son goes to UCSB as well, so my husband's dream has come true!
We usually stay at The Hilton Santa Barbara Beachfront Resort. This resort provides all of the amenities you might hope for to please the whole family.
They have a massive outdoor pool and the front of the resort sits just across the street from the beach. You'll be spending a lot of time in the water.
When you're looking for more activities, you'll find the tennis courts out back and a number of excellent restaurants sprinkled up and down State St. which is just around the corner. Also, while in Santa Barbara, go check out the zoo, it is one of the cutest and most well-kept zoos I have ever visited.
---
InterContinental The Clement Monterey
Many like to think of The Clement as the heart of Monterey. It sits in the historic Cannery Row adjacent to the Monterey Bay Aquarium. The hotel is fairly new, as it was just built in 2008, though it does an excellent job of blending in with the traditional location.
There are tons of things to enjoy around the hotel, including the pool, onsite dining, and more, though if you choose to leave, we recommend taking a bike ride by the beach or exploring the many cultural sites that the town has to offer.
---
These resorts are the real deal. Each one's got its own vibe, whether you're all about chilling by the beach, living it up in luxury, or craving some adventure. They've got something for everyone from kiddos to grown-ups. So, no matter what you're into or how much you want to spend, these places are where it's at for creating those awesome family memories in sunny California. Get ready to pack your bags and dive into the fun!
If you have questions about any of these resorts, feel free to leave your questions in the comments!
---
Frequently Asked Questions About Best Family Resorts in California
What is the best area to visit for families in California
There are an endless amount of choices. Our favorites are San Diego, Orange County, Santa Barbara, and Lake Tahoe.
How many days would I need to travel through California
California is a massive state. Break it up into at least two trips, Southern California and Northern California. You can take 7-10 days in each area and still have so much to do.
Pin for Later: The 15 Best Family Resorts In California
Latest posts by Michael Mamian
(see all)