We traditionally travel to Aulani once a year with our last visit in January of 2018. This year, we booked a June trip and then switched it to an Aulani Thanksgiving trip when our original Hawaii trip was canceled. As the dates came closer Hawaii announced their reopening for October 15th and the Aulani reopening officially kicked off on November 1st. Here is what it was like.
Getting to Hawaii
Getting to Hawaii itself is quite the task, but for good measure. They have the lowest case count of any state and they are trying to keep it that way. To get to Hawaii you need to provide a negative test result that was taken 72 hours before flight from a list of approved providers.
If your test does not come back negative you have to quarantine on the islands for 14 days or the length of your stay whichever is shorter. We used Vault for our tests and got the results in 36 hours. I would recommend flying on Thursday or Friday so that the test result company has 3 business days to process your results.
**Children under 5 do not need to be tested**
Hawaii's travel policy might change in the future, we will try to keep this post updated but you can always visit Hawaii's safe travel site
Arriving at the Resort
When you arrive at the resort you still get all the feels of the Magic of Aulani. The beautiful buildings, the amazing beauty of Waikolohe Valley, and the friendliness of the staff make you feel right at home.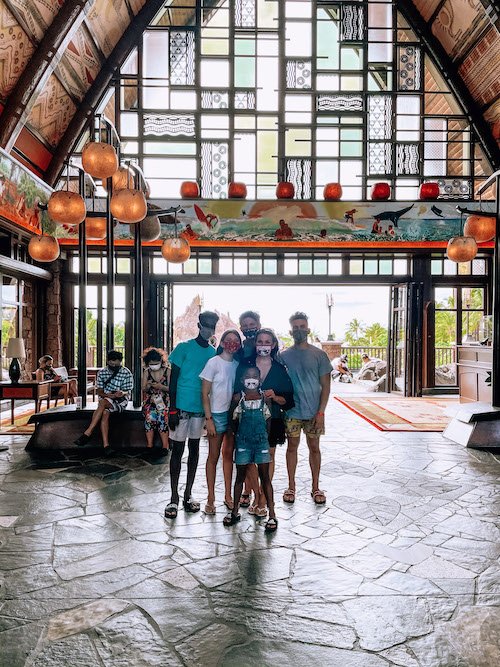 You can do the majority of your check-in online to make your check-in process easy. Make sure to have proof of everyone's negative test along with ID for adults when checking in as it is needed. There is no lei greeting upon arrival but you are still welcomed with the same warm aloha spirit.
Aulani Mask Requirements
Once you are at Aulani, you are required to wear a mask in all public spaces including around the pool. You do not have to wear one while swimming or traveling from the pool to your seats.
You can also remove your masks while you are eating or enjoying a beverage or delicious Shave Ice. This was not a big issue for our family and most families seemed to comply. Even our little ones had no issue with the mask rules.
What is Open & What is Closed
Ok, so this is somewhat changing as Aulani does open up more and more as the days go by. Here is what is open as of now.
Pools & Slides
All the pools and slides are open. The pool area does not feel any different than before Aulani closed. You can enjoy the lazy river, race down water slides or enjoy a nice soak in the Jacuzzi.
The few changes are:
You must be in a tube in the lazy river
The adult pool is now open for kids to increase social distancing. The adult Jacuzzi is still only for adults
Pool side parties with character are currently not going on.
Rainbow Reef is open
Pool Chairs
Pool chairs are socially distanced into small groups and are tied together so that they cannot be moved. If the staff does see a group gathering they will ask them kindly to separate to accommodate social distancing guidelines.
Restaurants
Here is a list of all the Aulani dining establishments open and closed currently along with changes made since reopening. Currently no more than 5 people can be at a table in Hawaii.
Ama Ama – Closed
Ulu Cafe – Open Daily for Breakfast Lunch and Dinner (No fresh baked pastries in the morning, all prepackaged)
Makahiki – Open for Dinner Only (No character Dining) (Max table of 5)
Poolside Service – Open
Papalua Shave Ice – Open
Mama's Snack Stop – Open
Oleo Room – Open 5pm to 10pm (No more happy hour)
Opihi's – Closed
Off the Hook – Open (No sitting at the bar or walking up to the bar for drinks)
Kawa'a Luau – Closed
Room Service – Unavailable
The restaurants use a QR code so you can scan the menu and view from your phone so bring your charged mobile device to the table.
Also, refillable mugs are not available.
*** Pro TIP** You will not find water around the pool deck like you did previously, so head to the host/hostess at Off the Hook and they will provide you with complimentary waters.
Makahiki Sit Down Dining Review
We dined at Makahiki for Thanksgiving dinner. The restaurant was set up and very well organized to help with enhanced safety measures. As you arrive you wait in a socially distanced line to check in for your reservations.
Reservations were only for resort guests. Temperature checks are done as soon as you check in. Your whole party does have to be with you at check in because if one member of the party has a temperature, the rest of your party will not be allowed into the restaurant.
Once you sit you will enjoy a prix fixe menu. Our was Thanksgiving-themed, but this setup made it easy for the servers to provide great service. The table were spaced out well and we personally found it very comfortable and the food was incredible although 4 courses was very filling.
Characters & Entertainment
If you love all the daily activities of Aulani there is a significantly reduced number of activities that Aulani is currently offering, but we honestly did not find ourselves feeling like we are missing out on much.
Some of the activities offered were:
Rainbow Reef Fish Feeding
Make Your Own Mickey Ears
Uncle's Around the Fire Stories (Now Held Around the Pool)
Character Greetings
You will find the character greetings on the Halawei Lawn at scheduled times throughout the day. Check the Aulani App for details.
Aunty's Beach House
Aunty's Beach House was unfortunately closed during. our stay and it seems like it will be for a while.
Merchandise Shops
All the Merchandise shops are open, you might find yourself waiting in a small line to get in as they do limit the number of guests who can be in the store at one time.
Beach
The beach is open and is as beautiful as ever. The beach chairs are spaced out. Paddleboarding is still available and you can still rent boogie boards and snorkels. What is missing are sand toys and the lawn games.
Crowds
One of the big changes of the Aulani reopening is the changes in how busy the resort is. Weekday crowds are amazing. The pool area is pretty much wide open (even on Thanksgiving), I would say the resort is at 20-30% capacity. You can find a chair pretty much the entire day.
The weekend is a completely different story, (at least when we were there). Aulani offers a discount to locals and the military and the hotel becomes quite busy, often hitting the 65% capacity. The pool area was very crowded and even with social distancing guidelines it was a bit too crowded for me.
***Pro tip*** Weekend days are great days to go explore the island and return to a full day at Aulani on the weekdays.
The Rooms
The rooms are fully sanitized upon arrival. Our towels were in a zipped up bag that had a seal that needed to be broken to show they were clean. Our remotes for the TV were in a clear bag to show it has been sanitized.
We had a Disney Vacation Club room so we typically don't have house cleaning, so we were used to not having the daily service. Trash was picked up after 4 days and you can always request more towels.
Other Safety Measurements we Loved!
Overall, we felt very safe at Aulani. The resort seemed to have a nice balance of being practical while still being extra cautious.
Sanitization Stations –
There are sanitization stations everywhere. In front of dining places, around the front desks, in stores one every floor as you get on or off the elevator.
Elevator Policy
This is a policy I would love to keep. On elevator rides it is limited to one family or 4 people max. Otherwise, you just waited for the next elevator. We had zero elevator rides with people on it and you could zip right to your floor. I think it actually made elevator rides faster even if you had to wait to get on.
Shopping
As I said above the shopping had a max capacity so it was nice to shop the store without a bunch of people inside and it made it feel much more safe.
Things we missed
Of course, there were things we missed with the Aulani reopening but honestly, it was not much. We love lawn games by the beach which currently are not available. I also enjoy having lunch at Ama Ama and my husband was hoping to cook on the bbqs but besides those few things, we honestly did not miss much.
Beyond Aulani – Exploring Hawaii
When traveling around Oahu, you will find the island is just as welcoming as before. A very strict mask policy is in place, but besides that, you will find everything is pretty much the same. The beaches are beautiful, hikes are amazing, restaurants are delicious and excursions are still widely available.
There is honestly a ton to do on Oahu, even now. Some hours might be reduced but besides that we never had any other issues. We had a wonderful trip to North Shore exploring the restaurants and beaches, plus we even swam with sharks.
All in all our trip was simply amazing. While we were nervous to travel, it was a much needed break for our family and Hawaii and Disney does an incredible job of keeping you safe.
If you have any questions about traveling to Hawaii or Aulani, please feel free to leave a question in the comments.