Oahu is by far Hawaii's most popular island. About 2/3 of all Hawaiians live here and it is a hub for tourism to the state.
We visit Oahu every year with our annual trip to Disney Aulani, Many visitors to Oahu never get much further than the typical Oahu tourist sights of Waikiki and diamond head.
To be perfectly honest, it's too busy for me. If you really want to experience the island though, you need to check out all the things to do in North Shore, Oahu
---
The ABSOLUTE Best Things to do in North Shore Oahu
About an hour from the hustle and bustle of Honolulu, you'll find the North Shore of Oahu. This 17-mile long stretch of northern coast is beautiful, rural, and laid back. With 50+ beautiful beaches, dense jungles, waterfalls, and great surfing, you definitely won't miss the city.
There is so much to do on Oahu's North Shore. With such a chill vibe though, you'll feel no need to rush. Nature and outdoor lovers will be in paradise and with great food and cultural activities, there is something for everyone. Check out a few of our favorite North Shore spots below.
---
Visit Historic Haleiwa
If you picture a classic 1960's Hawaiian surf town, Haleiwa would probably match that image perfectly. The historic town is the hub of the North Shore and home to great restaurants, food trucks, restaurants, and shopping.
The epitome of small island life, Haleiwa is a great place to stroll around and get a feel for the North Shore vibe. Check out a few of the town's art galleries or pop into the Surf Museum, or enjoy the quaint shops.
Food Trucks (Specifically Shrimp Food Trucks)
If you go to North Shore, you have to go and try out the famous Shrimp Trucks. There are two shrimp trucks which everyone has a specific opinion of which is best. Giovanni's Shrimp Truck or Mackey's Shrimp Truck. We are a Giovanni's Family ourselves, their butter garlic shrimp is incredible
If you don't love shrimp, there are a ton of other food trucks right next to Giovanni's where you can grab crepes, acai bowls, thai food and so much more.
Shaved Ice
Definitely, don't leave town without trying Hawaii's ultimate treat – Hawaiian shave ice. There are a few places to grab the shave ice with Matsumoto's being one of the most famous.
Every year right after our shrimp fix we head over to Matsumoto's and enjoy their delicious shaved ice. (Although in my opinion, the shaved ice at Aulani is better)
---
Go Surfing or Watch some Surfing
The waves on Oahu's North Shore are famous with surfers around the world. All winter long, when the waves peak in height, you'll find brave surfers riding sometimes 30-foot monster waves.
From November to February each year, the North Shore is also host to a number of the world's premier surfing competitions.
In the summer months, the waves calm down a bit but still offer incredible surfing. Top beaches for pro surfers include Waimea Bay, Sunset, and Banzai Pipeline (Ehukai Beach).
If you are just a beginner, you should definitely consider taking some lessons. Good beaches for beginners and intermediate level surfers are Puaena Point (Haleiwa Beach Park), Kawela Bay, and Chun's Reef
If you'd rather not face down massive waves yourself, you can also just catch some nice rays on the beach while watching the surfing pros.
---
Go Hiking
You've no doubt already seen the natural beauty of Oahu's North Shore. Used as the backdrop for countless shows and movies, the jungle here is quite a beauty. Head out on a rainforest hike and you might just find yourself transported to an episode of Lost or to the dinosaur-filled jungle of Jurassic Park.
There are a number of hiking options from super easy one-mile strolls to all day trails. On the easier end, check out Waimea Valley. The valley's Audubon Center is host to a number of botanical gardens, used to preserve native Hawaiian plants.
There is also an easy one-mile long paved path that ends at the 45 foot tall Wailele waterfall. This is a great option for families with young children.
On the more difficult end, check out the 7.9 mile round trip hike to Laie Falls. This beautiful hike will take you through orchid-filled jungle, cool pine forest, and in the end to a beautiful waterfall and swimming hole. While longer, this hike is still family-friendly and relatively doable for older kids and teens.
---
Relax at the Beach
It's not a Hawaiian vacation if you don't spend at least some time relaxing on a gorgeous beach. On the North Shore you have plenty of options!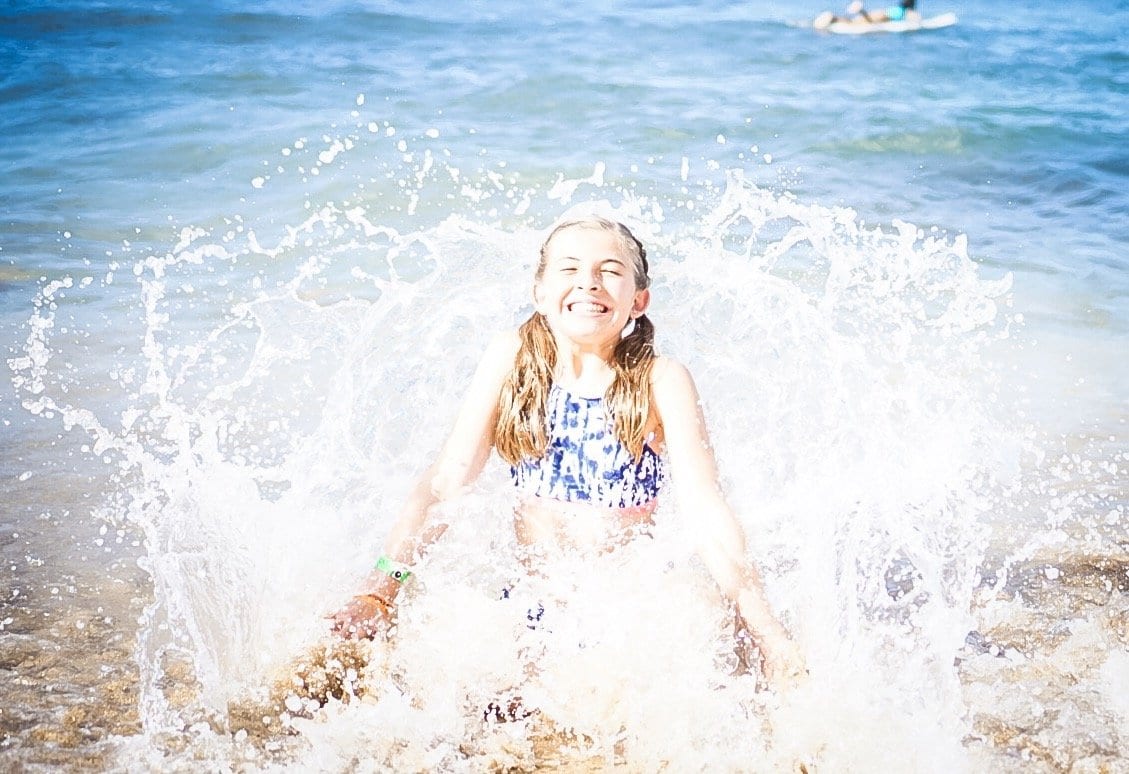 There are 51 beaches in total along Oahu's North Shore, covering over 11 miles of coastline. Besides just relaxing in the sun, the beaches here offer some other fun options.
We really love to Haleiwa Alii Beach, there are a ton of surfers to watch and if you are playing on the shore the waves are perfect for little kids.
Snorkeling, even right off the North Shore beaches, is amazing with chances to see sea turtles, small sharks, and tons of fish. You can also sign up for a horseback ride on a few of the beaches.
If you are looking for a more secluded beach experience, head out to Ka'ena Point. Here you will find almost deserted white sand beaches and beautiful blue waters.
The perfect way to end any Hawaiian day is with a drink in your hand, sand between your toes, watching the sunset. Unsurprisingly, Sunset Beach is one of the top spots to catch the evening show, along with Shark's Cove that we highlight below!
Ehukai Beach Park
One of the first stops on your itinerary should be the stunning Ehukai Beach Park. Known for its awe-inspiring waves, this beach is a surfer's paradise.
Watching the skilled surfers ride the towering waves is a thrilling sight that will captivate both you and your children. The raw power of the ocean at Ehukai Beach Park is a reminder of the beauty and strength of nature.
---
Visit some Turtles on the Beach in North Shore Oahu
I love seeing Hawaiian green sea turtles, ever since I found the secret turtle town in Maui, I always try to find sea turtles on every island. This is actually one of the easiest places to see the sea turtles.
Skip Turtle Beach (Laniakea beach) and head straight to North Shore. Head over to Ali'i beach and check out the turtles.
Honu, the Hawaiian word for sea turtle, can be found on a number of North Shore beaches.
The top places to see the turtles are "Turtle Beach" at Laniakea and the west side of Ali'i Beach Park. If you have not done this we do HIGHLY recommend visiting the Hawaiian green sea turtles at Laniakea Beach!
Remember, the animals are protected and it is illegal to touch them.
---
Don't Miss the Polynesian Cultural Center!
Part of what makes the North Shore of Oahu special is the close feeling of connection the area has to native Hawaiian culture. This can be seen throughout the area but is highlighted at the Polynesian Cultural Center.
Far from a tourist trap or boring museum experience, the Polynesian Cultural Center covers over 42 acres. With shows, activities, cultural areas, and plenty of historic exhibits, you could easily spend an entire day here.
Check out the center's traditional luau, a nightly show with dancing, singing, and music that could rival any Broadway show. If the performance didn't blow you away, the luau also features a full traditional Hawaiian feast.
The Cultural Center is Oahu's top paid attraction for good reason. If you want to learn more about Hawaiian culture and get a firsthand experience, be sure to visit. Check Current Prices Here!
---
Snorkeling at Shark's Cove
A fantastic spot for snorkeling and exploring marine life is Shark's Cove. Despite its name, this underwater paradise is a haven for vibrant tropical fish and fascinating coral formations. The calm and clear waters make it an ideal spot for children to dip their toes into snorkeling.
Bring along some snorkeling gear and discover a world of colorful marine creatures beneath the surface. Don't forget to apply sunscreen and bring plenty of water for a comfortable and enjoyable snorkeling adventure.
Check Out Hawaii John's Video below!
---
Have more questions about North Shore or Hawaii, ask in the comments or Direct Message me on our Instagram Page
---
If you enjoyed reading about things to do in North Shore Oahu, you might also enjoy:
Amazing Things to Do in Oahu- 3 Reasons Gunstock Ranch is a MUST
The Best Things To Do In Oahu with kids [25 amazing activities]
Amazing Oahu Experience; Swim with Dolphins; Oahu!
---
Pin for Later: Things to do in North Shore Oahu