When you think of Disney World, what is the first thing that comes to mind?
I picture myself walking into the park, making my way toward the iconic Cinderella's Castle, and being surrounded by children. Lots and lots of children. I mean being a Mom of 6, I am surrounded by children, pretty much all day!
We all know many people choose to bring their little ones on a trip to Disney World. It is the most magical place in the world, after all! That said though, who said the magic was just for kids though? Check out our guide for Disney World for Adults below!
---
The Best Things to do at Disney World for Adults
Maybe you're in the midst of planning out your first or next Disney World trip with children in tow and wondering if there are any rides or attractions aimed at adults.
Perhaps you and that special someone are venturing to Disney World sans children and you're wondering if it's an appropriate destination if you're eighteen and up. The answer is yes!
Disney World has something for everyone, which is part of what makes it so special. In this article, we will talk about the best places for adults to go at Disney World at each of their four theme parks.
---
Magic Kingdom
The Magic Kingdom is the park that is best suited for children under the age of ten. If you have never been to Disney World before or never visited without bringing your minis with you, then you may not appreciate how much the Magic Kingdom has to offer its adult guests.
What would a trip to an amusement park be without trying out the rides?
While the Magic Kingdom doesn't have death-defying coasters like other amusement parks, many of its rides are still perfect for those looking for more than a leisurely spin on a carousel.
Big Thunder Mountain Railroad is one of the more daring coasters in the park, as it speeds you through a haunted goldmine. Make sure you tie your hair back for this one.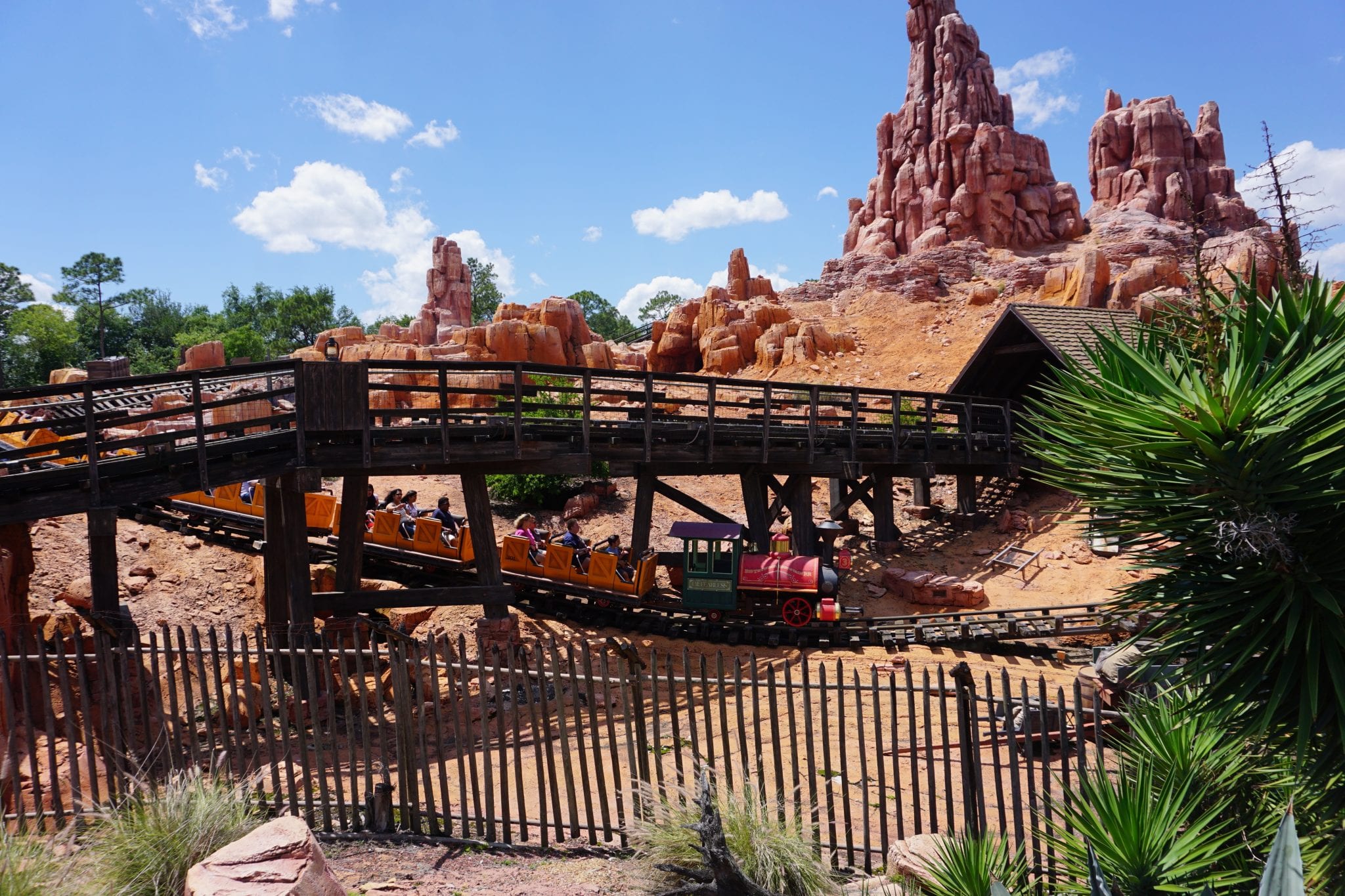 Another classic ride is Space Mountain. This coaster is unlike the others at Disney, and unlike many others in the United States too, because it has you racing through space in complete darkness.
Not being able to see where the roller coaster really throws you for a loop and adds in extra adrenaline for a certified thrill ride. Plus, the line forms indoors. Can we say "yes" to air conditioning? I always do!
If you're looking for an adult beverage to calm your nerves after a trip on Space Mountain, there are few select places in the Magic Kingdom that serve alcohol.
Be Our Guest, modeled after the Beast's Castle from the beloved film Beauty and the Beast, is a French themed restaurant that serves beer, wine, and specialty beverages.
Cinderella's Table is located in the castle at the center of the Magic Kingdom. That alone should be enough of a draw but, in case it's not, this dreamy establishment serves up breakfast, lunch, and dinner where you can have specialty cocktails with your meal.
One classic attraction that can be enjoyed by people of all ages is Disney Enchantment. Located at Main Street U.S.A., this nighttime firework event isn't like your local 4th of July firework display.
The expertly crafted firework show, breathtaking light display, and goosebump-inducing musical accompaniment is enough to bring a tear to even the biggest cynic's eyes.
---
EPCOT
Some say EPCOT is the best park for adults. Why, you ask? Well, EPCOT hosts a variety of events throughout the year that are specifically catered to an adult audience.
And speaking of catering, we must discuss the food and drinks you can indulge in when you visit EPCOT. You can eat and drink around the world with food and beverages from eleven different countries including Mexico, China, Japan, Italy, and France.
The acclaimed EPCOT International Food & Wine Festival offers over thirty signature global marketplaces for any foodie to partake in with cuisine you won't find anywhere else at Disney World.
If you need more than just food to get your engine going, make sure to plan your visit to EPCOT when they hold the EPCOT International Festival of the Arts. This festival is a feast for all the senses. There is music, acrobatics, art installations, and, of course, plenty to eat and drink.
You may want to have a more traditional dining experience or prefer to sit down and cool off from the Florida heat. EPCOT has plenty of restaurants including seafood at Coral Reef Restaurant, sushi at Tokyo Dining, and Mexican fare at La Cava Del Tequila.
Make sure to eat after you ride the rides at EPCOT.
Test Track is a coaster that allows you to design a virtual concept car and test it out on a track. It is perfect for car enthusiasts or just anyone that loves going fast.
Some say that this next ride is the most intense in all of Disney World. Mission: Space is a space shuttle simulator that launches you on a mission to Mars. This ride produces some serious g-force so, as Scar would sing in the Lion King, "be prepared."
---
Disney's Hollywood Studios
Get ready for your close up, because at Disney's Hollywood Studios will immerse you in all things entertainment. You'll find no shortage of rides and attractions here, but some are more adult-friendly than others.
The Twilight Zone Tower of Terror ride sits inside a peach building that quite literally towers over all of Hollywood Studios. While this ride isn't strictly for adults, the theme may be enough to scare most children away.
This Hollywood Studios staple has its guests enter a haunted hotel where you may see a ghost or two. Or three. Or four. Suddenly, you will find yourself in a free fall from the top of the tower to the bottom. Photos taken while the ride plummets will provide you with some laughs and a souvenir to commemorate the experience.
Like Disney World, Star Wars is for everyone. Adults who grew up loving Star Wars owe it to themselves to visit Star Wars: Galaxy's Edge.
You can design your own droid, dine at Oga's Cantina, say hi to Yoda and crew, and experience Star Wars: Rise of the Resistance. Rise of the Resistance is truly a unique attraction. It offers multiple ride experiences that are part dark ride, part simulator, and part walk through.
Rise of the Resistance will have you saying, "Loved that, I did!"
---
Disney's Animal Kingdom Theme Park
There are some parts of Disney's Animal Kingdom Theme Park that will leave you awestruck by Earth's diverse and beautiful inhabitants. In other parts of the park, you will feel like you've entered an entirely different world full of magic and mystery.
Let's start things off with attractions that remind us of how majestic our planet truly is. The Gorilla Falls Exploration Trail is a self-guided trail aptly named for the two troops of lowland gorillas that live there. It allows visitors to take their time and appreciate a variety of African wildlife including zebras, birds, and hippos.
Get your camera ready for Winged Encounters – The Kingdom Takes Flight. This mini show features magnificent macaws that fly over Discovery Island before landing in the Tree of Life.
Once the birds have settled, you can ask one of the Animal Kingdom's bird care experts about the birds or snap some stunning pictures for your social media profiles.
Want to view the wildlife a little bit more up close? Check out Kilimanjaro Safaris and admire thirty-four species of wildlife as your tour guide drives you in an open-air vehicle over one hundred acres of forests, grasslands, and savannas.
Kilimanjaro Safaris is a personal favorite attraction of yours truly and a must for anyone who loves animals.
Now let's move on to the Animal Kingdom attractions that are a bit more out of this world. Based on the record-breaking box office hit Avatar, Avatar: Flight of Passage makes you feel as though you have been transported from Earth and straight to the fictional planet of Pandora. Avatar: Flight of Passage is one of the most technologically advanced rides in Disney World.
This flight simulator ride uses 3D animation paired with unique ride vehicles to make its passengers feel as though they are actually flying over Pandora.
The line for this fan favorite ride can be a doozy, but fear not, friends! While you wait for your turn to take flight, you will be treated to different rooms inspired by the movie. Be forewarned, this ride is not for the faint of heart.
Want to experience the fantasy world of Avatar without the motion sickness inducing thrills? The Na'Vi River Journey is just the thing for you! You and your guests will embark on a gentle boat ride through Pandora's bioluminescent forest where you will spot characters from the Avatar movie.
After you have marveled at the flora and fauna during the day, you will no doubt be looking for something special to eat at night. The Animal Kingdom has some of the most unique dining options in the park.
Sip out of this world's signature cocktails and Pongu Pongu, have a pan-Asian feast at Yak & Yeti, or treat yourself to my favorite restaurant Tiffins Restaurant where you can delight in the African/Asian/Latin inspired fine dining cuisine.
---
Frequently Asked Questions about Disney World for Adults
Does Disney Enchantment require an extra fee?
No extra fee is required! However, you should find your desired spot on Main Street early, as it can become quite crowded and you don't want an obstructed view.
Do you need reservations to dine at Be Our Guest and Cinderella's Castle?
Yes. Be Our Guest in particular is notoriously hard to get a reservation for. While you plan out your trip, decide what day and what time you would like to dine at either restaurant and book it well in advance.
Star Wars: Rise of the Resistance attraction sounds great. How can I experience it?
This attraction is so popular that, in order to partake, you must book a boarding group through the My Disney Experience App prior to your trip. 
I don't want to wait to ride Avatar: Flight of Passage. What is the fastest way to get on the ride?
We recommend purchasing a Lighting Lane Pass. For the Flight of Passage, a Lighting Lane pass is NOT included when you purchase Genie+. However, you can purchase a Lighting Lane pass for Flight of Passage even if you don't have Genie+.
I want to stay at a hotel with as few children as possible. Which is the best one?
There are many great options:
Port Orleans – one of the smallest hotels which equals less people.
Coronado Springs – a hotel that often hosts conventions, so it tends to be on the quieter side.
Beach Club – you can walk to EPCOT from this hotel.
BoardWalk Inn – you can walk to Hollywood Studios from this hotel.
Swan and Dolphin – an inexpensive option with no Disney theme decorations.
Fort Wilderness – you can stay in your own cabin and make use of the campgrounds.
The Grand Floridian – a lavish hotel with a walkway to the Magic Kingdom.
---
If you enjoyed our list of the ultimate guide for Disney World for Adults, you might also like:
8 OF THE BEST RIDES AT DISNEYLAND: THE ULTIMATE GUIDE
ULTIMATE DISNEY WORLD PACKING LIST [+ 12 UNIQUE ITEMS YOU MUST PACK]
LIGHTNING LANES AT DISNEY WORLD: EVERYTHING YOU NEED TO KNOW TO MAKE YOUR TRIP MAGICAL!
---
Pin-it for later: Ultimate for Disney World for Adults