Walt Disney World is truly a world of its own, and that means you need transportation to reach all of the magic corners in it! Disney World is the size of San Francisco, and with 4 parks, two water parks and Disney Springs, you will need to know how t get around. Feeling overwhelmed? This guide will help you break down all of the available forms of Disney transportation at the Walt Disney World Parks & Resorts. Disney World transportation is super easy once you get the hang of it. 
Complimentary Disney Transportation
Let's start with free transportation! Luckily you travel around Disney World completely for free. From the moment you step off the plane you can travel on Disney transportation for free. Save that extra money for more magical treats for you and your family.
Bus Transportation to the Parks & Disney Springs:
Avoid parking and save money by using bus transportation! The Disney World bus system has pick up spots at every resort, theme park, and Disney Springs. Buses arrive approximately every 20 minutes! The buses do not go from resort to resort, so if you want to travel from resort to resort take the bus to the parks and then to the resort of your choice. Or use a paid service option.
Here is a list of Resorts where your only option is Bus or Private Transportation to the theme parks and water parks.
Allstar Resort
Animal Kingdon Lodge
Coronado Springs Resort
Port Orleans Resort
Old Key West Resort
Saratoga Springs Resort (Access to Disney Springs by Boat is Available)
Check Bus Times from the My Disney Experience App!
NEW! Check out the My Disney Experience App to see when the next bus will arrive at your resort, and when you'll arrive at the park of your choice!
*Pro Tip – Arrive about 5-10 minutes before the estimated time of arrival as the buses do arrive early and then you will be waiting another 20 minutes for the next bus.
Monorail Transportation:
The world-famous monorail allows you to zoom over Walt Disney World and get a bird's eye view of the magic! However, this monorail system only operates to Magic Kingdom & Epcot. Here are the spots where you can pick up the monorail.
Resorts with Monorail Access:
Disney's Contemporary Resort & Bay Lake Towers at Contemporary Resort
Grand Floridian Resort & Spa
Disney's Polynesian Village Resort, Villas & Bungalows
Transportation and Ticket Center (this stop can take you to Epcot as well!)
Water Transportation: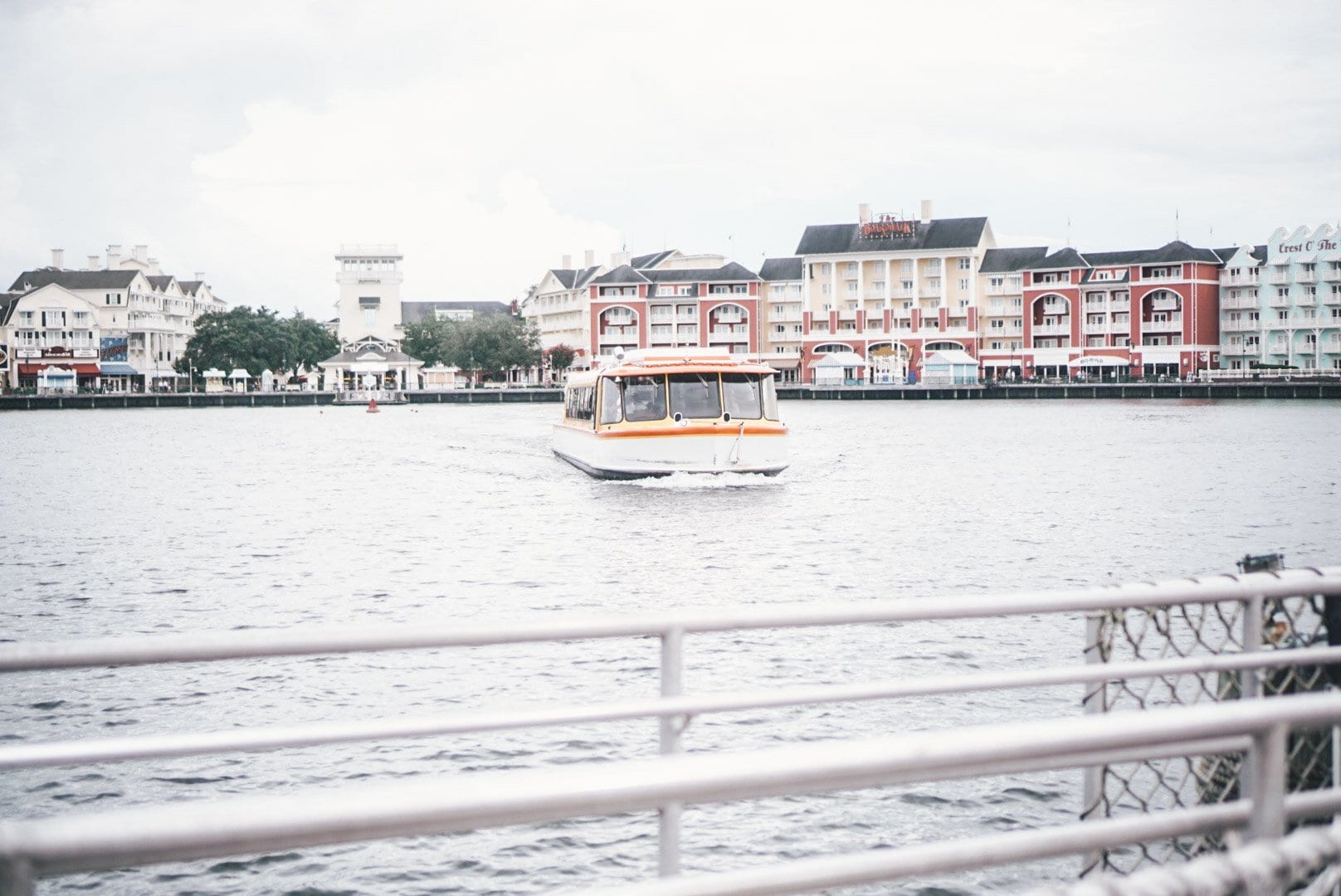 Looking to cruise through Walt Disney World? Water taxis and ferries are available at certain resorts to three of the four parks and Disney Springs.
From the Grand Floridian, Ticket & Transportation Center, & the Wilderness Lodge you can take a boat to the Magic Kingdom. These boats operate on 15 to 30 minute intervals,
To Hollywood Studios & Epcot:
You can sail on over to Epcot and Disney's Hollywood Studios from my favorite resort Disney's Yacht & Beach Club, the Boardwalk, and the Swan & Dolphin.
To Disney Springs:
If you are staying at most resorts you will need to take a bus to Disney Springs, but if you are staying at Saratoga Springs you can sail on over to the many delicious restaurants and wonderful shops.
Disney Skyliner Transportation:
Since September of 2019, guests at select Disney World resorts have been flying sky high in these brand new gondolas! You can land at either Epcot or Disney's Hollywood Studios. Resort hotels that will feature exciting new transportation include:
Disney's Riviera Resort
The Art of Animation Resort
Disney's Pop Century Resort
Disney's Caribbean Beach Resort
If you don't mind a brief walk, Disney's Yacht Club Resort, Beach Club Resort, and BoardWalk Inn are within walking distance of a skyliner!
The skyliner is one of my favorite ways to travel into the parks. It is super easy, very relaxing and often times you have a gondola to yourself.
Paid Transportation Options
If you have some wiggle room in your budget and would like to travel on your own watch, check out these paid transportation options! We typically use the paid options when traveling from resort to resort as it typically takes 45 minutes to an hour to get from resort to resort with Disney Transportation.
Uber/Lyft:
This rideshare app is another option that makes travel to and from – and all over – the Walt Disney Resort easy! There are popular pick-up spots listed at the parks and resorts, or you can specify your location. Prices vary depending on distance, car size, and the luxury level of each car.
The prices from a Disney Resort to a park seemed to run from $13-20 in an Uber XL and $8-$12 for UberX.
Minnie Van Service: (temporarily suspended)
If you have the Lyft rideshare app, you can access these adorable Minnie Mouse themed vans once you've arrived at the Walt Disney World Resort. Request a ride and pay through the app, simple as that! These vans are owned by Disney and operated by trained, friendly cast members!
Pros & Cons of Disney Minnie Van Service:
Drivers are Cast Members who have worked at Walt Disney World for quite a while. They are very energetic and can give you advice about the parks
Premium Pick up & Drop Off Spots – With Uber and Lyft the drop off spot is in the parking lot and at Magic Kingdom that means you still will need to take the monorail to the parks. With Minnie Van Service you get dropped off right at the front of the parks.
Extra Cost – Our Minnie Van Service cost $28 which was close to double the Lyft XL rate.
Pro Tip* – Use the Minnie Van for heading to and from Magic Kingdom, the drop off is way closer and you will save time and your legs.
Prices vary depending on distance. The Minnie Van Service is also available to take guests to and from the Orlando International Airport for $150 each way.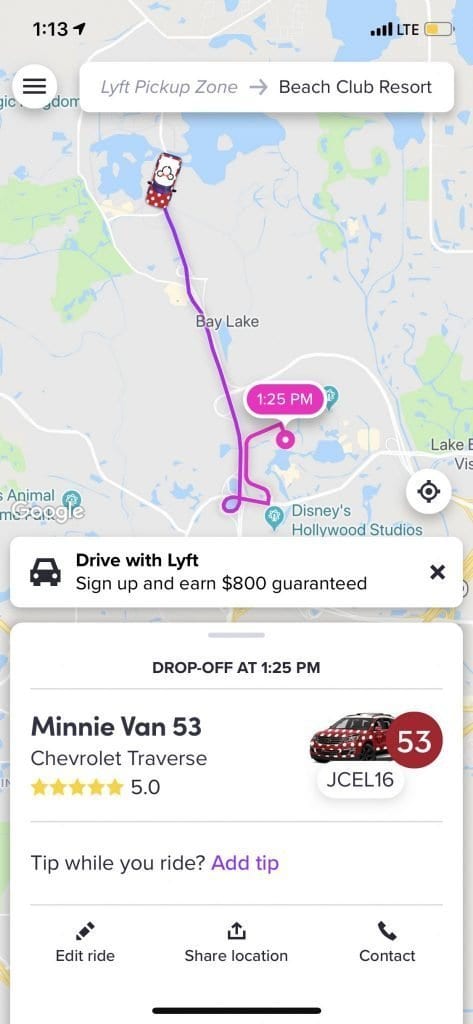 Renting a Car
Another option is to rent a car from the Orlando International Airport. We used to always rent a car when our kids were little to save ourselves from having to carry babies and strollers on the buses.
The one thing to factor in when renting a car is parking fees. If you are staying at a Disney Resort you can park at the parks for free, but parking at the resorts does include a daily charge. (DVC Members and people who rent Disney Vacation Club Villas, do not have to pay for resort parking). You can check out my full guide on Disney Parking here!
Offsite Hotels Transportation
Several non-Disney hotels offsite have their own shuttles to the parks. These do run less frequently than the Disney buses as they have to travel farther. Some of the offsite hotels that offer transportation to the parks include:
Wyndham Bonnet Creek
Hilton Bonnet Creek
Four Seasons
Waldorf Astoria Bonnet Creek
Check with your hotel to see what sort of options they have for transportation to the parks.
Which Resorts are the Most Convenient to get to the Parks
If you have little kids and are going to be spending the majority of your time at Magic Kingdom then I recommend one of the monorail hotels. It is super easy to get to the Magic Kingdom and only takes a couple minutes.
These resorts are:
Disney's Contemporary Resort & Bay Lake Towers at Contemporary Resort
Grand Floridian Resort & Spa
Disney's Polynesian Village Resort, Villas & Bungalows
If you have older kids or going without the kids, I recommend going with some of the Epcot Resorts. These are a short walk or boat ride to both Hollywood Studios and Epcot. The stroll along the boardwalk is beautiful and it definitely is my favorite area to stay.
Once again these resorts are:
Disney's Boardwalk
Yacht Club
The Swan
The Dolphin
Disney World Transportation Map
If you really want to map out your vacation. Check out the updated Disney Transportation map to help guide you for your journey.
There you have it! An easy guide to the many forms of transportation across the Walt Disney World Parks and Resorts. If you have any questions about transportation during your stay, be sure to check with a cast member. Don't forget to download the My Disney Experience app, so you can stay up to date on transportation tips and schedules. Happy Travels!
You Might Also Enjoy:
Disney World Stroller Rental – Should you Bring Your Own?
Disney World Tips & Tricks [Over 100 Amazing MUST KNOW Tips]
Latest posts by Mama Munchkin
(see all)