Are you considering driving a car and parking at Disney World? Then this article is just for YOU!! Just like with my general tips for Disney World (see all 75 of them here) I have some AWESOME tips to help you save money and enjoy your Disney World vacation even more.
This article is perfect for families considering renting a car as well as families who drive to Disney World in their own vehicle. You will learn the benefits of using your car to get around the Walt Disney World Resort while spending the least amount of money doing so.
Top 8 Tips for Parking at Disney World – Money Saving Tips
Coming from Southern CA we had always utilized Walt Disney World's awesome transportation options, however, as our family has grown over the years we have become less excited about waiting to pile onto a busy bus especially with a huge stroller (unless we rent one of course). So, we now choose to rent a vehicle so that we can save time and avoid the hassles of loading all the kids onto the Disney buses.
Now, don't get me wrong the complimentary transportation that Walt Disney World offers is pretty amazing. They get you to and from the resorts for FREE and in pretty decent timing,
I don't think we've waited longer than 30 minutes. And, we still enjoy the monorail and boat services because to for our kids those are both parts of the experience of our Disney trip. It's just a little bit more convenient to have your own vehicle. That said there can also be additional costs which is why I am sharing our BEST tips for parking at Disney World as well as our favorite reasons to do so.

1. Parking at the Disney World Parks is FREE for DVC Members & Guests staying on Disney property
Many people don't realize that if you are a DVC Member or you booked a DVC Rental you actually are able to park your vehicle at any of the Disney parks for FREE. All you have to do is show the attendant your magic band and you receive complimentary standard Disney World parking. Preferred parking is an additional fee whether you are a resort guest or not though.
2. If you are staying at a Disney Hotel you pay one fee and then you can park at any park or Disney Hotel for Free
Guests of the Disney Resorts used to receive free parking but that all changed and now they charge per day. However, the hotel fee to park includes free parking at the parks. Here are the prices.
Disney Value Resorts: $15 per night
Disney Moderate Resorts: $20 per night
Disney Deluxe and Deluxe Villa Resorts: $25 per night
DVC Members and their guests do still get self parking at all resorts for FREE
3. Magic Kingdom Parking Hack
My least favorite Disney World Park to have to park at is Magic Kingdom. I have gained some insight over the years that has allowed me to sort of sideswipe having to park at the Ticket & Transportation Center at Disney World and it has to do with dining.
In order to park at one of the Magic Kingdom area hotels (Grand Floridian, Contemporary, Wilderness Lodge, and Polynesian) you need to be a resort guest. However, you may also park at these resorts if you have a valid dining reservation.
So, what we like to do is strategically book our Chef Mickey's breakfast and our Kona Cafe dinner reservations around the days we are going to be at the Magic Kingdom. They say you can only park in the resort lot for a limited time but we have never had any trouble leaving our car in the parking lot at the resort while we had fun in the parks.
Don't Plan on Dining Before your trip to the park?
Book a reservation for one person and miss the reservation. You will pay a $10 cancellation fee but have great parking!
4. Annual Pass Holders Receive FREE Parking at the Disney Parks
Standard self-parking is complimentary for Annual Passholders, Premium Passholders, and Disney Premier Passport holders.
5. Parking at Disney's Water Parks, Disney Springs, and ESPN Wide World of Sports is FREE for ALL Guests
Whether you stay on Disney property or not you will receive free parking at all the Disney Water Parks (Typhoon Lagoon & Blizzard Beach), Disney Springs, and the ESPN Wide World of Sports.
6. Take a Photo of Your Cars Location
Don't laugh! I am serious. Parking at Disney is no joke, there are thousands of vehicles and even though you think you will remember where you parked something happen to your brain after being tossed around on all of those rides and you will no doubt walk out and have no clue where in the world you parked.
So, either take a photo of the lane number and character you are parked in, or drop a pin using Google maps on your phone.
7. Your Parking Ticket is Valid at Each of the Parks, You Can Hop With It!
If you are staying off the property and you do need to purchase your parking at Disney World you will be happy to know that your parking ticket is valid at all 4 parks throughout the day. This makes it very easy to hop from park to park.
8. Electric Vehicle Parking at Disney World is Available (But It's Limited)
If you are driving an Electric Car there is Electric Vehicle Charging Stations. However there are a limited number of options at Disney World for Electric Car Parking.
EV Parking At the Parks & Disney Springs
Magic Kingdom has five ChargePoint stations in its Zurg parking lot
Epcot has four spaces located in Journey.
Animal Kingdom has 4 spaces in the Medical Parking Lot
Disney's Hollywood Studios currently does not offer any EV charging stations.
Disney Springs has six charging stations (3 on the 5th floor of the Orange and Lime Parking Garage)
For all of these stations have charging fee in addition to normal parking fees.
Charging Stations At the Resorts:
At the resorts, the electric vehicle parking spaces are pretty limited and on a first come first serve basis. Here is where they are located.
Disney's Coronado Springs Resort: 6 spaces in general parking near ADA spaces
Disney's Riviera Resort: 2 spaces in general parking near ADA spaces
Disney's Wilderness Lodge: 2 spaces in general parking near ADA spaces
EXTRA- Shhh! Use with caution- Parking in Disney's FREE Lots
I would not recommend this but some folks will tout parking at one of Disney's free lots when you are staying off Disney property and utilizing the free Disney transportation to get around. Here is the thing while this may work you could also run into a host of trouble.
#1- Disney frowns on this so they have made the routes to the parks very inconvenient from these locations. It will most likely take you an hour to get to the park.
#2- Some of these lots, like the Water Parks, have earlier closing times than the main parks. If you were to overstay your time you may not be able to get back to your car.
My Favorite Benefits of Parking at Disney World
1. You don't have to deal with waiting for the bus to arrive.
See that smile on my husband's face loading the stroller,. I can assure you that is not the same face he has as we are running to catch a bus and he is left trying to fold up a stroller and climb onboard a bus packed with other guests and crying kids.
2. You always have a seat.
Unlike the bus system, when you have your own car on property at Disney you know you always have a safe seat. I still remember days where my husband is holding one of our kids in one arm and holding on to the bus rail with another arm. It really freaked me out.
3. It's much more convenient to get to your dining reservations.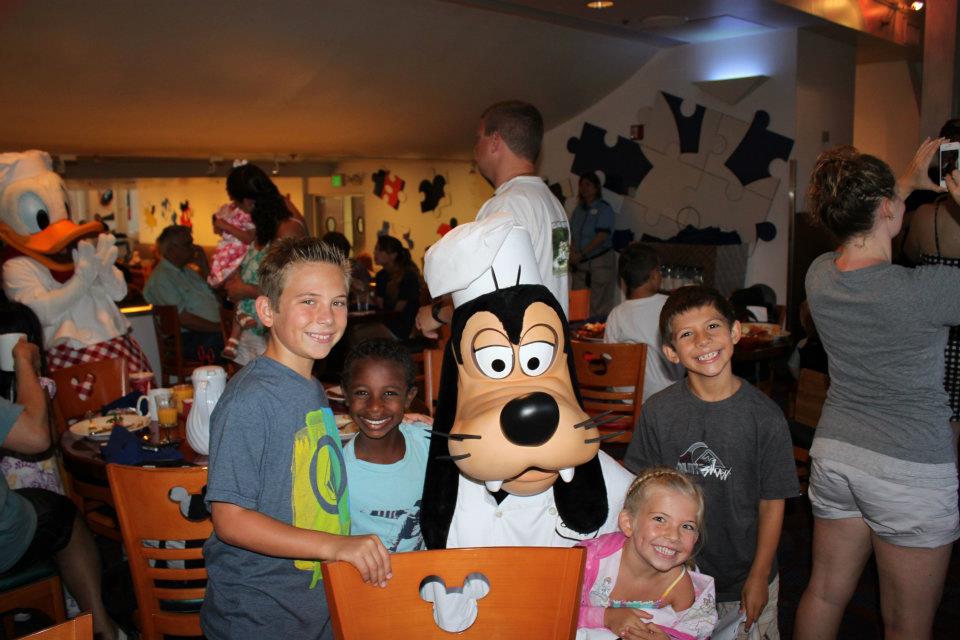 There have been several instances where we ended up at the wrong resort when we tried to utilize Disney Dining + Disney Resort Transportation. The buses are great at getting you from your hotel to the parks but trying to navigate going from your resort to a park, and then onto another bus to get to your Disney Dining Reservation (located within a Disney Resort) is a bit CRAZY, to say the least.
This is one BIG reason why having a car on the property is valuable. It makes getting to your dining reservations super duper easy. I would also note it allows us to stop at the grocery store for snacks and we can drive to cheaper dining options off-property when we have a car as well. So, even if you do end up paying for parking, you may actually end up saving in the long run.
4 Avoid the Big Crowds After the Firework Shows
This may be the BEST benefit of parking at Disney World. NOT HAVING TO WAIT IN THOSE MASSIVE CROWDS after the firework shows. There are some amazing not-to-be-missed shows at each of the Disney Parks. However, because these shows are so incredible they are also super crowded and in most cases the timing of these shows correlates to the park closing meaning as soon as the show is over everyone needs to get out of the parks.
This creates some crazy long lines for the Disney buses and boats. Disney tries to be prepared by having multiple buses lined up but the truth is you will most likely have to wait as you watch several buses fill up with guests for your resort before you make it onboard. Then when you do get onto the bus or boat you will be lucky to find a seat.
Disney World Parking Prices (*per Disney's website July 2021)
Guests pay one fee for a parking pass good all day at all 4 theme parks—Magic Kingdom park, Epcot, Disney's Hollywood Studios and Disney's Animal Kingdom theme park. Our special preferred parking lots are located conveniently close to the theme park entrances.
Preferred parking: car or motorcycle – $45-$50 per day
Standard parking: car or motorcycle – $25 per day
Oversized Vehicle Parking: Shuttle, Limo, Camper Trailer, RV, Bus or Tractor Trailer – $29 per day
Standard self-parking is complimentary for Annual Passholders, Premium Passholders, and Disney Premier Passport holders and Disney Vacation Club Members staying on property
Disability Parking at Disney World
There are specially marked lots for guests traveling with various disabilities. You can refer to the Walt Disney World website here for more details.
---
Planning a trip to Disney World – Start Here!
---
---
---
Pin for later- 7 Hacks for Parking at Disney World
Frequently Asked Questions
Is Parking Free at Disney World?
No, unless you are a Disney Vacation Club Member staying on property, or an annual pass holder. Disney Resort guests pay a nightly hotel parking fee, but parking in the parks is included in that fee. All other guest pay $25 per day.
How do I avoid parking fees at Disney World?
Use Disney World's Free Transportation throughout the parks and resorts.
Rent points for your hotel stay from a Disney Vacation Club Member. DVC rooms include parking for FREE!
How early can you park at Disney World?
Parking at Disney World parks tends to open 1 hour before the park opens. You can typically take a tram to the park from the parking lot or a monorail for the Magic Kingdom
How Much Does it Cost to Park at Disney World?
Preferred parking: car or motorcycle – $50 per day
Standard parking: car or motorcycle – $25 per day
Oversized Vehicle Parking: Shuttle, Limo, Camper Trailer, RV, Bus or Tractor Trailer – $29 per day
Standard self-parking is complimentary for Annual Passholders, Premium Passholders, and Disney Premier Passport holders and Disney Vacation Club Members staying on property