Oh, how I love the Magic Kingdom! We find ourselves at this park often because of a couple of factors. We love the rides, the shows, and the fireworks and we SO miss it right now and can't wait to go back to visit! With that, you kind of need to have a good handle on a Magic Kingdom Fastpass plan because there are a lot of rides to choose from!
So, to help you out I break down our Disney World Magic Kingdom Fastpass strategy (also check out my discounted tickets strategy)! Here you will find a list of all the FastPass options plus tips on which rides to choose.
Magic Kingdom Fastpass! Tips and tricks to help you choose the Best Rides
Rides That Take a Fast Pass
First off, let's start with the rides that take Magic Kingdom Fastpass . There are a lot and they are not tiered like other parks you will get to choose 3 of these rides.
The Barnstormer

Big Thunder Mountain Railroad

Buzz Lightyear's Space Ranger Spin

Dumbo the Flying Elephant

Enchanted Tales with Belle

The Haunted Mansion

I

t's a Small World

Jungle Cruise

Mad Tea Party

The Magic Carpets of Aladdin

The Many Adventures of Winnie the Pooh

Meet Ariel at Her Grotto

Meet Cinderella & Elena at Princess Fairytale Hall

Character Meet & Greet with Mickey Mouse at Town Square Theater

Meet Rapunzel and Tiana at Princess Fairytale Hall

Meet Tinker Bell at Town Square Theater

Mickey's PhilharMagic

Monsters, Inc. Laugh Floor

Peter Pan's Flight

Pirates of the Caribbean

Seven Dwarfs Mine Train

Space Mountain

Splash Mountain

Tomorrowland Speedway

Under the Sea ~ Journey of the Little Mermaid
Does Magic Kingdom Have Fastpass Tiers?
The one difference between the Magic Kingdom and the other three parks at Disney World is there are no Fastpass Tiers. So, you simply choose the three rides/shows you want to get a Fastpass for.
How to Fastpass at Magic Kingdom like a Pro
This section is for if you aren't familiar with the Fastpass+ system (way different then Disneyland's Fastpass). If you want to jump to the Magic Kingdom Fastpass strategy, click here. Planning ahead at Magic Kingdom is essential due to its popularity and size.
The Magic Kingdom uses the Fastpass+ system just like the rest of the parks, which is super convenient and allows you to plan pretty far in advance. There is no additional cost!
Beginning at 7 am Eastern Time, 30 days before your visit or 60 days before your visit if you're staying in a Disney Resort Hotel, you can make Fastpass reservations on select attractions. Keep in mind if you're staying at a Disney Resort Hotel, you will be able to make a reservation at this time for the entire length of your visit!
There are tons of rides to choose from, so you should definitely sit down with your party and discuss what attractions are top priorities. You can also make Fastpass reservations for some of the park's shows, which is great if someone is set on seeing one. Keep in mind, this may be a park you want to spend more than just one day in if you've got the time.
Step 1: Register Online to get your Fastpasses
You will want to register online to make a reservation in advance. To do this create an account on My Disney Experience and follow the steps to link all of your party's tickets together. If you would like to make your reservations the same day as your visit, use the My Disney Experience Mobile App or visit the Fastpass+ kiosk in the park. (Note: There will be significantly less rides available the day of your trip)
There are 5 of these kiosk locations in the Magic Kingdom; one near the entrance of Jungle Cruise, two in Tomorrowland by Stitch's Great Escape and Buzz Lightyear Space Ranger Spin, another near the Swiss Family Treehouse, and the last in Fantasyland by Mickey's Philharmagic. It is best to make the reservations as early as you possibly can, though.
Step 2 – Select your Favorite Rides Online
As I said, you will have to select which rides you want to reserve for your group in advance. In this park, your options are not tiered like some of the others. This means you're free to book any three attractions you would like. However, there are some rides you should prioritize to save you the maximum amount of time.
Obviously, not everyone in your party has to attend the same attractions but do book the attractions you want to do as an entire group first. While it is best to choose off these lists wisely if you do end up changing your mind about things you can cancel or change your reservations at any time.
Step 3 – Fastpasses are Digitally Stored on your Ticket or Magicband
There is no physical FastPass ticket anymore. Once you choose are rides and book them, the information will be stored on the My Disney Experience profile on your entry tickets or on your Magicbands. If you're wondering about Magicbands, they are pretty awesome and my kids get excited to wear them every visit!
They'll also function as your resort key as well if you're staying on property. They're free if you're staying in the resorts, but can be purchased for at a low cost in the parks. We recommend them to anyone with kiddos to keep up after.
Step 4 Redeem Your Fastpass at the Appropriate Time
Finally, you're actually in the park and ready to get on some rides! When it is your allotted time, head to the attraction and look for the line labeled FastPass+. There will be a Mickey RFID reader. You either touch your ticket or your MagicBand to this reader for entry.
Once you have used up the 3 original reservations for your day or the return time has passed, you can book one additional Fastpass for that day in any park. Once you have used this additional pass or the time allotted has gone by, you can book another additional Fastpass and so on.
Best Rides to FastPass at Magic Kingdom
Top Magic Kingdom Fastpass Choice – Seven Dwarfs Mine Train Ride
The longest lines in the Magic Kingdom tend to be Peter Pan's Flight and Seven Dwarfs Mine Train, so both of these are great choices for a Fastpass. However, we would put Seven Dwarfs Mine Train at the very top of our list as it's a newer ride still in really high demand. The height requirement is only 38 inches, but it's packed full of thrills for all ages. All my kids (ages 4-15) love this ride.
If you have smaller kids with you, booking a Fastpass for Peter Pan's Flight should be high on your priority list as well.
Other Top Choices for Magic Kingdom Fastpass Rides – The Big 3 Mountains – Space, Splash & Thunder Mountain.
The Magic Kingdom really has it all when it comes to rides but their iconic "big kid" rides like Splash Mountain, Space Mountain, and Big Thunder Mountain Railroad are must-dos. Of the three mountains, I say book as many as you can, but if you have to choose just one, go with space mountain as it tends to have the longest lines. Big thunder line moves fairly quickly and if you go on Splash Mountain early or late in the day the line tends to be slower.
Depending on what everyone in your group is a fan of, here are some other great choices.
Pirates of the Caribbean

Haunted Mansion

Under the Sea: Journey of the Little Mermaid

Buzz Lightyear Space Ranger Spin

Winnie the Pooh

Tomorrowland Speedway


Remember, it's your trip so tailor it however you'd like!
Best Fastpass Rides for Toddlers!
If you have little ones who aren't ready or are not tall enough for the big adventurous mountains. Here are some great choices!
Seven Dwarfs Mine Ride – 36″ and above
Peter Pan – (this ride is the longest line for rides with no height limit)

Under the Sea: Journey of the Little Mermaid

Buzz Lightyear Space Ranger Spin

Winnie the Pooh

Tomorrowland Speedway
Characters – Lastly, if your kiddos love the characters, the characters with the longest lines are typically Anna and Elsa, Mickey Mouse, and Ariel. Reserve these first!
What to Avoid Wasting your FastPass On
Don't get me wrong, the rides I am about to mention are absolutely worth riding! Having a FastPass for them just won't likely save you very much time because their lines tend to move pretty quickly. Only book a FastPass for these attractions if they are an absolute priority for someone in your group.
Here they are; Mad Tea Party, Monster's Inc Laugh Floor, It's a Small World, Magic Carpets of Aladdin, Barnstormer, and Mickey's Philharmagic. These are all great attractions to visit and most of the lines do not get very long (max 30 minutes) so save your Fastpass for one of the other rides.
I also recommend avoiding using Fastpass for Dumbo, mainly because they have a great play area while you wait and it is a nice place to relax while the kids run around. If you use Fastpass the kids don't get to use the play area and my kids say that's the best part of the ride.
Can I get more than 3 Fastpasses?
Yes, once you redeem your 3rd Fastpass, you can immediately book another Fastpass for an additional ride or character interaction. 
Bonus: My Ultimate Fastpass Hack
Florida is known for its mid afternoon thunderstorms. So, many of the outdoor rides shut down when lighting approaches. My tip, book a fastpass for one of those rides as a storm approaches. If the ride is broken down you get a multiple experience pass which is good for any ride, plus it doesn't count as one of your fastpasses. You can actually do this multiple times during the day.
If you need help planning and booking your magical Walt Disney World vacation, contact our friends at Tink's Magical Vacations. They are truly Disney Experts! Not only are their services FREE, but they will save you both time and money.
If you have any questions about Magic Kingdom or Fastpasses
please feel free to comment below or message us on Instagram
Check out our other Fast Pass Guides Below:
Discount Disney Tickets; Disney World Tickets on the Cheap!
Animal Kingdom FastPass – Complete Guide + Tips & Tricks!
Epcot FastPass – Complete Guide + Amazing Tips & Tricks!
Disney World Tips & Tricks [Over 75 Amazing MUST KNOW Tips]
Ultimate guide to Hollywood Studios Fastpass
Disney World Crowd Calendar – A Super Simple Guide!
Pin for Later- Magic Kingdom Fastpass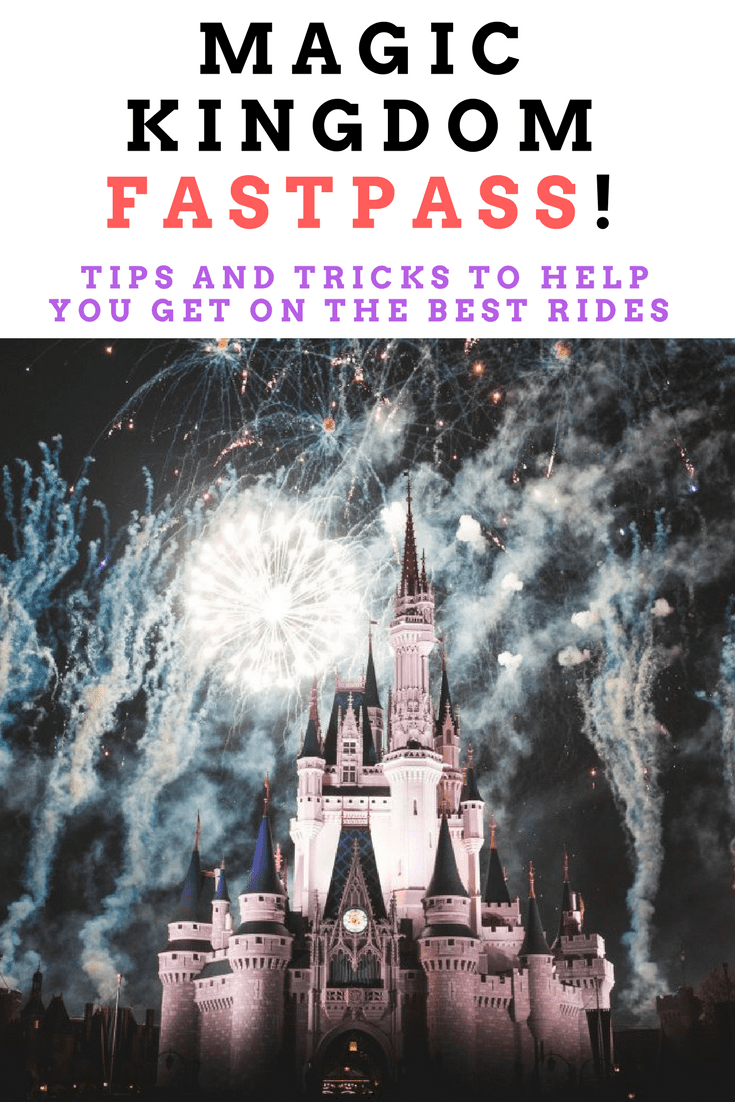 Latest posts by Mama Munchkin
(see all)