Becoming a Disney Travel agent is a dream for so many people. Disney Vacations are so many peoples favorite vacations of all time, it is an amazing experience to be able to help other families create magical experiences. Luckily, how to become a Disney Travel Agent is not as hard as it seems. With the right agency you can be up and running in just a few hours booking Disney World, Disneyland, Disney Cruise and Disney's Aulani vacations in no time.
Joining the Right Agency
Step 1 in on How to become a Disney Travel Agent is finding the right agency. Becoming a specialized travel agent for Disney is an exciting opportunity for those who have a passion for Disney vacations and want to help others plan their dream trips. To begin, the first step is to join an authorized travel agency that is registered with Disney as a seller of travel. Best Day Ever Vacations is a reputable agency that is approved by Disney and has been training agents for years.
The process of joining Best Day Ever Vacations is easy and can be completed online. Once you have joined, you will receive training to become a skilled agent in booking Disney vacations. This training is provided at the time of joining and does not require any previous travel experience. The only essential requirement is a desire to book Disney vacations. However, having a background in sales and customer service can be beneficial.
One key advantage of having prior experience with Disney vacations is that it can help new agents better understand the needs and preferences of their clients. If you have been to one of Disney's resorts or on a Disney cruise before and have found yourself wanting to go back again and again, this job may be the perfect fit for you.
It's important to have a dedicated workspace to ensure a professional and distraction-free environment when training and booking vacations. A quiet place, whether it's an office or home, is ideal for this purpose. You don't want to risk interruptions while booking a client's vacation, such as a barking dog or kids hitting you with pillows.
In addition to offering a rewarding career opportunity, becoming a Disney travel agent allows you to share the magic of Disney with others and help them create unforgettable memories.
Can I Become a Disney Travel Agent on my own?
If you're dreaming of becoming a Disney Travel Agent, you might be wondering if you can embark on this adventure solo. The Answer is yes and No. Yes, you can do it alone, but it will cost a lot with all the license fees, rights to sell travel fees and setting up your own site, brand etc, you can estimate going on your own will cost around 10k-15k dollars.
While becoming a travel agent with an established agency can run as little as $99 to join and you get all the same benefits as if you had your own agency
But don't fret – joining an agency doesn't mean giving up your independence. Many agencies offer flexible working arrangements that allow you to work from home or choose your own hours. Plus, you'll benefit from the support and resources of a team of experienced agents who can help you navigate the ins and outs of the travel industry.
So, while you can't go it alone as a Disney Travel Agent, joining an agency is a smart choice that can lead to a fulfilling and rewarding career.
Perks of becoming a Disney Travel Agent!
Not only do you get to create magical vacations for your clients but you can experience some amazing Disney Vacations with some amazing discounts.
Yup, you heard it right! The Disney Travel Agent (DTA) program is not just about making money, but also about experiencing the magic of Disney first-hand! How cool is that? Disney wants its agents to be in the know about the amazing vacations they are selling. That's why they offer special discounts to agents so they can check out resorts and cruises for themselves.
Now, let's talk discounts! Once you complete your training (or renew it), you can expect some pretty sweet deals from Disney.
40-50% off Disneyland Resort Hotel
40-50% off Walt Disney World Resort Hotel stays
30-40% off Aulani hotel rooms
Incredible Disney Cruise discounts on select sailings (we have sailed for as little as $25 a day)
Free 1-day Park Hopper Tickets for Disneyland and Walt Disney World!
Each of these perks can be used one time per calendar year and can be used all over again each following year as long as you keep up on your training (typically 1-2 hours a year)
There is one slight catch. You need to have a CLIA or IATA membership, which you can get from your agency. Some agencies enroll you for free, but there's usually a cost of $120 per calendar year for an agent ID card. This ID card is necessary to book any of the above perks.
Some agencies require you to book a certain amount before giving you access to a CLIA card, but don't worry, there are programs like Best Day Ever Vacations that don't have this requirement. So, get ready to experience the magic and spread the joy of Disney to all your clients!
How Much Can you make as a Disney Travel Agent?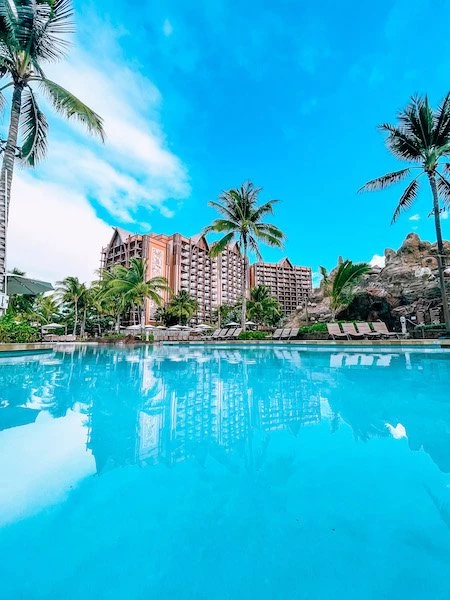 There are just so many variables to consider when it comes to pricing a vacation package – vacation type, number of guests, accommodation, tickets, transportation, and anything else under the sun that a guest may need during their travels.
But, let's cut to the chase, shall we? The industry standard for commission on a vacation package is 10% before taxes. However, some components, like airfare, may pay less than 10% or not at all. When it comes to Disney, most agencies will get 10% commission across the board with a few exceptions.
But wait, there's more! As an agent working for an agency, you'll likely collect less than the 10% commission. That's because most agencies take about half of your commission for themselves. It's standard practice, but some agencies offer tier programs that let you keep more as you book more.
If you're looking for an agency that pays higher commissions, look no further than Best Day Ever Vacations. They start new agents out at a whopping 70% commission and let you go up from there! That means if you book a vacation with a commission of $500, you'll collect $350 at 70%.
Most agents get paid by direct deposit or check, but some can opt for PayPal or Venmo. And if you book just one vacation package a month, you can expect to make around $200-$400. But, if you book a Disney Cruise Line vacation, you could easily make well over $500 on a single booking. Those cruises can run an average family $5,000 to $8,000, after all. So, get ready to put on your Mickey ears and start planning vacations.
How do I get Clients
This is probably the #1 questions when people ask us about How to become a Disney Travel Agent. Obtaining clients is the key to being a successful Disney Travel Agent. There are several ways to grow your clientele.
Personal Networking with friends and family is a great way to get the ball rolling when initially starting.
In addition social media can be the key to growing your clientele. Sharing Disney tips, amazing deals, client success stories is a way to get new clients for years to come. Some agencies like Best Day Ever Vacations offer free templates for Instagram posts to help you get your Instagram page going.
Also, register your name with Google My Business so when people search for Disney travel Agent near me, you pop up.
What is an Earmarked Agency:
Many agency websites display the label "Authorized Disney Vacation Planner" or "Earmarked." This signifies a program that private agencies can choose to join, where Disney recognizes their consistent sales revenue for various products (such as Aulani, Disney Cruise Line, and Walt Disney World) for at least two consecutive years.
Agencies that accept this invitation can advance to different levels within the program, like silver, gold, and platinum. They must maintain or increase their sales each year to remain in the program.
However, the program is optional, and agencies are not obligated to join. Travel agencies that don't participate in the program still have the same booking tools as those who do, and host agencies usually don't join because they employ independent contractors instead of workers.
While being an Earmarked agency or an Authorized Disney Vacation Planner does not affect how travel agencies book Disney vacations, it is a recognition of the agency's commitment to Disney products and their sales performance.
Agencies who participate in the program may have access to exclusive resources, training, and marketing tools, which can enhance their expertise in selling Disney vacations.
On the other hand, agencies who choose not to participate may have other areas of expertise, and they can still provide a high level of service to their clients booking Disney vacations.
Ultimately, whether an agency is an Authorized Disney Vacation Planner or an Earmarked agency is not the sole factor in choosing a travel agency for booking a Disney vacation.
Are there Minimums you must sell to be a Disney Travel agent?
So, when it comes to booking with Disney travel agencies, some may have minimum requirements, while others may not. It all depends on the agency you choose to join. Some may ask you to book at least once a month or even once a year, without a specific dollar amount to meet. So, as long as you complete a booking, you're good to go!
On the other hand, some agencies may have a minimum dollar amount, like $5,000 per year. If you don't meet this requirement, you may lose your agent status or get a lower commission percentage.
But, if you join the Best Day Ever Vacations, you don't have to worry about any minimums. Whether you book once a year, three times a year, or never, you're still considered an agent. Plus, if you book more than 30 trips a year with Best Day Ever Vacations, you can increase your commission percentage from 70%.
The Best Disney Agency to join
In my opinion, you want to choose an agency that gives you 5 important things:
High Commission Rate so that you can maximize your earning potential
Training to help you give your clients the best experience
Low Startup fees so that you can make a profit quickly and don't get into debt. Some agencies charge between $1000 – $7000 just to join.
The ability to book other vacations besides Disney, such as cruises, Universal and more
No Sales minimums. Some agencies try to enforce minimums to give a reason to take back 100% of the commission. It's an unfair practice and something that you should watch out for.
Overall, our favorite agency and one we recommend all the time is Best Day Ever Vacations. We have tried a few agencies in the past and this by far has been our best experience.
Conclusion:
The # 1 goal when joining a travel agency is having the support of a good team around you. You also need to ensure that you seek out a trustworthy travel agency that specializes in selling Disney products. For those who wish to solely focus on Disney, consider a company like Best Day Vacations, which offers excellent customer service, free E&O insurance, and is a Registered Seller of Travel in CA and FL.
It is essential to recognize that becoming an agent requires time commitment, particularly during training. Dedicate yourself to completing the necessary training and learning as much as possible before beginning to sell.
While working remotely is a desirable benefit, you must have certain tools, including a laptop, internet, and phone, to effectively perform your duties.
How much do Disney Travel Agents Make?
The range is quite wide and all depends on how many clients a travel agent has. The range for a full time Disney Travel Agent is 23000 – 140,000
Is it Free to Become a Disney Travel Agent
The courses provided by Disney are Free. You just need to be part of a certified travel agency registered with Disney to access the courses and benefits.
How do i be a Travel Agent for Disney
Do Disney travel agents get commission on tickets only?
No, Disney Travel Agents make their majority of income on hotels, cruises, and