Every summer we create a bucket list of items our family wants to do. Now that I have teens, we had to be creative as the bucket list for teens involves a lot more creativity than years before. Yes, the kids always enjoy family trips like Hawaii, Italy, Costa Rica, and Spain, but this list is more about things the teens can experience on their own. Check out the 55 must-dos we came up with below.
Having a Bunch of Teens in your home in the Summer!
I always thought having teens would be so hard, but I am truly loving this stage and excited to see all the amazing things they grow up to do. We set boundaries to keep them safe, but I know how important it is for them to get out of their comfort zone and experience new things in their last stage before adulthood.
And, by the way, this bucket list is pretty fun for the whole family so if your teen won't be road tripping or going camping on their own, go along with them! We always say that we just get 18 summers with our kids and we want to soak up every last minute of them. (Check out my 15 of the Best Vacations for Teens + Tips & Tricks)
Summer Bucket List for Teens
Classic Bucket list Items
Make S'mores
Read a Great Book
Catch a Ball Game
Family Game Night – We have tried out a lot of family games. Some of the most popular games for teens that got them laughing were on our Apple TV – Sketch Party and QuipLash will get the whole family laughing.
Backyard Movie Night with Your Friends – A favorite summer activity for all kids and not just a summer bucket list item for teens is a backyard movie. Make a little DIY popcorn station so that it is extra fun for the kids
Visit the Mall
Netflix Marathon
Learn to do something new!
Go Camping
Creative Summer Bucket List Ideas for Teens
Design & Create Your own T-Shirts – My 17-Year-old son decided to steal my cricut and made custom shirts of expensive brands which I loved, as now he did not want to buy those expensive brands. You can also create Tie-Dye Thrifted T-Shirts
Visit the Lake
Create a Giant Slip n Slide
Rent an inflatable Slip n Slide – We did not have the space to create a slip n slide, so we rented an inflatable one. This may have been the most fun thing that was checked off our summer bucket list for teens.
Take a Road Trip- We love Arizona road trips and trips up the coast!
Take Up a New Sport
Create an epic Spotify Playlist
Make a Scrapbook
Marvel Movie Marathon
Visit a Farmer's Market
Hike a New Trail
Jet Skiing
Laser Tag
Go Stargazing
Watch a Sunrise & a Sunset
See a Drive-In Movie (adding this to my own summer bucket list!)
Find Seaglass
Make a TikTok Dance Video: Bonus points if you get your parents or grandparents involved!
Make Beaded Bracelets
Play Spikeball, it's our favorite summer game. Other beach games we love are Ramp Shot & Bulzi Bucket
Tasty Summer Bucket List Items
Learn to cook a Recipe
Make Homemade Ice cream
Pick your own berries and then make a smoothie or dessert with them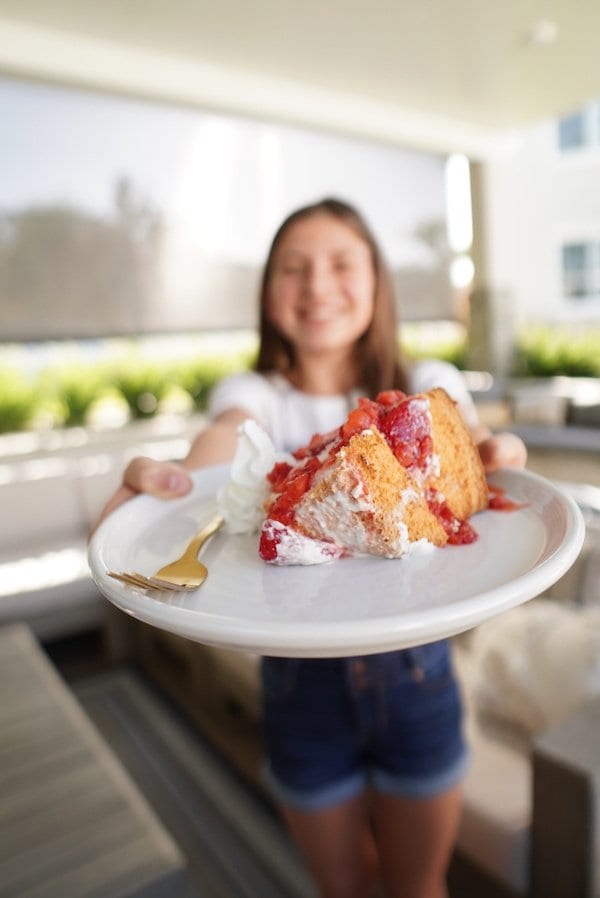 More Things to do this summer for Teens
Build a Time Capsule
Paint Pottery
Host a Videogame Tournament
Play Frisbee Golf on a Real Frisbee Golf Course
Go Fishing
Visit a Botanical Garden
Ride a Roller Coaster
Hit some balls at the Batting Cages
Fill up Regular Balloons with Water & Create a Giant Water Balloon Battle – My kids decided one day to grab a bunch of birthday balloons and started filling them up for an epic water balloon battle that ended up in the trampoline.
Use a Whole Disposable Camera
Light Up Some Sparklers
Hit some Golf Balls at the Driving Range
Learn to surf or boogie board
River Float
Get some giant inflatables and take them to the pool.
So, next time your teen is complaining of boredom I think you might just have something to say in return. While they might not want you involved in everything they do anymore, making a bucket list with your teen is a great way to plan out their summer and be a part of the decision making process alongside them.
Just make sure you ride a roller coaster or two, chow down on homemade ice cream, and dance around the living room a few more times with them before they are grown.
You May Also Like:
15 of the Best Vacations for Teens + Tips & Tricks
Quick & Easy After School Snacks for Hungry Teens
Driving Tips for Parents of Teen Drivers + the Kia Soul