Are you on the lookout for the best Stanley cup accessories? We have some amazing options for you. If you have been an avid reader and follower of us, you know that I am a BIG fan of the famous Stanley Cup! I actually have them in a couple colors and give them out as gifts often for all the busy moms in my life.
I recently discovered and learned that there are ways you can add some personality to your quencher with some Stanley cup accessories.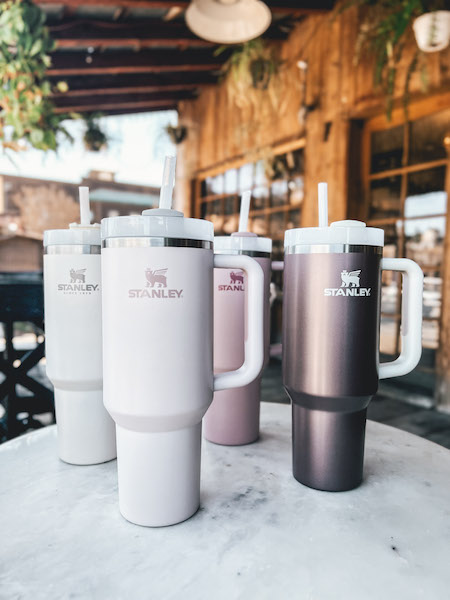 ---
What is the Stanley Cup Quencher?
The Stanley Cup is hugely popular right now, specifically the Quencher! The Stanley Cup Quencher is a durable and functional cup that is designed to keep drinks cold for up to 11 hours and hot for up to 2.5 hours, making it perfect for long outings and adventures.
The cup is made from high-quality stainless steel and is leak-proof, making it a reliable choice for those on-the-go. The viral LOVE for the Stanley though, is because it can hold 40oz of water and fit in your car cup holder!
---
The Best Stanley Cup Accessories
Now, I went ahead and spent some time researching some of the best, most unique and fun Stanley cup accessories for you to choose from. Below, I am sharing some of the best Stanley Cup accessories that every drink-lover needs!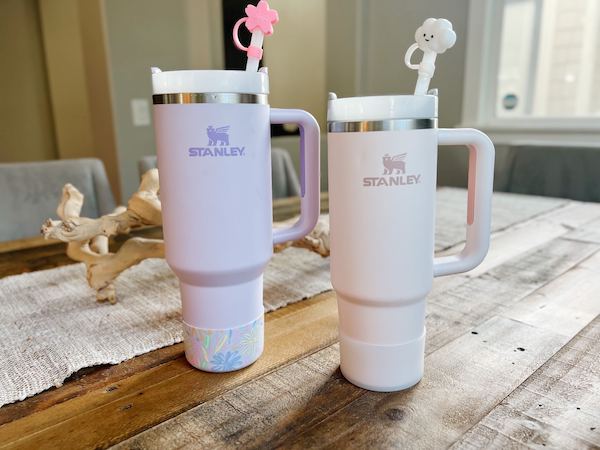 ---
Since the Stanley Cup is a stainless steel cup, sometimes when you place it on hard surfaces it could get a bit banged up. These protective silicone sleeve boots come in handy to not just protect your Stanley, but also the surface you are banging it agains. Check it out here.
---
Really personalize and add some sparkle to your Stanley Cup with this gold initial charm. You are able to get the charm in many different fonts and styles. Check it out here.
---
One way you can really customize your Stanley cup is by adding a cute adorable straw to it. I absolutely adore these silicone straw tip covers and think they would look great on your Stanley. Check it out here.
---
If the colorful silicone Stanley boot does not work for you, you might want to try these simple boots for your cup! I also love that it is under $8, a great deal and a great find! Check it out here!
---
Claim your Stanley by adding a name plate to the top of it! This Etsy shop offers the name plates in different font and colors! Check it out here.
---
Do you want to customize you Stanley protective boot? These adorable silicone protective cases are a simple and great addition to your Stanley. Check it out here.
---
Really has some flair to your Stanley Cup with these leopard print vinyl decals! It would be great to be able to spot which Stanley is yours with you and your friends! Check it out on Etsy here!
---
These Stanley cup handle covers are a great addition to slap onto your Stanley. Check it out here.
---
Give your Stanley its own little purse with this adorable water bottle pouch. Whether you take it to the gym or on a hike, it is the perfect little pouch to keep some of your valuable in! Check it out here.
---
If you love hiking or the great outdoors, you are going to love this Stanley carrier. Perfect for you to carry your phone and Stanley as you enjoy a nice walk! Check it out here!
---
Shop All Our Stanley Cup Accessories

---
Shop our Favorite Stanley Cups

---
Stanley Cup Accessories: The Overall
The Stanley Cup Quencher is a fantastic drink cup for anyone who loves to take their drinks on-the-go. But with the addition of these great accessories, you can take your drink cup to the next level. From little charms to silicone protectors, there's something for everyone when it comes to Stanley Cup accessories. So why not add some personality and style to your drink cup today?
---
Pin-it for later: The Best Stanley Cup Accessories
---
If you enjoyed reading about the best Stanley Cup Accessories, you might also enjoy:
BEST GIFTS FOR MOM THIS HOLIDAY SEASON
20 PERFECT & UNIQUE GIFTS FOR BUSY MOMS
DISNEY SOUVENIRS [25 AWESOME GIFTS FOR YOUR NEXT DISNEY VACAY!]
---
Why are Stanley mugs so popular?
Stanley mugs are popular for several reasons. First and foremost, they are known for their exceptional insulation, which keeps beverages hot or cold for an extended period of time.
They are also designed with durable materials and features such as leak-proof lids and easy-to-grip handles, making them ideal for outdoor activities and travel.
Additionally, Stanley has been around for over 100 years and has a reputation for quality and reliability, which has helped to establish a loyal customer base.
Latest posts by Ashland Hendrix
(see all)