If you have been following us for awhile now, you know our family loves to travel! Cruise, Hawaii, roadtrips or the Maldives, we LOVE IT! I have put together the BEST tropical vacation packing list after struggling to figure out what in the world I needed to pack for my Caribbean cruise.
So, as you can imagine needing the perfect tropical vacation packing list is a must! That said, I went ahead and put together the ULTIMATE tropical vacation packing list for you!
After taking the time to do all the research I figured I might as well turn it into a printable packing list to share with all of you.
This tropical vacation packing list would be great for warm weather cruises, island-hopping, trips to Mexico & more! Really anywhere warm & sunny where you can sip mojitos and let your cares melt away!!!
Gearing up for any tropical vacation destination is super exciting.
In fact, I think warm weather destinations are some of my absolute favorites- I mean who would complain about sipping on a cocktail while soaking up the sun with their toes in the sand? NO ONE! That's the answer.
The other great thing about traveling to a warm-weather destination is the packing is much easier and the clothing needed takes up a heck of a lot less space than traveling to somewhere cold.
But, before you throw a bunch of swimsuits into your suitcase, close up the lid, and call it a day- double check to make sure you have all the essentials you need by printing my FREE Tropical Vacation Packing List below.
I have put together the ultimate tropical vacation packing list to ensure you have everything you need to look chic, stay safe, and be comfortable so that you have the BEST vacation ever!!
---
The ULTIMATE Tropical Vacation Packing List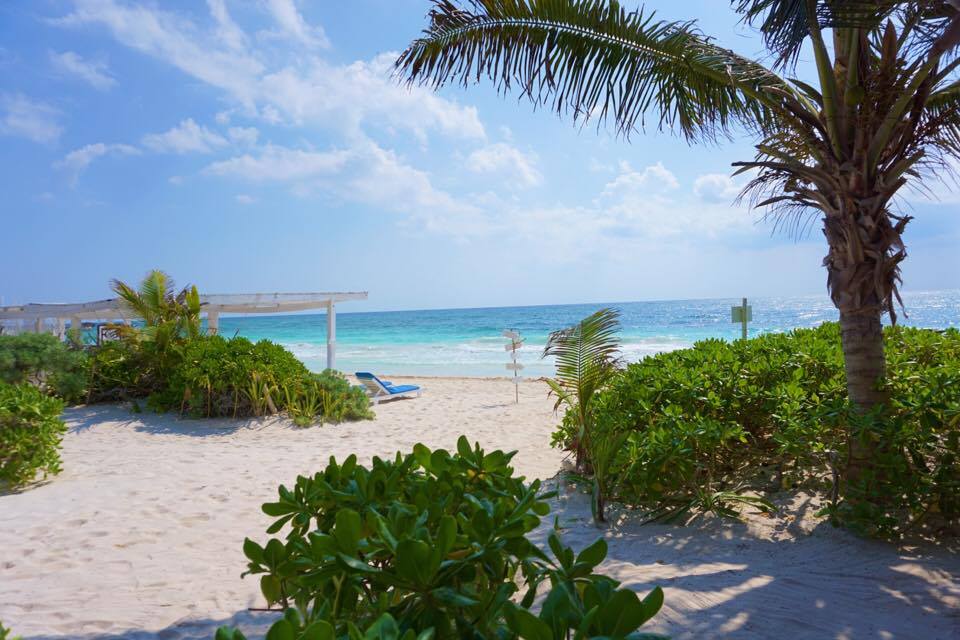 Travel Documents
Passports/ Birth Certificates– make sure you bring a passport (check expiration dates) or if you are on a closed loop cruise you can also use a birth certificate. Closed loop means the cruise starts and ends in the United States. See HAL's policies here.
Drivers License- needed if driving to or from the cruise embarkation/ debarkation. May also be necessary for third party excursions/ purchases off the cruise ship.
Cruise Documentation– Make sure to print and sign your online check-in forms and bring them with you.
Luggage Tags- Holland America Line will email you special HAL Cruise Line luggage tags. Attach these to your luggage on embarkation day they will allow the porters to deliver your luggage to your stateroom. *Do NOT attach these prior to your flight if you are flying prior to your cruise.
Flight Boarding Documents (if flying)- pretty obvious, but if you are flying home you will want to be prepared with these documents. *Personally I love the FREE app TripIt to keep track of all of my travel documents/ reservation numbers. You can learn more about it here.
Transportation/ Hotel Reservation Confirmations- While most confirmations can be pulled up electronically these days it never hurts to have them printed as well. *Again I keep mine on TripIt.
3rd Party Excursion Documentation- We save a ton of money by booking our excursions with trusted third party vendors. Learn more about that process here and see some of our favorite Caribbean excursions here. If you book third party I always recommend confirming with them at least one week prior to your cruise. Plus, you will want to print any confirmation paperwork, receipts, and bring a contact number as well.
Medical Insurance Card- always smart to do in case you need it.
Travel Insurance Info- should you choose to buy travel insurance you will want to make sure you bring any documentation/ contact numbers you may need.
Cash/ Credit Cards- you honestly won't need them once onboard- which I love! But, you will need cash to tip the porters and you may need them for while in port as well.
---
Tropical Vacation Packing List Must-Haves
What to Wear (Suggestions based on a 7-day cruise)
Swimsuits I like to mix it up and bring a one piece and a bikini
Swim Cover Up
Sundresses Something light and airy is perfect and you will want to pack a few.
Cute Tops Pack three-five, a mix of fancy and casual.
Jean Shorts Comfy ones for every day
Cocktail dresses or Jumpsuits Something you feel great in! Check your itinerary to see how many to pack.
Formal Dress Depending on what activities you want to participate in, I leave mine at home as cruises tend to be much less casual than they used to be.
One pair of jeans
Pajamas
Bras– make sure to pack the types you need for each outfit.
Underwear
Socks
Exercise Clothes (if you plan on working out. Also great for excursions- see below)
One long sleeve shirt or lightweight sweater (it gets chilly on the decks at night and during the day on sea days)
Lightweight jacket or sweatshirt
---
SHOES!!!
Flip flops
Cute Sandals I love mine from Bali Elf
Sneakers
Workout shoes (if you plan on going to the gym or need them for excursions)
Heels/ Platforms/ Wedges (make sure you have the right shoes for each outfit you pack)
---
Toiletries
Sunscreen– you will need lots and lots of sunscreen and you will NOT want to purchase it onboard unless you enjoy paying an arm & a leg for it- ha! Here is our fav sunscreen I love it because it doesn't have any

parabens, phthalates, or synthetic fragrances.

Shampoo, Conditioner
Toothbrush/ Toothpaste
Makeup
Dry Shampoo
Styling Products
Brush/ Comb
Curling Iron
Bobby pins, hair rubber bands
Deodorant
Razor
Bug Repellent
Lotion
Makeup Remover
Wrinkle Release Spray
Motion Sickness Medications (see specifics below)
Nail Clippers
*If you are packing carry-on only please remember the TSA's 311 rules-
For carry-on, you can bring on liquid toiletries that are under 3oz. Everything must fit in a 1-quart, clear, zip-top bag (1 per person). *Disposable zip-loc bags are fine. For more details visit the TSA's 311 website.
---
Electronics
Cell Phones + charger- Make sure to download your cruise line's app before you arrive. This will allow you to communicate with other members of your party while your phones data plans are turned off. Most apps work similar to services like what's app and telegram.
Laptops + charger- internet plans are not cheap but we usually need to purchase a package to stay connected to our work while we are away.
Portable USB Charger + cords- these are like gold when you travel and I would highly recommend packing a few portable chargers as you are able to communicate via cell phones/ iPads while at sea. The ships are big and it is difficult to find family and friends if you are not able to communicate via phones.
iPads/ Tablets- great to help communicate and also entertainment in the room when needed.
Kindle- I know some of my friends love bringing their kindle's so they can read poolside while they cruise.
Headphones– for entertainment.
Camera + charger + extra batteries + extra memory card– trust me on the extras, you will need them!!
GoPro + charger + extra batteries- there are plenty of water shots you are going to want photos of between the pools, beaches, and snorkeling. If you don't have a GoPro I would suggest getting a disposable water camera or purchasing water housing for your camera.
Waterproof Case for phone and/ or camera
---
Miscellaneous
Refillable water bottles
Sunglasses Bring a few because you don't want to be without a pair.
Sunhat An absolute must!!
Purse I bring one big enough to double as a beach tote
Goggles
Snorkeling Gear
GoPro Underwater filters
Selfie Stick
Books
Playing Cards
Earache Drops
Wet Bags for bathing suits
First Aid Kit
Sanitizing Wipes
---
MUST HAVE if you are scared of Sharks
My kids are fish in the water and they love snorkeling, but I am always super nervous about shark attacks so I found a product that helps put my mind at ease its called Sharkbanz. Sharkbanz is the world's first active shark deterrent band. They use a patented magnetic technology developed by marine biologists to deter predatory shark species.
The technology is based on proven science, published research and testing. And, they're super simple to use you just attach it your wrist like you would a watch (can also be worn on the ankle). No batteries and no charging is needed making them perfect for travel. And, they are safe for ages 5+.
Whether you like to dive, swim, or surf you can do so with less stress with one of these Sharkbanz. Find them here on Amazon (available on prime).
---
What to Wear Around the Ship
Most people tend to dress super casual around the ship. In the mornings you will see people in workout clothes, sweats, yoga pants or in outfits ready to head off to whatever excursion they are doing. Swim cover-ups and sandals are required for indoor areas and casual eateries. Sundresses or shirts and shorts/ capris/ jeans are fine for the dining room areas at breakfast and lunch. At dinner, the fancier restaurants may have a dress code which in most cases is a nice dress, pants, skirt for women (sandals are fine/ jeans are okay but it seems like distressed denim is less appropriate).
I would note that sea days the decks can get pretty chilly so it is a good idea to pack a light sweater or a light jacket depending on how cold you tend to get. Same goes for something to cover your legs. I didn't anticipate this on our first cruise and I found myself not wanting to go outside or into a theatre because I was just too cold.
Non-Formal Dining Attire
Resort wear attire is best suited for most evenings. Here are some excellent outfit ideas to inspire you.
Formal Nights
Cruise attire is not as strict as it used to be, nowadays it is more based on personal preference. There are some amazing high-end restaurants that are geared towards a more formal occasion as well as several events on the itinerary that allow you to get all jazzed up if you want to. However, you will see a variety of styles worn on formal nights including cocktail dresses, jumpsuits, pantsuits, for men slacks or dockers with a dress shirt are popular. *some restaurants do have jacket requirements for men so make sure to confirm with your ship before you pack.
Excursion Outfits
Depending on what you plan to do off the ship there are a variety of additional items you might want to bring. If you are doing something adventurous workout clothes and possibly a swimsuit might be a great choice while resort wear with comfortable shoes is better for city tours. Here are a few items you may want to think about.
Daypack– I love this one. It is a perfect size and fits everything that I need. Plus, it is easy to carry.
Comfortable Walking Shoes
Travel Snacks
Cash, Credit Cards
Make sure you check with your tour contacts to see if there are specific guidelines or suggested items of clothing to wear or things to bring with you. Manyzip linee companies and horseback tours require long pants and closed toed shoes for example.
Sea Sickness Prevention
Preparation is key- If you are prone to seasickness make sure to pack Bonine or Dramamine to bring with you before you come onboard the ship. I have read some resources that say to start taking the medication before you ever embark to ensure it is already in your system. I haven't found that to be necessary. *Note that you can purchase these medications or similar over the counter meds while on the ship but they will be much more expensive.
Prescriptions Are Available- People who suffer from severe motion sickness can receive a prescription oral medication or a patch that goes behind the ear as well. I recently cruised with MakeupObsessedMom who swore by her prescription patch but she did say sometimes it gets to be too much after a few days so she actually cuts the patch in half.
Alternative Remedies- Green Apples, Ginger (chews or tea), saltine crackers and sea sickness relief bands are also great options that many cruisers find to be helpful in preventing or helping reduce the symptoms of seasickness.
Need more information about packing for a cruise? I joined my fellow #OMAGInsider Annita on her radio talk show "Travel Bags with Annita" on a special episode all about Packing Tips you can catch the replay here.
---
What NOT to Pack- What you won't find on my Tropical Vacation Packing List
Synthetic Fabrics- Most tropical places tend to be very humid so I recommend not packing anything made from synthetic materials like rayon. They don't breathe and you will be miserable. Instead, pack clothing made out of cotton or linen they are lightweight, breathable, and they wick moisture away. They are also easy to pack because they fold nicely and don't wrinkle as bad.
Beach Towels- Cruise lines usually provide you with a towel to take off the ship. The only caveat is you are responsible for returning it for there is a fee to pay. This applies to most cruise lines but always check with yours to confirm!
Walkie Talkies- most cruise lines have sophisticated apps so as long as your cabinmates have smartphones you should be able to communicate onboard just fine.
Blow Dryer- I never pack a blow dryer because they are always available on the cruise ships I have been on. You may want to check with your specific cruise line and ship to confirm.
---
–> Print This! Free Printable- Tropical Vacation Packing List! <–
Click here to download PDF- Tropical Vacation Packing List
What Tropical Vacation Destination are YOU Headed to? Tell me in the comments below.
---
Pin this Tropical Vacation Packing List for Later-
---
Frequently Asked Questions about Tropical Vacation Packing List
What can I leave at home while packing for my cruise?
Synthetic Fabrics
Beach towels
Walkie talkies
Blow dryers
What are the essentials that I need to pack for my tropical vacation?
Sunscreen
Sunglasses
Swim suit and cover up
Bug spray
Sun hat
Shorts
Sandals
Bag
What not to forget while traveling?
Don't Forget Travel Documents (Passports, drivers license)
Snacks
Hand Sanitizer
Any medicine or First Aid kit just in case
Small Toiletries bag
Glasses or sunglasses 
Pack Chargers and Headphones
---
If you enjoyed reading about our tropical vacation packing list, you might enjoy:
ULTIMATE DISNEY WORLD PACKING LIST [+ 12 UNIQUE ITEMS YOU MUST PACK]
THE ULTIMATE DISNEYLAND PACKING LIST! + [FREE PRINTABLE]
ULTIMATE PACKING LIST FOR HAWAII + [ FREE PRINTABLE LIST ]
Latest posts by Mama Munchkin
(see all)