Pura Vida!! Experiencing Costa Rican lifestyle is something everyone should have on their bucket list. For us, Costa Rica is the country that really kicked off our desire to travel around the world with kiddos in tow. We stayed in an Airbnb on that trip with some of our extended family and it was such an amazing experience.
We loved having traditional Costa Rican breakfast cooked for us to kick off every adventure-filled day and gathering around the kitchen table together. It was also awesome to have our own pool to hang out at and a place to relax after a day of whitewater rafting or zip lining.
We learned so much on this trip about what families should look for in rental properties, and since there are so many amazing Airbnb Costa Rica locations we decided to pull together a list of the very best for you!
When you are in Costa Rica there is an incredible amount of things to do for families (Check out Trekaroo's Article on 20 Incredible Costa Rica Experiences) that having an Airbnb is both economical and so much more convenient. On our trip we had 12 family members in our home and it was one of our kids favorite trips.
---
This Airbnb Costa Rica home sits above the beautiful Hermosa Beach, which you can see from the spacious balcony, where you will be able to do to do everything from morning kayak rides  to snorkeling and fishing. There's plenty of room for gatherings inside and out, with a huge pool and hot tub. It can hold 12 guests in 5 bedrooms with 5.5 bathrooms.
---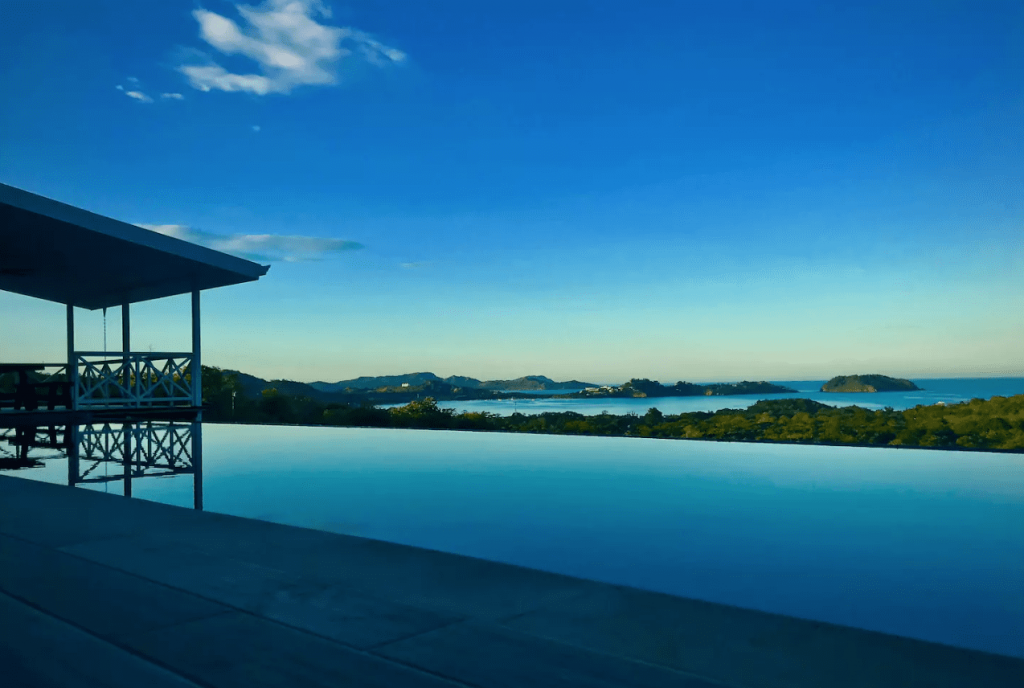 This 8 Airbnb Costa Rica guest home is absolutely perfect for an extended family vacation. You won't be able to take your eyes off the view from the infinity pool. We love the indoor/outdoor living vibe this whole house has and the sliding glass doors that open the living room out to the backyard.
We totally wish we would have had feel in our rental home in Costa Rica! Also, the gorgeous turquoise touches throughout the house are to die for.
---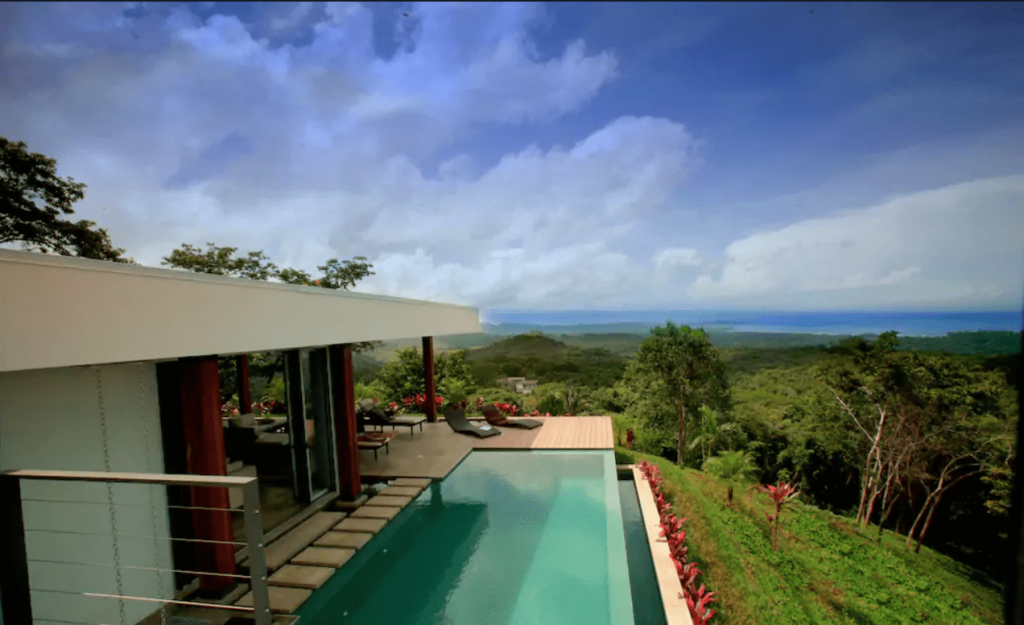 This beautiful new designer home sits overlooking the jungle with 5 bedrooms and room for 10 guests. You can see straight to the Pacific Ocean, which is just 10 minutes away. There are a few restaurants and a supermarket in close proximity for your convenience. The rooftop terrace is a pretty cool perk too!
---
This Airbnb Costa Rica home is in a brand new beachfront community and you will be just steps from a gorgeous beach. You will be able to share beaches, a golf course, tennis courts, and beach clubs with the other homes in the area.
There's also a Marriott with amazing restaurants just down the street. The home itself is huge, bright, and modern with a white kitchen that makes me drool. This vacation rental in Costa Rica is most definitely one for you to check out during your vacation planning!
---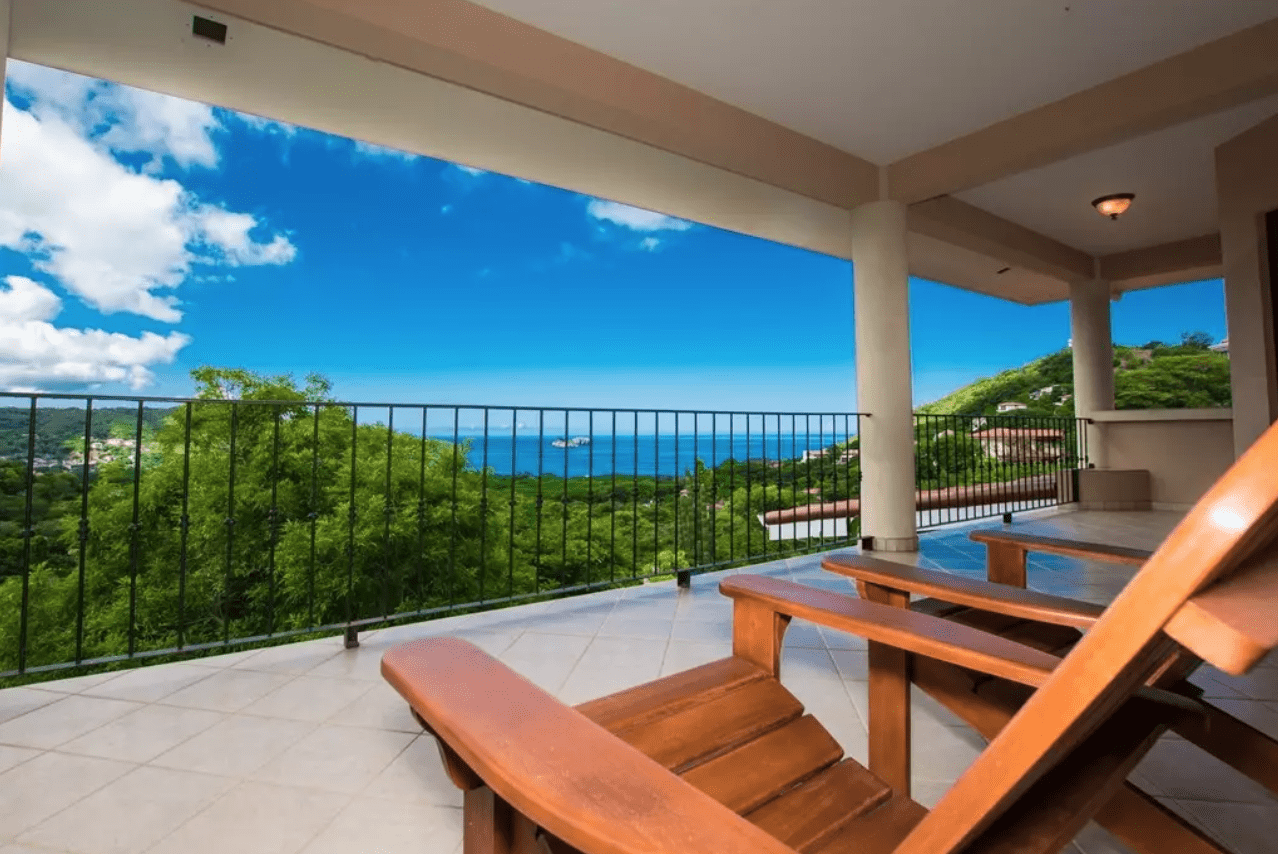 Costa Rica is a destination for both thrills and relaxation. If you are looking for a bit of that relaxing side check in to this AirBnb near Hermosa Bay. It sits on the hillside with gorgeous open air terraces.
You will get the best of both worlds with the mountains and the beach both right at your fingertips.
---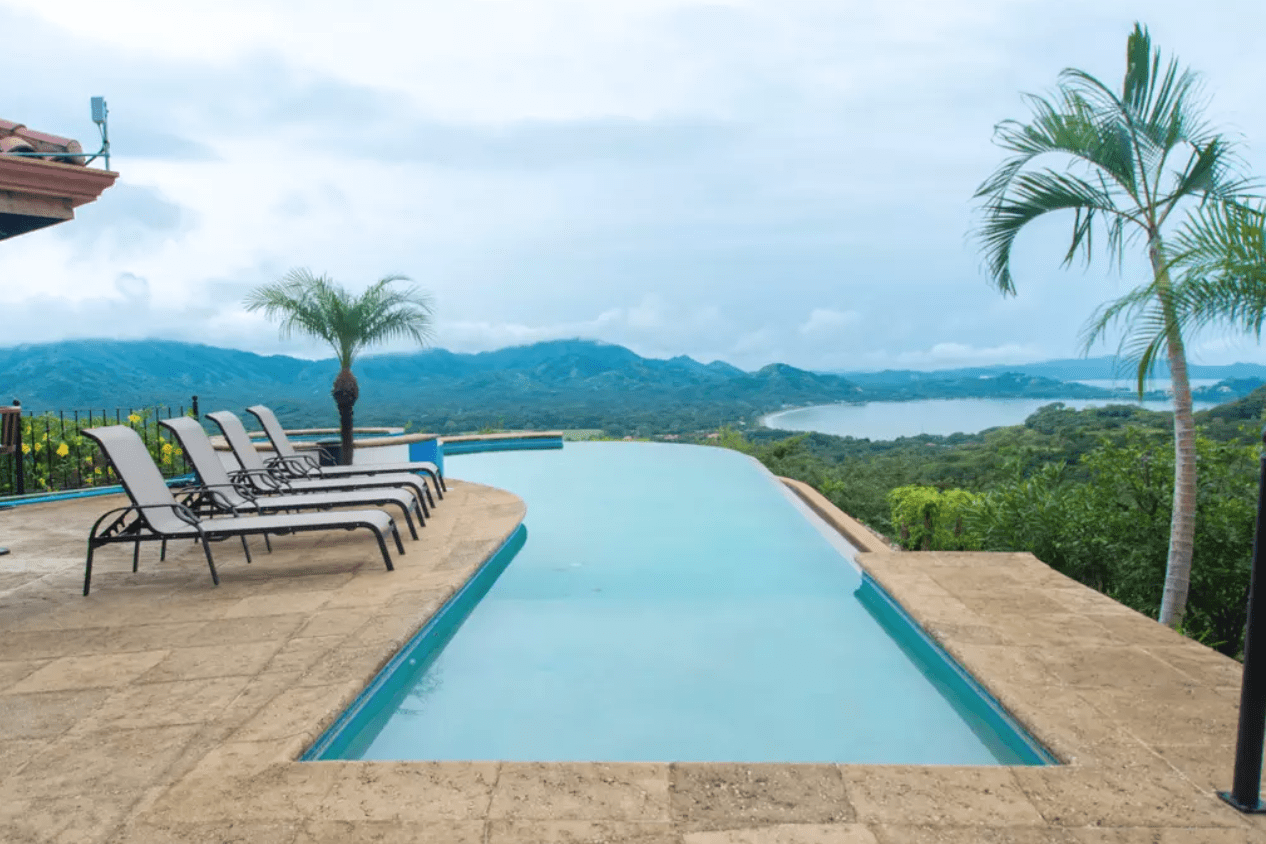 This Airbnb Costa Rica house is all about the view and overlooks Potrero Beach and the Flamingo Bay Marina. This gorgeous home is gated and very secure. There are caretakers on site to make sure your trip goes smoothly, but besides that you won't notice their presence.
The infinity pool is definitely where our family would spend the whole trip, and once you check it out I think you will see why. 
---
We might go back to Costa Rica with our whole crew just to stay at this beautiful Costa Rica AirBnb. It's like having a resort all to yourselves and can host over 16 guests. It has a boutique feel in every space, a water slide, and full kitchen outside.
---
This AirBnb screams luxury. From walking up to the front door, to the spacious living spaces, to the windows across the back of the house overlooking beautiful Costa Rica, and the covered veranda overlooking the infinity pool this place just gets it all right.
If you ever decide to leave this dreamy home, there's tons of adventure right outside the door.
---
Who says you can't have a little taste of Tuscany in Costa Rica? This AirBnb offers you that in both aesthetic and in terms of food. You can have a chef stay on full time at the home.
The home is also just 5 minutes from Playa Carillo, which was featured in Travel and Leisure Magazine as one of the "Top 25 Secret Beaches in the World." This stunning AirBnb has room for 9 guests in 3 bedrooms.
---
If your ideal Costa Rica vacation includes days lounging by the pool and afternoons spent in a hammock, you've got to check out this oasis. I think of all the homes on this list, this one does the best job of staying true to the Costa Rican feel.
Trust me, this is a good thing. This country is absolutely incredible and you're going to want to soak up every second of it.
---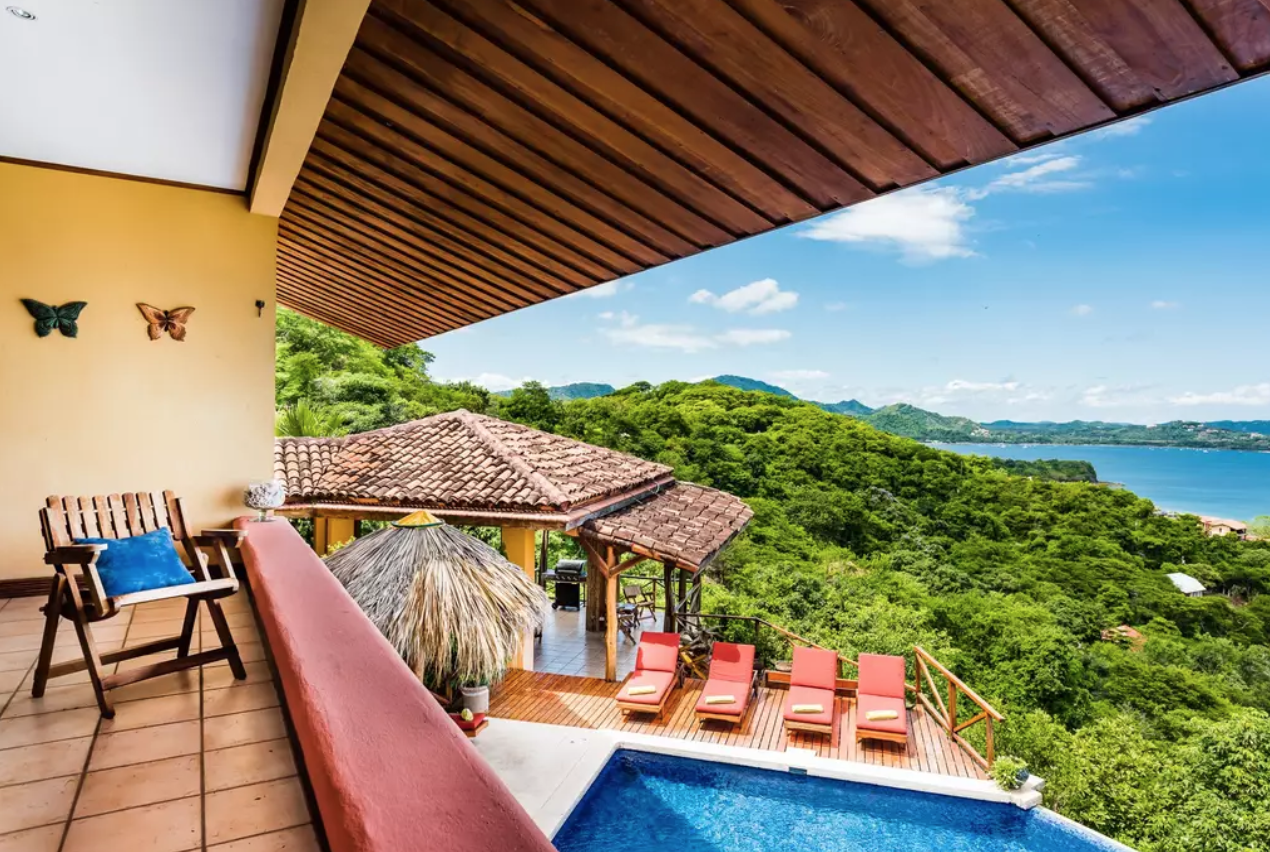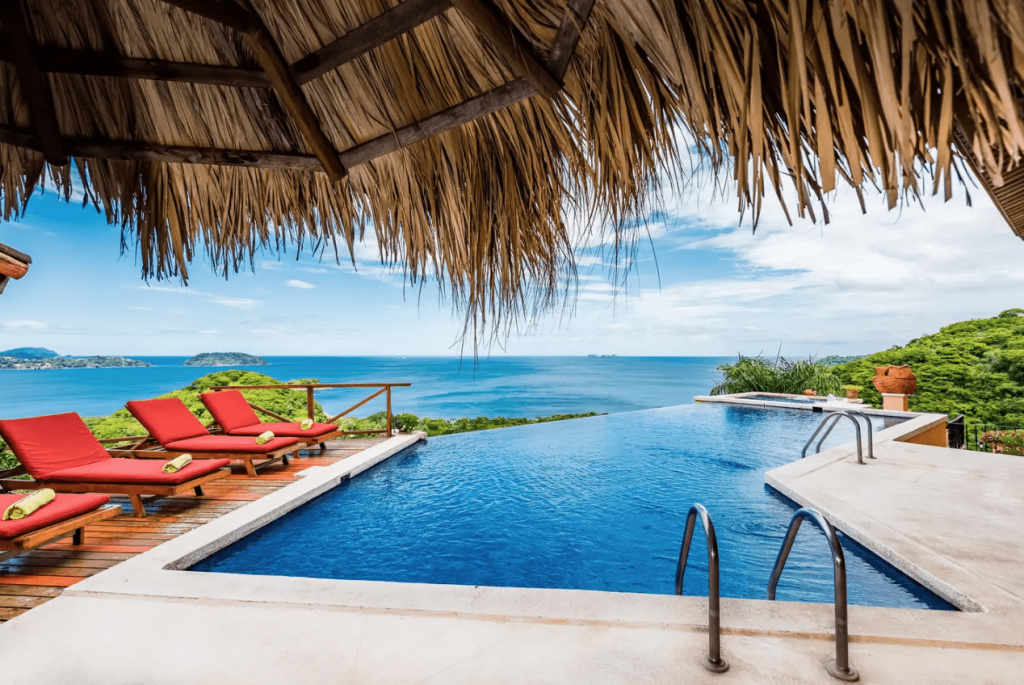 This home is so open, even with over 16 guests you will feel like everyone has room to spread out. All 6 bedrooms have an ocean view, even from the showers.
The game room is 100% where our boys would spend their time playing foosball and pool, but I think I would be out on the pretty terrace lounging by the infinity pool or in the hot tub. The whole third floor is a master bedroom… just the escape we're all looking for!
---
Villa Artemis is located high up in the hills of Playa Tamarindo. It's comfortable and homey with tons of outdoor seating areas, a giant kitchen table for everyone to bond over dinner, and a comfy couch that everyone will fit around for a game night.
We actually spent a lot of time on our trip playing board games together, especially spoons, while it rained outside with birds chirping and frogs croaking.
---
This is another home in a great community, offering security and superb amenities. It is said to have some of the best views in all of Guanacaste. Also, the pool has a swim up bar so you better think about who's going to be assigned bartender from the family!
---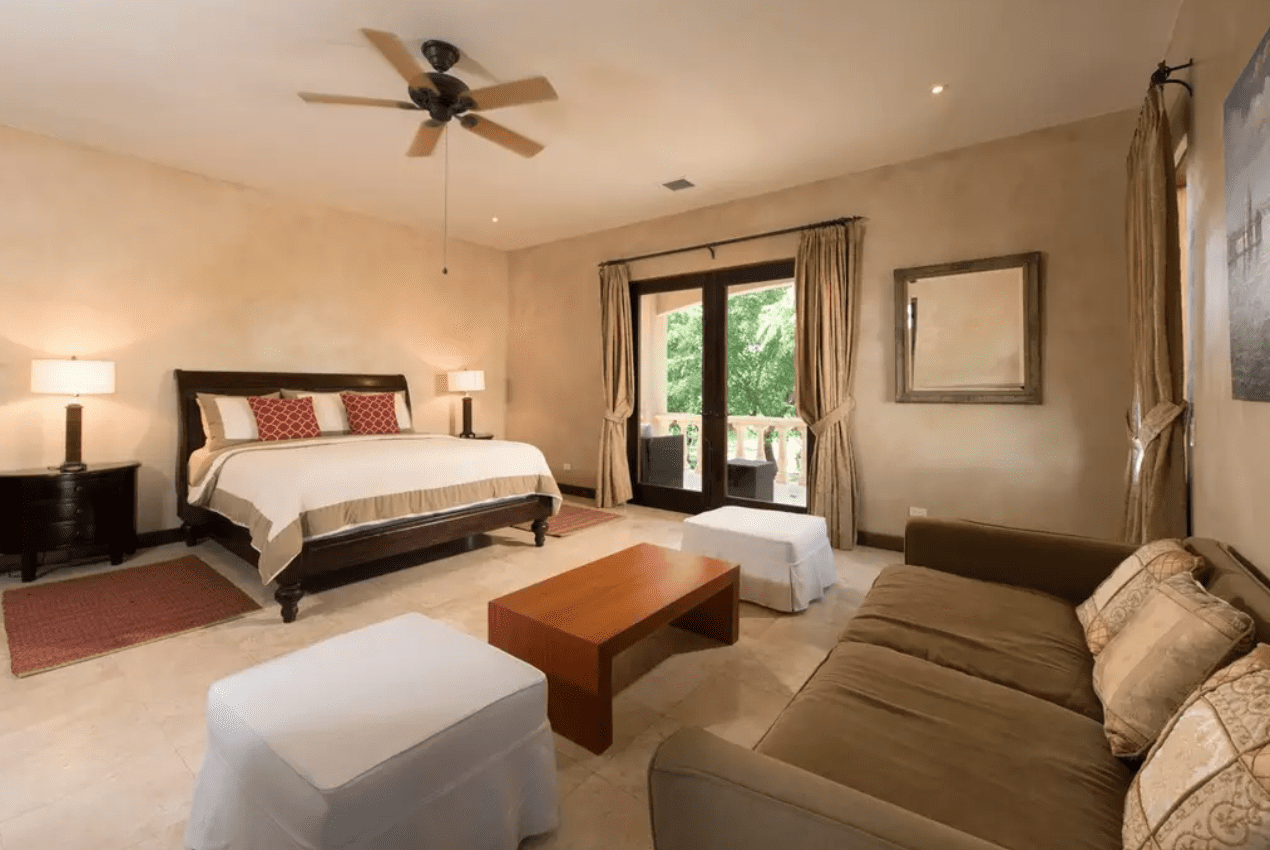 At this home, you will be in walking distance from 5 beautiful beaches. You will also be in a private gated residential area with tennis courts, a gym, and stables. You can rent a golf cart for your stay, as well as a chef or maid. The house is meant to accommodate 2 to 3 families with plenty of private and shared space for all.
---
I think one of the greatest parts of a beach vacation is that constant calming noise of the ocean, and you will get the perfect amount of that in this home. You will be able to walk down to the beach in 10 minutes, of course, that's only if you ever make it out of this awesome house.
It's absolutely dreamy both inside and out. The floating deck patio will be your absolute favorite place to eat meals together on your trip. They also boast extremely fast internet, just in case you need to get a little work done.
---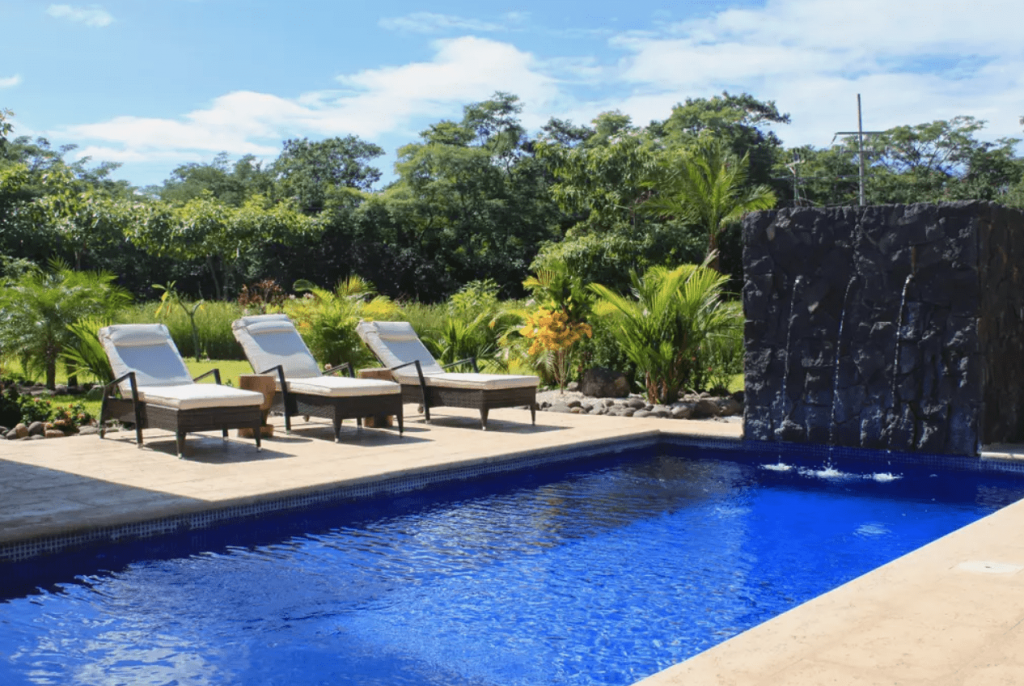 Hellooo to this AirBnb which will make all your Costa Rican beach dreams come true. You will feel like you're staying in a 5 star resort with the full amenities of a beach club and resort right down the road including 12 incredible bars and restaurants. You just have to see it to understand how amazing the whole home is!
---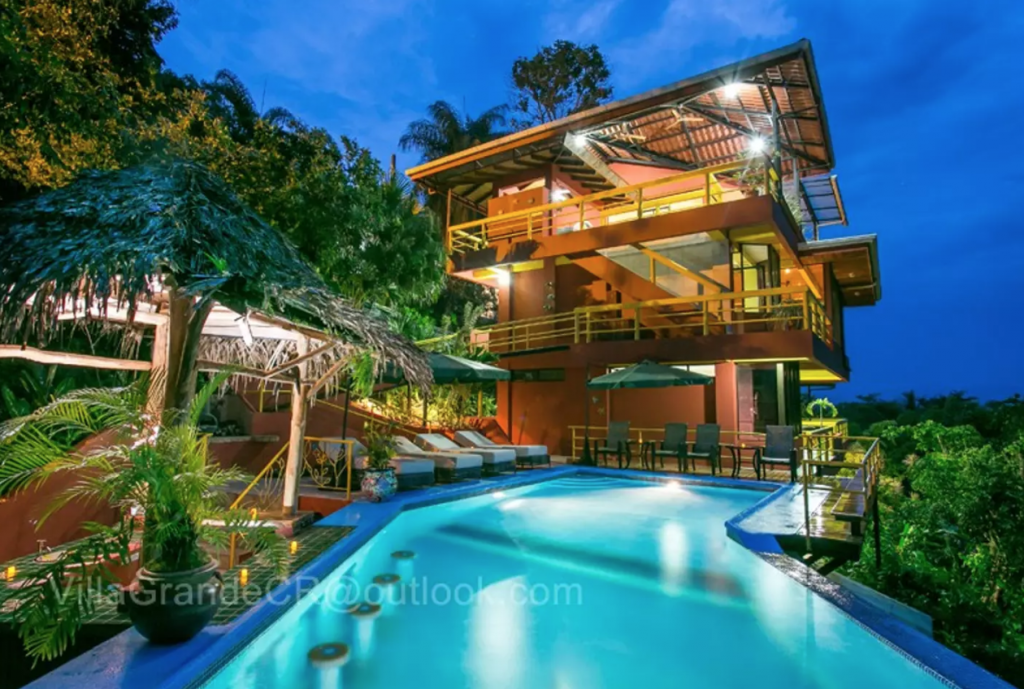 This unique (giant) bungalow is perfect for the family looking for adventure. It's got three stories, each with incredible views of both the jungle and the ocean. One of the best things about this house is that it has 10 actual beds!
No matter the makeup of your group, everyone will be able to find a comfy spot to sleep and lounge. The pool is also something to be in awe of, it's huge with a waterfall and a swim up bar.
---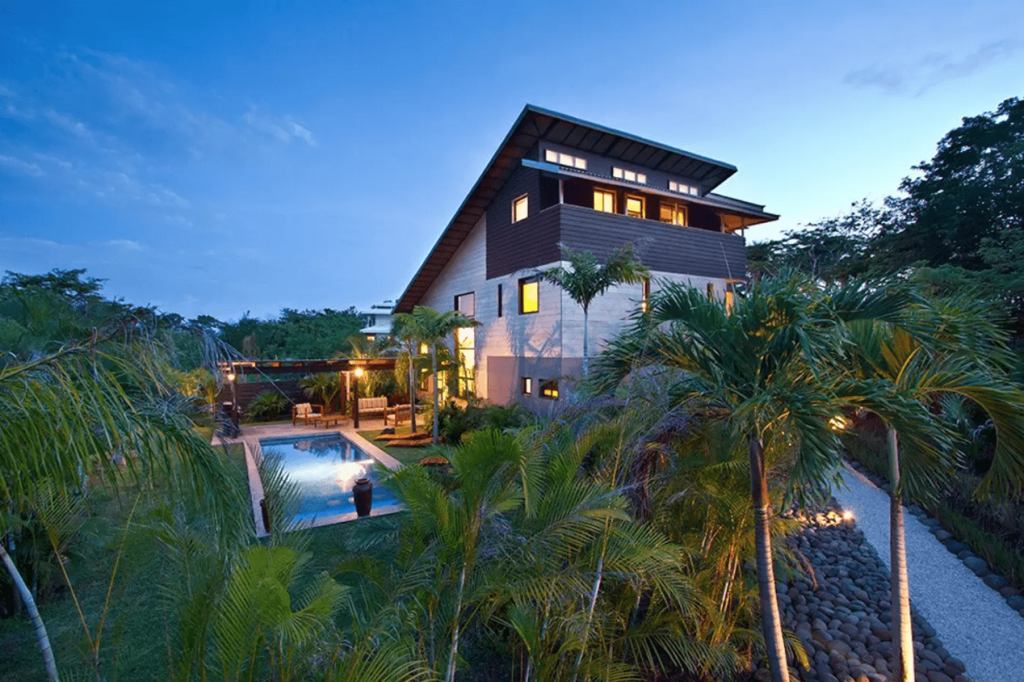 Don't let the name fool you, this is the most chic "Woodbox" you will ever see. There are 4 bedrooms, outdoor spaces that you can only dream of, and the newest nicest appliances throughout the kitchen and laundry room.
It's about 30 minutes from Tamarindo, which is about how far we were when we stayed. We definitely appreciated the tranquility of being away from the crowds, but still being close enough to access all the city had to offer when we felt like it.
---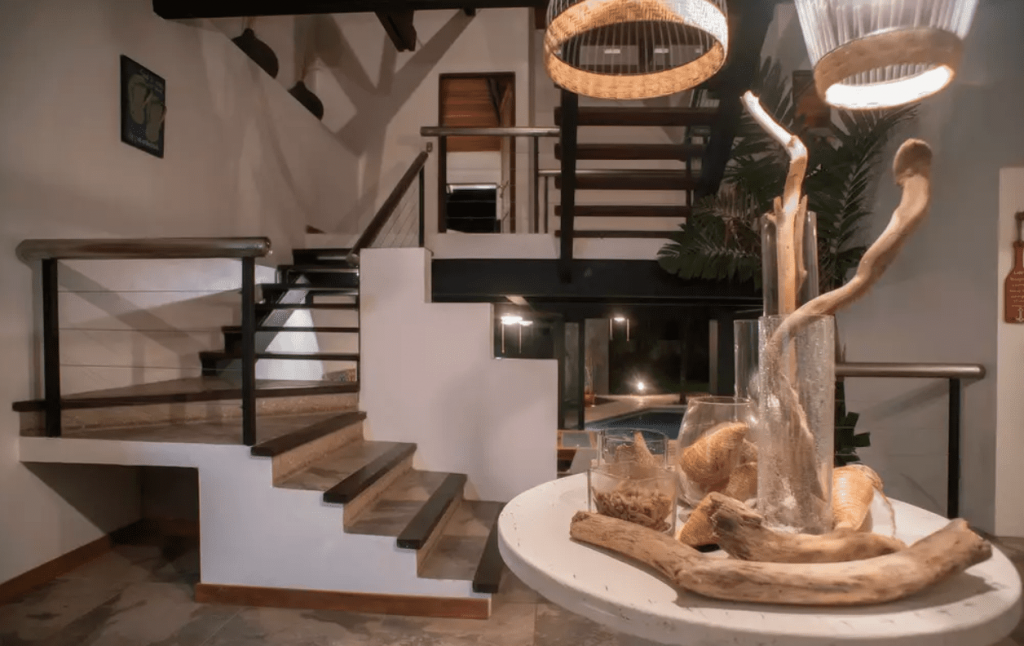 Each room in Casa Guarumo is a suite with its own balcony making this the perfect destination for the ultimate couples getaway. It is also right in the center of Carrillo, a perfect little downtown with small shops and restaurants. Not that you will ever need to leave for food as the kitchen is equipped for a hire in chef!
---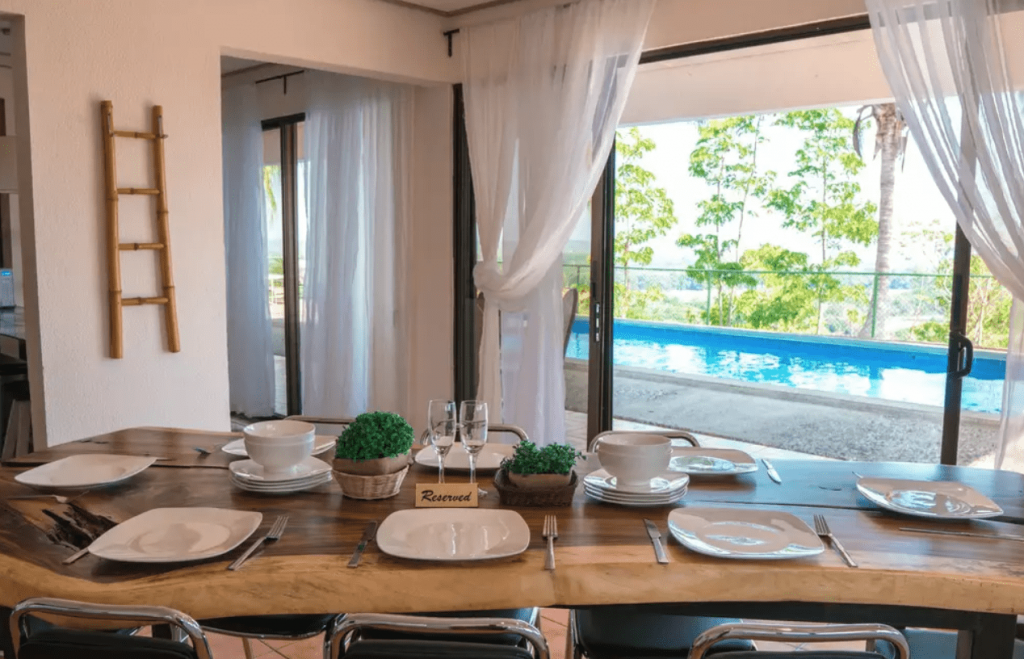 This Airbnb Costa Rica mega mansion has enough room to fit even our huge extended family! There's 7 bedrooms, 10 beds, and room for 18 in this modern stunning white home. It's very private and in a community with a 24/7 guard. The large very open kitchen and living room is what really wins our hearts over here.
---
This Airbnb Costa Rica house is downright beautiful with wood accents throughout. Something a little unique about this property is that you will be on 1.5 acres of pretty Costa Rican land. It was designed by a famous architect who has since passed, so you're really in for a special and unique experience if you stay here. It is all about blending the outdoor spaces with the indoor spaces providing the perfect beach vacation environment.
---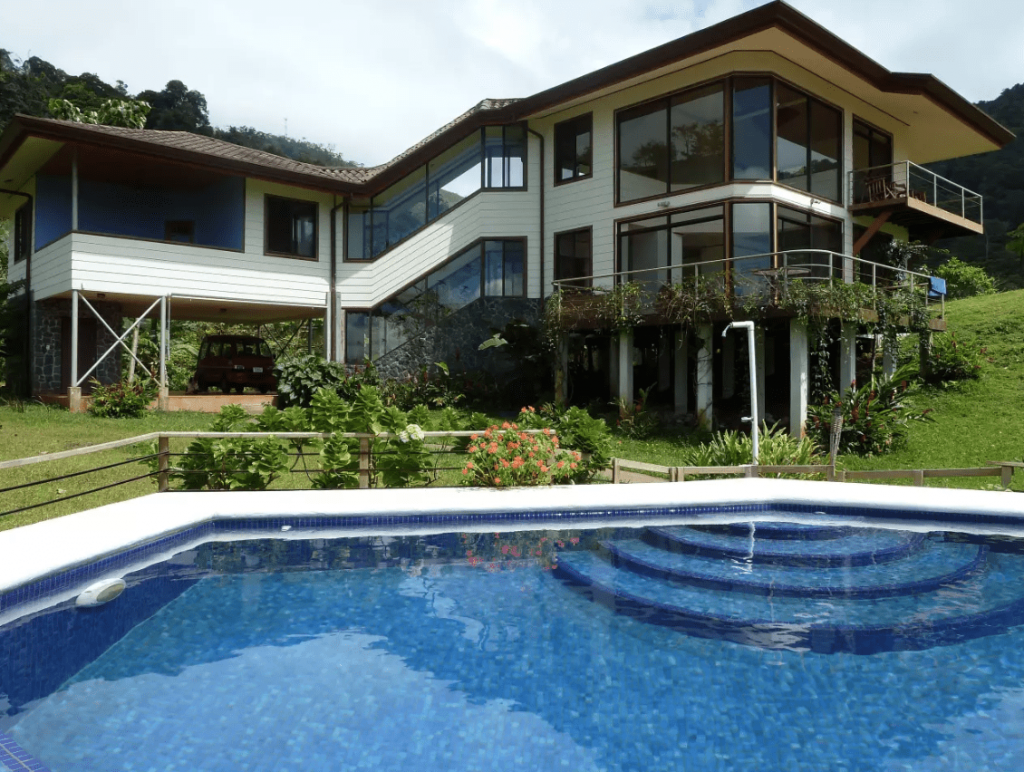 This is the home for those of you headed to Costa Rica to experience their one of a kind nature. There is a really cool infinity pool on property, but there are also more than a dozen natural pools and a stream that run through the property. How cool is that?!
We would have absolutely loved to experience nature like this right in our property's backyard! Your kiddos will feel like they are in paradise.
---
***New to Airbnb – Get $40 OFF when you use our referral link***
---
If you enjoyed reading about AirBnB Costa Rica, you might also enjoy:
The BEST Luxury Resorts For Families [say Travel Experts]
Best Sandals Resorts! An inside look at the leader in All-Inclusive Resorts
Blue River Costa Rica – 5 Reasons I love this Resort!
Pin for later – Airbnb Costa Rica – 22 Incredible Homes that are Surprisingly Affordable