Did you know you can rent ski clothes? We try to hit the slopes at least a couple of times a year. Okay, maybe it's more like our boys hit the slopes while mom, dad, and our girls relax around the resort with never-ending cups of hot chocolate. Anyways since we definitely do not live in a city where snow falls all winter long and we truthfully aren't avid skiers, we have learned that renting all our gear actually makes so much more sense than purchasing it. Most of our kids are going through their pre-teen years and hardly stay the same size for 3 months, let alone multiple ski seasons, so it would be really costly to continuously buy them new things that fit right. It is not only cost effective though, it can actually be super convenient too.
How to Rent Ski Clothes- amazing savings for families!
Why Should You Rent Ski Clothes?
Like I stated already, our family does not really spend enough time on the slopes for us to justify buying each of our kids their own ski gear. Renting is much cheaper if you have got multiple kiddos and busy schedules like us. Renting allows you to get each member of your family ski gear that properly fits them, and often is pretty cool looking. Trust me, your teenagers will thank you for not being in mismatched ill-fitting clothing or hand me downs on the slopes. Many rental companies will even allow you to exchange kids sizes mid rental, which is especially helpful for season-long rental gear and rapidly growing kiddos.
What to Rent vs. What to Buy
Every company offers a different set of items in their full packages, so make sure you check each one out thoroughly. However, the most common items to rent are listed below.
Helmet

Ski Boots

Skis/Snowboard

Ski Poles

Ski pants

Ski Jacket

Goggles
Even though you will be renting much of what you need, there are still some things you might want to bring along on your own. Just make sure everything you do purchase is waterproof. This is our number one requirement when any potentially slushy snow is involved.
Ski Socks

Long fleece underwear (and possibly undershirt)

Fleece Sweater

Gloves

Goggles

Helmet Liner
How to Rent Ski Clothes
Take Action- Start thinking about how you want to rent your ski gear as soon as your trip is booked. This holds especially true for those of you traveling during peak season and the holidays. Renting beforehand online is easy and what I strongly recommend, but if you do just want to pick up from stores around the area of your destination start calling around early.
Rent Beforehand- While most ski destinations have somewhere to get rentals, there are also plenty of online rental options for you to look into that may be more convenient. It will eliminate the hassle and worry of having to kick off your vacation finding rental gear. It's super helpful to take this route because these companies really know what they are doing and their employees are often available to talk to. They will be able to tell you what is actually necessary to rent depending on what you have planned for your ski trip all before you actually go. My two favorites for ski clothes rentals are listed below. One of these options is Mountain Threads, which is based in Golden, Colorado. They will ship whatever rentals you need to the property address you provide and you will leave them there to be picked back up. Their whole packaged kids deal is only $29 per day with individual jackets and pants being $12-$15. Check out their what to wear section

here

, it's pretty helpful for newbies. Another reliable place to rent from is Kitlender, who you can actually rent gear for the whole season from or do daily rentals. They will also ship your gear right to you and their prices are comparable to Mountain Threads. The Kitlender owner is a big believer that having top of the line snow and ski gear will change the whole experience and make it more enjoyable, so you can trust them to provide you with just that.

Check out how nice this gear is!

A few other places you can check out our Ski Butlers, Colorado Ski & Golf, and Get Outfitted. Obviously, there are more places to ski than just CO so make sure to search the area around your destination for the best deals.

Rent Package vs Individual- This is really just a personal choice and will depend on if you have certain items already. For example, if it's really just skiing pants or ski boots that you need, it will be better to rent these individually. Choose whatever is more cost effective for your family!
Choose to Have it Shipped or Pick it Up- It's up to you how you want to receive your rentals, but in the case, you can have it shipped to you I would highly recommend doing so. Ski gear is bulky and really hard to pack or lug around.
Look into What is Included- The big question here really is if there is damage insurance or not. Our kids are actually pretty well trained having been to some awesome skiing lessons, but as with a sport, there is room for mistakes. Some of this gear is expensive and we wouldn't want to have to replace it in the case of our kids accidentally breaking something.
Our Personal Ski Clothing Rental Experience with Mountain Threads
We recently visited Northstar again for the second year in a row (check out our Northstar Guide here) and to my complete surprise, and sheer panic, when I pulled out the ski clothes bin and had the kids try on their gear nothing fit! I couldn't believe how much the kids had grown in one short year's time. What was a mom to do? Buying all new ski clothes would have cost a fortune. I figured there must be a better way and after researching on Google I came across Mountain Threads.
I could not believe what I was reading I could actually rent ski clothes? WHAAATT?? Total game changer how had I not heard about this incredible service previously?
I immediately picked up the phone and spoke to the kindest most helpful staff member at Mountain Threads who helped me outfit the kids. We decided their packaged deals which included pants, jacket, gloves, & goggles. We also opted for snow boots for each of the kids as they had outgrown those as well. And, after my husband heard the price, which was totally affordable, he opted to rent a ski jacket for himself as well since he didn't love the one he owns.
To make things even better the customer service representative explained to me that the gear could be delivered straight to the resort which was awesome news because we planned to drive up to Tahoe and with 7-passengers there wasn't much room for ski clothes in the car.
I was nervous about the rental clothing arriving, but Mountain Threads is amazing and everything was there at the resort before we even arrived. They are incredible!!
The resort delivered the package right to our room and I excitedly opened up the box as soon as we received it. Everything inside looked brand new, it was so clean and fashionable. And, also totally organized- woot! woot!
There were also clear instructions on how to take care of the products and also information about returning the box to Mountain Threads including a pre-paid label.
The kids wasted no time suiting up and heading out to the gorgeous snow. How adorable do they look?? I was so happy with Mountain Threads service I vowed to use them always. I mean what a fantastic deal? It is perfect for families with growing kids and families like ours that live in areas like Southern CA where owning this type of gear is pretty much a waste besides the one or two times a year we are fortunate enough to visit colder climates.
I was impressed with the quality of the ski clothes that we rented. Not only did the younger ones love their gear but my teen and husband loved theirs as well. I would absolutely recommend that families check out Mountain Threads it saves you money and hassle which is a total WIN/WIN!!!
Do you rent ski clothes for your family?
You may also like these related posts;
Pin this article so you know where to rent ski clothes on your next family ski trip!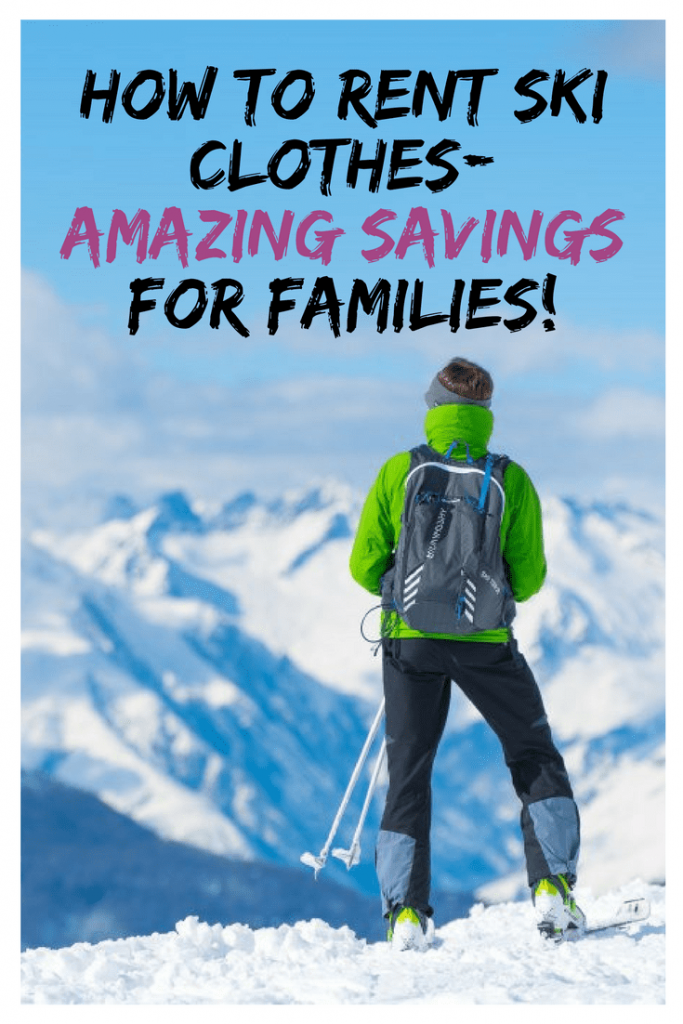 Latest posts by Mama Munchkin
(see all)