When it comes to a successful family ski trip, planning is everything. Plan well and you will be rewarded with that magical ski experience – sitting at the top of a mountain with an incredible view in front of you and fresh powder below. Plan poorly and you'll probably just remember how incredibly cold you were the whole trip. Thus, we have put together the Ultimate Ski Trip Packing List for your next vacay to the slopes.
A family ski vacation is a really great opportunity to get the whole family out into nature, off their phones, and moving. But, unlike other trips, this is not one where you will want to just wing it when it comes to packing. Forgetting a pair of sandals on your beach vacation can be easily and cheaply fixed. Ski gear, on the other hand, can be quite expensive and forgetting something can derail a trip very quickly. Now, before you get overwhelmed by this lengthy list, you can also check out how to rent all the ski gear and clothes you need.
The Ultimate Ski Trip Packing List + [a Few Items You'd Never Think of]
Clothes
For the Slopes
If you have never been skiing before, it can be easy to assume you'll be cold most of the time. The truth though is that while it might be cold on the ride up, once you start actually skiing down the mountain, you'll quickly warm up.
Skiing can be a real workout and before long, that winter jacket might seem a bit too insulated. To have the most comfortable experience, you'll want to dress in layers. Having the option to unzip your coat or take off an extra sweater is a good idea.
For layers we recommend –
☑ Thermal Layer (long sleeve shirt and pants)
☑ Mid Layer (sweater or fleece jacket)
You'll also want to make sure your top layer – the ski jacket and pants – are water resistant. If you go skiing often, you will want to invest in these pieces and purchase quality gear. Alternatively, if you aren't sure skiing is really your thing yet, in most resort towns, you can also rent a good ski jacket and pants.
Beyond the Layers
Once you have the basic layers taken care of, you'll also want to be sure you pack a few extra items to keep warm.
☑ Hat or Beanie (pack a thinner hat if you are planning to wear a helmet)
☑ Gaiter or Neck Scarf
☑ Lots of Ski Socks! (make sure they are thick, warm, and moisture-wicking)
Ski Trip Packing List – Back at the Lodge
After a full day of skiing, once you are back at the lodge, you'll want to be comfortable! Plan on packing your favorite winter loungewear and pieces from your own winter wardrobe.
☑ Comfy pants
☑ Sweater or Fleece
☑ A Nice Scarf
☑ Cozy Socks
☑ T-Shirts
☑ Undergarments
☑ Snow boots
☑ Gloves/Mittens
☑ Cozy Pajamas
Some Extra Ski Packing Items you Might not Think of
Besides packing a basic winter wardrobe of your favorite pieces, you will also want to make sure you throw in a few extra items that should come in handy.
☑ Swimsuit (there's nothing like soaking in the hot tub after a full day of skiing)
☑ Comfy Slippers (after wearing heavy ski boots, your feet will thank you)
☑ A Nice Evening Outfit (many resort towns offer fabulous restaurant options)
Ski/Snowboard Gear
Packing for any vacation can be stressful but when you are going on a ski trip, you have a whole other category of things to consider – gear and equipment.
Ski and snowboard equipment can be bulky, heavy, and difficult to pack. Add in the extra cost of checking oversized ski or snowboard bags and you might want to consider the benefits of renting gear.
Depending on how often your family goes skiing, whether you drive or fly, the size of your family, and how serious your family takes skiing, you might want to consider renting some or even all of your gear. Most ski resort towns offer a wide range of rental options and can cover the whole family's needs – from the youngest skier to the semi-professionals.
While you can usually rent pretty much every bit of gear you'll need, if you are planning on skiing again, you should consider purchasing your own goggles and potentially your own boots. These items are a bit easier to pack and there is nothing better than wearing your own perfectly fitting boots.
Whether renting or bringing your own, you'll need –
☑ Skis and Poles / Snowboard
☑ Ski / Snowboard Boots and Bindings
☑ Helmet
☑ Goggles (or sunglasses if you prefer)
A Few More Ski Extras
For the most enjoyable ski trip, you'll want to pack a few extra items, in addition to gear and basic clothes.
Electronics –
☑ Phone and Charger (to reach family members on the slopes)
☑ A power bank so everyone can charge up on the go (obsessed with this cute avocado!)
☑ Camera/GoPro and Charger
☑ Extra Battery Pack (the cold will make your phone battery die faster! This one is our favorite!)
Toiletries –
☑ Basics (toothbrush, toothpaste, shampoo, etc)
☑ Sunscreen (the sun glare off the snow is strong!)
☑ Chapstick
☑ Lotion / Moisturizer (winter air can be very drying)
For the Slopes –
☑ Day bag, like this adorable Barrel Bag
☑ Tissues (after a windy ride up on the lifts, you'll need them!)
☑ Water bottle or a Camelbak
☑ Sunglasses (an alternative to goggles and nice to have back at the lodge)
☑ Snacks (granola bars, sweets, trail mix, etc)
As you can see, packing for a ski trip is no small undertaking. Getting it right though can easily be the difference between an amazing trip and a cold, wet experience.
Click Here for a Printable Version of this Packing List!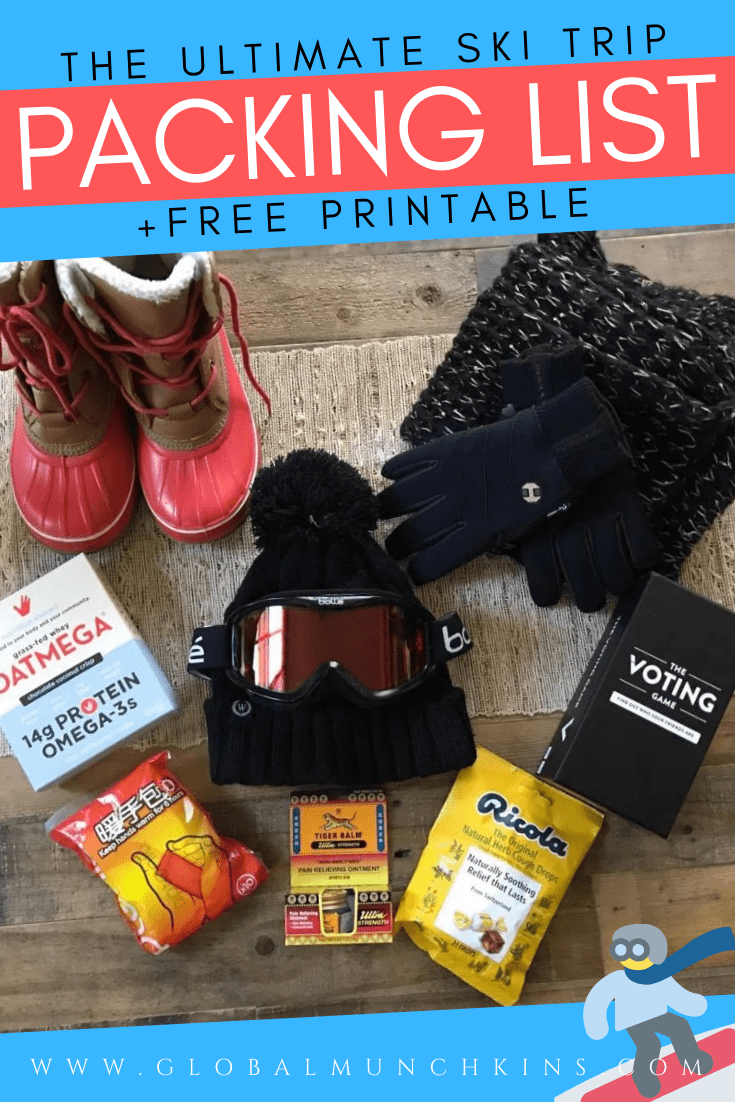 You Might Also Enjoy:
How to Rent Ski Clothes- amazing savings for families!
The ULTIMATE Guide to the Amazing Northstar Ski Resort