One thing I have found out about myself recently is that secretly I am a mountain girl, and especially in the summer (hey, I don't do great in the winter cold). In the summer, I love the cool mountain air, all the amazing animals, and the beautiful hikes. Recently we headed to Park City, Utah and discover the gem that is the Deer Valley Summer. After four glorious days in this beautiful resort, we break down all the amazing things to do, eat and enjoy in this quaint little part of Park City. Thus, we bring you the ultimate guide to Deer Valley, Summer.
Where to Stay?
If you are a large family like ours, there is an absolutely amazing place to stay. We were fortunate to have stayed at the Silver Baron Lodge. We walked into what seemed like the biggest room we have ever stayed in. Our kids have been lucky enough to stay in many resorts and I have never seen this big of a reaction from them when seeing a room. Our room was two stories, had 4 separate bedrooms, one with a pair of full-size bunk beds, a beautiful kitchen, and massive bathrooms. The one thing that everyone was so excited for was the jacuzzi sitting on the deck overlooking all the beauty of a Deer Valley Summer.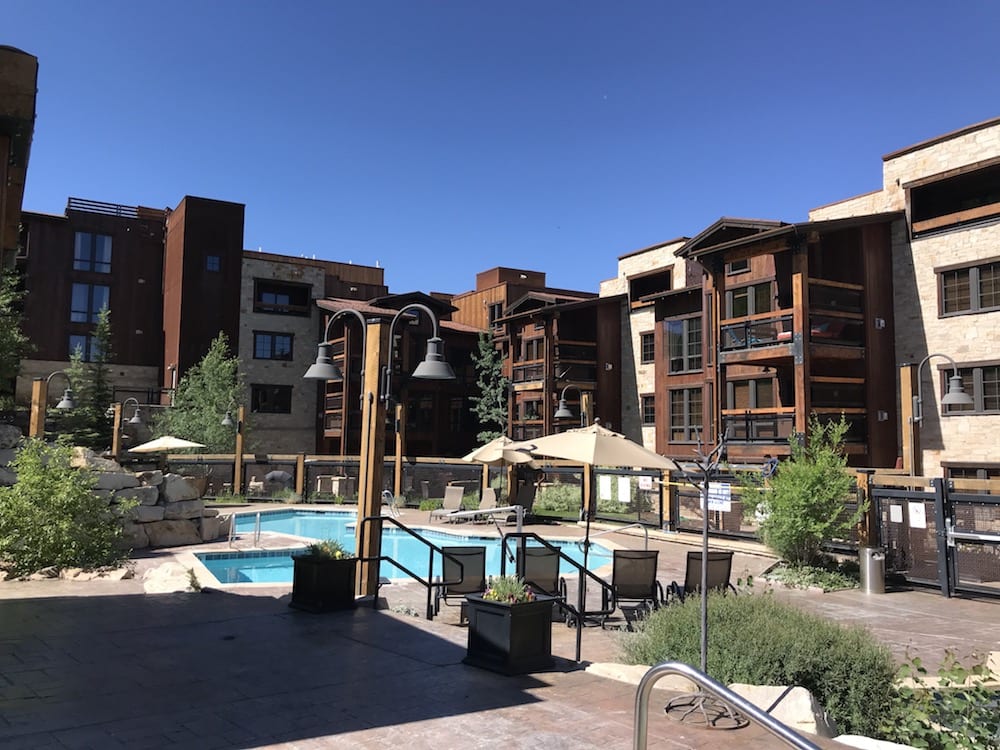 The Silver Baron Lodge also recently just did a reface on their pool and jacuzzi so if you need a little more than the jacuzzi on your deck, there is always another pool and jacuzzi downstairs with a fun slide for the kids. We actually saw a deer and her fawn while we were sitting in the pool of the lodge. Now, all of the rooms are privately owned, so the size can vary a tad bit, but all seemed immaculate from what I saw.
One of the things I loved about the Silver Baron Lodge was the staff and the service. If you needed a ride, a Cadillac Escalade is ready to take you anywhere within around a 3-mile radius, plus you can text them when you need to return. We used that service quite often.
Plus, the staff is always so nice, they give the kids duck food to feed the ducks across the way in the pond. Those little details really make a trip to me. Check Current Prices Here!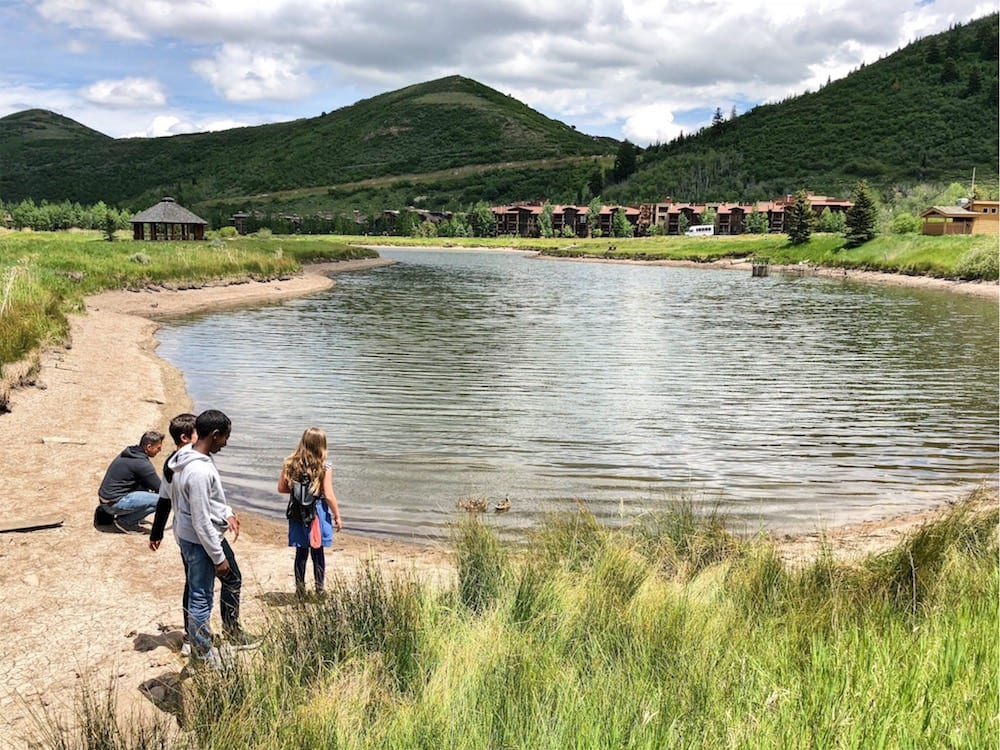 Montage Deer Valley –
The Montage Deer Valley is probably one of the more beautiful resorts I have been to. As you head up to the mountain you are completely in awe of the beauty of the resort. The one thing I love about Montage resorts is that while it is a very high-end resort, it never feels stuffy. It is a warm and welcoming resort, from the moment we walked in we were greeted by their sweet dog "Monty" an adorable 1-year-old puppy who is the hotel's mascot.
The resort is definitely a premier resort, with some incredible gourmet dining, rooms, service and more. The resort works incredibly hard at maintaining a high level of service and attention to detail. In fact, don't plan on visiting Montage in April, as the resort closes down after ski season to refresh the resort and prepare for summer. Check Current Prices Here!
Go for a Hike & Grab A Bite to Eat!
One of the first things we did in Utah was to go on a hike. We decided to take a two-hour hike up to the top of Bald Mountain. In order to shorten the hike we grabbed a lift ticket from the snow park ticket office and took the lift to mid-mountain. From there we headed along the Ontario hiking trail for a beautiful two-hour hike.
The trees you walk through are absolutely stunning and another fun thing to do along the hike is watching the downhill mountain bikers fly down the mountain. (Also watch out for them as a couple times you do have to cross their path)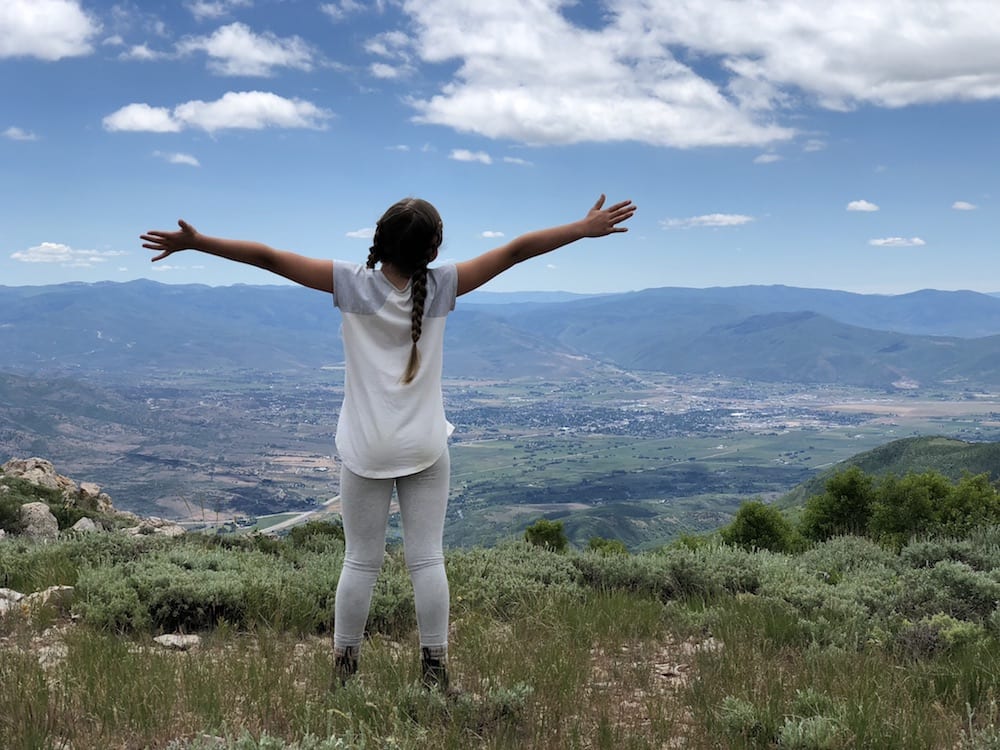 The view from the top of Bald Mountain was simply breathtaking, my kids felt like they were on top of the world. Afterward, we rode the lift down to mid-mountain for a quick bite to eat at the Royal Street Cafe
Royal Street Cafe –
I am not much of a foodie, don't get me wrong I love food, but it is not something I absolutely live for. However, the food at Royal Street Cafe was definitely one of the best lunches we all have ever had. My husband claims that his Deer Valley BLT was probably one of the top 5 sandwiches he has had in his entire life. The kids enjoyed this mint lemonade, (which I sampled often) and I really loved their blueberry mojito (pic below). View the Menu Here!
Do Some Downhill Mountain Biking
There are so many active things to do in Deer Valley in the summer, one of the most popular is downhill mountain biking. Grab a lift ticket and hook up your bike up to the lifts and get ready for an adventure riding down Bald mountain. The views are absolutely incredible and the downhill path has different levels of adventure, so if you are experienced or more of a novice you can jump on your bike and ride on down. If you have little ones, there is a Mountain Bike school where your kids can learn how to properly mountain bike.
Enjoy a Horseback Ride –
Another thing you can do at mid-mountain is going for a scenic horseback ride. I have always loved horses since I was a child and although I did not have time to go for such a ride on this trip, I can't wait to go the next time to experience riding horses through such incredible beauty. You can book horseback rides at bouldermountainranch.com.
Do a Little Stand-up Paddle Boarding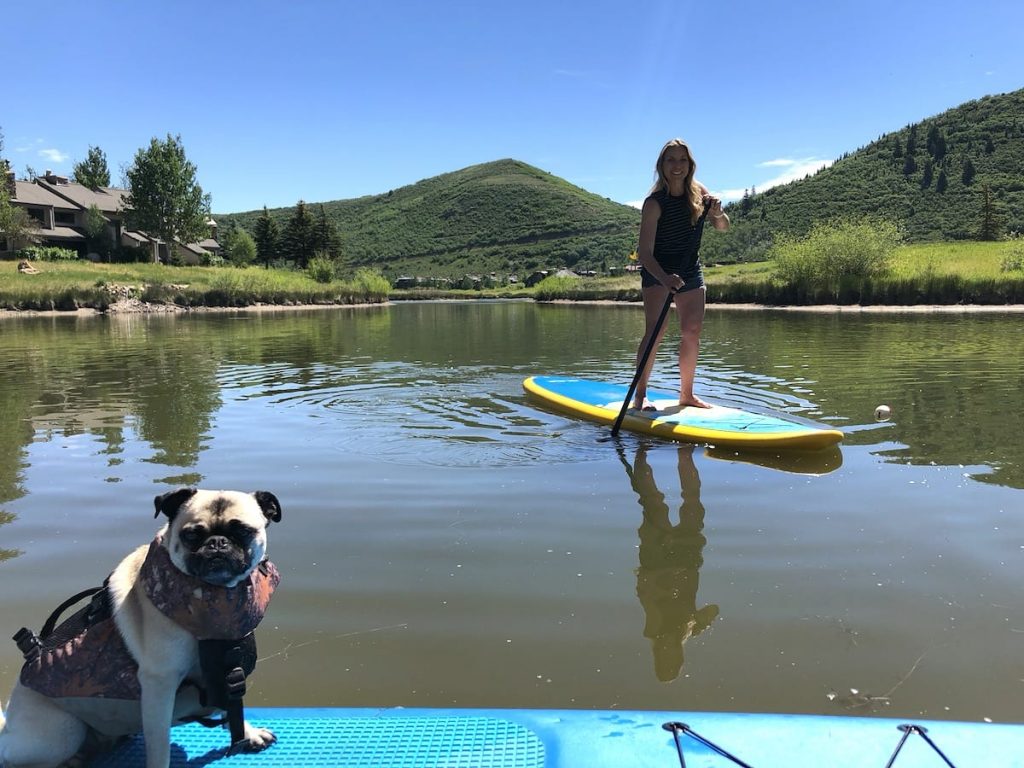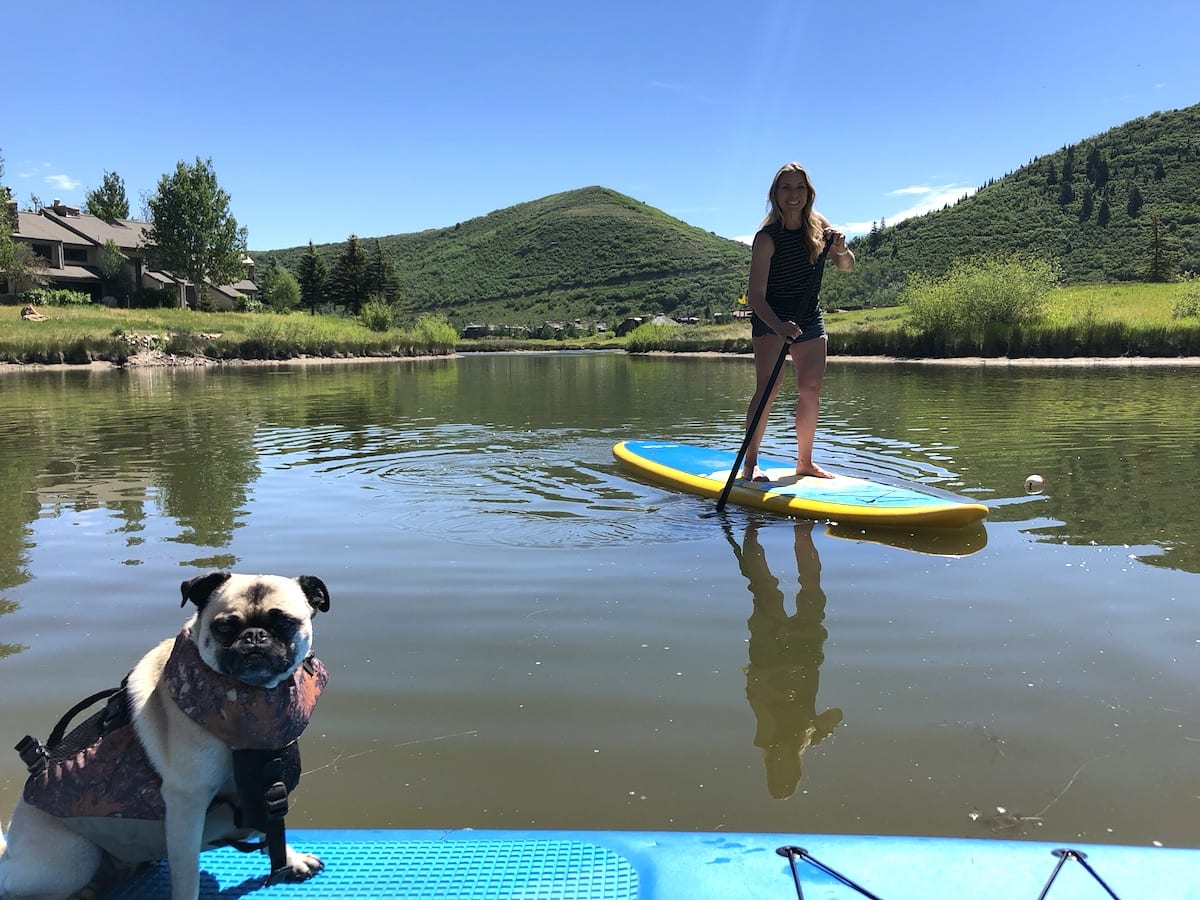 Right across from the Silver Baron Lodge is a large pond where you can do some Stand-Up Paddleboarding. It is a great place to do some paddleboarding as you can head out on the smooth water and enjoy all the views of Deer Valley. I loved paddle boarding here with the kids because since there are no waves it allowed the kids to really get comfortable with paddleboarding (unlike some of our previous attempts). You'll also love hanging out with the owner's dog at the Paddleboard shop who often sets out for some paddleboarding himself (the dog was too cute)
Enjoy a Summer Night Concert (FREE!) & Have a Picnic
When I asked the locals, "What they loved about Park City?" the one thing I heard over and over was that it wasn't just a mountain town for tourists, it was a real town with a real community. One of the ways you can experience this feeling of community is one of the 40 (yes 40) free concerts hosted by Deer Valley at the Snow Park Amphitheater. Grab a blanket or lawn chair and sit back and enjoy the show, it's a great place for kids to run around and play while parents relax.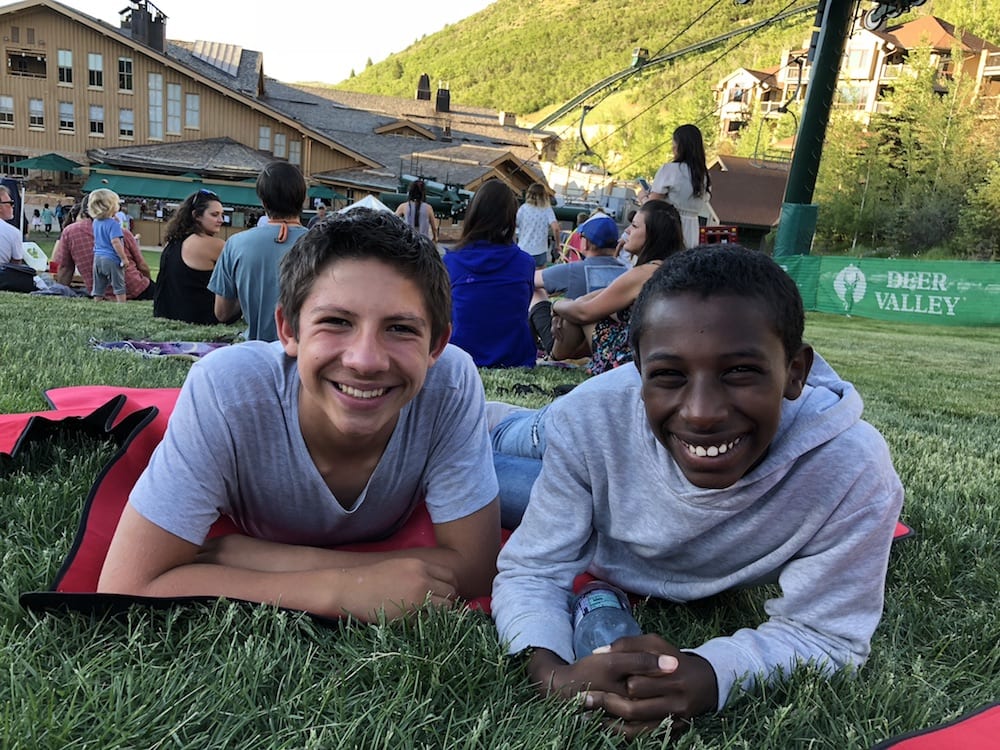 Pre-Order A Picnic
You can pre-order a delicious gourmet Deer Valley Gourmet Picnic Bag at diningtogo.deervalley.com. The meal includes delicious items like beet salad, cheese plate, chilled salmon, quinoa wraps, gourmet caramel popcorn and more. You can also order meals right from the concession stand.
Delve into some Archery
One of the highlights of our trip to Deer Valley was some old-fashioned archery. If you head over to the Montage in Deer Valley, you can schedule a time to channel your inner Game of Thrones and fire off some arrows. I have to say I absolutely love archery. It could be that it is something that I am better at than the rest of my family, but in reality, I just love the feeling of shooting off the arrow and nailing the target.
Our instructor, Mike, was super helpful at teaching the kids how to shoot and all were not only able to hit the target but also the bullseye. At the Montage, you earn a pin for different achievements and the kids were excited to receive one for hitting the bullseye.
Bowl it up!
After Archery at the Montage Resort, we headed inside the resort to a fun 4 lane bowling alley. I'll be perfectly honest, we were completely terrible bowlers that day, but the kids loved bowling it up while having some great food from Daly's Pub & Grill, which is attached to the bowling alley. I think the hit with the kids was their buffalo wings and root beer floats, while I was incredibly impressed with their Salmon. After bowling, the kids headed into the arcade where 4 people can play on PlayStations for free, plus they have 4-man Pacman, air hockey and more.

Enjoy Some Incredible Food –
Hey, you're on vacation and if you are in Deer Valley you probably love being active, but vacations are also about enjoying some great meals. Deer Valley has a couple restaurants that will knock your socks off.
The Brass Tag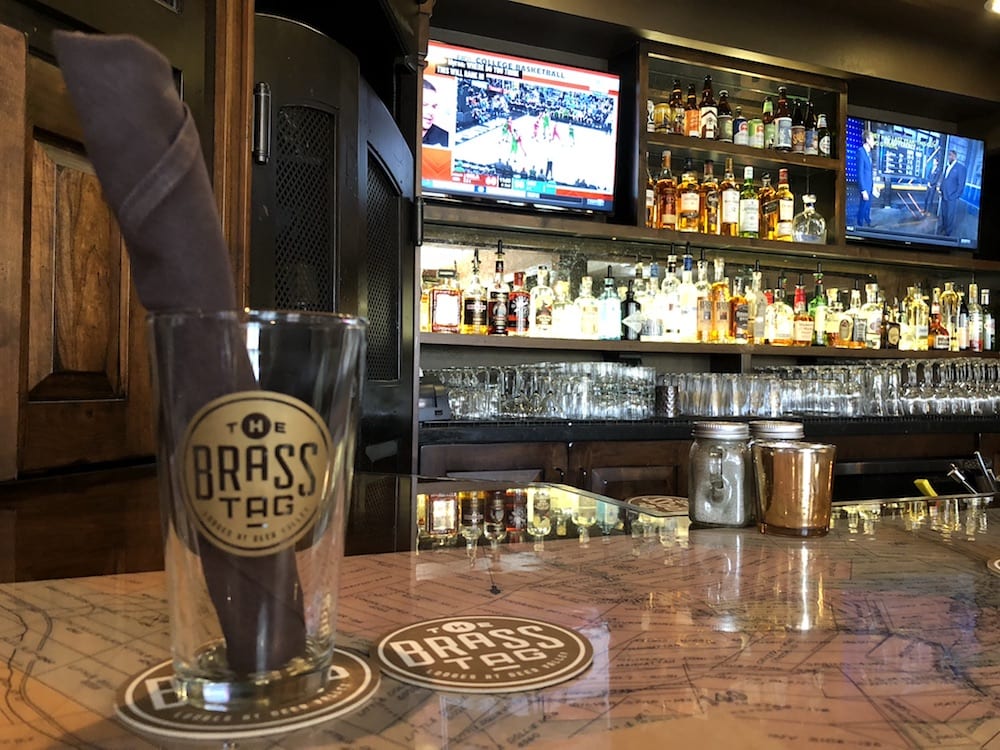 The Brass Tag is located inside Deer Valley Lodges. We headed there for dinner on our first night and it was quite a treat. It truly is a. great place for families as the kids' menu comes on a tablet, so after the kids look at the menu, they can play some preloaded games. We had quite a few intense rounds of Connect4. A couple things on the menu I loved was the hummus plate we enjoyed as an appetizer and the pork chop was simply incredible.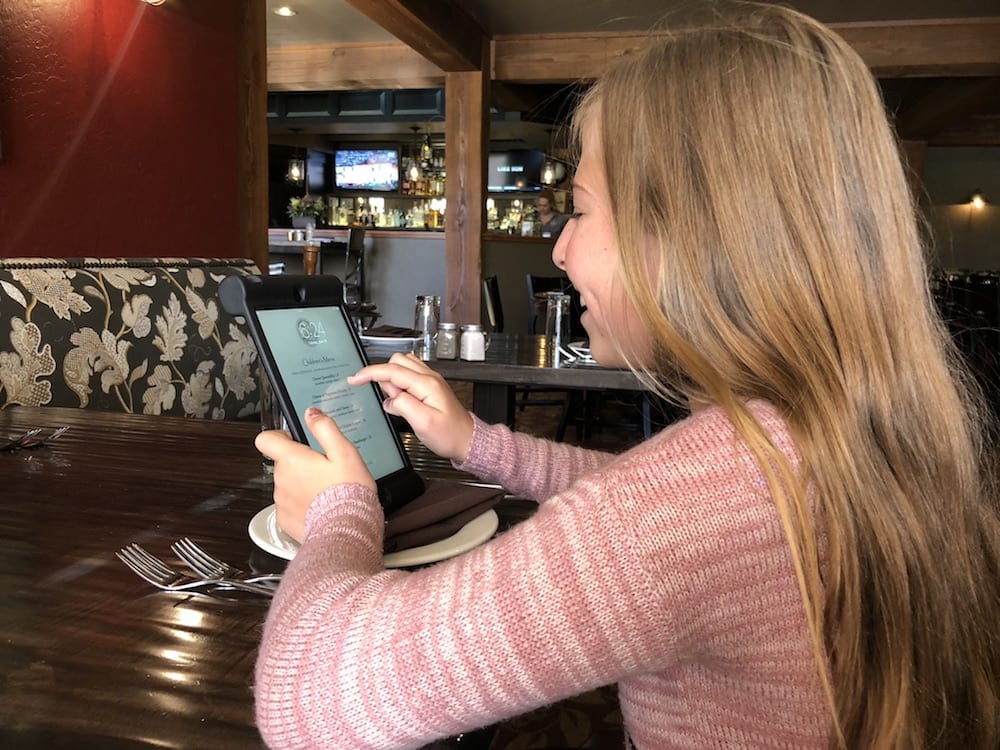 DEER VALLEY GROCERY ~ CAFÉ
The Deer Valley Grocery Cafe was quite a surprise for me. This little cafe which overlooks the Stand Up PaddleBoard pond has some of the best food in the area. In fact, we ate there three times on our trip. For Breakfast, their breakfast wrap and the avocado and beet toast are a great start to the day if you want something savory. But, the Dutch Baby which my son Shea had, was definitely the winner. Definitely a worthy Deer Valley summer treat.
At lunchtime, my husband enjoyed some of the world famous Deer Valley Chili, and I enjoyed one of their delicious panini sandwiches, while kids devoured the Chili Nachos and Pizza.
Overall, the thing I loved the most about Deer Valley was that it is the perfect blend of the classic summer vacation I used to have as a kid, with some amazing experiences. I loved the simplicity of the kids hanging out and skipping rocks in the pond or feeding ducks. Then the next moment you can be doing archery or be eating at an incredible restaurant. Deer Valley is definitely one of those places you will want to visit in the summer.
*This is a sponsored post in partnership with Deer Valley Tourism. However, all opinions are my own. Thanks for reading
You Might Also Enjoy:
Top 5 things to do in Moab Utah! Experience the beauty of Moab!
The One App EVERY Parent Needs to Download This Summer
Top 9 Incredible Things to do at Mall of America with kids
Pin for Later – Deer Valley Summer! – The Ultimate Guide to Deer Valley in the Summer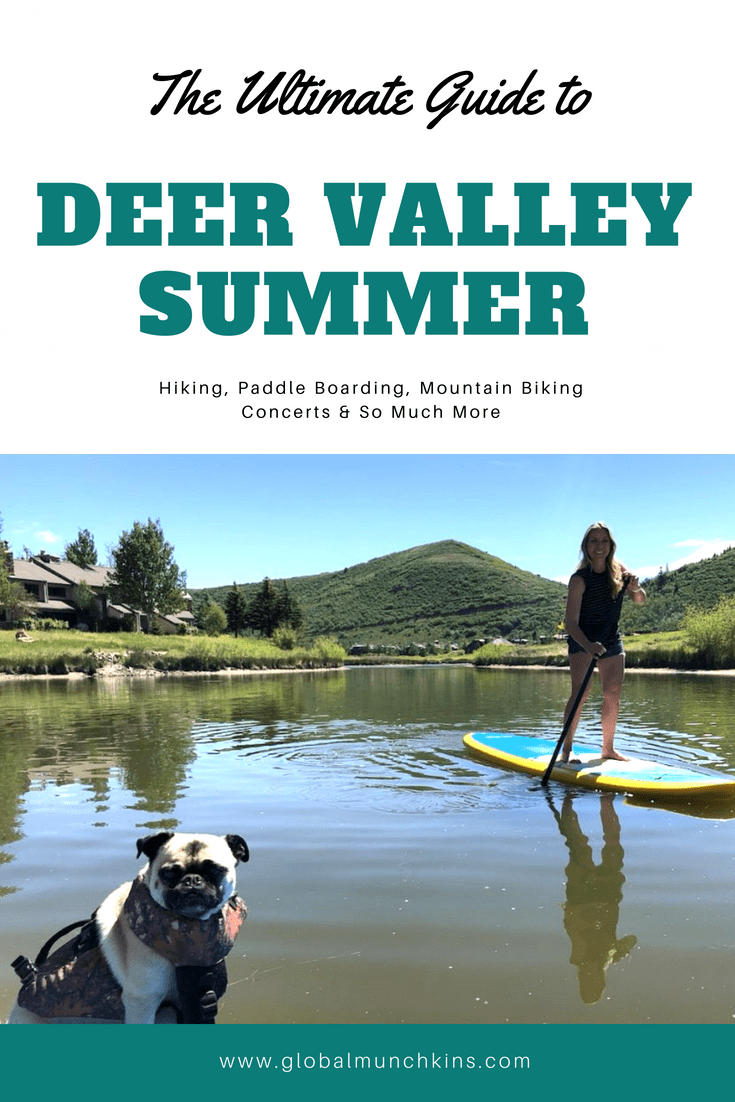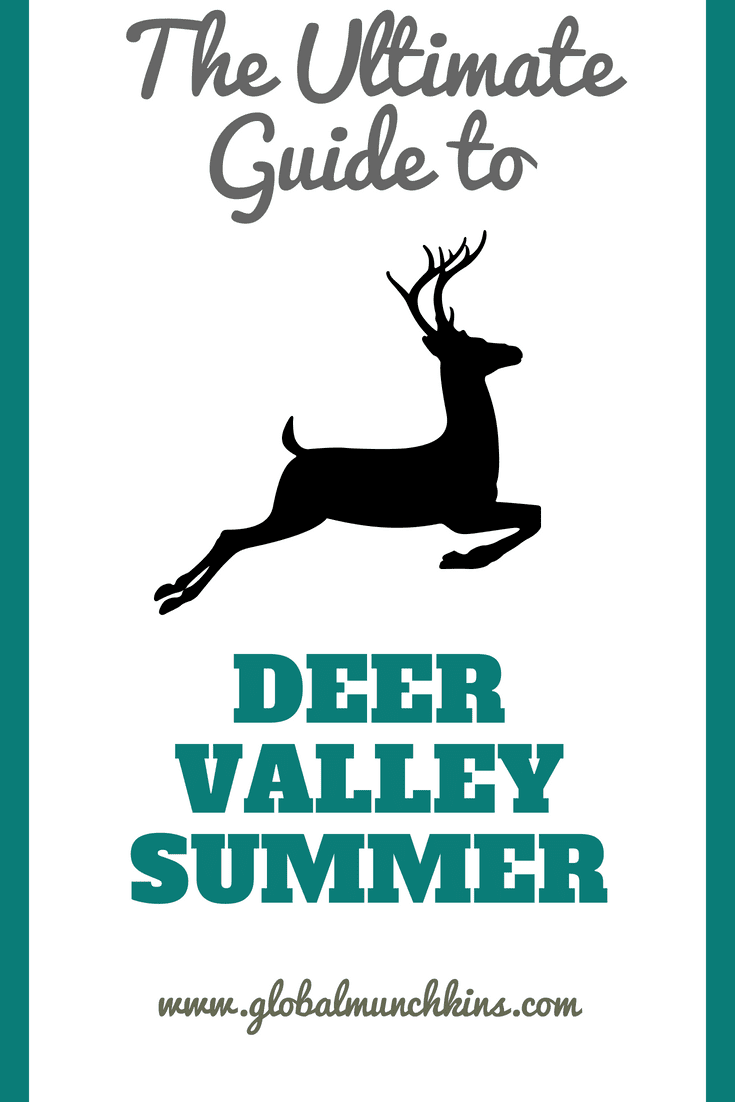 Latest posts by Mama Munchkin
(see all)