Looking for a family-friendly place near Disney World to spend your vacation at? Luckily, you have a few options. There are hundreds of different hotels to choose from, including Disney hotels, though many of them cost a pretty penny. In our opinion, nothing beats the perks of these vacations rentals with Airbnb Disney World options.
You get your own kitchen, unique decor, and maybe even a private pool to soak away the hot Florida weather!
---
Here are 15 of the top Airbnbs near Walt Disney World! Don't forget to check out our top 50 Disney World tips here when planning your trip and your stay in a vacation rental .
---
Luxury + Kid-Friendly Disney World Airbnb Options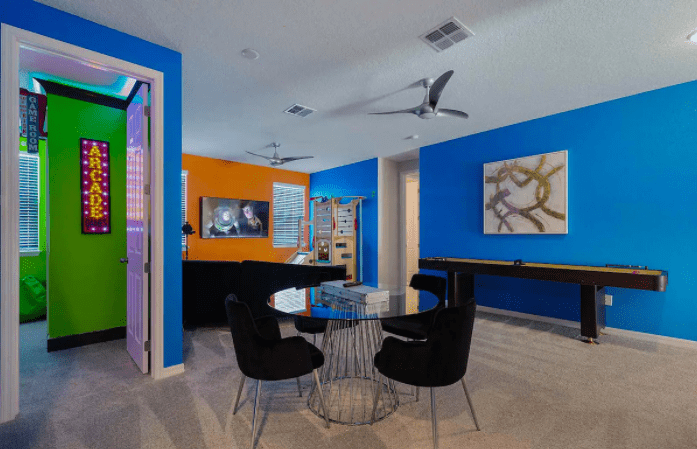 Yup, you read that title right!
This brand new Airbnb features cozy decor, multiple entertainment quarters, including arcade games and a movie theater, and of course, a private, screened-in pool for you to enjoy. The house sits minutes from the Solara Resort as well!
Make sure to check out their Incredibles themed room, which your kids will LOVE!
This spacious, seven-bedroom luxury villa is perfect for large groups of up to sixteen people! Star Wars lovers will love the decor and all guests will love the clubhouse, pool, and spa.
Watersong Resort is one of the premier gated resort communities in the area, perfect for those seeking out luxury.
If you truly want to spoil the whole family, we recommend taking advantage of this 26-guest home. With breathtaking features, including a fully equipped kitchen, a large, screened-in pool, foosball, air hockey, pool, and so much more, it will be your paradise in paradise.
The property sits on the luxury Solterra Resort and is right next to the Disney parks.
While you are at it, you might just want some matching Disney shirts for the family reunion!
This Airbnb is the perfect spot for large family reunions. It has nine bedrooms and is located on the Solara Resort, which provides families with tons of cool attractions, as well as a safe stay.
We are obsessed with the Toy Story themed room and we think your kids would love to lay their heads down in these beds right after a long and fun day in the parks!
The house is packed with a glow in the dark arcade, a heated outdoor pool, and a massive dining room.
---
Pirates of the Caribbean Homes
This pirate-themed home sits nestled in the Encore Resort and provides families with a one-of-a-kind pirate experience. The kids can sleep in a pirate ship and the whole family can enjoy a large, outdoor oasis, perfect for the warm Florida weather.
Some of the amenities include a home theater, a ping pong table, air hockey, foosball, and a private swimming pool and spa. We LOVE the movie theater and think it is perfect to relax and watch your favorite Pirates movie after a long day at the park!
Whether you are into pirates or surf culture, this Airbnb has it all. The home offers a private pool, spillover spa, and extended deck, as well as a large lanai for shade, a tiki bar, and a 110" projector screen for movies.
The garage has been converted into an incredible arcade room and upstairs lies a pirate-themed bedroom. The kids will also enjoy the VW van bunk bed! They will even have a blast crawling up to the pirate ship themed bed!
Families with gamers will love this Arcade Airbnb. It comes packed with a 60" television, a private pool and hot tub, and of course, a fully-equipped game room with a variety of arcade games, an 80" television, and an Xbox 360.
At the end of the night, you and the family can enjoy a movie on the 92" projection screen with surround sound and stadium-style seating.
---
Disney World Airbnbs With a Water Park
 If you're in search of family fun, we recommend staying at this Disney Vacation Villa. Some of the top amenities include a private home theater and an ESPN-themed game room.
The house includes five bedrooms, an exclusive backyard pool and hot tub, and of course, the free on-site 10-acre water park and kids club! There is even a Star Wars and Frozen themed room that your kids will love! Plus, every guest can enjoy a free theme park shuttle ride!
Luxury is the name of the game with this comfortable five-bedroom home. It comes complete with Disney-themed rooms, a spacious lanai, a pool and hot tub, and access to all of the
Encore amenities, which include the gym, waterpark, clubhouse, kids play area, restaurants, and more! There is also an adult pool and a few cabanas on site!
Just 10 minutes from the Disney parks lies this small, comfortable Airbnb, perfect for small families or couples. The property is lined with several cool features, including pools, waterslides, a basketball court, volleyball court, lazy river, gym, and more!
For those of you who are on a budget, yet still want to enjoy some water park amenities, this Airbnb is a great choice.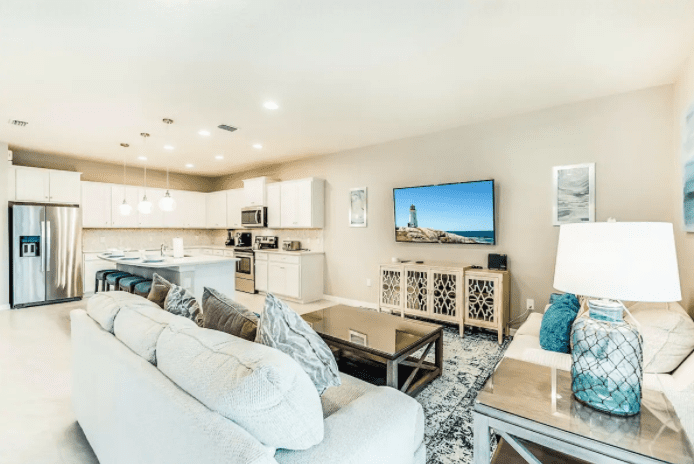 This movie-lovers home is an open-concept home with a state-of-the-art kitchen, spacious living room, huge patio and dining area, and a large, private pool with a spillover spa.
Of course, the movie lovers will first notice the massive 135" screen with two rows of leather reclining seats, perfect for streaming your favorite movies. We love the classic movie themed decor throughout the theater room!
The upstairs holds seven bedrooms and a fantastic game area as well. This home has truly everything you could want in an Airbnb.
For mom and dad, you will love the master bedroom ensuite! You can head straight from the downstairs bedroom to the pool. Plus there are two other rooms downstairs with king-size beds!
Hit the greens in this Encore Club home. This vacation home comes with a nine-hole putting green with nighttime lighting (and a touch of Mickey Mouse!), a themed-bedroom with 3D characters, a massive 75" 4kUHD television, a huge private patio with a heated swimming pool & spa, and so much more.
It sits within walking distance to the water park and clubhouse as well, perfect for a mid-afternoon escape.
Nothing says vacation like a trip to Margaritaville. This little cottage is equipped with just about everything you might need to vacation, including a massive dining area, multiple on-site bars, live entertainment, full-service cabanas, poolside service, and much more. Spend your Disney vacation with a drink in hand!
We have created so many magical memories in Disney World over the years, and we hope you and your family are able to do the same!
After the long days in the park, it is really important to have a sanctuary to come back to. These Disney World Airbnbs could all be just that for you! Now, all there is left to do is choose!
You May Also Like:
Easy Disney World Packing List [+ Free Printable Checklist]
Disney World Stroller Rental; What is the Best Option?
Universal Studios Hollywood Discount Tickets- 10 Easy Ways to Save!
EVERYTHING YOU'LL LOVE ABOUT THE DISNEY WORLD MONORAIL HOTELS
DISNEYLAND VS DISNEY WORLD! WHICH IS BEST FOR YOUR VACAY?