Islands of Adventure is definitely one of our family's favorite parks. The beautifully themed lands, incredible rides, and some pretty great food make it one of the best parks in America. We have been going to Universal Orlando for over 15 years now. In this guide, I will give you everything you want to know about Islands of Adventure rides, places to grab a bite to eat, and tips and tricks to navigating the park like a pro. Plus, we will give you a breakdown of the best rides in the park and when to visit them.
Best Islands of Adventure Rides for Adventure Seekers:
The Incredible Hulk Coaster
One of my favorite Islands of adventure rides is the Hulk. This is an intense coaster that sends you flying into spins, upside down and all around. While it may be intense it is one of the smoothest coasters I have ever been on.
(Make sure to empty your pockets in the Free lockers as no cell phones or bags are allowed on this ride)
Velocicoaster: Opening Summer 2021
I can't wait for Velocicoaster to arrive after how incredibly unique Hagrid's Motorbike Adventures is. Universal has really stepped out of making 4-D rides and is back to creating intense roller coasters that are incredibly themed. Check out the preview of the newest Islands of Adventure ride.
Hagrid's Motorbike Adventures:
Without a doubt, this is the most unique roller coaster I have ever been on. You sit down on a motorbike or sidecar and fly through twists and turns on Hagrid's motorbike. There are numerous surprises including going backward and a 17-foot drop out of nowhere (Tower of Terror Style).
*Pro Tip – Either line up first thing in the morning or go around 1 or 2 pm to get on this ride. It is new so the lines get long but at 6 pm they mark it at capacity and you will not be able to ride.
Doctor Doom's Fearfall:
This Islands of Adventure Ride is the ride the kind that really gets me. You fly up a 199-foot tower while your feet dangle and then get ready for quite the drop. Get your stomach prepared for this one!
Best 4D Islands of Adventure Rides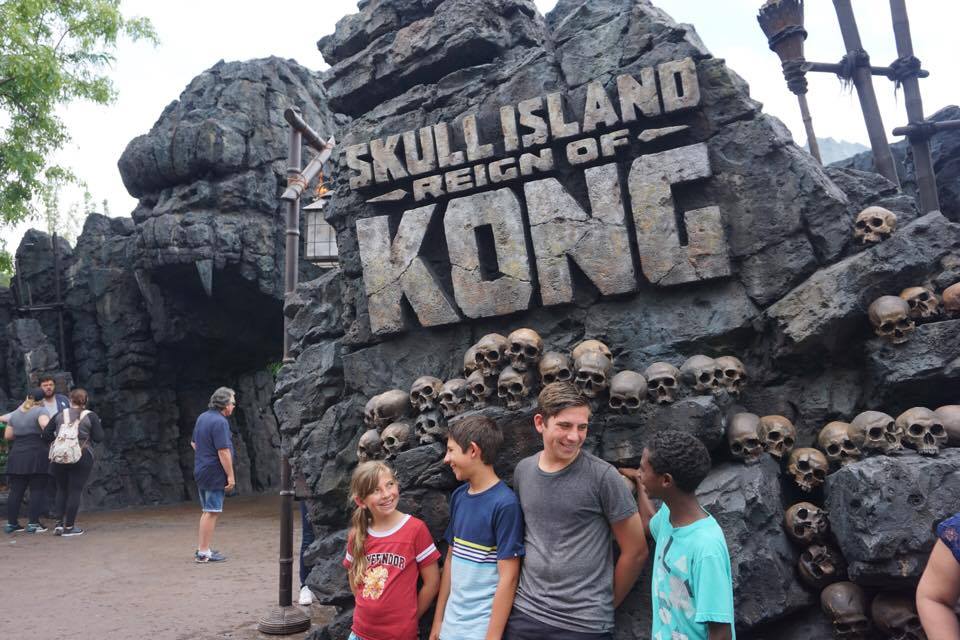 Skull Island Reign of Kong
This is by far my favorite 4-D ride in the park. You are taken into the jungle and run into quite the battle with Kong, Dinosaurs and all sorts of crazy creatures that will jump out at you.
Harry Potter and the Forbidden Journey:
The original ride that opened in Hogsmeade is a 4d adventure that has you flying around with Harry. This ride does tend to make people with motion sickness a bit nauseous, so be aware.
The Amazing Spiderman –
Get ready to fight Spiderman's biggest nemesis in this epic 4D ride. This ride is one of the original rides to include 4-D and it is still one of the best.
Hogwarts Express – Hogsmeade Station:
This is the best way to get to Universal Orlando from Islands of Adventure. (You must have a 2-Park Ticket) The Hogwarts Express train takes you from Hogsmeade Station to Diagon Alley. The train ride is pretty amazing and you don't have to walk. It's a must do.
Best Water Rides:
Popeye and Bluto's Bilge-Rat Barges:
My favorite water ride at the park but also by far the wettest ride in Islands of Adventure. You will without a doubt get soaked. The 12-person raft will have you battling white water rapids and get soaked by waterfalls and so much more. It's hilarious to see everyone's expressions as they get soaked.
Dudley Do-Right's Ripsaw Falls
This Dudley Do-Right ride is a pretty fun log ride that will send you zooming in and out of water falls. Be prepared to get slightly wet to very wet on this ride.
Jurassic Park River Adventure
This epic ride takes you through Jurassic Park, but not Surprisingly things go horribly wrong and the river raft ride ends with a battle to avoid raptors and a T. Rex as you fall into a giant pool of water. Be prepared to get slightly wet to very wet on this ride.
Best Islands of Adventure Rides for the Little Ones
Flight of the Hippogriff:
This family-friendly coaster is great for the little ones who may not be tall enough for Hagrid's or the Forbidden Journey.
One Fish, Two Fish, Red Fish, Blue Fish:
This ride is the must-do ride of the land in my opinion. It is your classic Dumbo style ride but on this ride you have to maneuver your fish up or down to avoid being hit by water.
Caro-Seuss-el:
This interactive carousel has Seuss-themed mounts and music. It is a super cure carousel that actually the whole family loved as you can move and play with the characters you are riding on. (Fun Fact: my husband split his pants one time getting on this ride, so be careful as you might end up like him racing back to port of entry to buy new shorts.
The Cat in The Hat
The Cat in the Hat is a fun spinny ride though the story of the Cat in the Hat. Hold on to your glasses and cameras as this ride will surprise you as we have almost lost our camera on the ride.
The High in the Sky Seuss Trolley Train Ride:
This is a relaxing ride that will take you around Seuss land and give you some great views of Islands of Adventure as you are taking a train on an elevated track.
Storm Force Accelatron:
This is a spinning ride based on X-Men superhero Storm. This ride is a great option if you have little ones not big enough for Hulk, Dr. Doom's Fear Fall or Spiderman.
Pteranodon Flyers:
Located in Camp Jurassic, Pteranodon Flyers has your kids flying over Jurassic Park. This does not allow for Express pass, but there is a virtual queue which is nice.
The port of entry is where you step into Islands of Adventure. While this area is often overlooked because it lacks rides. There are tons of fun shops and great food here to explore. This is also where you can find guest services and wheelchair, stroller and ECV rentals.
Pro Tip – Use the guest services inside the park if you can, the one outside tends to get quite the long line.
I personally love Toon Lagoon. There are a ton of fun places to take pictures, there is some decent food to grab a bite and it is home to some ridiculously fun water rides.
More fun in Toon Lagoon Fan Secrets
Me Ship, The Olive: Play area, great for little kids who can't ride Popeye's or Rip Saw Falls
The second deck of the Ship has free water cannons that can be used to spray people who are riding Popeye and Bluto's Bilge-Rat Barges.
Photo Opps – Like I said earlier Toon Lagoon is filled with great photo opps.
Pin for Later – Islands of Adventure – Ultimate Guide to Rides, Dining + Tips & Tricks