Truth be told Rome is one of my FAVORITE cities in the world. It has absolutely everything- culture, history, architecture, art and some of the BEST food on the planet!! So, it is no wonder I would highly recommend families to travel to Rome with kids in tow. And, with so many ancient buildings still standing it is one of the few places you can visit where ancient history meets modern day times right before your eyes. This spectacular clash will fascinate and excite your children igniting a lifelong love of learning. Plus, the fact that pizza and gelato are available on every corner works great when you need to bribe them for one more picture in front of the Colosseum- ha!
5 Reasons You Need To Take Your Kids to Rome
1 Teach Your Kids to LOVE History
The eternal city was founded back in 753 BC although some will claim it existed nearly 100 year prior to that. Walking amongst the ruins today allows us to imagine what life was like when this magnificent city was the epicenter of civilization. Kids will be fascinated to learn that the Romans were the ones responsible for things like paved roads, concrete, arches, the Julian calendar, sewers, aqueducts, newspapers and welfare for starters.
To get the most out of this incredible experience with your kids I recommend taking a guided tour. Both Walks of Italy and Overome have wonderful family friendly tours that will educate your kids on the expansive history that surrounds them while in Rome. I still am amazed by what my kids learned from our trip 18 months ago! There is just something special about hands on experiences. They take children way deeper than those pages on their textbook ever could.
Checking out the Pulley System that was used at the Colosseum
Exploring the Aqueducts
2 A Lesson in Culture
That look from the waitress in the background… it says everything. The Italians they are loud, proud, happy, passionate people who happen to LOVE KIDS!!! I don't think we visited any shop, museum and restaurant where my kids did not receive preferential treatment. It practically behooves you to bring them just for that reason alone- ha! And, the Italians love for living the "dolce vita" is so captivating your kids will totally soak it up. I think just hanging out listening to music in Piazza Navona is one of my all time favorite memories with my kids. Check out a glimpse of that experience in the video below.

I also believe that transitioning into the Italian culture is one that is quite easy for children. Most Americans are familiar and actually quite fond of Italian food. Kids most likely have some idea of what Rome looks like thanks to movies like Lady & the Tramp and several others like Lizzie Maguire and the Olsen Twins that were all set in Rome.
3 The Food is Fantastic & Kid Friendly
Unlike traveling to places like Ethiopia and Vietnam where your kids will turn their nose at almost every dish. Italy is filled with your kids favorite dishes. And, the best versions of them at that!
Fresh Handmade Pasta in Trastevere (read about my family friendly food tour in Rome here)
Tons of Pizza
Adults will enjoy their Pizza with a traditional Orange Spritz (cocktails are always helpful when traveling with kids)
Gelato on almost every corner (great for bribes)
I mean really… kids and adults can't get enough!!
4 Teach them about the Arts
As you walk through the streets of Rome with kids in tow you will find that art is EVERYWHERE. Home to many Renaissance artists your children are familiar with such as Michaelangelo, Raphael, Da Vinci and Donatello. Rome is an easy place to ignite a love for art within your children.
Especially, given that so many schools in the US these days have made massive cuts to their arts programs. The ability to expose your children to this important element is crucial.
Checking out an ancient mosaic that once lined the walls of the Colosseum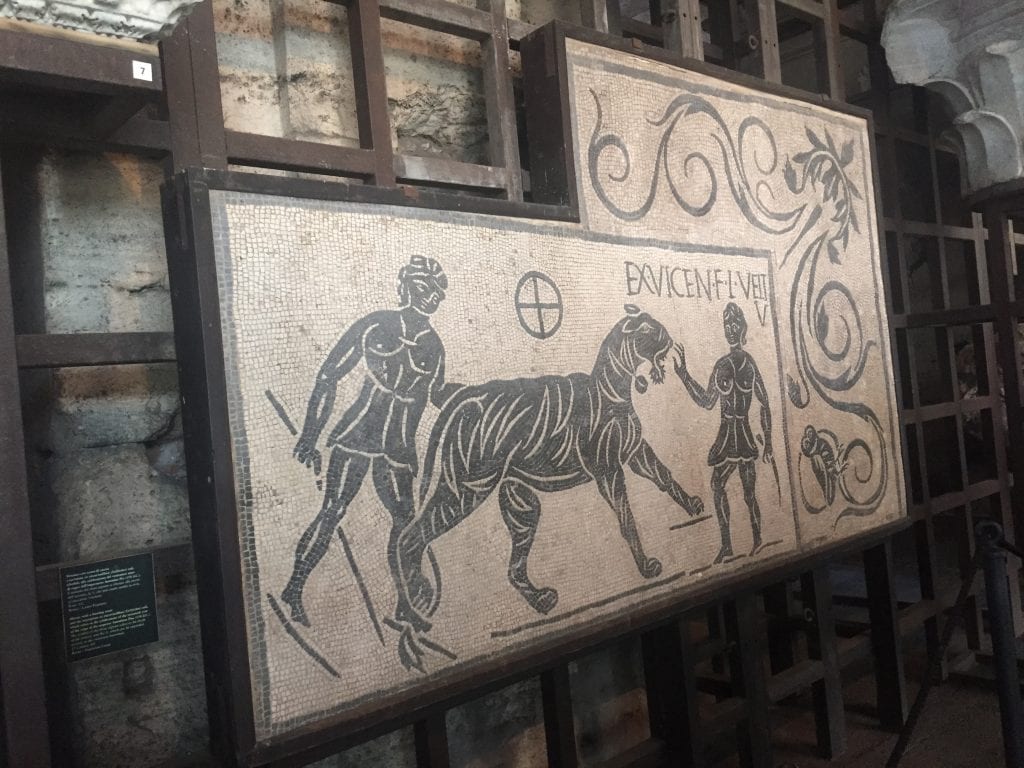 Admiring Street Artists
5 And… Rome is SUPER FUN!!!
I mean overall Rome is an incredible family friendly destination. All the ancient ruins, works of art and incredible food make visiting Rome with kids in tow an incredible experience. I will never forget watching my son's admiring the massive scope of the colosseum or attempting to drink from the many fountains around the city. Seeing my daughters face when she first noticed the engraving of Romulus & Remus on the trash cans around Rome and listening to her tell me all about the story she had learned in school about those two famous twins who are known as the founders of Rome. And, eating our weight in the best pizza and gelato of our lives!!!
pin for later-
ps- if you enjoyed this article check out our travelogues from Rome here & here + learn how to pack a carry on for 2 weeks in Europe here.
What is your favorite family friendly destination??