The infinitely sunny Los Angeles offers so many sights and activities for traveling families. From the beaches to shopping to theme parks to museums and even some exquisite dining, this city is always bustling with new things to explore. The only difficult thing is figuring out how to fit all of this incredible city into just one trip. Here is a Los Angeles Itinerary just for you that hits all the important stops + some extra cool ones, too!
Los Angeles Itinerary
Important Tips When Visiting Los Angeles
Pick One Area and Stick to It- It is important to remember that the Los Angeles metro area stretches far and wide, with different communities and cities that all have their own personalities. It is best to plan ahead of time and hit everything you want to see in one area rather than going back and forth between different stops. You will see that this is how we have divided up our Los Angeles itinerary below as well!
Rent a Car or Be Prepared to Use Ride-Sharing Services– Public transportation is not really an option in Los Angeles and if possible the best scenario is to have a rental car. However, even with the car, you need to account for time in traffic. It is inevitable in this city, download Waze and take the best routes. Bring entertainment for little ones!
Spring and Fall are the Best Time to Visit– Southern California is known for being beautiful all year long, but my personal favorite times of year are Spring and Fall. The weather is absolutely perfect and mild during these two seasons. Plus, the city is just a bit less crowded.
Don't Forget Your Street Smarts- This goes without saying, while the places visited by tourists are generally very safe in Los Angeles, you don't want your vacation ruined by a pickpocket!
Consider the Go Los Angeles Card– You can experience Los Angeles without heading to attractions that charge an admission price, but if you will be hitting spots like Universal Hollywood or the LA Zoo and Botanical Gardens then you should definitely look into purchasing this card. It offers a lot of flexibility and up to 55% off retail prices of 30+ attractions. Purchase yours here!
Los Angeles Itinerary Day 1- Hollywood
Morning
We will start you off with the classic landmarks and attractions in Central LA, essentially Hollywood. Get breakfast and then hit the popular attractions around Hollywood Boulevard; the Hollywood Walk of Fame, El Capitan Theatre, Guinness Book of World Records Museum, the Hollywood Museum. This will probably be the part of your trip that feels the most touristy but it will be well worth it to see these awesome spots!
Your kids will enjoy the Hollywood Walk of Fame best if you can find stars they know, so I recommend doing a little research beforehand to find out where their favorites are! Don't worry though, there are plenty of modern-day stars to find alongside the classics.
Breakfast Spots to Choose From:
Bolt: A great spot for coffee and a quick bite. They describe their menu as "casual but thoughtful" and I think that's the perfect way to describe it!
Cafe Gratitude: This is a vegan and vegetarian brunch spot that serves up absolutely delicious dishes. They are all about promoting health and sustainability, which I would say is a great way to start the day!
Egg Tuck: If you are looking for an incredible breakfast sandwich, this is the spot. Just keep in mind, you order right off the Ipad so it isn't really a sit-down experience with service.
Afternoon –
Next stop on your Los Angeles itinerary, head to the Hollywood Sign and Griffith Park Observatory for a little afternoon walk. It is best to hit these spots before the crowds descend upon them in the evening for the sunset. In my opinion, the view is better in daylight anyway.
First off, stop at the Griffith Observatory which is a starting point for many hikes in the area and is easy to get to. You can visit this planetarium even if you do not feel like hiking. Plus, there are plenty of lookout points around the observatory where you can snap a great photo.
The hike all the way up to the top of the Hollywood Sign is somewhat steep, so I would not recommend doing it with young children. Plus, once you get up there the view is better of the city than the sign as you can only see the back.
Hollywood Sign Viewing Spots:
Lake Hollywood Park
The Deronda Gate (at the intersection of Deronda Drive and Mulholland Highway)
Hike from Bronson Canyon (You can also hit up some cool caves, but this hike is about 3 hours round trip so plan accordingly!)
Evening – LACMA
By the time you have experienced all that Central LA and Hollywood have to offer, you are probably feeling pretty beat. Take your time seeing everything you want to see in this area even if it takes you into the evening. I do recommend stopping at the Los Angeles County Museum of Arts (LACMA) to see the popular Urban Light installation. It is absolutely gorgeous once the sun goes down.
If you are visiting during the holidays, be sure to head to the LA Zoo for their holiday light display. It is not only beautiful but a great way to spend an evening with kiddos in Los Angeles.
Los Angeles Itinerary Day 2- The Beaches
Morning & Afternoon
After a day of exploring the landmarks, you are probably ready for some time under the sun and palms. One of the most beautiful beaches to visit in Los Angeles is Santa Monica, which is why I recommend making it your first beach stop. You can find all the amenities here and there are even some cool jungle gyms in the sand for the kids to play on.
Another option is to head to the infamous Venice Beach. The boardwalk here is the best place to people-watch in the whole city and it is a great place to grab a souvenir or watch the sunset. If you make it to Venice by the afternoon, it is also worth walking around the canals and colorful houses.
Evening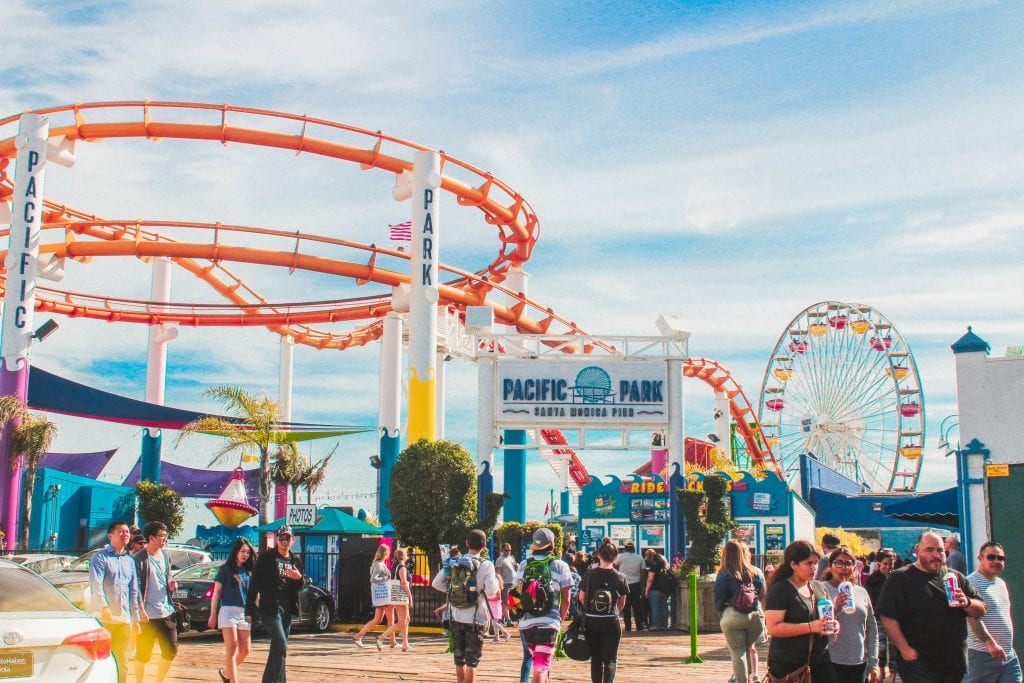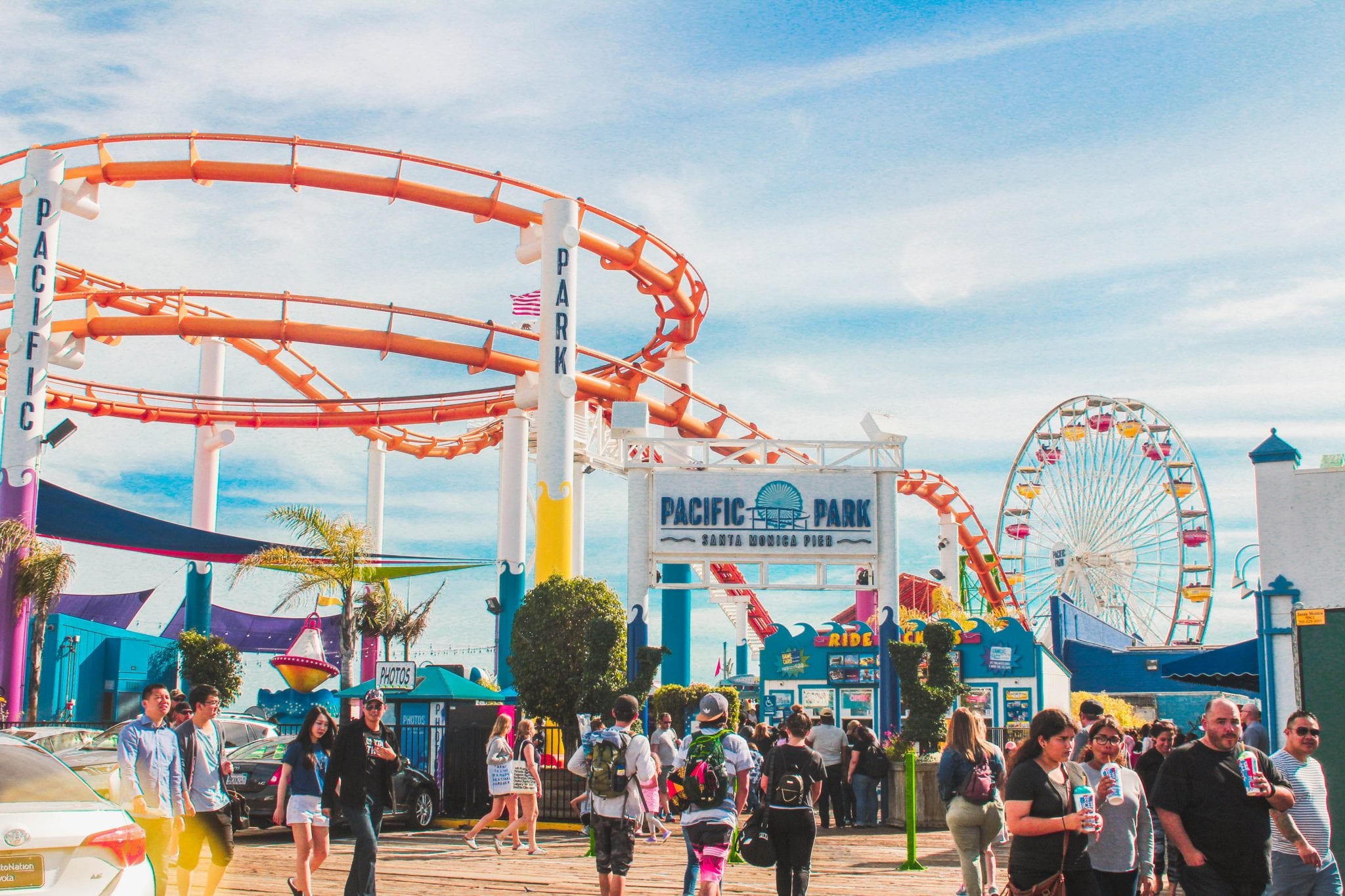 Start your evening by getting your shopping on at the 3rd Street Promenade in Santa Monica and then head to the Santa Monica Pier for a night filled with carnival rides and delicious sugary snacks. Pacific Park is like a mini theme park with a Ferris Wheel, roller coaster, and various carnival-type rides. This is definitely a must-have on your Los Angeles itinerary when traveling with children!
Los Angeles Itinerary Day 3- Downtown
Morning – Downtown Los Angeles
Last but not certainly least on our 3-day itinerary, you will finally make it to Downtown Los Angeles. We recommend a couple of things here; taking a walk down Olvera Street, visit the LA Fashion District, relax in Grand Hope Park (with the cool giant dog statues), or stroll through the James Irvine Japanese Gardens (free entry!).
This part of the itinerary is where you will really get a feel for the city and the melting pot of people that makes Los Angeles so special.
Afternoon – Getty Center
The Getty Center is a great place to spend an afternoon. The museum is massive and spreads across several buildings and the grounds. They got something for every type of art lover and even the kids will love exploring the outdoor gardens and fountains.
Evening – OUE Skyspace LA
Say goodbye to Los Angeles among the stars at the OUE Skyspace LA. It is a high rise with interactive experiences, but the coolest thing is the open-air observation deck and glass walkway. There is no way to get a better view! If you are extraordinarily brave, there is also a slide on the exterior of the building which will take you racing 1,000 feet above Downtown Los Angeles.
There are a couple of experiences available, learn more about them out here!
Adding Additional Days to Your Los Angeles Itinerary
If you have an additional day with no plans, I recommend taking a drive up the PCH. You will wind along the coast and eventually hit Malibu, where you can drive around and see some beautiful homes. Then, stop for lunch at Malibu Farm. I highly recommend asking for outdoor seating, it is out on the pier and one of my absolute favorite spots! If you continue on, you can also hit our new favorite beach city; Oxnard!
Chances are you are visiting the Los Angeles area for some specific reason. Many people come here for Disneyland and Universal Studios Hollywood or to attend a sporting event. Any of these things will take up a whole day or more, so adjust the above itinerary to work for you accordingly. Be sure to grab your discount Disneyland tickets here or discount Universal tickets here!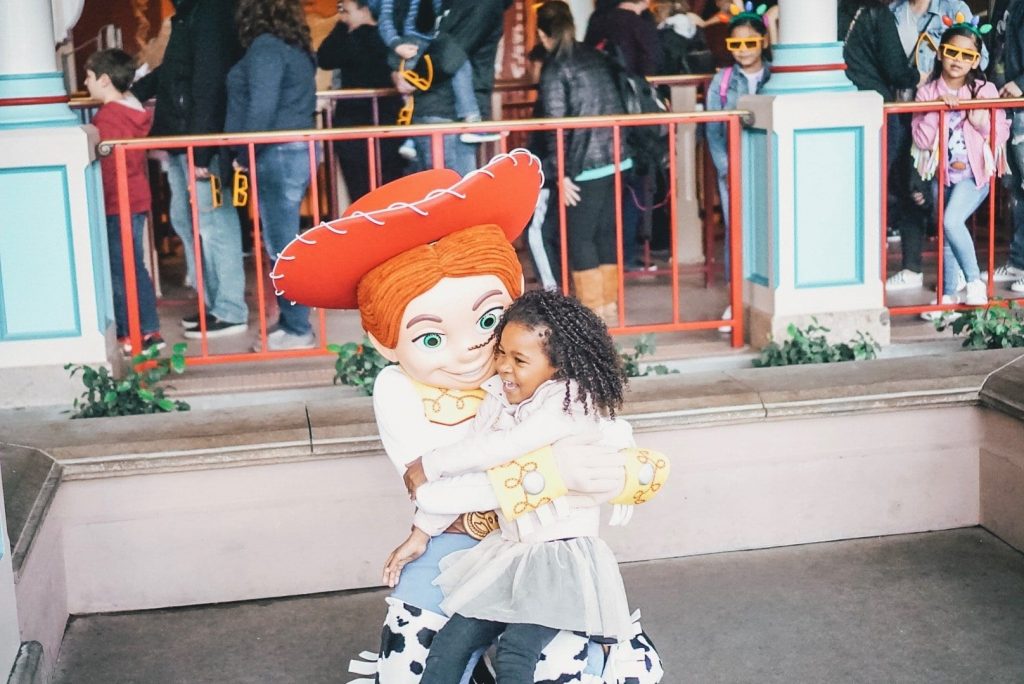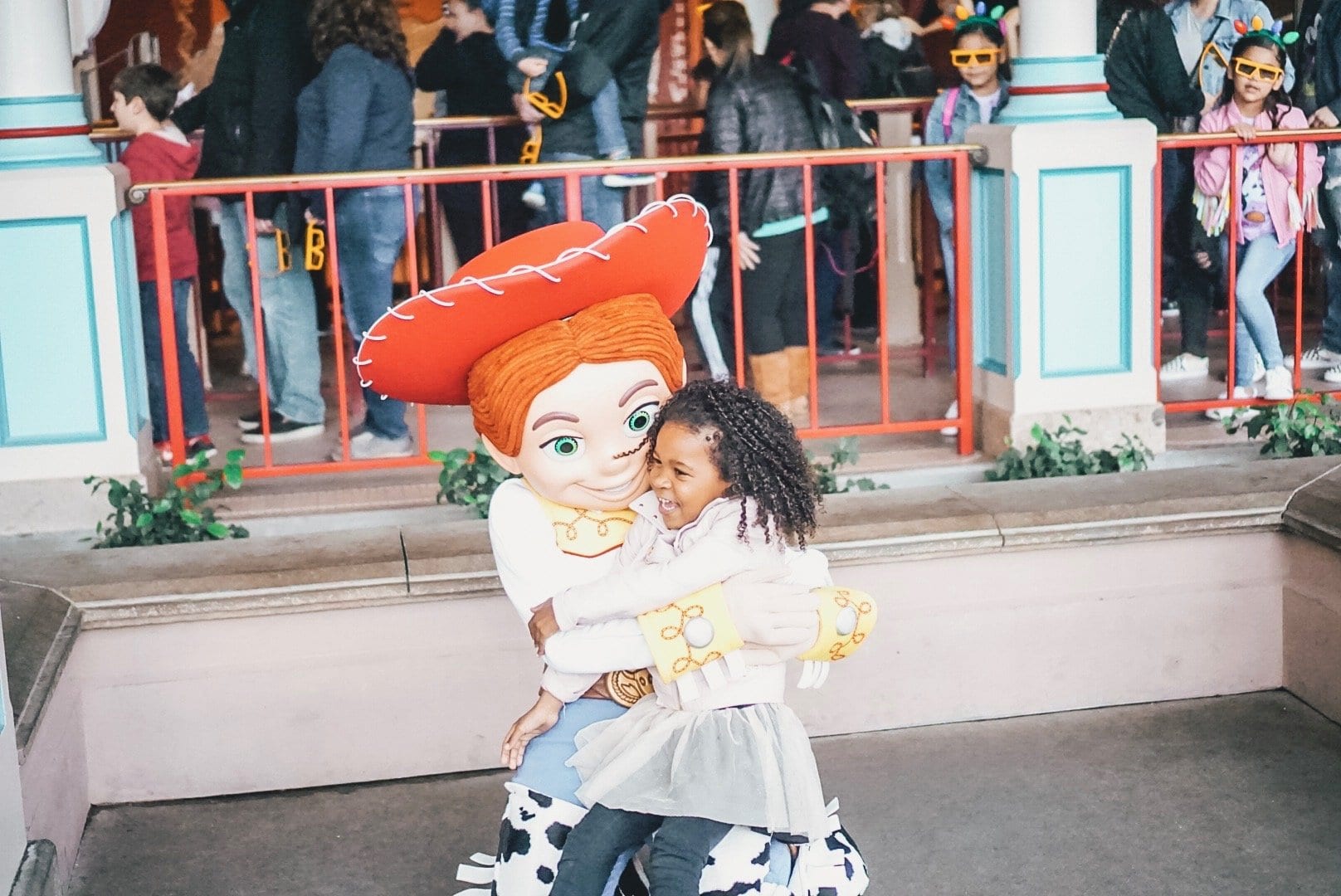 I hope you have the time of your life in the City of Angels! It really is an incredible city to experience, especially as a family. Not to mention, you will never run out of things to do or delicious food to eat.
You May Also Like:
Top 30 Amazing Things To Do in Anaheim Beyond Disneyland
The Best Things to Do in California- 15 Amazing Stops!