Finding the perfect place to spend your family vacation can be a daunting task. So, when I come across kid-friendly destinations that I think are incredible finds I get super excited to share them. In the last few years we traveled a ton (48 trips total) and while each trip was amazing in its own unique way, here are the following 15 Best Places to Travel with Kids. Get ready to take notes, these places are an absolutely amazing adventure with kids.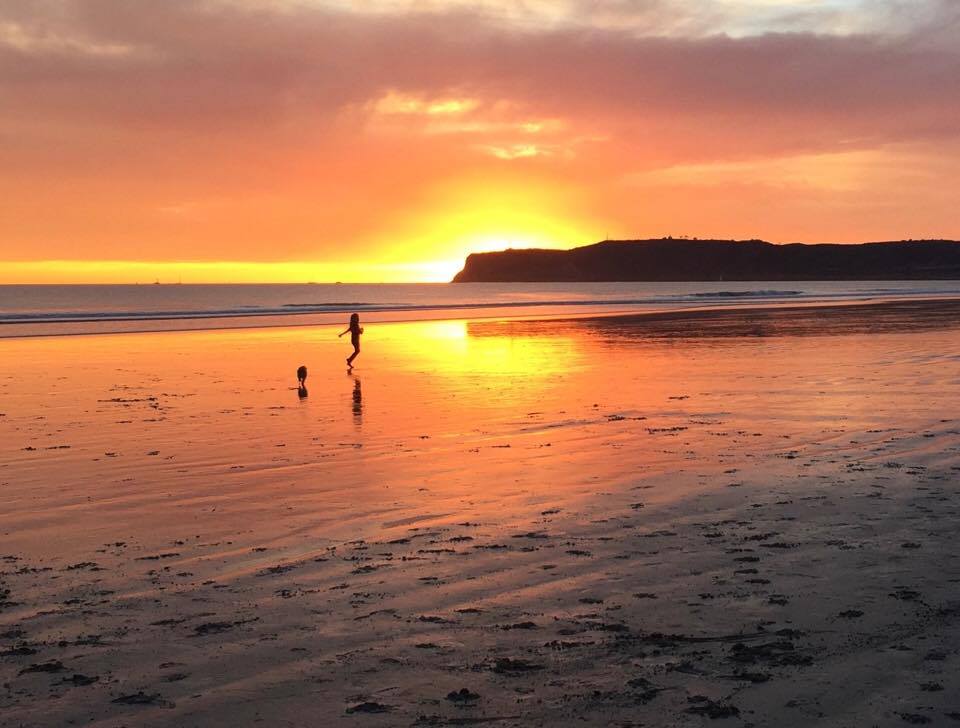 Best Places to Travel with Kids – International
Maldives
This is probably the best place we have ever traveled with our kids. Yes, coming from the United States, the travel is far, but man is it worth it. The water is incredible, there are so many activities you can do in the ocean alone as the snorkeling is some of the best I've ever experienced. Plus, you'll be experiencing some world class resorts.
Once you arrive in the Maldives, you will realize the people are amazing. The people are kind and always trying to make your stay on the island a great experience. We stayed at the Soneva resorts and it was the most incredible place on earth. The food is amazing, the activities are incredible and they have an amazing kids club. Check out my full review here.
---
Prague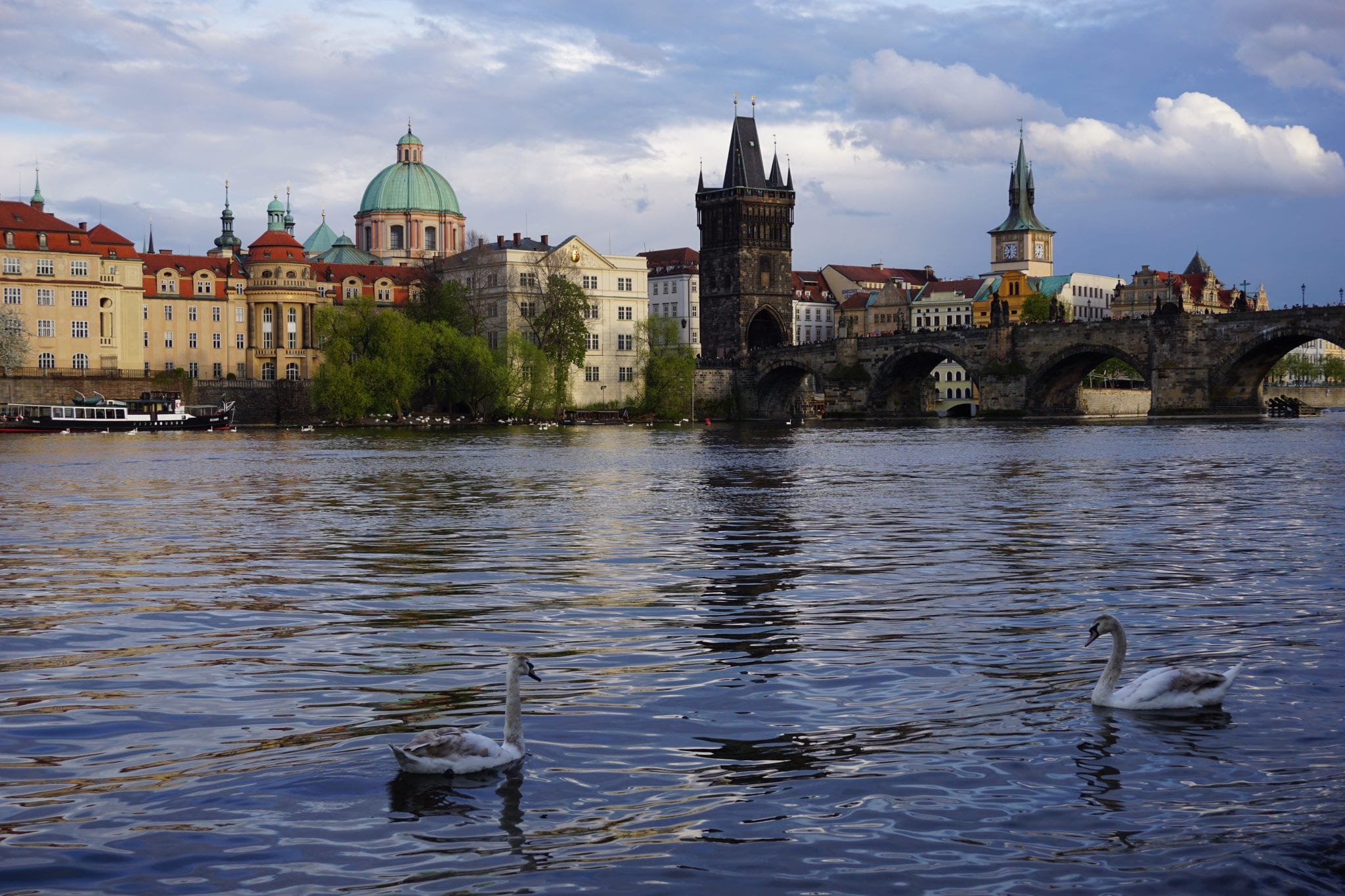 Your kids will easily fall in love with Prague's fairytale landscape, gorgeous medieval architecture, warm people, awesome outdoor playgrounds and weird art. It's like a real world Disneyland of sorts.
Plus, parents will love the amazing public transport, budget friendly accommodations, cheap food, and pivo (that's Czech for beer). Which is why Prague is my #1 destination of 2016.
Make sure to see The Charles Bridge from every angle, eat your weight in ice cream from Angelato's, check out the Prague Castle, take this Food Tour, climb the clock tower in Old Town, visit St. Vitus Cathedral (and the tiny village that is there as well) and find a secret garden. Grown ups should also try drinks at Hemingways and join in on any singing that takes place in a pub (also kid-friendly).
You will also want to stay at this charming hotel right next to St. Nicholas Cathedral. It has fantastic room option for families, an included breakfast, a trolley stop right outside the front doors and its located within walking distance from the Charles Bridge!
---
Rome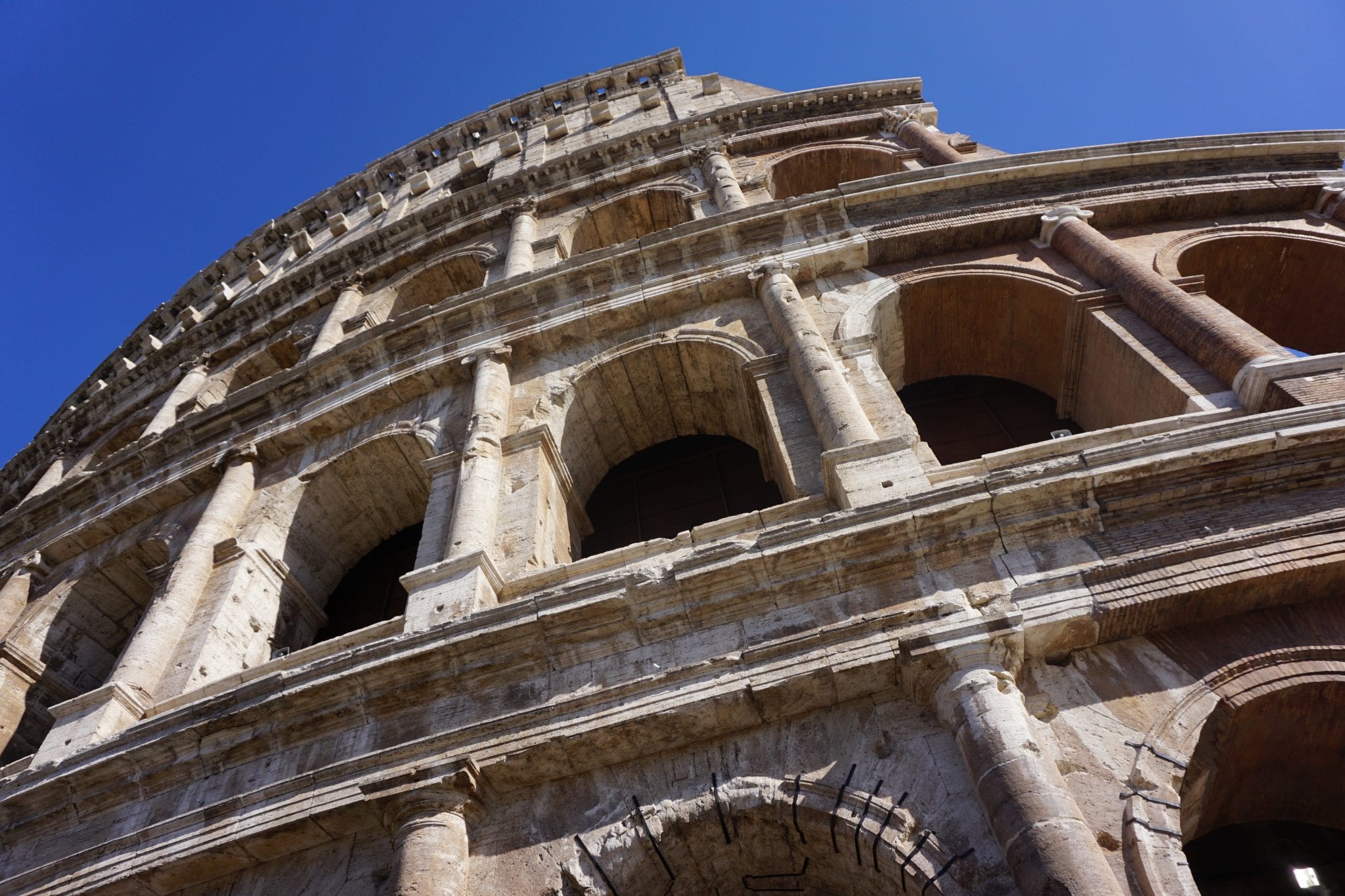 Okay, yes, you probably hear this one a lot. But, seriously as touristy as it may be Rome is one of my absolute favorite cities in the world and guess what? It's perfect for kids too! The passion Romans have for their wine, cheese, pasta… okay all food items, their women, their family, their culture and their history.
It's contagious and you cannot leave there without a piece of your heart yearning to return. Some of my favorite things to do in Rome with kids include taking a tour of the Colosseum with Overome, eating more pizza, pasta, and gelato than one should consume. Also, trying the most amazing local dishes, getting a taste of Roman culture, walking around the local fruit and veggie markets, and drinking wine in a wine cellar older than the Colosseum on this food tour.
Also, don't miss tossing a coin in the Trevi Fountain, visiting the Spanish Steps, hanging out in Piazza Navona and relishing in the live music and entertainment. Although, I don't recommend eating in the piazza. Instead, be sure to walk down an alley a block or two away to find better food at way cheaper prices.
[bctt tweet="Top 10 Kid-Friendly Destinations to help you plan your 2017 Family Travels! #familytravel" username="globalmunchkins"]
Cancun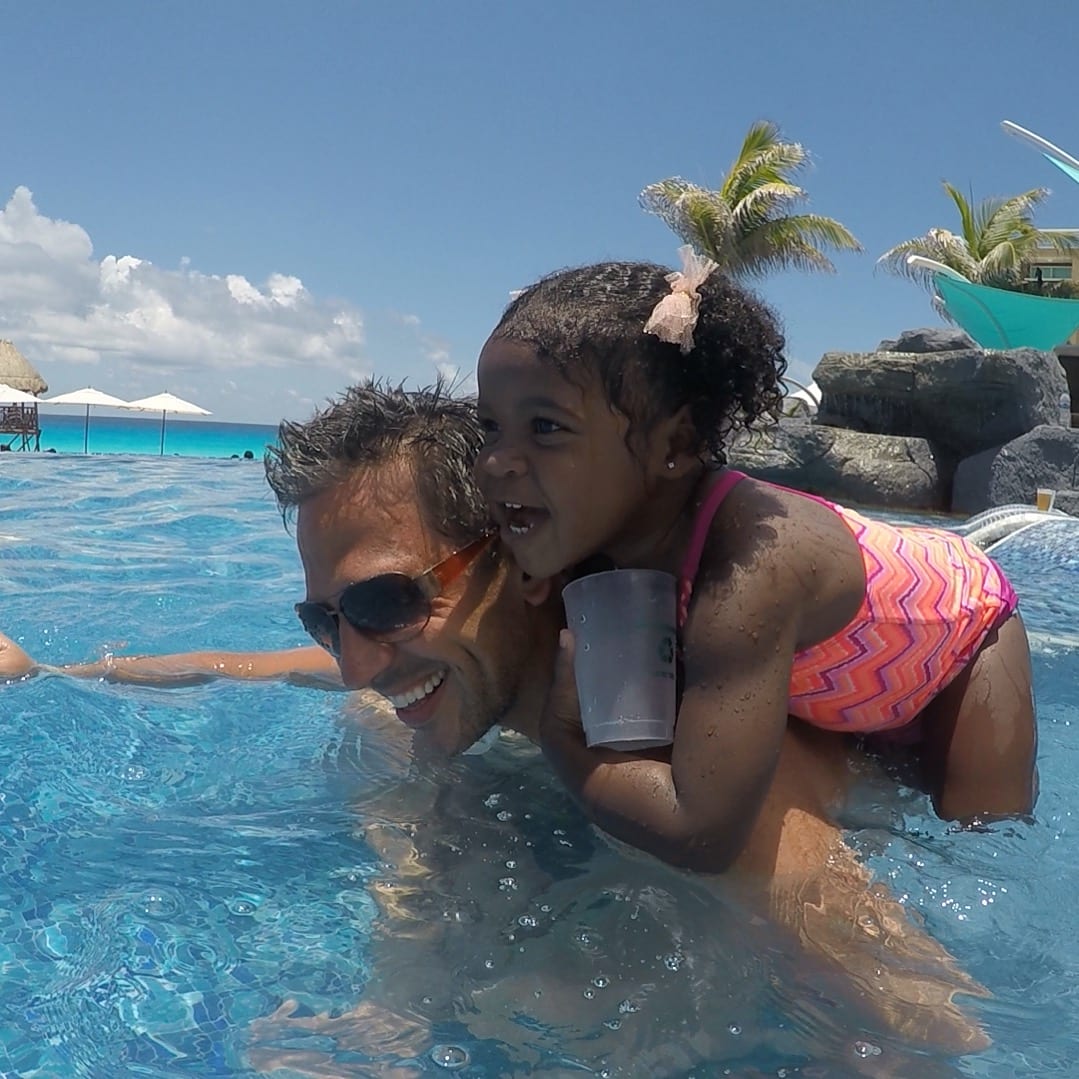 Last year I learned that Cancun is NOT just for college kids on spring break. In fact, it could be argued that Cancun has some of the best resorts and activities for traveling families. We stayed at the Hard Rock Hotel while we were there and it 'Rocked Our Vacation', pun totally intended.
With the fastest, most delicious 24-hour room service, huge hot tub smack dab in the middle of every room (our kids thought they were rock stars), top notch service, amazing restaurants, first class cocktails and more kids activities than your kids will be able to handle.
It was one heck of a resort! Cancun also was where we experienced Xel-Ha an amazing aquatic adventure park, swam with turtles in Akumal, explored cenotes and basked on the beach while gazing at the crystal clear ocean water crashing on the shore. It should be noted this is one trip that can be very budget friendly too!
Banff, Canada
We explored Banff and while it is not as warm as most of our summer vacations, it could possibly have been the best summer vacation we ever have taken. There are an endless amount of activities to do with the kids.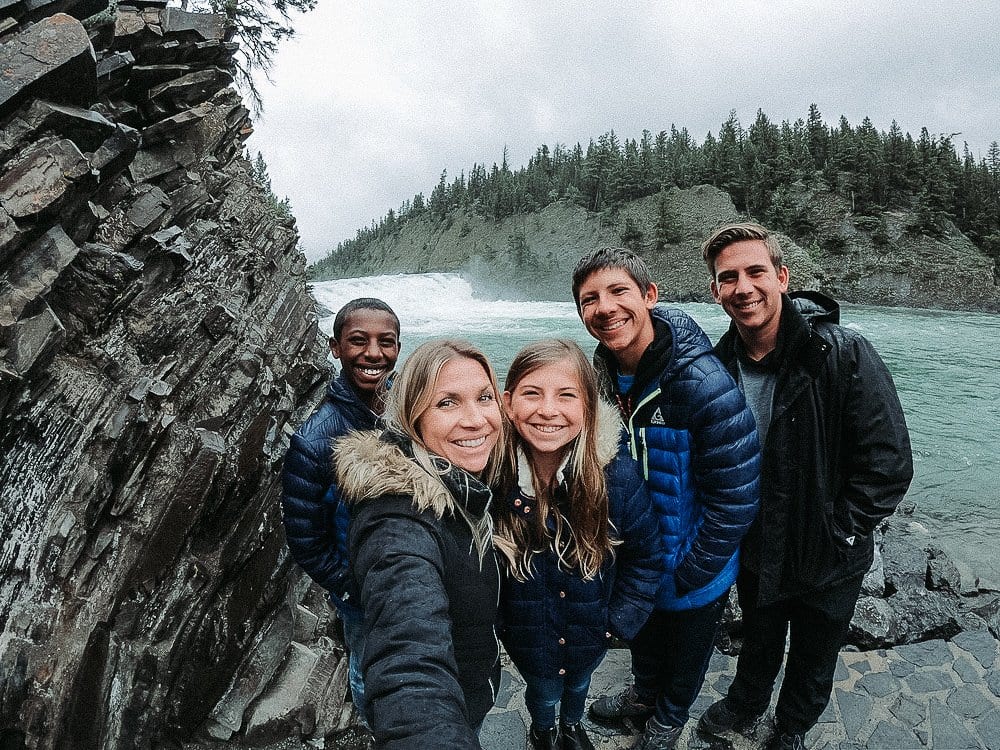 In just one week, we went on a horseback ride along the river to an old fashioned cookout. Walked on this incredible Ice Glacier. Went white water rafting and also caving, which was an experience unlike any other.
If you are not in the mood for adventure, Banff is one of the most beautiful places on the planet. Lake Louise is absolutely gorgeous, plus you will see tons of wildlife (we saw 7 bears on our journey).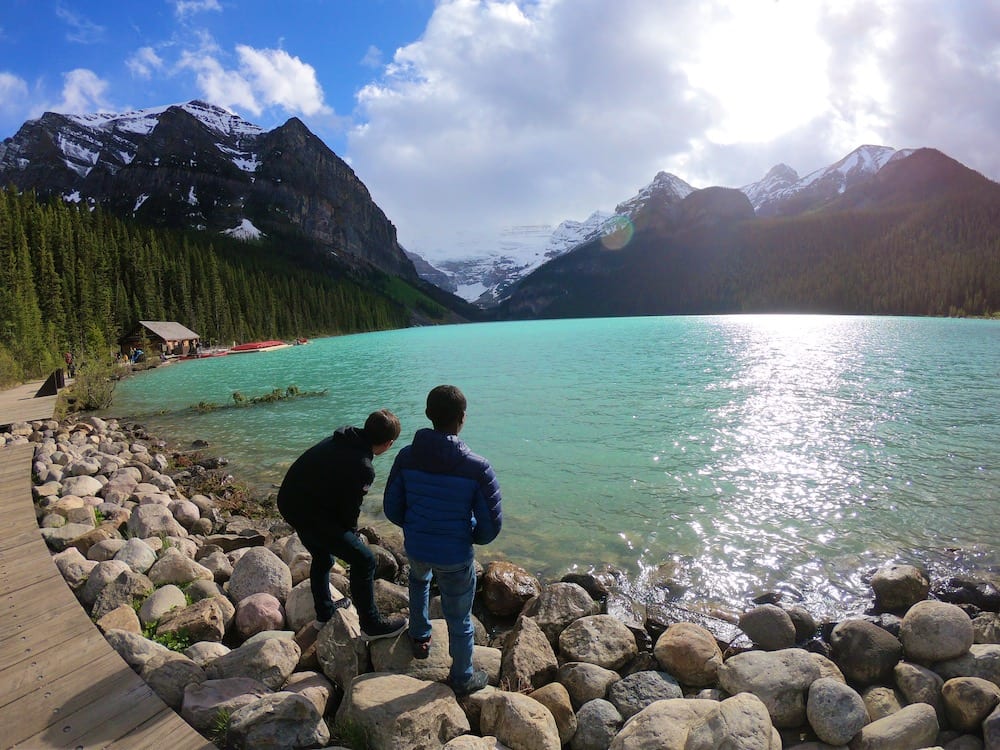 We stayed at the Moose Hotel & Suites, which is perfect for families as it has a full kitchen, living area + luxurious spacious rooms. Plus, it is located right in the heart of town, so you are close to everything. Check out my Ultimate guide to Banff here)
Best Places to Travel with Kids – United States
Steamboat Springs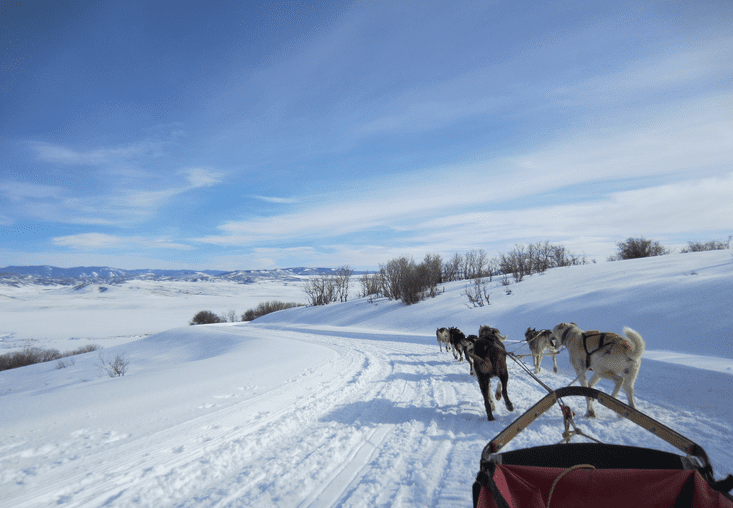 This trip was a last minute booking we made on a whim and it turned out to be our all time favorite snow experience. Steamboat Springs is a gorgeous mountain resort and it's also incredibly family friendly.
We stayed in a lovely 3-bedroom Wyndham Vacation Rental right on the mountain with sweeping views of the slopes and a warm fireplace. Our rental included free door to door shuttle service which was amazing and it was located right in the heart of everything. Steamboat has a ton to offer skiers and snowboarders but they also have a bunch of other activities like snow tubing, horse-drawn sleigh rides, ice skating, bumper cars on ice and dog-sledding.
Hands down my favorite thing we did in Steamboat was this dog-sledding tour. But, quite honestly the snow itself had us giddy. Being from Southern California we don't see much snow. So, having snow that was fluffy and deep enough for my boys to literally dive into it head first was an incredible experience for us. Visiting during the Cowboy Downhill last Jan. made things even better as we were able to experience the hot air balloon glow on the mountain, as well as the crazy cowboys skiing like maniacs down the slopes in chaps. I highly recommend it!
See my run down of everything we LOVED in my Ultimate Guide to Steamboat Springs here. Check out the Steamboat Grand for an amazing stay!
Yosemite
Visiting Yosemite was part of every summer trip I had during my childhood. But, camping (as I had done as a child) with 5 kids in tow never sounded very fun to me which is why I had not returned with my own children yet. That is until earlier this month when I took my father and son, Owen on a last minute trip to this iconic national park. Not only was it my first time with one of my kids in tow but it was also my first experience visiting Yosemite in winter AND first time staying in a luxurious lodge.
My father and I quickly realized that we had been doing Yosemite all wrong. A fresh blanket of snow only made all the jaw-dropping sights even more spectacular and the lodge turned our rugged trip into a lap in luxury. Tenaya Lodge is an incredible family-friendly luxury resort with more amenities and activities than you could dream of. Match that with the calmness in the parks and the magic of the snow and you've got yourself a dream vacation your family will LOVE!!! I can guarantee we will be back next year!
East Coast (DC/ NYC)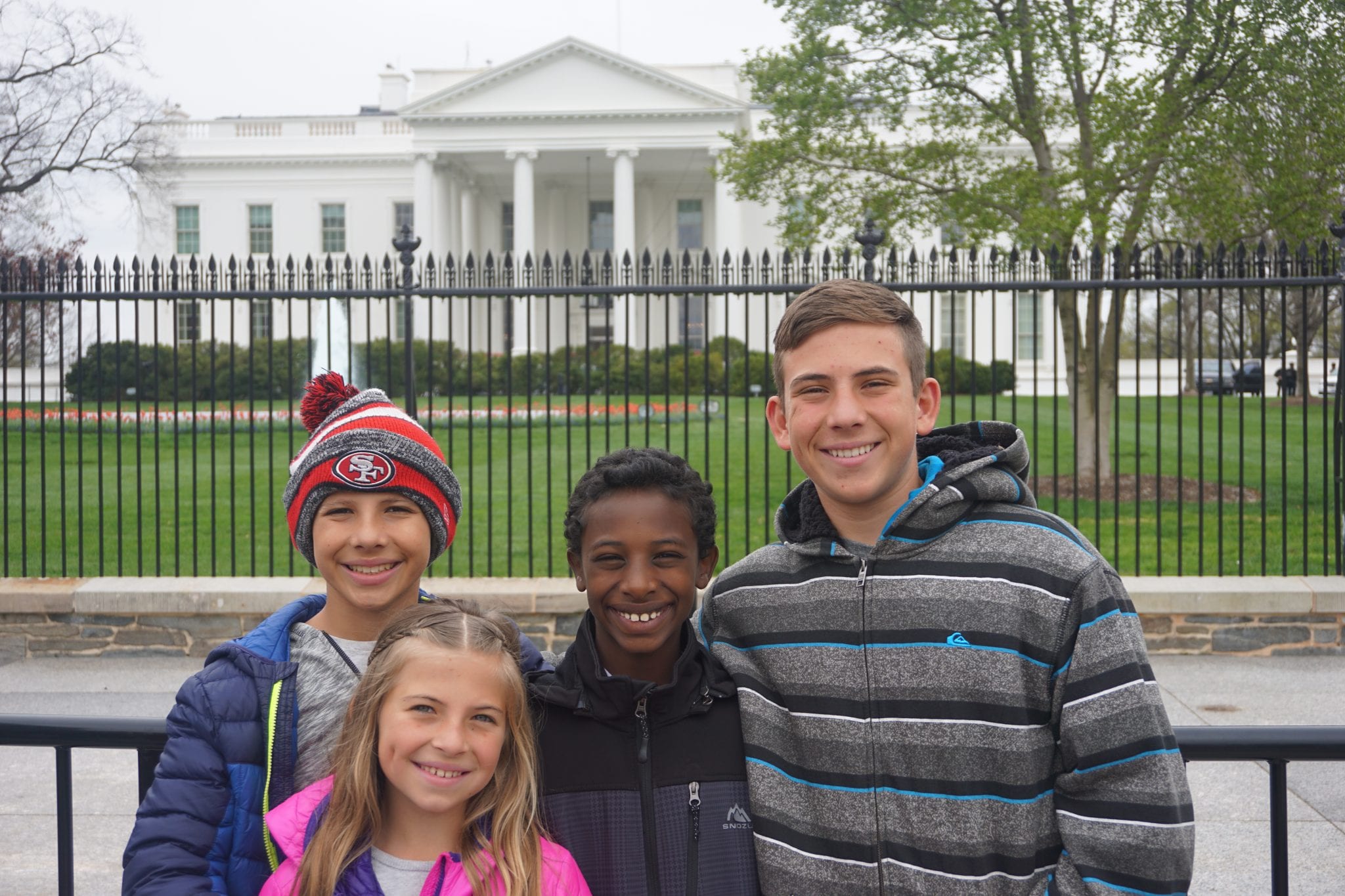 Visiting DC and New York with our kid's in the spring was a super fun experience and truly one of the best places to travel with kids. The kids loved explaining things they had learned in school about American history when we were in DC. We contacted our State Representative and scheduled a tour of the capital, which I highly recommend. And, springtime turned out to be a lovely time of year to visit, the cherry blossoms had just opened, the weather was nice and there were fewer crowds than you find in the summer months. You can check out all of our favorite things to do in DC in my Ultimate Guide to DC here.
New York was a bit chillier than we had anticipated but we still had a blast nevertheless. The boys enjoyed watching a basketball game at the Madison Square Garden. Ella and I saw our first Broadway play, Matilda and it turned us into playgoers almost instantly. W also saw the statue of liberty, climbed the empire state building, played in Central Park, toured the Natural History Museum, and visited the 9/11 Memorial and toured through it's museum too.
NYC is known for great food so of course we ate way more pizza than we should have, found delicious quick service Indian food (IndiaKitch), had amazing doughnuts from Doughnut Plant, the world's most delicious cookies from Levaine Bakery, and we even took our Seinfeld-loving kids to the Original Soupman for a bowl of "the best soup ever" in their opinion. You can find all of our favorite activities, favorite places to eat and helpful tips on traveling to NYC here in my Ultimate Guide to New York City with Kids. We loved staying at the Beacon Hotel. Check it out here!
San Diego/La Jolla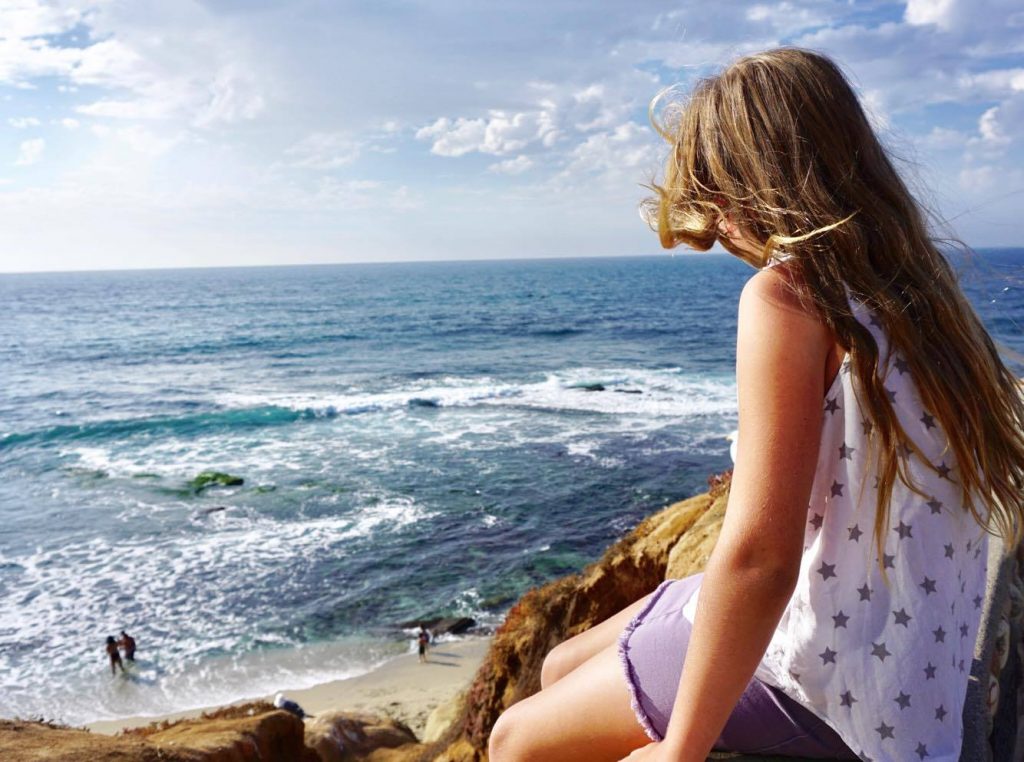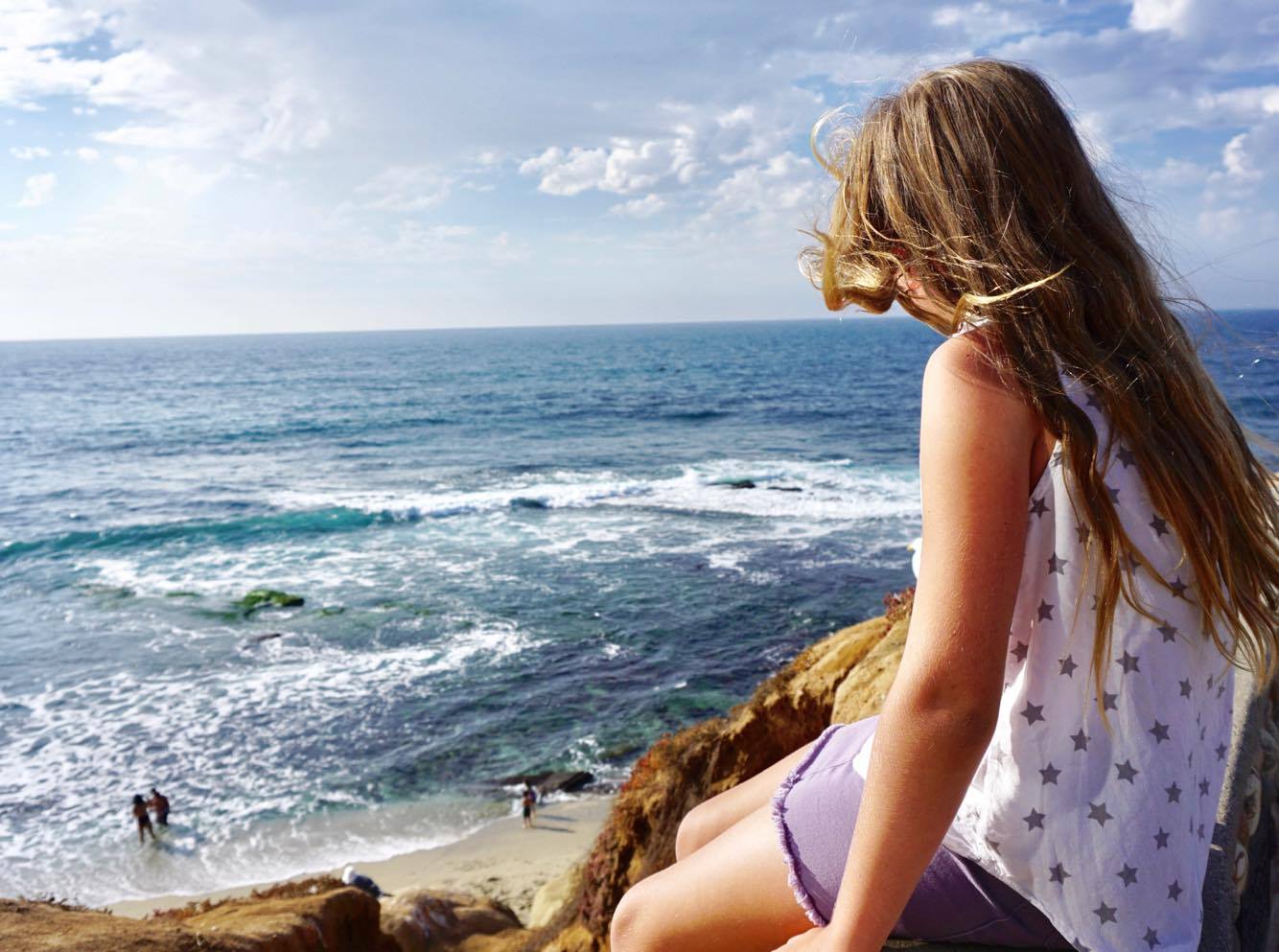 I am lucky enough to live just a bit away from the beautiful city of San Diego and it is the ideal day trip for me. From the incredible beaches to the adorable sea lions, to kayaking in the La Jolla caves, there is an endless amount of activities for kids in San Diego. While most people head to Los Angeles, I feel like San Diego is a far better place for kids to travel.
Some of our favorite things to do are go on some beach hikes, check out a ball game in the heart of the city at Petco Park, and head on the ferry to Coronado Island which is its own little slice of heaven. A picturesque little island with the cutest little shops, incredible beaches, and the iconic Hotel Del Coronado. San Diego is definitely a must-visit destination for families, and probably one of my favorite places to visit. Check out my article on 40 things to do in San Diego with kids and 20 are Free!
Our favorite place to stay in Coronado is the Loews Coronado Beach Resort. It is perfect for families.
Disney World & Universal Studios (Orlando, CA)
Amusement parks are definitely a great place to start when looking for a place to travel with kids. Orlando will always be a special trip for us as we have been taking the kids here since they were born. Not to mention, Liv was born in Miami and being adopted we had to remain in the state for about two weeks after she was born and we spent that time at Disney's Beach Club resort. So, every time we return it truly feels like our home away from home.
But, I think all families find that Disneyworld + Universal Orlando offer families a truly incredible experience. For one EVERYTHING is super family friendly from the hotels to the parks, the transportation, and the restaurants. Secondly, there is non-stop entertainment to keep everyone happy. And, lastly you would be hard pressed to find another town in the states with a higher concentration in family activities than Orlando. Even, expanding your trip outside the parks is a good idea!
For all my tips & tricks on outsmarting the crowds at Disneyworld check out my post here. Or for my Universal Orlando Tips from a Pro check out this post here.
If you are looking to stay at Disney World, check out Disney's Beach Club, and for Universal check out Loews Portofino Hotel.
Hawaii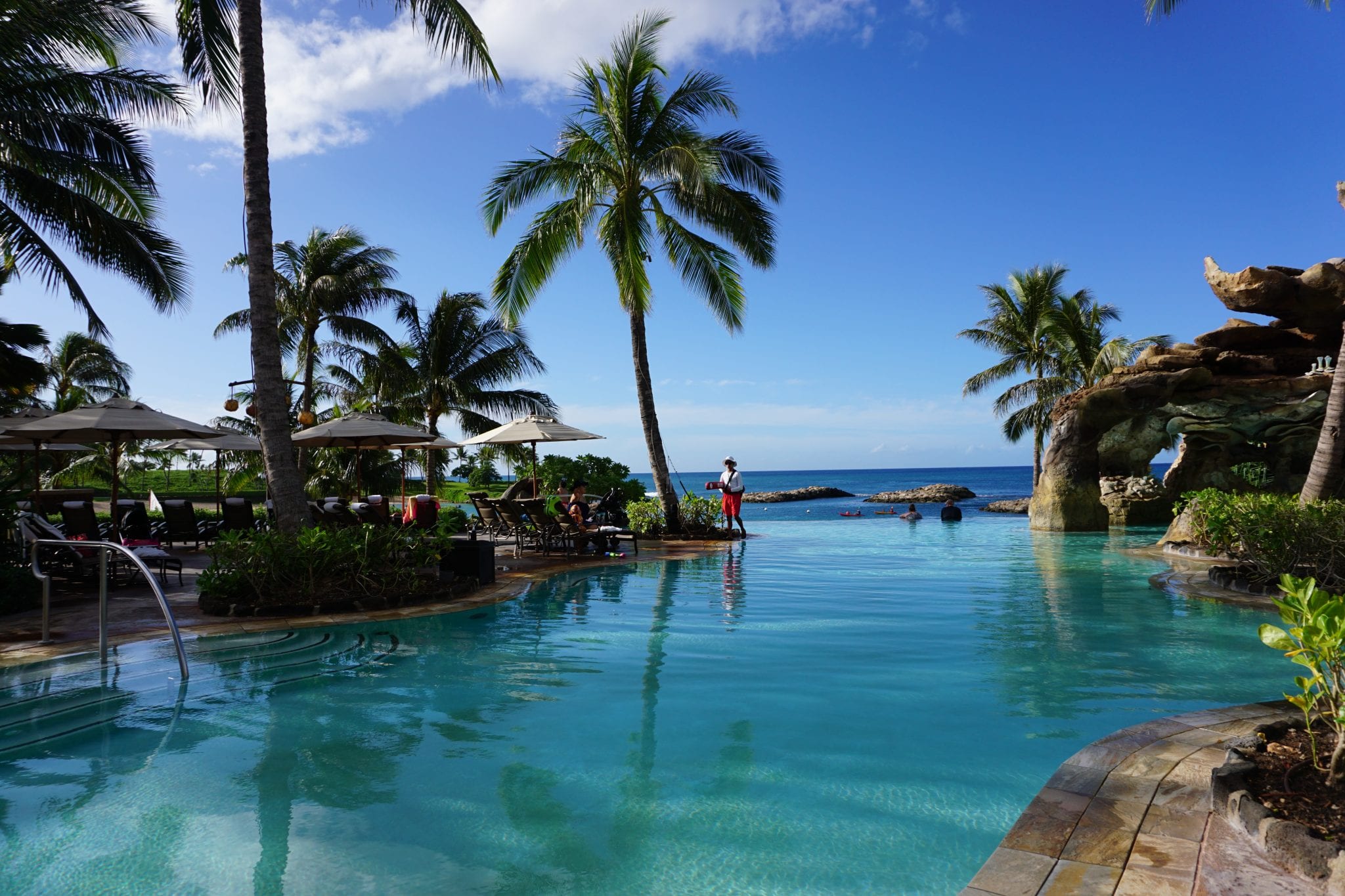 Hawaii has to be one of the best destinations of all time for kids. There are so many things to do for every age of kid you have and the resorts are absolutely incredible. Our two favorite places to stay are at the Grand Wailea in Maui & Aulani, A Disney Resort in Oahu.
In Hawaii, some of my kids favorite activities are snorkeling, visiting sea turtles at the beach, and of course the beach. You can also do surf lessons, horseback riding, zip lining, swim with dolphins, explore state parks and so much more. Of course, you have to hit up a luau while you are on the islands as well.
If you are heading to Oahu, check out my article on The Best Things To Do In Oahu with kids [25 amazing activities]

Tempe & Phoenix, Arizona
You might be surprised to see Arizona as one of the top spots to take kids, but let me tell you we have a blast every time we go. Many of the hotels are setup with kids in mind, as they have massive pools, flow riders, one even has a giant water park.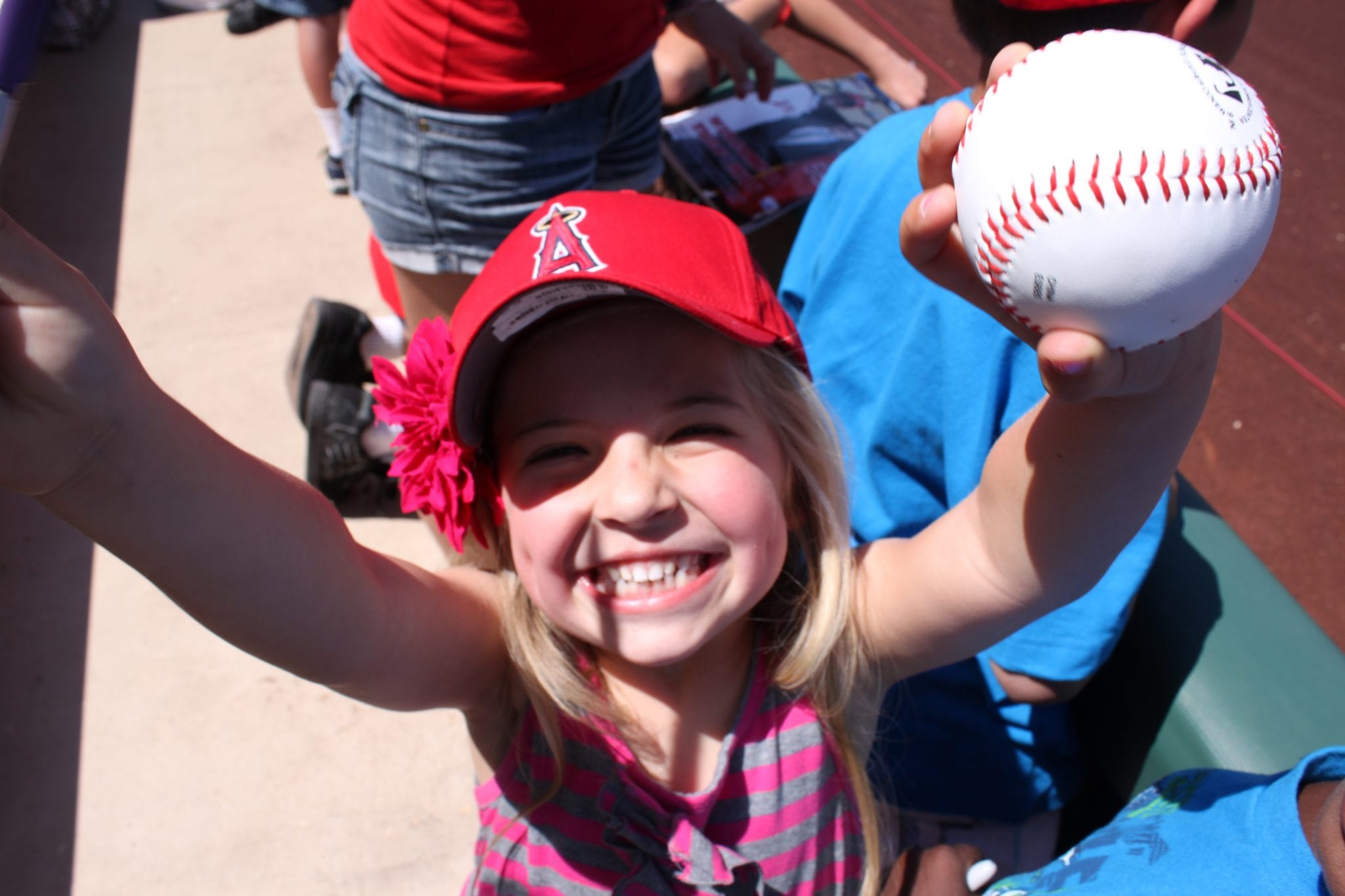 When you are not splashing around the pool, the Tempe/Phoenix area has so much to offer. If you love nature and animals you can go on horseback rides. If you love sports, hockey, football, baseball, and basketball games are amazing. In the Spring time, it is spring training, so you can travel around to one of 20 mini ballparks for such a unique experience. We love staying at either the Westin Kierland in Scottsdale or the Arizona Grand in Phoenix (one with the water park). Check out my Arizona things to do with kids guide here)
Knoxville & Chattanooga Tennessee
I'll be honest when I heard we were going to Tennessee, I was excited about Nashville, but I did not expect much from Knoxville or Chattanooga. Surprisingly, those two little cities were super fun for kids, and definitely one of the best places to travel with kids.
Chattanooga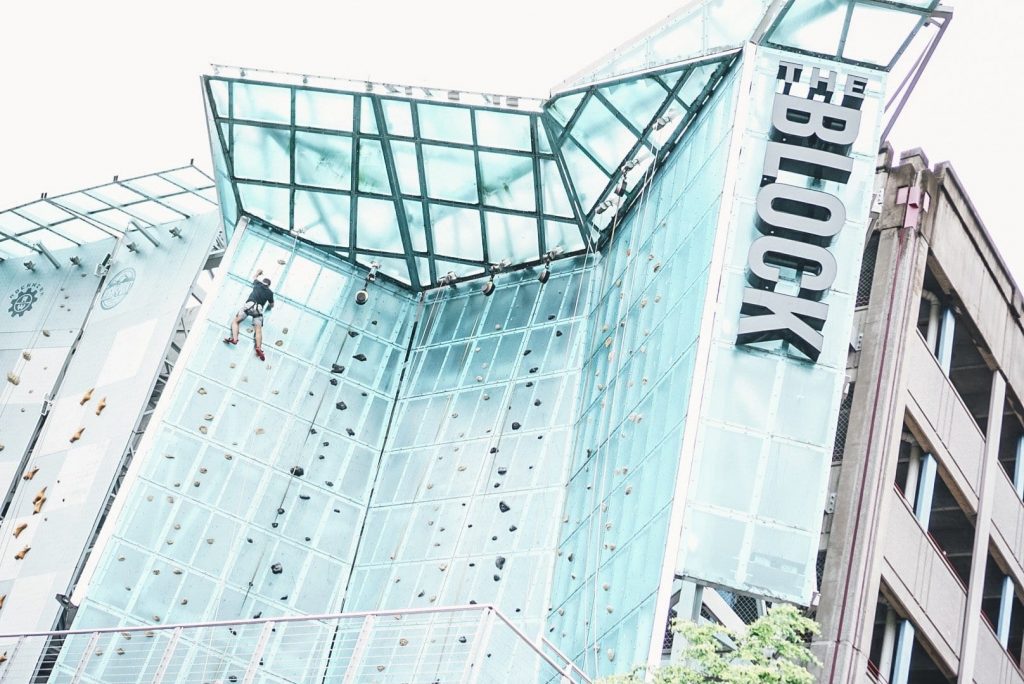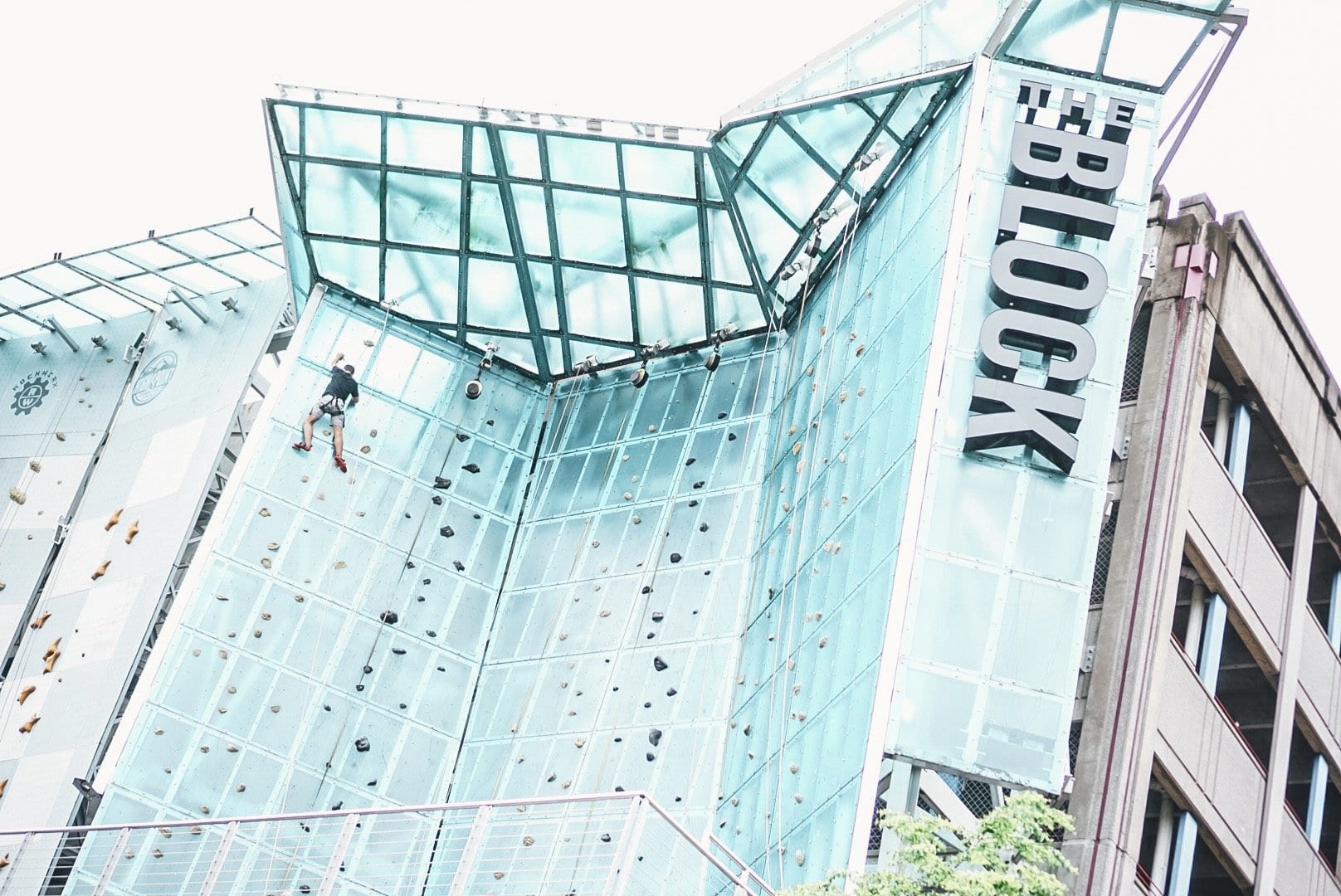 There is a ton to do in Chattanooga with kids. We experienced rock climbing, the aquarium, got to check out an underground waterfall which is spectacular. Plus, everything is very close so you don't have to worry about packing up the kids in the car every time you want to go somewhere.
We stayed at The Read House and it was so fun. Everything is decked out in a Great Gatsby style theme.
Knoxville
We absolutely were blown away by Knoxville. It was just about 90 minutes up the road from Chattanooga. There is an incredible adventure ropes course you have to check out. The Market Square is an adorable area to grab a bite to eat. If it is football season, you have to check out a UT football game. Just 30 minutes away is Dollywood, I prefer to stay in Knoxville and then drive over to Dollywood.
In Knoxville, we absolutely loved staying at THE TENNESSEAN, they have rooms perfectly suited for families. We stayed in a double king which had two showers. Getting ready took half the time and that is a major win for us parents with kids.
Park City, Utah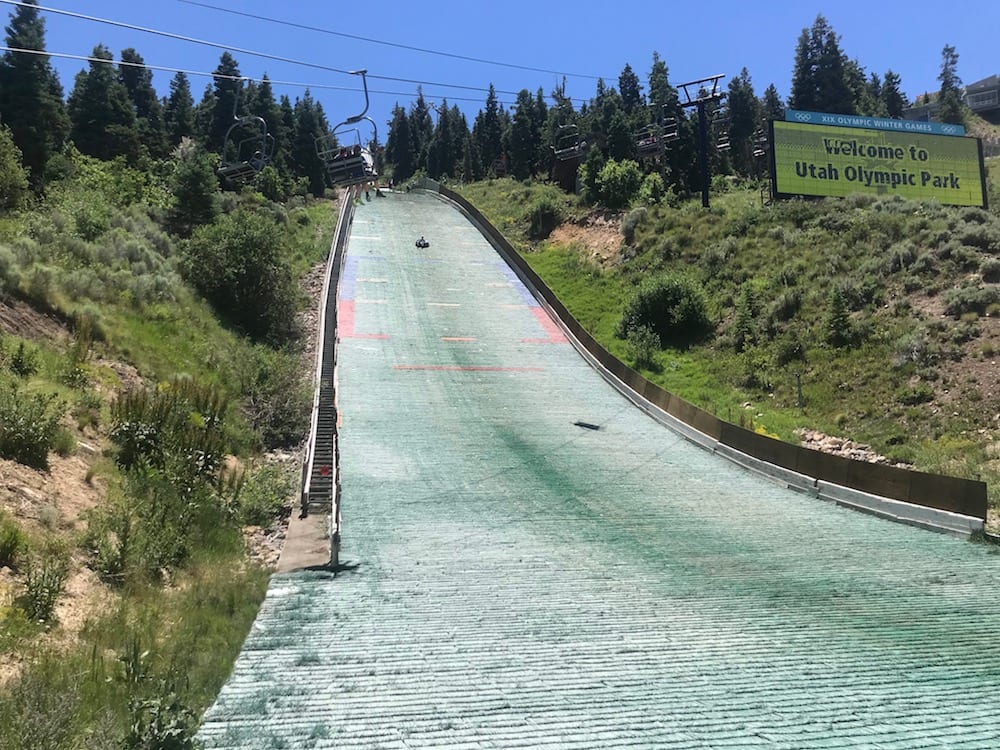 Park City has really crept up on my list of favorite places to visit. It is one of the best places to travel with kids because no matter the season there is a ton to do. We have visited in both the summer and the winter. In the summer, you can go paddleboarding, hikes, tubing down an Olympic ski jump, bobsledding, mountain coasters and more. (Check it all out here)
In the winter, of course, you have some amazing mountains to ski and snowboard. Plus there are fun activities like snowshoeing, fat tire biking, sledding and more. We absolutely love staying in deer valley, it's a half-mile from park city. Our favorite places are the Silver Baron Lodge (perfect for large families) and the Stein Ericksen if you really want to live a little.
Best Places to Travel with Kids – Cruises
Multi-Generational Cruise with Royal Caribbean Cruise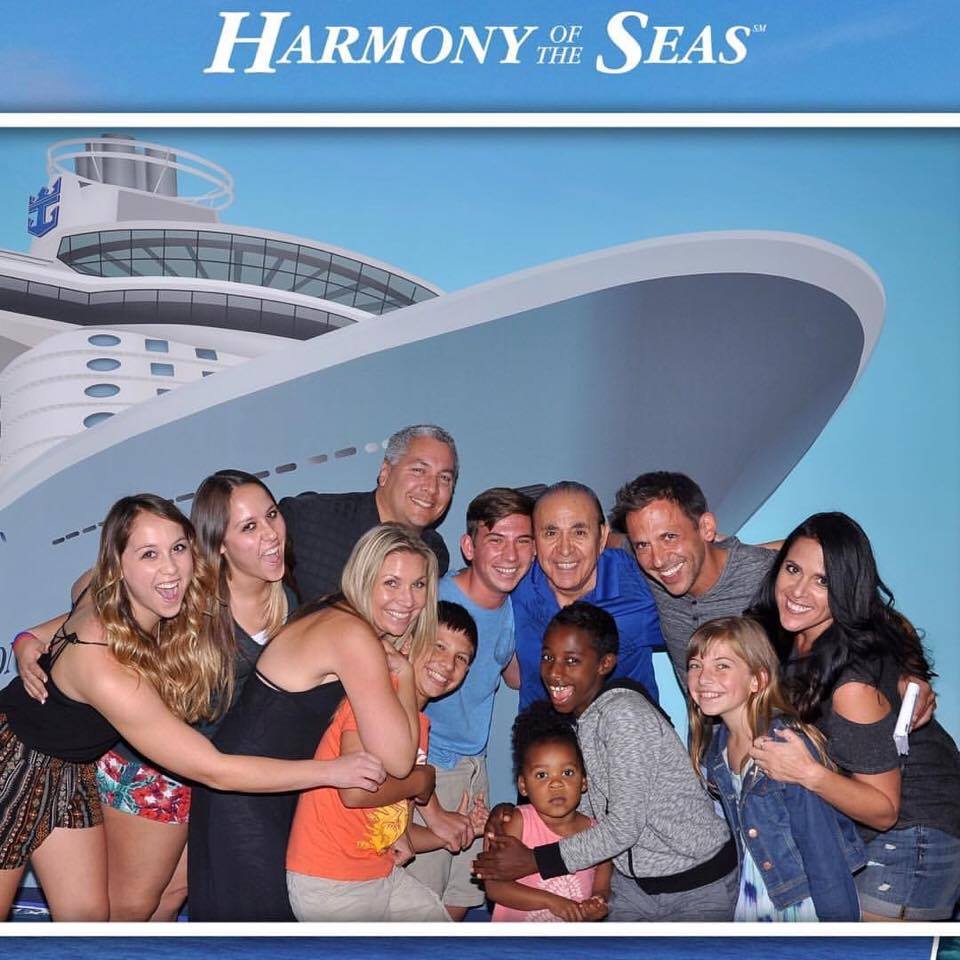 As I mentioned previously, I know cruising is not really a destination but I couldn't leave it off my list. Anyone looking to book a multi-generational trip would be a fool not to check into taking a cruise. Cruising is one of our favorite vacations because they are super fun and everything is scheduled ahead of time. So, they are also incredibly easy with a group.
That is why when it came time to plan our annual Thanksgiving trip (a trip that includes 20 people ages 3- 75 years old) we knew a cruise was the way to go. And, what better cruise than the world's largest and newest ship at sea, Royal Caribbean's Harmony of the Seas?
This boat was INSANE!!! There was SO much to do we really didn't ever need to get off the ship. They had waterslides, two Floriders, a zipline, mini golf course, ice skating rink, carousel & more! Of course, we did get off though because it ported in Haiti at Royal Caribbean's private island which was pretty cool. In Jamaica where we took an incredible excursion with Chukka Adventures. In Cozumel we had the most relaxing day at Mr. Sanchos Private Beach Club. It was an incredible trip and everyone in the group agreed. Check out My Ultimate Guide to Royal Caribbean Harmony of the Seas Here!
NCL Cruise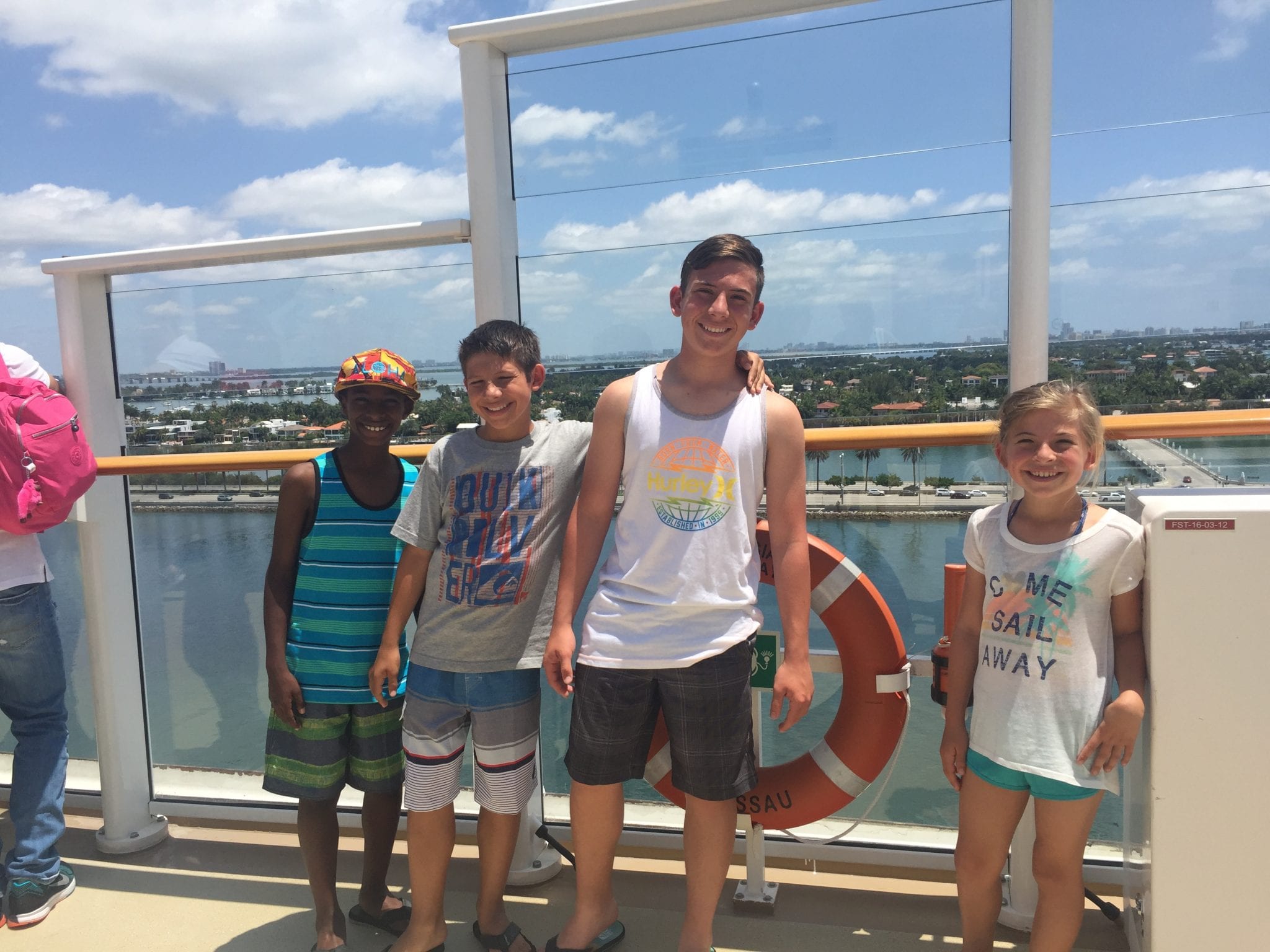 Okay, not really a destination. But, when trying to narrow down our best family travel experiences of 2016 it was impossible not to include a cruise (or two). Cruising has become one of our family's favorite ways to travel. The kids love all the incredible activities on board. I love not having to change rooms, or decide on where we should eat dinner. Cruises simplify the whole family travel experience making it much easier for everyone to enjoy themselves.
Plus, cruise lines like Disney and Norwegian have amazing kids clubs. These are included for kids 3+ years and older meaning parents also get to enjoy some alone time which you know we all need + deserve. Being able to go on multiple date nights while on vacation with my kids, I mean how sweet is that??
This particular cruise was a great fit for our family. It had awesome water slides, a toddler playroom, and great ports including Honduras, Belize, Costa Maya and Cozumel. I highly recommend visiting Maya Park, an incredible NEW water park in Costa Maya and taking a food tour with Cozumel Chef if you are ever in those areas.
Best Places to Travel with Toddlers
Traveling with toddlers is a whole different ball game than traveling with kids. Here are our top 5 picks from the 15 above if you have toddlers in tow
International – Cancun
Cancun has some amazing all-inclusive resorts. Their kid's clubs are absolutely incredible and included in the fee. Plus there is tons for older kids to do if you have some with you as well.
Hawaii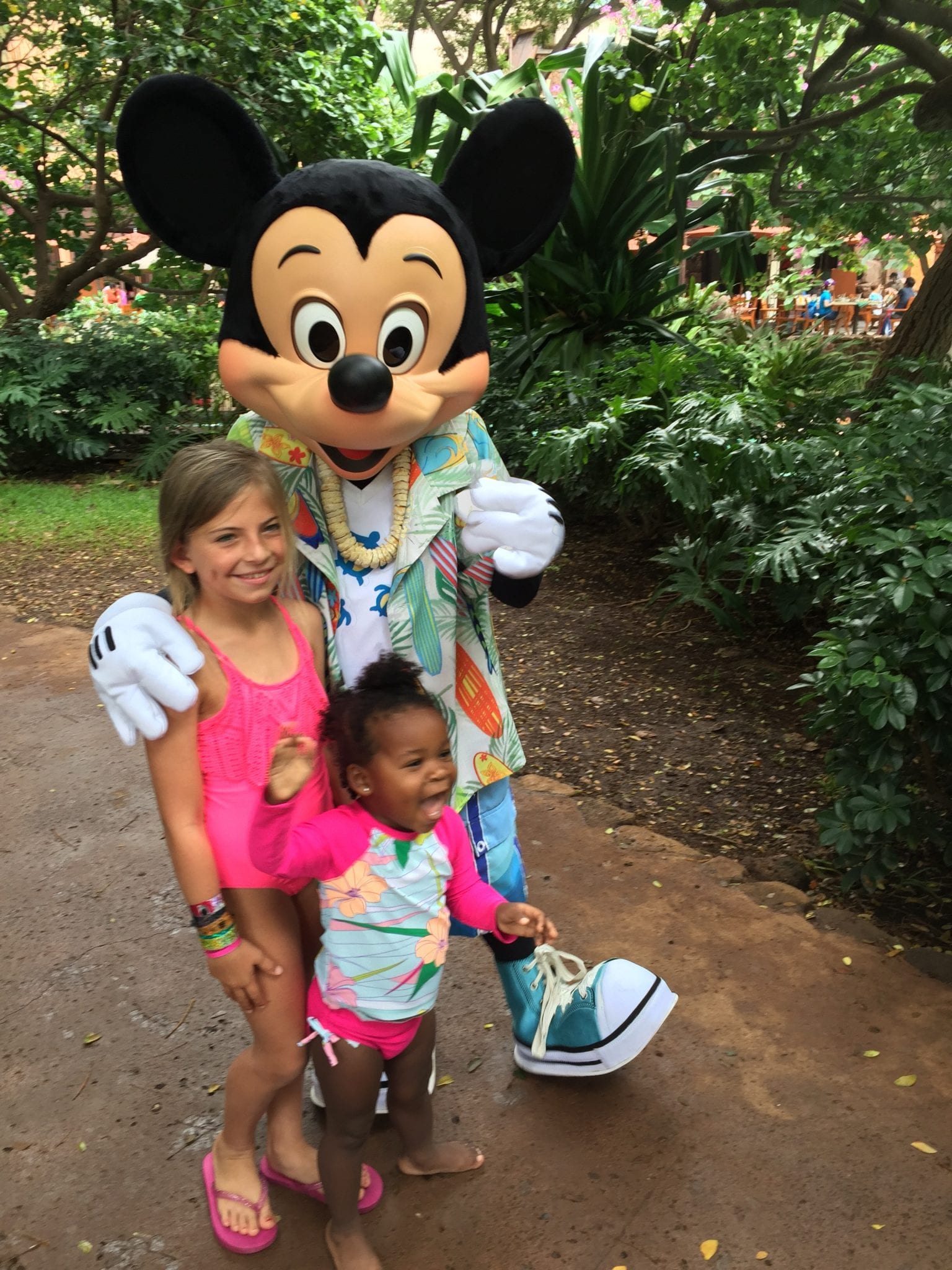 You simply can't beat Hawaii. The weather is amazing, the beaches are wonderful and the hotels are amazing. We do recommend if you have some ambitious little ones to hit up the resort pool more than the beach to avoid endless battle with sand. Our favorite place to stay in Hawaii with toddlers is Disney's Aulani
Disney Cruise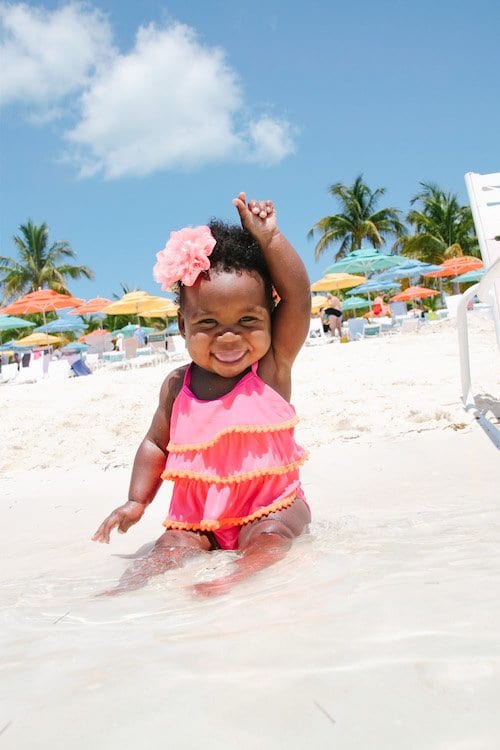 If you have never been on a Disney Cruise, it is simply an amazing experience. Especially if you have little ones. I recommend this option if you have a 3 year old. They get access to the incredible kids club on board. There are characters on board to entertain the kids, tons of wonderful activities and it is a cruise the whole family will love.
Frequently Asked Questions about the Best Places to Travel with Kids
What is the best place to travel to with young kids?
A Disney Cruise is a great choice with plenty of activities for all the kids ages and even better kids club. My kids always wanted to go to the kids club and came back always talking about the fun adventures. Depending on what you and your family enjoy doing, there are plenty of options to choose from on our list!
What are different ideas for where to travel with kids?
Set Sail on a Caribbean Cruise. Kids love cruises
Take a Family Ski Vacation
Build Rockets at Space Camp
Go Camping in a National Park
Go on a Rafting Adventure
Experience the Holidays in New York City
Mush a Team of Dogs on a Dog Sledding Trip
Embrace the Magic of Walt Disney World
What is the best age for kids to travel?
This is all about what you feel comfortable with as parents. We started traveling with our kids when they were babies and found they all got pretty acclimated to traveling and it helped on our future trips!
If you have any questions about traveling with kids to any of these cities, please leave a question in the comments or feel free to Direct Message me on my Instagram Page
pin for later- Best Places to Travel with Kids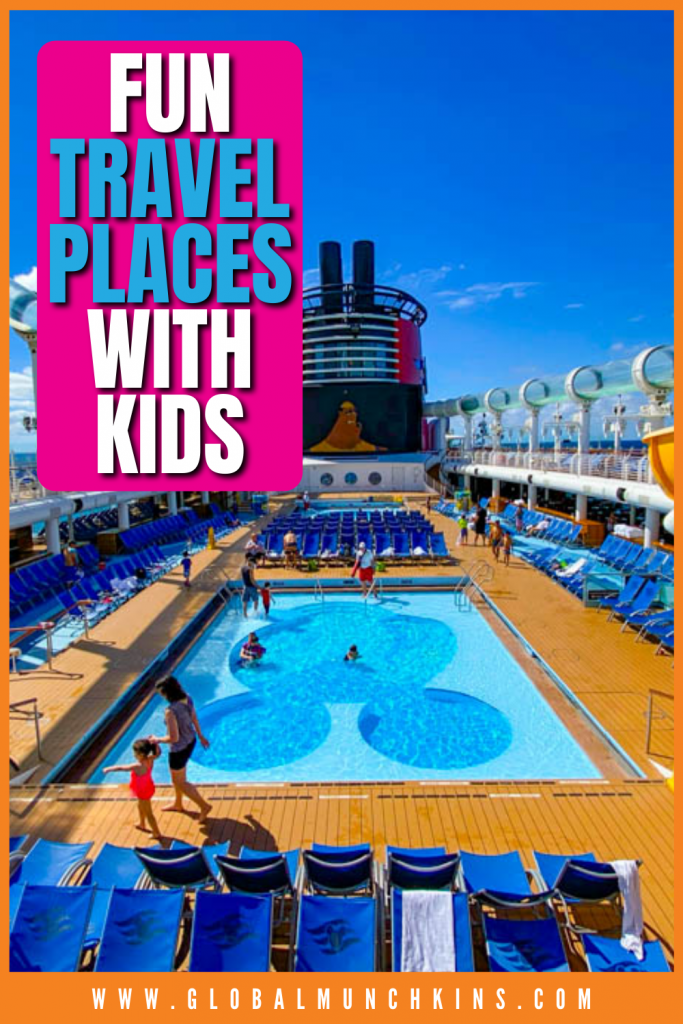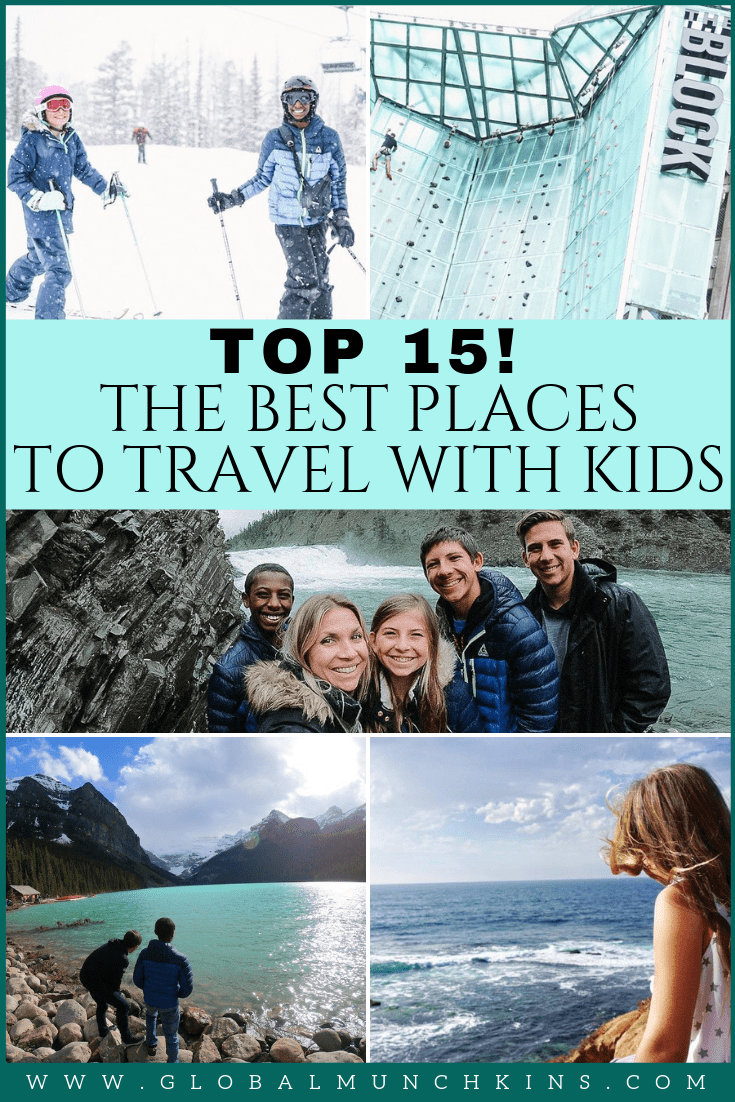 Latest posts by Mama Munchkin
(see all)