If you are looking for kid-friendly things to do in Colorado Springs you have come to the right place. Today in partnership with Visit Colorado Springs I am sharing 25 awesome things to do in Colorado Springs for kids.
Do you want to know the best part? 12 of them are FREE things to do in Colorado Springs. Woo Hoo!
The amount of Colorado Springs kids activities seem endless and to top it off they have some amazing Colorado Springs Airbnb's the whole family will enjoy!
---
25 Kid Friendly Things to do in Colorado Springs (12 of them are FREE!)
---
Best Things To Do in Colorado Springs
Colorado Springs is an amazing place to visit with kids, offering a wide range of fun and educational activities. Here are some of the best kid friendly things to do in Colorado Springs.
---
1. Whitewater Rafting
If you are a family of thrill-seekers whitewater rafting should be on the top of your Colorado Springs things to do list. Colorado Springs just happens to be the home of America's most popular river for rafting, the Arkansas River. Choose between scenic floats (perfect for kids) or one of the more challenging rapids with teens.
---
2. Hot Air Ballooning
Families looking for unique kid-friendly things to do in Colorado Springs will enjoy the available Hot Air Balloon experiences. Children only need to be five years old to participate. Take in the 360-degree views of the magnificent Colorado Rockies while your guide teaches you about the area.
Balloon rides typically end with a delicious breakfast too! You can't beat that!
---
3. Biking
Looking for some simple things to do with kids in Colorado Springs? You should consider a bike ride! Whether your family enjoys leisurely bike rides in an urban setting, daring mountain bike adventures, or fun experiences like electric bike rentals Colorado Springs has you covered. In fact, Colorado Springs boasts a Silver Status as a Bicycle Friendly Community from BikeLeague.org.
---
4. Visit Pikes Peak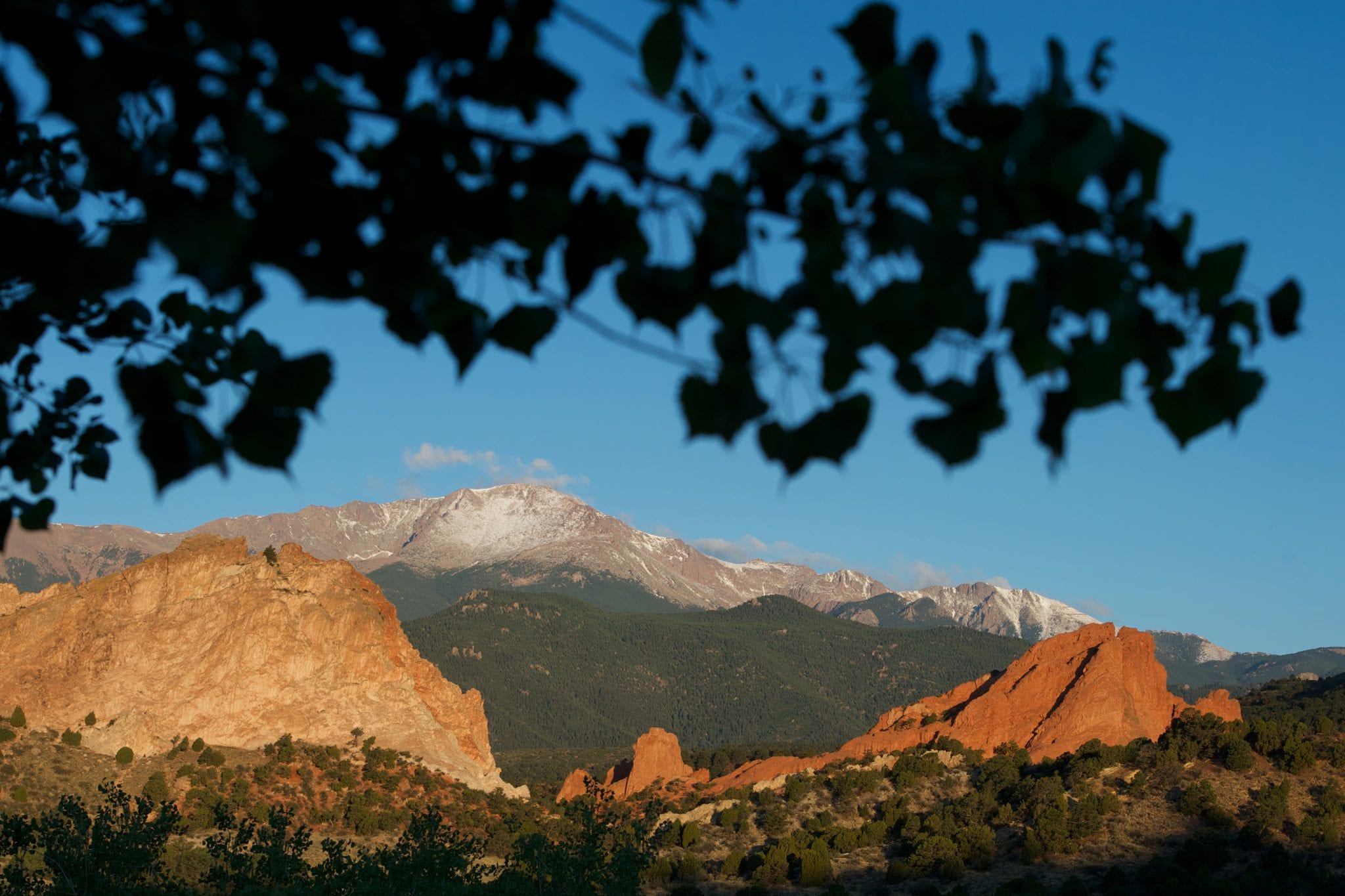 Thanks to the scenic, and safe, 19-mile highway, Pikes Peak is available to experience first-hand by many regardless of their fitness level.  A simple drive offers monumental views plus there is a host of activities you can do along the way including fishing (May-Oct.), hiking trails, picnic areas, a gift shop & more.
---
5. Ghost Town Wild West Museum
The Ghost Town Museum is an awesome Colorado Springs family-friendly activity. Kids will love checking out the Preserved Town with buildings salvaged from the Pikes Peak region, panning for gold, and exploring all the hands-on activities. Anyone in for some butter churning?
Admission is very affordable making this a must-do for kids in Colorado Springs.
---
6. Horseback Riding
I can't think of a better way to take in the gorgeous views Colorado Springs has to offer than atop a horse.
In Colorado Springs you can book a trail ride through the city's many trails and parks including riding through the Garden of the Gods or Cheyenne Cañon. Or you can book a stay at one of the many dude ranches in town.
If you know me then you know this is my #1 choice on this list of Colorado Springs things to do with kids
---
Explore the caves, dare to try the Bat-A-Pult, test your skills on the Wind Walker Challenge Course, or brave the first of its kind Terror-Dactyl and be launched 150 feet into the canyon at nearly 100 miles per hour! This is one-stop adventurers are sure to love. I also like that kids 0-5 can tour with their families in the cave for FREE. 
---
8. Visit a Mountainside Zoo
Located on the side of the mountain, the Cheyenne Mountain Zoo is the only zoo of its kind in the United States. The zoo sits at an elevation of 6,800 feet and has over 750 animals. Kids will love hand-feeding the giraffe and checking out the zoo's skyline to take in the stunning views.
---
9. Gray Line Bus Tour to a Rocky Mountain Peak
While the famous Broadmoor Pikes Peak Cog Railway has been closed, you are still able to climb Pikes Peak via bus! As you climb to the top of this 14,115′ foot high peak, you will experience the beauty Colorado has to offer. The scenery and wildlife are absolutely breathtaking.
These tours are a great option for families who want to experience the Rockies but don't want to trek up the mountains with little ones. Learn more about it here.
---
Another kid-friendly thing to do in Colorado Springs is to visit the Florissant Fossil Beds. Here you will find one of the richest fossil deposits in the world including a petrified redwood stump that stands 14 feet wide! There are also thousands of detailed fossils of insects and plants that kids will love checking out.
The Florissant Fossil Beds are part of the National Parks Service. The daily fee for adults (ages 16+) is $5. Kids under 16 years of age are free.
---
Just as the name suggests this site contains 7 beautiful waterfalls. The falls are easily accessed via a short walk and an elevator or if you want to burn a few calories you can access the falls via the stairways. There are additional trails and a zip line located here as well.
---
Families will love exploring the Manitou Cliff Dwellings of the Anasazi people. The ancient dwellings were built over 700 years ago. Kids will love being able to explore, go inside, and even touch these fascinating architectural remnants.
---
13. Visit a Castle
A castle in Colorado? It's true, Glen Eyrie is a home that was built in Tudor Style so it resembles the architectural features of an English Castle and it is one of the most unique kid friendly things to do in Colorado Springs. The 800-acre estate is open to the public and 90-minute guided tours are offered as well.
Visitors can also enjoy the high tea at the castle or spend a night in one of Glen Eyrie's luxury rooms.
---
Free Kid Friendly Things to Do in Colorado Springs
You know we love fun kid friendly attractions, but we love them even more when they are free! Now on to our list of FREE kid friendly things to do in Colorado Springs!
---
14. Colorado Springs Pioneers Museum
Explore the fascinating stories about the robust history of Colorado Springs. The museum is located inside a beautiful restored 1903 El Paso County Courthouse. Free tours are given every Saturday and there is a Children's History Hour (certain age restrictions apply) offered the 3rd Wednesday and last Saturday of each month.
We always recommend reservations for the tour. However, keep in mind they are actually required for the Children's Hour. You can find more information here.
---
15. Cornerstone Art Center
If your family loves art you should definitely add the Cornerstone Art Center on your list of things to do in Colorado Springs. The striking building itself is LEED certified for its energy efficiency and environmental design. Plus, inside you will find a FREE art gallery.
---
The 545-acre park is just a short drive from the city and offers plenty for families to do including archery, tennis, hiking, basketball (which my son loves), and a horseshoe pit. The hiking trails here are clearly marked and while some are pretty steep, families who hike regularly can manage them.
---
I've never met a kid who didn't like running through a fountain on a long day! Acacia Park is home to the popular Uncle Wilbur's Fountain which features over 200 pop-up jets that make up a children's' play area. There are also picnic tables, which provide an awesome spot to relax and enjoy the beautiful Colorado weather.
---
18. Penrose Heritage Museum
This fascinating museum features the collection of Mrs. Penrose, the widow of Spencer Penrose who built the Broadmoor back in 1918. The museum houses an extensive collection of 31 horse-drawn carriages and 13 motorized vehicles, including 3 racecars from the 1920s.
There are also several exhibits featuring a vintage riding tack, antique firearms, and Native American artifacts. Find more information here!
---
19. The United States Air Force Academy + Cadet's Chapel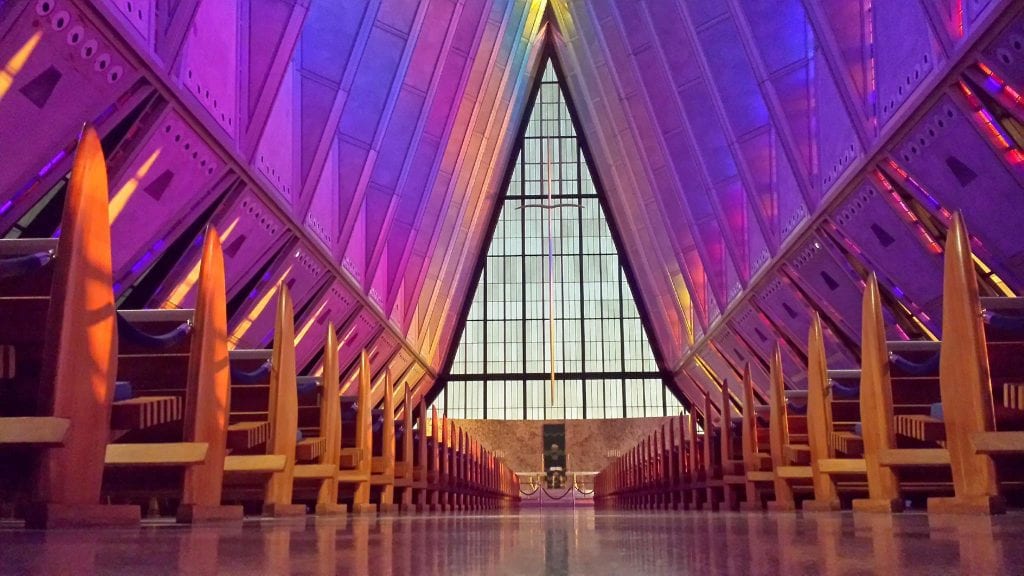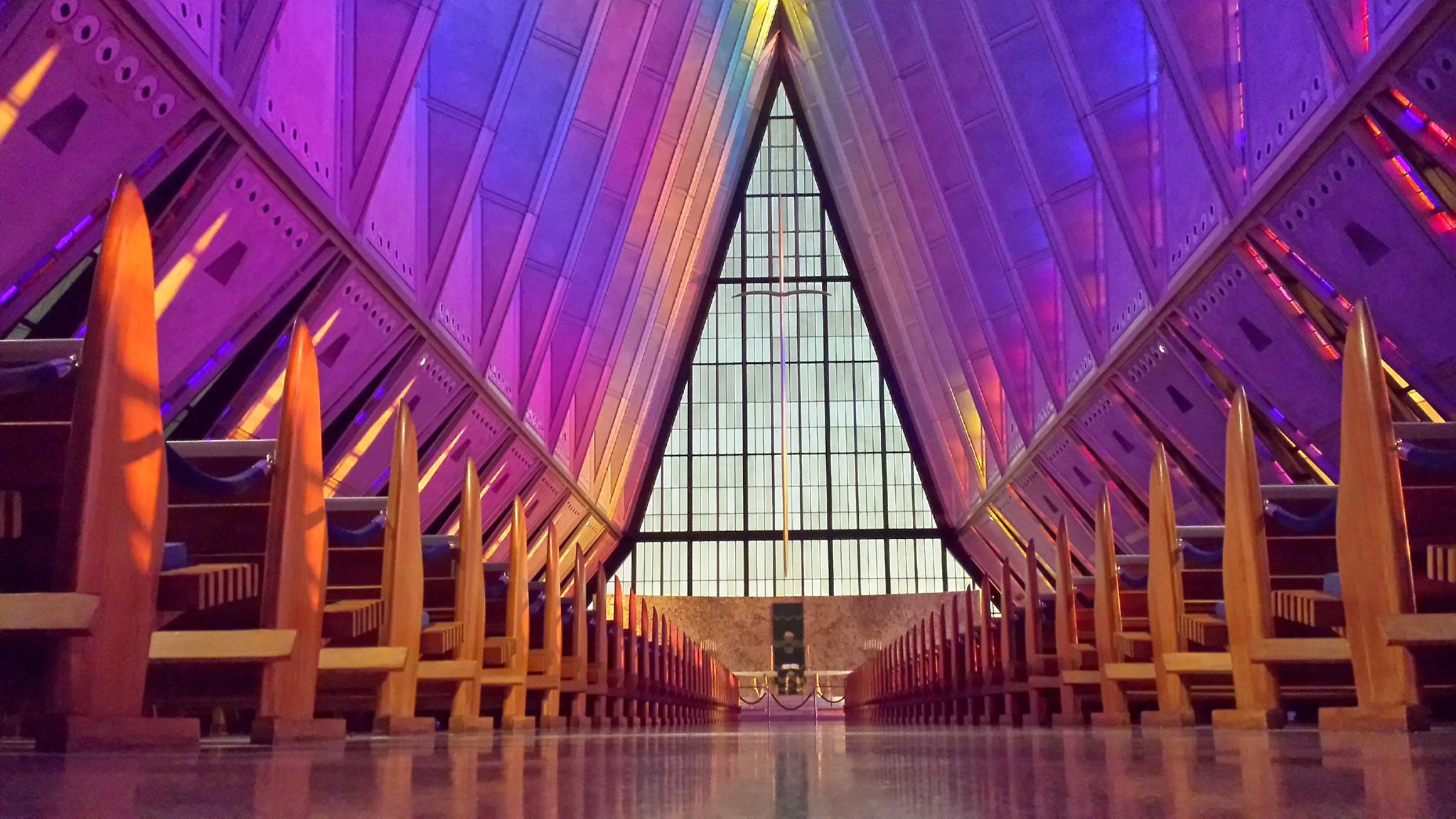 The Academy is one of the highest-profile facilities of its kind in the United States and yet it is still open to visitors daily from 8 a.m. to 6 p.m. The Visitor Center is open from 9 a.m. to 5 p.m.
Check out the visitor's center for a brief history and some background information. From there you can visit the jaw-dropping stained glass chapel or take a driven tour of the facility.
---
One of the great free things to do in Colorado Springs is the Peterson Air & Space Museum. Kids love exploring the aircraft and learning all about them from the knowledgeable staff at the museum. Plus, admission is completely FREE.
---
21. Visit the Shrine of the Sun (FREE with Zoo Admission)
Looking for unique & free family activities in Colorado Springs? Visit the Shrine of the Sun at the Cheyenne Mountain Zoo. The Will Rogers Shrine of the Sun located behind the zoo. Admission to the Shrine is included with your zoo admission ticket.
From the Shrine you can soak up incredible views of Colorado Springs and there is also a small museum with lots of great information.
---
If you're headed to Colorado Springs with kids, you have to check out Memorial Park. This massive park boasts amenities families will love such as baseball, softball, soccer and football fields, tennis courts, horseshoe pits, an Ice Center, and Colorado's second-largest skate park. The 40,000 square foot skate park was professionally designed and constructed.
Inline skaters, skateboarders, BMX bikers alike will love the street-course, backyard-style pool, and bowls. Or if you are like me, you can take a seat on one of the natural boulders or in the picnic pavilion and be a spectator.
---
One of the free things to do in Colorado Springs is the Paint Mines, Interpretive Park. The park features amazing rock formations and evidence of human life that dates back 9,000 years. With 4-miles of trails, a restroom facility, and interpretive signage this is a perfect spot for families to explore.
---
Another great place to soak up some of the amazing views Colorado Springs has to offer is the 14-mile trail known as the New Santa Fe Regional Trail. The trail follows an abandoned railroad right-of-way through the U.S. Air Force Academy.
If you are lucky you might get to see some wildlife! There are also some geological features and interpretive signs along the path.
---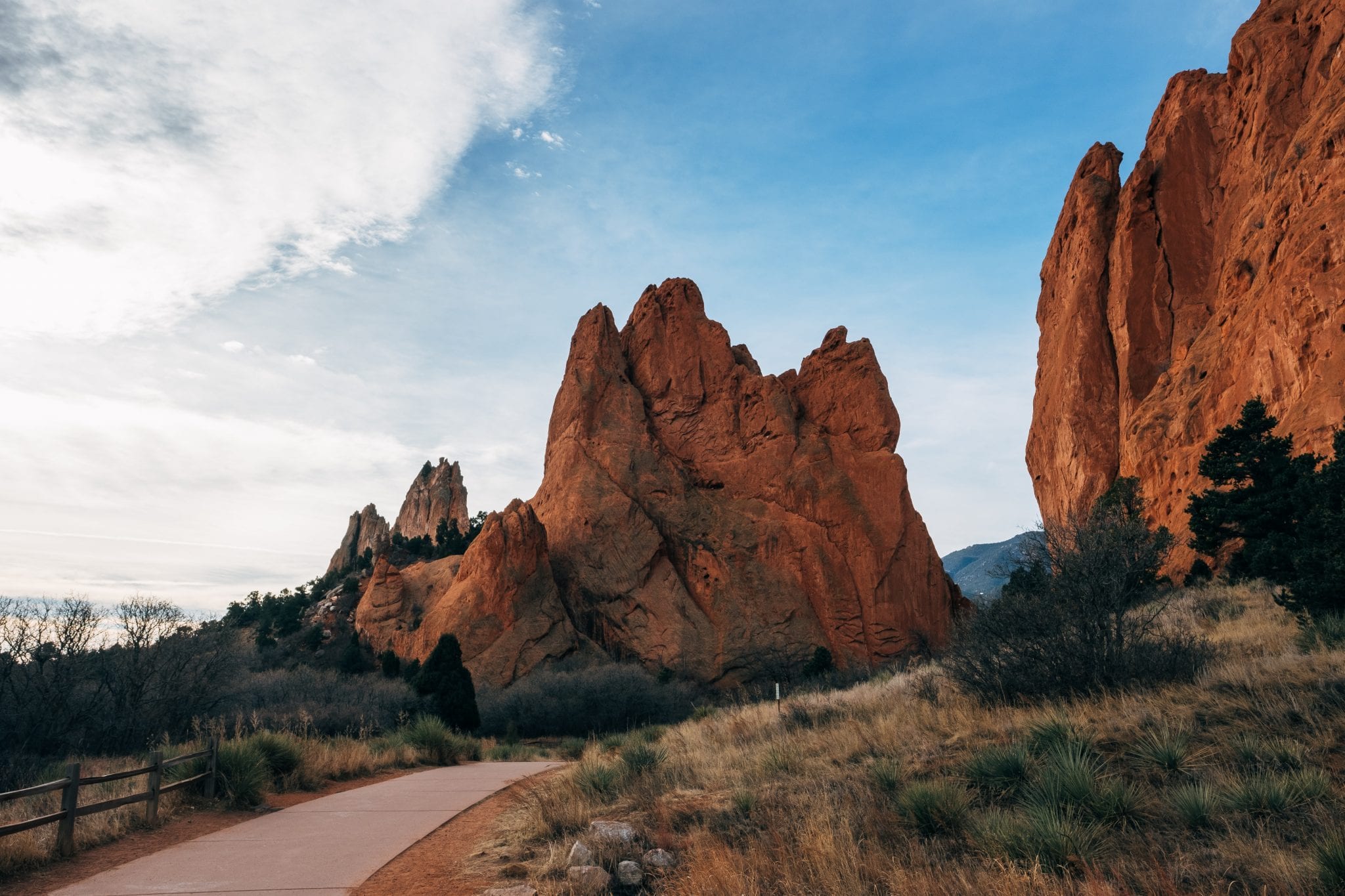 Red Rock Canyon Park is located just south of US 24 between Colorado Springs and Manitou Springs. The 787-acre park is a great place to let the kids burn some energy as they climb, cycle, or hike along the trails. Within this park are over 80 bolted climbs for families that enjoy rock climbing as well.
---
Bonus! Head to Manitou Springs for an extra adventure.
Manitou Springs is a little mountain town right outside of Colorado Springs. Here you will find 8 open hot springs that are said to have healing powers. Not to mention, a super cute downtown, arcade, ice cream, and to die for crepes.
Why You Should Go
I hope this list of family things to do in Colorado Springs has helped you to plan out an amazing vacation! It is truly one of the most beautiful places in the Mountain West, and there are so many activities that parents and kids alike can enjoy. 
---
Map of kid friendly things to do in Colorado Springs
---
What are your favorite kid friendly things to do in Colorado Springs? Leave suggestions for future travelers in the comments below.
---
Frequently Asked Questions for Kid Friendly Things to do in Colorado Springs
When is the best time to visit Colorado?
It really depends on what activities you are interested in doing on your trip. If you are looking for skiing and snowboarding and winter activities then definitely visit during the winter, when there is fresh snow. If you are looking to go hiking and enjoy the outdoors without the snow then look to visit in the down seasons from March to May or September to October.
What can you do for free in Colorado Springs?
Garden of the Gods
Manitou Springs
North Cheyenne Cañon Park
U.S. Olympic & Paralympic Training Center
Red Rock Canyon 
Old Colorado City
Colorado Springs Pioneers Museum
Explore Downtown Colorado Springs
Is Colorado Springs kid-friendly?
Colorado Springs has plenty of activities to do for the entire family. There are a variety of hikes, museums, mountains, parks and plenty of open space to explore.
What are other kid friendly things to do in Colorado Springs?
Explore Mountain Dinosaur Resource Center
Visit the Natural History Museum
Enjoy Red Rock Edge Ranch Historic Site
Explore Woodland Park
Looking for some more Colorado Inspiration – Check out my Steamboat Springs Review or check out this awesome list of things to do in Colorado Springs by We3Travel.
---
Pin for Later: 25 Kid Friendly Things to do in Colorado Springs [ 12 are FREE! ]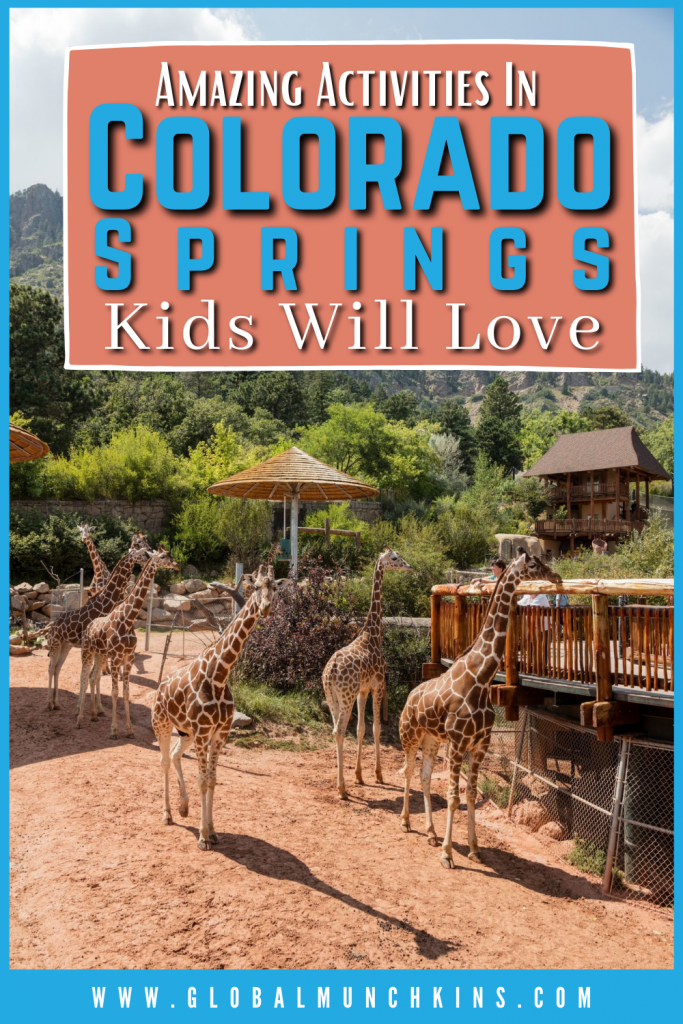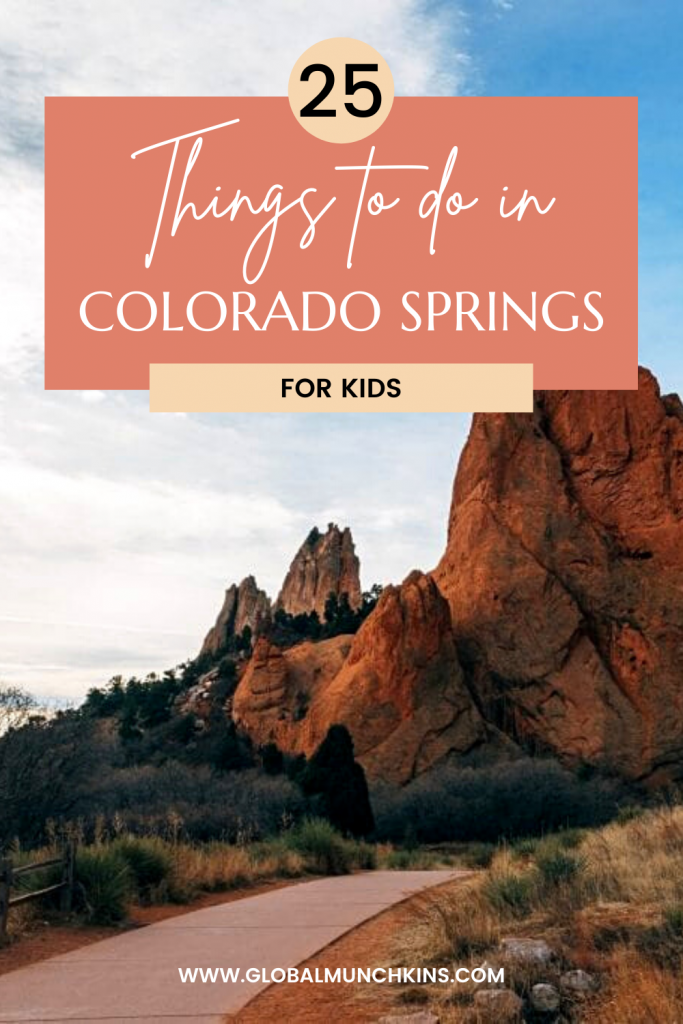 ---
If you enjoyed reading about kid friendly things to do in Colorado Springs, you might also enjoy:
Dog Sledding in Colorado- A Once in a Lifetime Experience!
The Broadmoor Colorado Springs from my friends at 365 Atlanta Traveler