If you follow us on Instagram, then you know we frequent Florida a lot as a family! Summer is the best time to head out and visit an amazing new place with your friends and family.
Visiting a place you could enjoy to the fullest, relishing every moment, and making memories that could last a lifetime. Well, this year is no different, and if you are planning to visit Florida, why not go out and visit ocean reef rentals.
Let's first go over all of the best destinations you can visit while staying in Florida. You can all sorts of fun in this state. Whether you're looking for a family trip like the Disney theme park, or something more exotic like the Seven Seas Lagoon; you name it, and this state has it.
---
ATTRACTIONS IN FLORIDA
When you're in Florida, not visiting its beautiful places will be a waste of time and money. To better guide you about your trip to Florida, we are listing down some of the best places that you need to visit here:
Kennedy Space Centre
Art Deco Historic District
Daytona 500 International Speedway
Everglades National Park
Manatee Viewing
Busch Gardens Tampa Bay
Duval Street, Key West
Dry Tortugas National Park
St. Augustine's Historic District
Castillo de San Marcos National Park
The Ringling
Edison and Ford Winter Estates
Salvador Dali Museum, St. Petersburg
Pensacola Beach
Gulf Island National Seashore
The Great Florida Birding and Wildlife Trail
Weeki Wachee Spring
Live Mermaids Show
When you get a chance to learn about all of the beautiful destinations in Florida, you'll want to visit every single one of them.
If you're planning a trip to this beautiful place to visit world-famous attractions and thinking about where to stay, we have you covered. Ocean Reef Rentals is the best option in Florida with all the luxurious and facilities you would want to make your trip memorable.
---
OCEAN REEF RENTALS IN FLORIDA
Ocean reef rentals in Florida provide some of the best accommodations you can find in the state. The entire experience here ensures that you and your family have a great time.
There are hundreds of beach-facing condominiums and homes in Miramar Beach, Panama City Beach, South Walton, and Destin that serve this purpose.
These rentals in Florida offer great deals and discounts, with complimentary services such as discounted boat rentals, golf courses, cruises, and bike rentals. They make sure that you don't miss out on any fun if you are vacationing in South Walton, Panama City Beach, or Destin.
Florida offers a wide variety of beautiful, well-equipped, and luxurious rentals, which you can choose according to your preference. Below is a list of the best, and most beautiful, ocean reef rentals you can stay in when visiting the adventurous state of Florida.
---
This is a one-bedroom condominium located just one street away from Crystal Beach. It can easily accommodate a family of 6 people or just 6 fun-loving vacationers.
It includes a Master-Suite with a king-sized bed, a queen-size sofa lying in the living room, and the entire house has earthy-toned interiors.
It has all sorts of necessities, such as a wall-mounted TV, glass windows to enjoy the view, a breezy balcony, and a cottage-style table with four chairs.
The condo will also include tropical-inspired furnishings, beer crates, a refrigerator, and kitchen. This rental gives you everything you need to have a good time in the city.
---
Just like its name, Casablanca is a dreamy mansion-like rental house, most appropriate for a family to stay on the beachfront. It has a generous space of 7,300 square feet, including a guest house. It can easily accommodate 22 guests, which is great if you plan on visiting with a much larger group.
It has superb amenities like a media room with a comprehensive TV and entertainment system, bunk room for kids, a master bedroom, and multiple guest rooms.
You can also find an expansive sitting area, walk-in closets, double vanities, a walk-in shower, a breezy beachfront balcony, and a roof-top balcony at the Casablanca.
This mansion-like rental has three floors, ensuring there is plenty of room for all of your guests. You can find this rental in South Walton, near Gulf Place, where you can enjoy unique galleries, boutiques, patio cafes, and restaurants.
---
This two-story home is a stroll away from the beach and gives you that classic Old Florida look. It offers you a large 32'x16′ swimming pool, tropical planting, and towering palm trees. It has a street-front balcony, which gives you a breezy feel all day long.
This spacious rental home has three bedrooms, easily accommodating ten guests. The beautiful contemporary interiors combined with a modern kitchen featuring all stainless steel appliances.
This house also offers you all the basic and luxurious amenities such as wall-mounted TVs, bunk beds for kids, full hall bathrooms, and panoramic views of the crystal blue beach.
---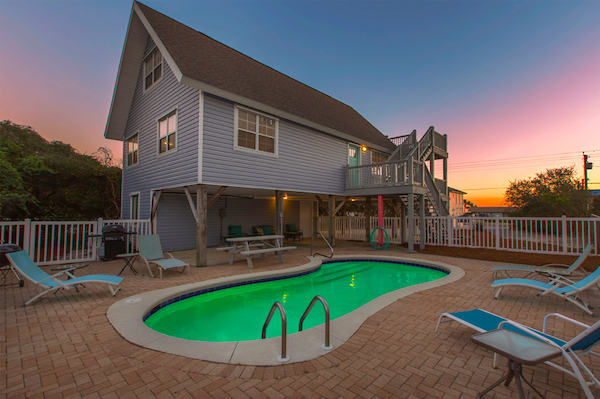 You can find this house on Scenic 30A in Seacrest Beach. It is a three-story home featuring three bedrooms, which lets you enjoy the sound of the sea all day long.
It has a wide covered parking, Full hall bath, living room, kitchen, two queen beds, king-suite bedroom, a gulf view, and so much more.
This three-story house has a vintage touch scattered among the more modern look. This rental is bound to make you feel comfortable, and will be a great place to get back to after a long day at the beach. You can visit funky art galleries, pop shops, and delectable dining options nearby as well.
---
This comfortable cottage is bound to bring back memories of your childhood family vacation home. It's a cute, cozy, and affordable cottage where you and your family can enjoy their vacations to the fullest. Magnolia, oak, and palm trees surround this cottage, hence the name 'Sweaty palms.'
The porch provides chairs and a picnic table to enjoy a tasty meal and drinks. Open sun deck, kitchen, Master bedroom, umbrella table and chairs, and a couch are all here to give you that homey feel.
You can find this house in Grayton Beach, close to all sorts of restaurants, concerts, live music, beach bars, and much more.
---
This beautiful rental house is also located at Scenic 30A, close to Santa Rosa Beach. It is a three-bedroom house, having 1,700 square feet of space, and can easily accommodate 12 guests. It offers you a refreshing pool patio, a veranda downstairs, and a fully-covered veranda upstairs to provide you with incredible sparkling views.
It has a beautiful Master-suite, kitchen, open living room, dining, windows, glass doors, flat-screen TVs, kid's bedrooms, and much more.
Cottage-style furnishings and beautiful beach views will have you visiting again and again. This location is close to Draper Lake, which is a natural treasure.
---
This is a contemporary beachfront home that overlooks the 'Gulf of Mexico.' It has a white cathedral ceiling and sliding doors to a beachfront balcony from which you can enjoy the vivid views and sound of the seashore. It has an expansive great room, up-to-date kitchen, a convenient bar, beachside dining area, and an open living area.
Wall-mounted TVs for entertainment, couches, chairs, and everything for your necessity is available here. You can find it at Miramar Beach, and you can enjoy gulf-front restaurants, scenic gulf drive, 110 stores, designer centers, and so much more.
---
This one-bedroom vacationing rental house can easily accommodate six carefree vacationers. It features abundant amenities and is just a stroll away from the sugary white beach. It offers a beautiful view of the sunset all year round through a balcony in the open area.
From the same balcony, you can also get a view of the glittering gulf, the coastal dune lake, and the crystalline beach from a single spot.
This house has a regal but cottage-style look with sunny windows. If you stay here, you can easily enjoy reduced price for the tennis court and golf course right across the lake, offered by Ocean Reef Rentals. You can even enjoy recreational water rentals at special rates provided by Ocean Reef Rentals.
This house has a twin bunk nook, kitchen, dining, balcony access, laundry, powder room, living room, master bedroom, and plenty more.
---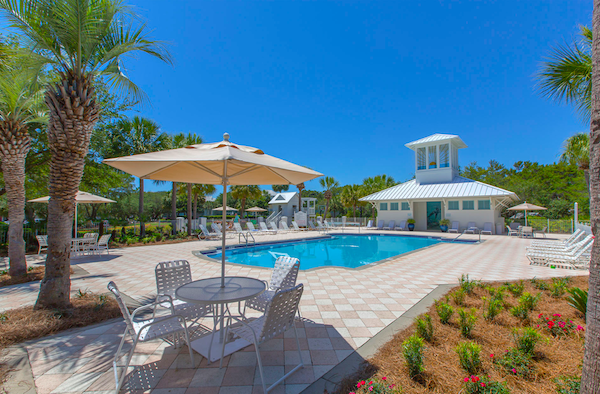 Coast Awhile is a comfortable vacation home with four-bedroom space that can accommodate 11 lucky people. You can find this gem Carillon Beach, the western end of Panama City Beach. You might feel like you are going through paradise when passing the bridge across Lake Powell.
You can find all of your needs around this location, such as swimming pools, tennis courts, shops, restaurants, a lake park, a basketball court, a bell tower, and many other things.
This house is a beach haven that offers plenty of leisure and entertainment. You can enjoy kayaking, fishing at the lake, along with facilities for basketball, tennis, swimming.
The best part about this location is that it is never far from your next shopping extravaganza, or the perfect spot to watch the sunset, and the list goes on and on.
Apart from all the exterior beauty, this rental house provides you with three floors, and all your necessities and amenities. Due to the location, this one is our personal favorite.
---
You can find this beautiful home at Scenic 30A, in Santa Rosa Beach, near all the fun amusements. It is a gulf-facing, seven-bedroom house that can accommodate 20 guests. It offers separate sleeping quarters, which can be an excellent choice for a beach party or reunion with your family and friends. This residence has a carriage house with a kitchen, living area, and two bedrooms.
This rental house has comfortable furnishings and decorative art. This home is close to the 'Vue on 30A' restaurant, which offers Caribbean and Floridian seafood. It has another popular restaurant near it named 'Stinky's Fish Camp.'
This house also comfortably offers you a living room with patio access, dining room, kitchen, king bedroom with walk-in shower, laundry, and much more.
---
BOTTOM LINE
This list only has 10 of the best ocean reef rentals in Florida. They offer you everything from comfortable furnishing, leisure equipment, heavenly views, and unique surroundings for your vacations.
Book any of these rentals to have the most leisure and enjoyable experience at the coastline, and we assure you that you will never regret it. If you need more information about your vacation in Florida, visit Global Munchkins and learn more about how to make your vacation memorable.
---
If you enjoyed our list of the best ocean reef rentals in Florida, you might also like:
10 OF THE BEST FORT MYERS BEACH RENTALS AVAILABLE FOR YOUR SUMMER VACATION
TOP 10 PLACES FOR THE BEST COASTAL VACATION RENTALS IN THE UNITED STATES
TOP 5 GORGEOUS LAKE GASTON RENTALS AND WHAT TO DO
YOUR GUIDE TO THE TOP BEST 6 OCEANFRONT BEACH HOUSE RENTALS IN THE UNITED STATES
10 BEAUTIFUL ACAPULCO AIRBNB RENTALS
---
Pin-it for later: The 10 Best Ocean Reef Rentals In Florida
Latest posts by Ashland Hendrix
(see all)