There is no better way to enjoy a mountain getaway or ski holiday than in Park City. We have traveled to Park City over a dozen times in both the summer and winter and love this iconic ski town. This miniature resort town in Utah has tons of great slopes and a very lively city center with tons of bars and eateries to keep you full and entertained.
When looking for a place to stay, there are of course some amazing resorts, but you can also find some dreamy places in a local Airbnb. Check out some of our favorite Airbnbs in Park City for every budget below!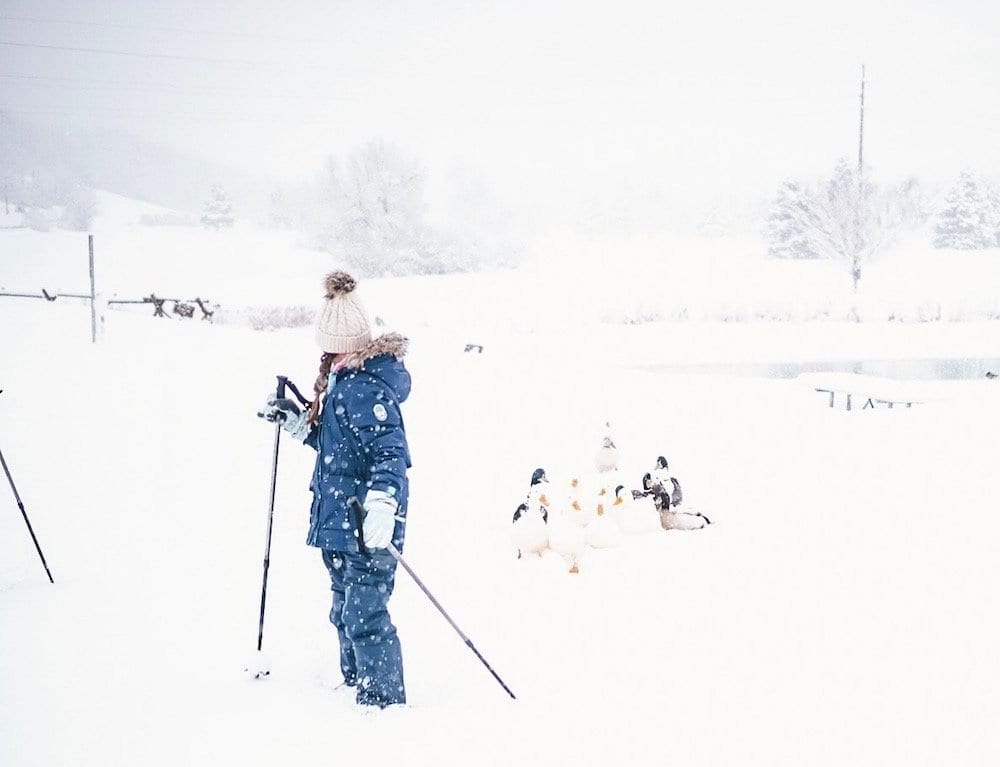 ---
Our Top Picks for Airbnbs in Park City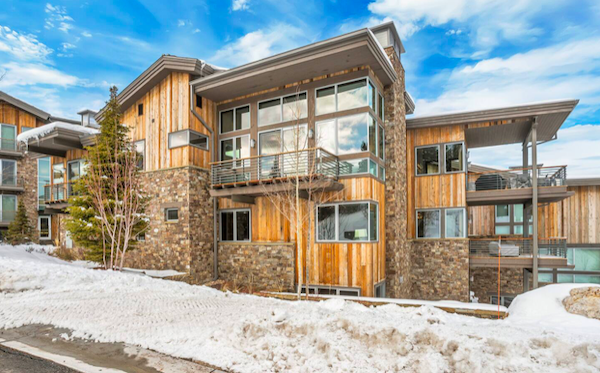 You can relax in style at one of the most legendary properties in Deer Valley. The villa has multiple vacation rentals, each of which comes with five bedrooms, a balcony, a private hot tub, a sound system, a satellite TV, and a wine fridge. You can also enjoy the shared infinity pool, al-fresco hot tubs, fitness center, and fire pits. The living is spread out over three levels, perfect for larger groups.
---
Condo In Park City is a cozy and warm vacation rental that is a great location for Park City Mountain's Town Life and Main Street! Sleeping 4 guests, this chic vacation rental includes a stylish living room with a wood burning fireplace, a full chef's kitchen and private patio facing the courtyard. This is definitely one of our favorites in Park City AirBNBs!
---
There is no better way to enjoy the life of luxury than in this Tuscan Lodge. The home sits smack dab in the middle of Park City and is only a few minutes away from the best ski resorts in town. Every one of the bedrooms in the Tuscan Lodge is a master suite, meaning there won't be any fights about who gets the best sleeping arrangement.
---
This gorgeous and secluded 2-acre cabin will be the perfect escape for you and your family! This AirBNB includes a cozy fireplace, suspended floor hammock and breathtaking views! Whether you want to come to enjoy the Sundance Film Festival, a gorgeous snowy escape or even a lush tree summer retreat this hideaway will be perfect for you!
---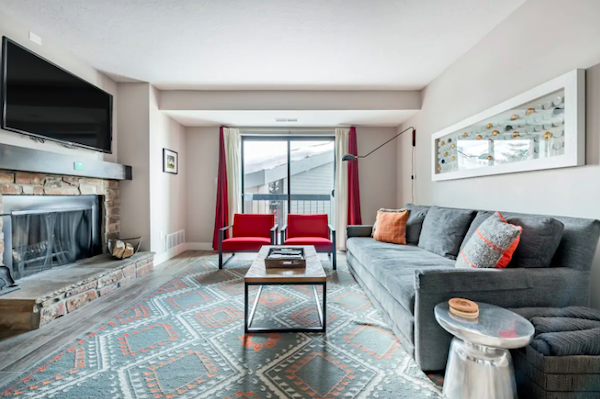 This resort-style home is the perfect place to embrace the blissful ambiance that Park City has to offer. As a completely remodeled unit, you'll get to enjoy chic furnishings, a cozy fireplace, and a ton of beautiful, modern tones. The home also includes access to many shared amenities, including a hot tub, gym, sauna, and an outdoor heated pool. Plus, the slopes are just a 50-yard walk away!
---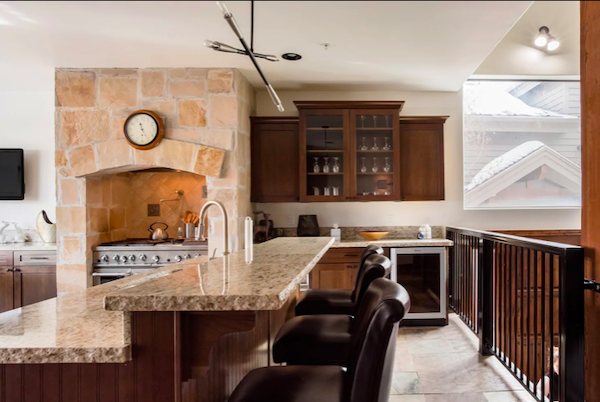 The Luxe Chalet is a three-bedroom/three-bathroom home just steps away from the Park City Mountain Resort. Enjoy a day at the slopes or shopping and dining on the town's historic Main Street. The home features beautiful vaulted ceilings, a ceiling-to-floor fireplace, a state-of-the-art kitchen, an outside jacuzzi, and spacious bedrooms.
---
Snuggle up during the cold season next to the enormous charcoal-hued fireplace in this stunning mountain view home. With floor-to-ceiling windows in the living room, you get one of the best views of Deer Mountain that you can get from a residential property. The beauty of this home is that it also comes with a free door-to-door shuttle service, which runs to and from Deer Valley's Snow Park Lodge.
---
This newly remodeled condo offers just about everything one could want from a Park City vacation, including a cutting-edge kitchen with top-of-the-line appliances, luxury bedding, a beautiful fireplace, pool and board games, and 50" smart TVs to enjoy your favorite shows and movies at the end of the night. Plus, you can ski in and out of the home from your very own ski locker room.
---
With unparalleled views of Jordanelle Lake, you'll get to see the slopes unfold from this multi-level luxury home. Some of the top amenities, beyond direct access to Deer Valley, include the al-fresco hot tub, the commanding stone fireplace, ping pong, pool table, soda fountain, and cinema room. The cabin hosts 16 guests in total and has six gorgeous bedrooms to choose from.
---
This dreamy and exquisite mountain custom home is one of our favorite airbnbs in Park City. Designed as a family get-away it has a fully equipped professional kitchen and butler's pantry, cozy fireplace, hot tub, fire pit and more! The gorgeous panoramic views will also make this vacation for you truly dreamy!
---
If you're looking for complete serenity after a long day of being out on the slopes, we recommend checking out this harmoniously designed condo. You'll get a splash of cozy colors and a tranquil vibe, perfect for relaxing. Make sure to head out to the communal pool and hot tub while you are there.
---
If you're looking to embrace the tranquil views of the park, check out this Rustic Urban Chic Home. The home features an open-concept design with neutral grays, exposed stone, an open dining area, and plenty of softwood accents throughout. While the top portion is all about tranquility, the lower portion features a pinball machine, foosball table, and gaming console for all-out excitement and fun.
---
Just steps away from the famous slopes sits this colorful oasis. You can enjoy a walk down the historic Main Street. Enjoy warm-hued patterned rugs and hardwood floors. Take a walk outside and you'll see nearby hiking and mountain biking trails. After the end of a long day, heat up the rustic brick fireplace and kick back with a glass of whisky in hand.
---
This cozy one-bedroom, resort-style condo sits in the Grand Summit Hotel at the heart of Park City. You'll enjoy the ski-in, ski-out accommodations, spacious rooms, open-concept kitchen, fireplace, and private balcony. The gorgeous pool is open all throughout the year along with the three hot tubs.
---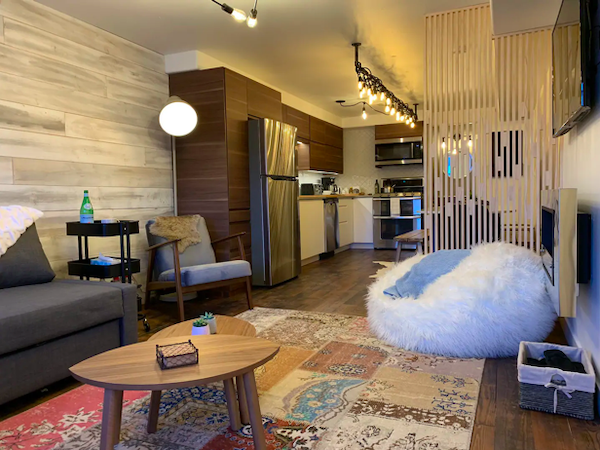 Our final pick for AirBnBs in Park City, Utah will not disappoint! This Main Street home is the perfect spot to gather with friends and family. You'll get to bask in the funky, modern decor, ski-in/ski-out design, and incredible gourmet kitchen. You get access to the entire apartment, which is just a few steps away from some of the best restaurants, bars, and galleries in town.
---
If you enjoyed our picks for Airbnbs in Park City, be sure to check out our picks for other destinations below!
THE 11 BEST AIRBNBS IN BIG BEAR FOR EVERY BUDGET
13 OF THE BEST BIG BEAR LUXURY CABINS FOR YOUR NEXT GETAWAY
AIRBNB SAN DIEGO – 11 AMAZING PLACES – PERFECT FOR EVERY BUDGET!
15 STUNNING AIRBNBS IN CHATTANOOGA
AIRBNB DISNEY WORLD – 15 MAGICAL AIRBNBS NEAR DISNEY
Pin It For Later: 15 Stunning Airbnbs in Park City for Every Budget