Seattle is an excellent spot for sightseers and coffee enthusiasts. It's the largest city in Washington state and one of the best tourist destinations in the Northwestern United States.
There is plenty to see and much to do in the city, and you'll easily fill your days with pit stops and attractions everywhere.
Grab an extra cup of coffee from the first ever Starbucks because the city takes on new life after-hours. Seattle is one of the best spots for nightlife and nighttime entertainment.
Here are our favorite things to do at night in Seattle!
---
Best Things to Do at Night in Seattle
Seattle, also known as the Emerald City, is a vibrant and bustling metropolis that offers endless entertainment options for tourists and locals alike. As a mom of six who loves to travel, I have explored this city inside out and discovered some of the best things to do at night in Seattle.
---
It's an unwritten rule that you can't visit Seattle without stopping at the Space Needle. Stretching 605 feet into the sky with its trademark pointed needle and 21st century futuristic styled architecture, the Space Needle is by far the most iconic portion of Seattle's skyline.

Tourists can check out stellar views of the city lights at night from the open-air observation deck or indoor viewing area with a rotating glass floor.
Visitors of the Space Needle may also enjoy The Loupe Lounge, a revolving restaurant at 500 feet with great cuisine, masterful mixology, and glass floor sections to see street level from your seat.
The Loupe Lounge literally redefines "high dining!"
---
Looking for something with some pre-war architecture and Prohibition-era vibes?
The Smith Tower, constructed in 1914, is known as Seattle's original skyscraper and stands approximately 484 feet at its highest point and enjoyed status as the tallest skyscraper outside of New York City for nearly 20 years. The granite and terracotta exterior emanates pre-war architecture for a striking appearance that harkens back to the old days of the Industrial Revolution.

The Smith Tower's observation deck offers another unique 360-degree viewing of Seattle's brightly lit night skyline from the 35th floor. In keeping with the Prohibition-era theme of the attraction, there is also a speakeasy-style bar serving in-house barrel-aged liquors and signature cocktails.
---
There is nothing like taking a ride on a ferris wheel! To sprinkle some fun in your spectacular viewing experience, head on over to Pier 57 and take a ride on the Seattle Great Wheel. Covered in 500,000 LED lights, it's absolutely stunning and vibrant against a night sky. Plus, they put on dazzling light shows every weekend to add a special touch of magic to your visit to Seattle.
For a unique private dining experience, The Fisherman's Restaurant and Bar provides a 4-course meal and bottle of wine from inside the enclosed gondolas. Dine in style at 175 feet over the Puget Sound for an excellent meal and unforgettable dining experience.
For those that would rather not ride a gondola during dinner, the adjacent waterfront hosts a plethora of dining options with some of the freshest seafood you can find anywhere. Grab oysters at Elliot's Oyster House or stop at Miner's Landing for seafood, souvenirs, and other attractions.
Pier 57 is home to a carousel, arcades, and many more family-focused attractions all within walking distance and an eyeshot of the brilliantly illuminated Great Wheel.
---
Enjoy the view at a Seattle Rooftop Restaurant or Bar
One of the best ways to experience Seattle's nightlife is to head to a rooftop bar or restaurant and take in the 360-degree view of the Seattle skyline. Panoramic views of the Seattle skyline is really something not to be missed.
Several bars in downtown Seattle offer this stunning view, but as we mentioned above the best one is at the Space Needle. While you're there, you can also enjoy a meal at the restaurant or explore the observation deck.
---
Another must-visit for any comprehensive Seattle trip is the Pike Place Market. Most tourists will want to get there super early to catch the famous fisherman throwing fish through the air, and they start as early as 6:30 AM.
That's not to say there isn't plenty to do at the world famous Pike Place Market in the evening. When the afternoon's vendors close up shop and the bustle of 10,000 daily visitors starts to diminish, the neon signs paint the night in colorful hues and the market takes on a different afterhours-type vibe.
There are innumerable options for bars, restaurants, and pubs. Try the Alibi Room for refined appetizers, pizza, and specialty drinks. Visit Radiator Whiskey to sample over 100 different kinds of scotch, bourbon, and rye.
For dinner and a show, try the Can Can Culinary Cabaret for a French-inspired Pacific Northwest dinner and entertainment including burlesque shows, cabaret, and comedy. The Pink Door is a great spot as well, offering fine Italian cuisine in their dinner theater alongside cabaret and other acts like circus or trapeze artists.
There are plenty of things to do and see at the Pike Place Market after dark. Just make sure you don't drink too much and accidentally lean on the Gum Wall while you're staggering home!
---
Have Fun at an Arcade
For those who love arcade games, Seattle has several places where you can indulge your passion. One of the most popular places is the Garage, which has dozens of classic and modern arcade games.
Another option is the GameWorks, which offers a wide range of games, from pinball machines to virtual reality experiences.
For those who love pinball machines, Seattle has several bars that offer them. One of the most popular is Shorty's, which has over 20 pinball machines to play. Another great option is the Add-a-Ball arcade in Fremont.
---
The Puget Sound looks great from any of Seattle's many waterfront restaurants and attractions, but you may feel more inclined to hop on a yacht and go for a cruise. With so many piers and the marina within walkable distance from one another, there are various options for sightseeing tours, booze cruises, and comprehensive packages including hors d'oeuvres, dinner, and drinks.
Dinner cruises on the Sound last approximately 2.5 hours and make a romantic evening for couples. We recommend getting out to enjoy a beautiful sunset over dinner and watching from out on the Sound as the sun goes down and the bright big city lights come on.
The beauty of Seattle at night from the Puget Sound is a beautiful sight that has to be seen to be truly appreciated.
---
Hit the Clubs or Visit a Brewery
Head on over from the Puget Sound to the sounds of nearby Ora, a multilevel club with two dancefloors, an ample bar, and LEDs flashing everywhere, for a bass-bumping heart-pumping dancing experience.
Visit Capitol Hill and head to Q for luxurious and unique interior design, an excellent sound and lighting system, and their own line of flavor-infused vodka and signature cocktails. Check out swanky and alternative Kremwerk in Denny Hill for an array of international DJs, the freshest electronic dance beats around, drag competitions, and queer artist showcases.
No matter where you are in Seattle, there's always a happening club a stone's throw away.
Not much of a club person? Do you prefer to sit back and enjoy a local brew with a robust and nuanced flavor profile?
Visit the local craft breweries for a more laidback hangout spot after-hours. Check out the Best of Hands Barrelhouse for a selection of sours, farmhouse ales, and coffee stouts from their outdoor patio and beer garden. Visit Rooftop Brewing Company for a kid-friendly and dog-friendly spot with views of the FIsherman's Terminal, a creamsicle-flavored pale ale, and a colorful cavalcade of visiting food trucks for flavorful foods to pair with your brews.
Most neighborhoods feature several great spots to sample local brews and chill after a long day of sightseeing in the Rain City.
---
Visit Gas Works Park
If you're looking for a unique nighttime experience in Seattle, head to Gas Works Park. This former gas plant has been turned into a public park and offers spectacular nighttime views of Lake Union.
You can also explore the park's haunted places, which are rumored to be some of the most haunted places in the largest city in Washington state.
---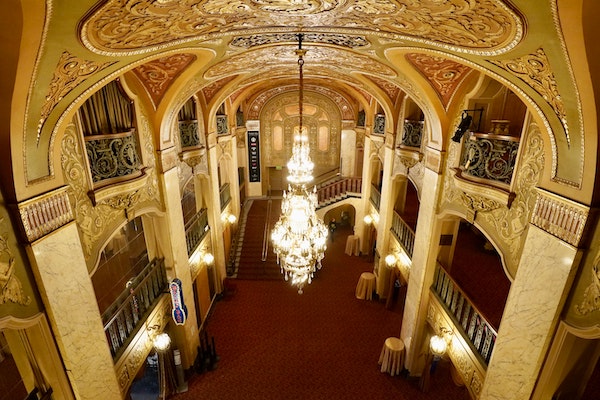 While New York's Broadway is known far and wide as the place to see theater, the Paramount Theater is Northwest gem featuring similar productions from inside its nearly 3,000 seat theater. Constructed in 1928, the vast interior features shimmering gold decor for an opulence that often is not seen in more modern establishments.

Grab tickets for Hadestown or Hamilton while you're in Seattle. If theater is less your thing, the Paramount puts on musical productions ranging from cover bands of classic rock imitators to visual arts masters, the Blue Man Group.
---
This isn't the museum you visited on your class trip. The Original Selfie Museum is a cool minute from the Gum Wall and offers a one-of-a-kind visually immersive, social media integrated experience.
Put simply, it's a really cool spot to take a selfie!
The exterior is the epitome of curb appeal, but if you think the outside is colorful then just wait until you step inside. Stage a photoshoot in various vibrant rooms with decorative themes and props provided. The Original Selfie Museum also allows dogs up to 25 lbs so you can pose with your pooch too!
---
Explore Pioneer Square
If you're interested in the history of Seattle, Pioneer Square is a must-visit destination. This neighborhood is the birthplace of Seattle and has a rich history dating back to the 1850s. During the day, you can explore the museums, galleries, and restaurants in the area.
But at night, Pioneer Square comes alive with bars, clubs, and live music venues. Take a walk around the historic district, and you'll see some of the city's oldest buildings and architecture.
---
Are you ready for some football?
Built in 2002, the recently renamed Lumen Field is home to the Seattle Seahawks and, although they haven't won the Superbowl since 2014, they always put on a great show.
If your visit coincides with football season, grab tickets and catch a game. Rain or shine, about 50% of the seating is covered so you can enjoy comfort while your choice of numerous concessions including pizzas, bar bites, cheesesteaks, fresh lemonade, and craft beer.
In the offseason, Lumen Field also hosts live concert events, so even tourists who are not into sports have a reason to see the stadium.
---
Take a walking tour
One of the best ways to explore Seattle is on foot. There are several walking tours available that take you through the city's famous landmarks and neighborhoods.
Whether you're interested in food, history, or ghost stories, there's a tour for everyone. Some of the popular tours include the Seattle Underground Tour, the Pike Place Market Food Tour, and the Seattle Ghost Tour.
---
The Woodland Park Zoo is a great way to spend the day looking at their all-encompassing ensemble of animals including lions, tigers, bears, and many more. If you're visiting Seattle in the winter, you may also visit the zoo during the evening hours to see the WildLanterns.
Woodland Park Zoo creates a fusion of Christmas and animals by staging large-scale replicas of their favorite zoo animals in lantern form. Using more than 375,000 LED lights, the effect is enchanting. There are more than 300 giant animal lanterns, some of which are animated.
It's an extra special way to spend your evening. Plus, it's family friendly!
---
Map of Things to Do at Night in Seattle
---
Frequently Asked Questions about Things to Do at night in Seattle
What can you do at night in Seattle?
Wander around Discovery Park
Go to a museum for free
Enjoy the Space Needle
Visit the Seattle Great Wheel
Try a new coffee shop
Watch a movie at Cinerama
Enjoy the best view of the city at Kerry Park
Get a hole in one at Flatstick Pub
Enjoy a beach bonfire
Eat your way through Pike Place Market
How many days is enough to visit Seattle?
Usually around 3-4 days is enough time to visit Seattle, depending on your list of things you want to do.
When is the best time to visit Seattle?
Rainy season in Seattle is usually October through March. If you are looking to avoid that, then May through August may be the better time to visit.
---
If you enjoyed our top things to do at night in Seattle, you might also like:
THE INCREDIBLE PORTLAND WATERFALLS [15 TO CHECK OUT]!
15 AMAZING THINGS TO DO WITH KIDS IN SALEM!
---
Pin for later: Things to do at night in Seattle