When it comes to educational and family-friendly vacation spots, Washington D.C. should be at the top of your list! Not only is it filled to the brim with some of the most iconic parks and landmarks in the U.S., but most of them also don't even cost a dime! On top of that, the transportation system is top-notch, so getting around the city is a breeze. We pulled together a 4-day Washington DC itinerary that hits all the popular spots to make your trip planning a little easier!
If you have a few days that you want to make the most out of with your family, here are some of the best places to visit in Washington D.C.!
4 Day Washington DC Itinerary – The Best Things To Do!
Day 1 Washington DC Itinerary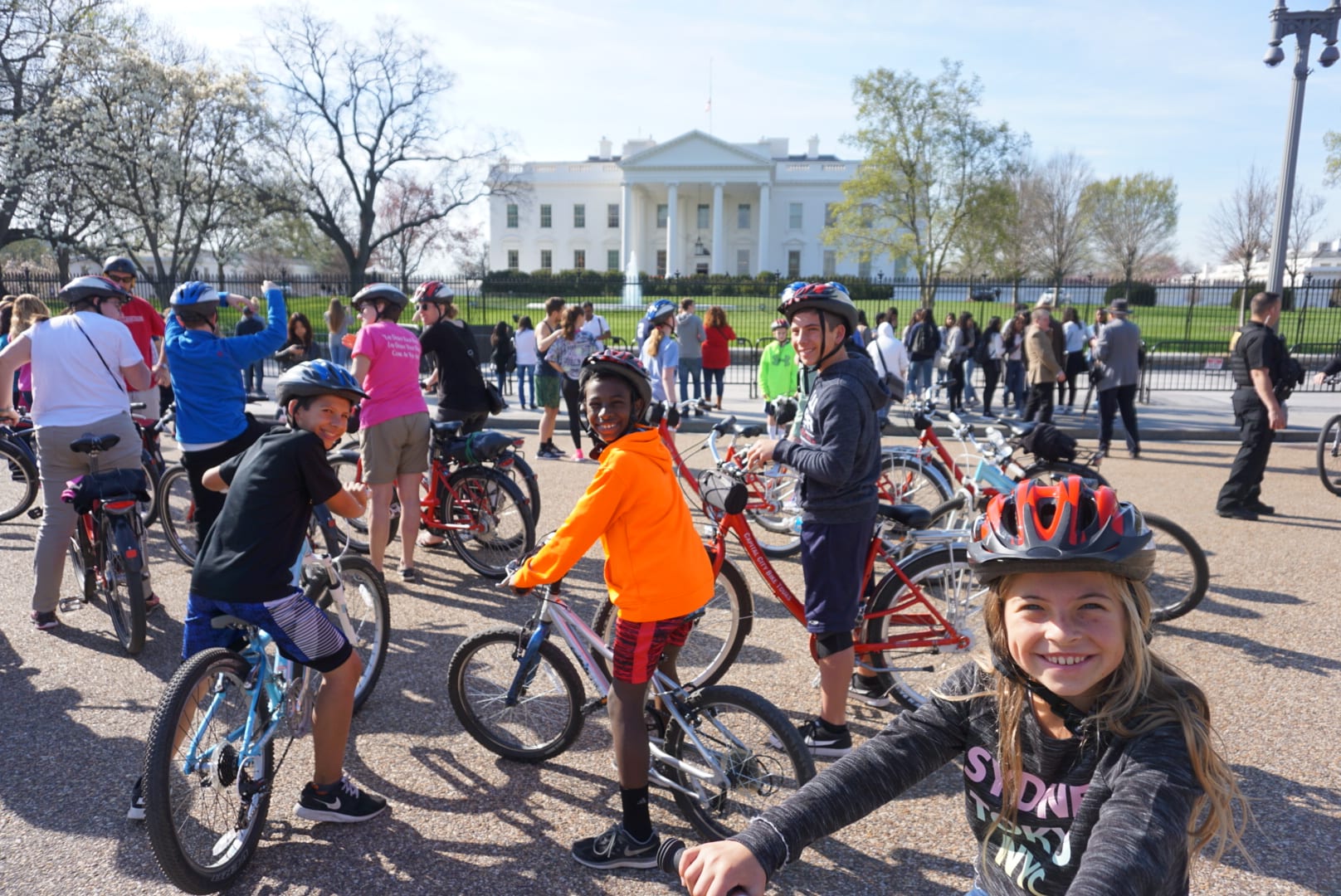 If you have read some of our other travel guides (Paris or San Francisco), then you know how much we love Fat Tire Tours. We think their tours are such a unique way for families to explore the city and our kids have absolutely loved it every single time. Bike Tours are great for when you first arrive in D.C., as they'll allow you to get familiar with the surrounding areas. Plus, the kids will be able to burn off some steam. The guides on the Fat Tire Tours are wonderful and there are a variety of different bikes for all shapes and sizes.
Check out their Washington DC tour options here. I recommend the Daytime DC Bike Tour or the Monuments and Memorials Segway Tour for something unique!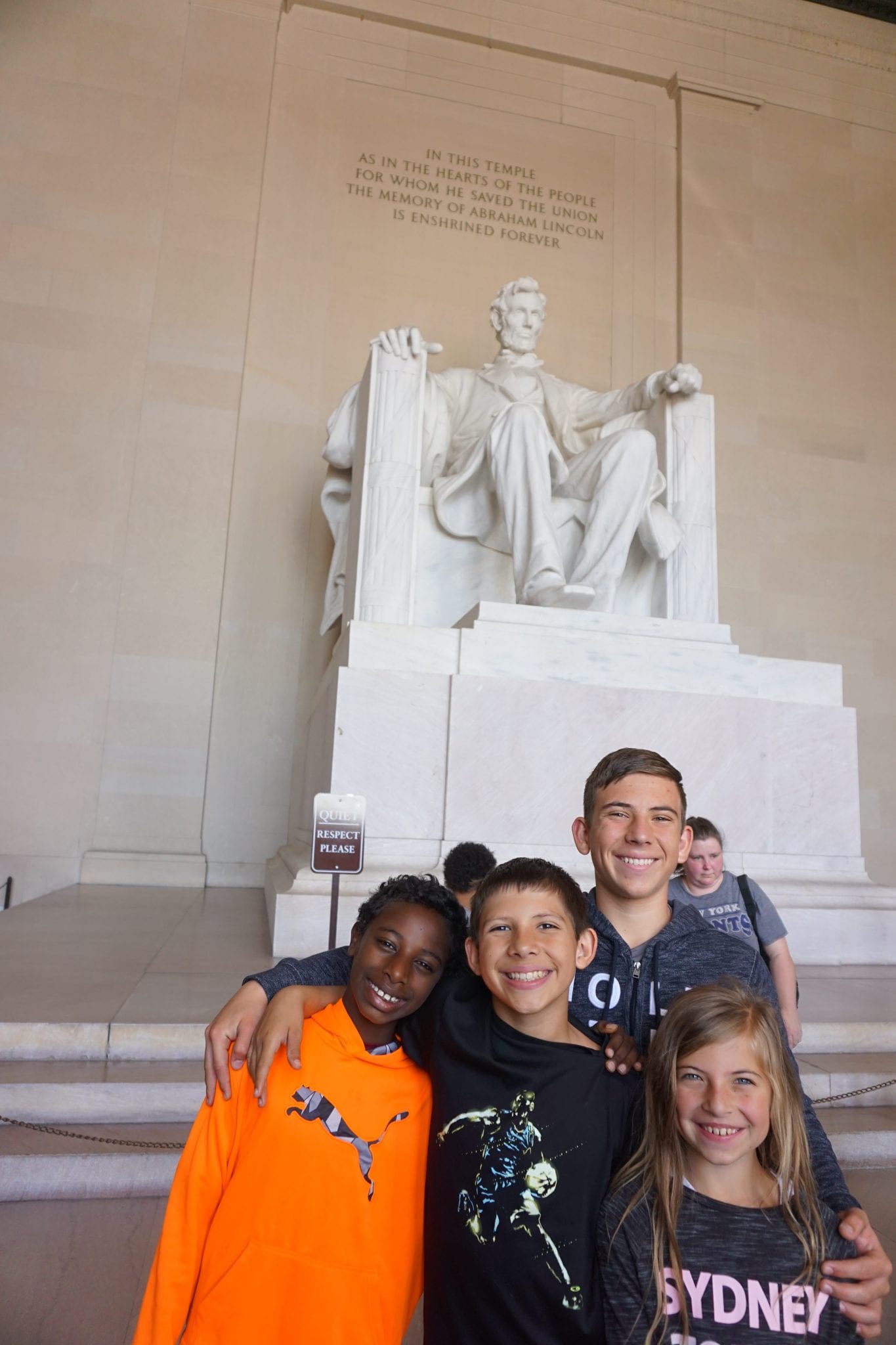 No trip to Washington DC is complete without some time spent at the National Mall. The National Mall is home to some important Washington monuments, both the Jefferson and Lincoln Memorials, as well as the memorials for Roosevelt and Martin Luther King Jr. Walking around is tons of fun and there are plenty of things to do, such as play on the grass or get some grub from one of the food vendors.
This is also the location of the Air and Space Museum AND the Newseum, making it easy to hit these spots next on your list.
Did you know all of the Smithsonian museums and zoos that are in the D.C. metro area are completely free? This is pretty incredible considering how top-notch some of the exhibits are, especially in the Air and Space Museum. Your kids are bound to have a blast here (and the kid in your will too)!
You can hop inside the Apollo 11 command module to get a closer look at what it's like to be an astronaut, or check out the test vehicle for the Hubble Space Telescope! Plus, what adults wouldn't want to feel like an astronaut for a day too?
If you have any air and space fanatics with you, consider a guided private tour. This way you can take a deep dive into history!
Day 2 Washington DC Itinerary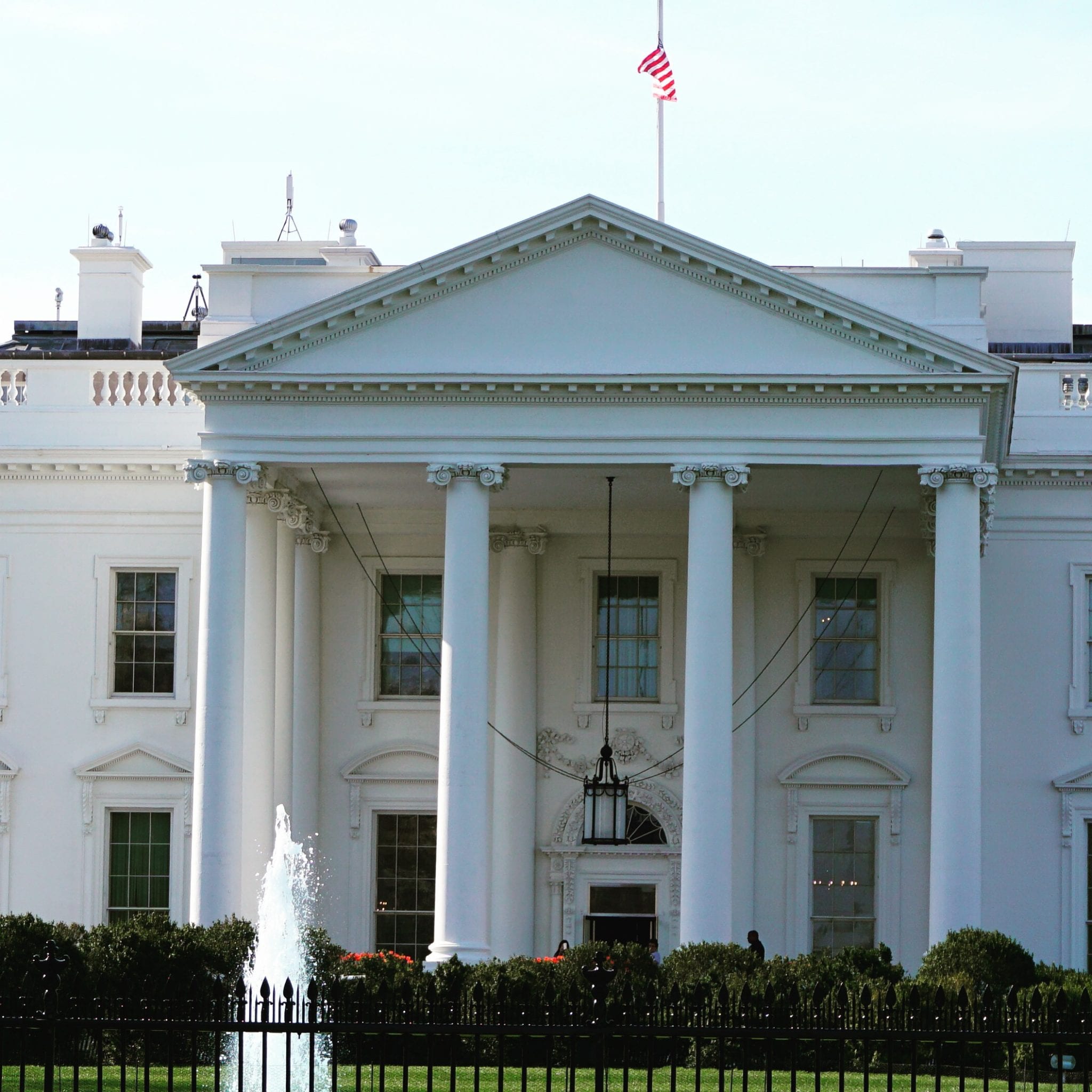 Strolling past the White House is something you almost don't realize you can do until you get there. However, it's pretty incredible once you really see it in person. The best part is, it's completely FREE! So much has gone on in that building throughout history, so seeing it up close is pretty special.
We loved just seeing the White House, but if you plan your trip far enough in advance (minimum of 21 days) you can book a White House Tour of the inside. Here are details for making this happen!
If you and your kids have seen Ben Stiller's "Night at the Museum – Battle of the Smithsonian", then visiting the National History Museum in D.C. will be even better! There are tons of awesome exhibits scattered throughout the museum, each of which is fun and educational. Plus, your little ones will feel like they've been cast into the setting of the movie!
Day 3 Washington DC Itinerary
If your kids don't get excited by a giant bus that turns into a boat when it dips into the Potomac River, we don't know what will get them excited. D.C. Duck Tours is pretty cool, even for us adults. Beyond the bike tours, this was one of the coolest ways we found to explore the city. You can pass by all of the great city sights, such as Capitol Hill, National Mall, and a variety of great museums. Of course, you get to see all of these cool things from the river, which makes it even more exciting!
Click here to see a video of our D.C. Duck Tour experience!
The Spy Museum is one of the coolest and most underrated museums in Washington D.C. Here your kids can choose their own spy characters and learn how to be a spy for a day. The exhibits are incredibly interesting and the spy gadgets on display are surprisingly authentic. With tons of great mock displays, as well as interactive areas, the Spy Museum is a great insight into the true world of spies.
Plus, they recently have added a new exhibit which is supposed to be absolutely incredible. I can't wait to check it out.
While all the museums in Washington D.C. are pretty awesome, overdoing the museum visits with kids can quickly turn your trip sour. We try to do only 1-2 a day unless they are very interactive museum experiences. That way we get to fully enjoy the museums we do visit. So, for your day 3 itinerary, we recommend choosing between the Washington DC National Gallery of Art and the National Museum of American History depending on your family's interests. They are both wonderful museums!
Day 4 Washington DC Itinerary
By Day 4, everyone can use a bit of downtime to grab some food and kick back and relax. We highly recommend heading to one of the many wonderful parks that are in the city. You can enjoy some time off your feet and your kids can run around and play! From Rock Creek Park to Meridian Hill Park and beyond, there are a variety of gorgeous spaces throughout the area.
Here are some more great ideas for a picnic spot!
Though it does require a little bit of prep work beforehand, we highly recommend getting in touch with a congressman or state senator so that you can get a staff-guided tour of the Capitol. While you can do a regular Capitol Tour, the staff-guided tour gives you the VIP treatment. It allows you to skip ahead of certain lines and see things that the public won't necessarily get to see.
What will you do in Washington DC?
Washington D.C. is filled to the brim with history, making it a wonderfully educational place to bring your kids. Beyond getting an insight into how our country was built and what our government does, you and your kids will get to enjoy the beauty of a true, metropolitan city. We hope that our 4-day itinerary has inspired you to plan a family trip to Washington D.C. I know just reading it makes me want to head back for another visit!
You May Also Like:
The ULTIMATE Guide of Things to Do in Washington DC with Kids
20 Incredible Spring Break Ideas for Families in 2020 [Luxury & Affordable]
The Ultimate New York Itinerary- 4 Amazing Days In New York
Latest posts by Michael Mamian
(see all)