Yosemite resorts are few and far between as most travelers who visit this iconic national park located in California choose to camp. Well, I am here to tell you they are doing Yosemite ALL WRONG!
Tenaya Lodge in Yosemite is one of the most luxurious family-friendly resorts I have come across. This beautiful lodge in Yosemite offers world-class spa treatments, a plethora of family activities and is pet-friendly too!
This resort is a huge reason why Yosemite is one of the best national parks for kids.
---
Yosemite Resorts Review: Tenaya Lodge
As I pulled off the snow-capped evergreen bordered highway and into the driveway of the elegant, Four-Diamond Tenaya Lodge, one of the BEST Yosemite resorts, I knew this trip to Yosemite would be unlike any Yosemite experience I had ever had before.
I stepped out of my car and took my first deep breath of the cool, crisp alpine air and I knew right then this was a vacation I would never forget.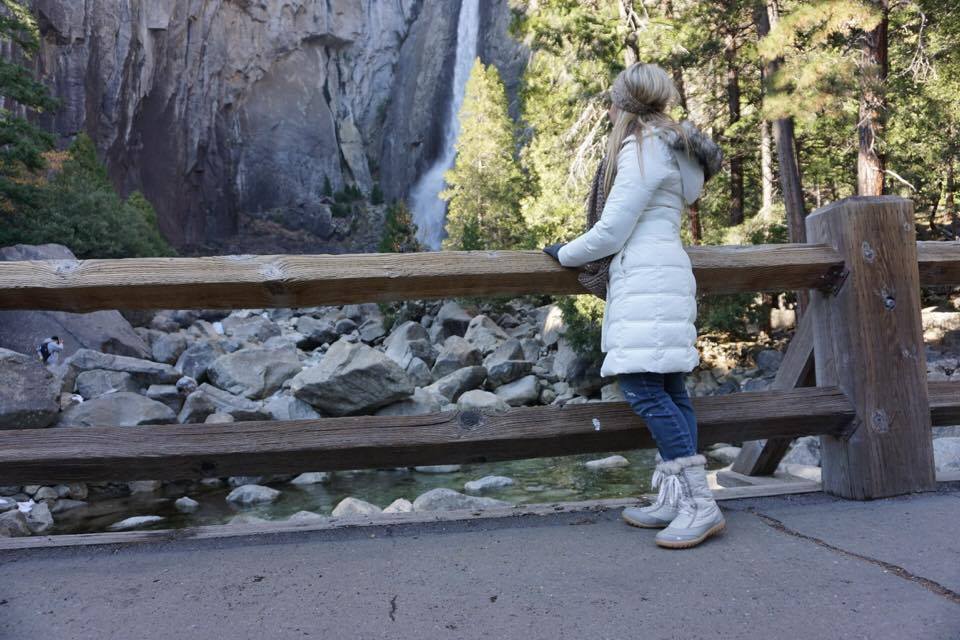 I am not new to Yosemite's beauty. As a child, I spent my summers camping here with my family. But, this was my first time back in 15 years and this time the park was covered in powdery white snow.
I was thrilled to bring my father and one of my sons (Owen) with me too! We quickly learned that staying at Tenaya Lodge is one of the BEST choices you can make when choosing which of the Yosemite resorts you should book for your family vacation.
Tenaya Lodge at Yosemite, is located just outside the South Gate of Yosemite National Park. This award winning resort is nestled in the heart of the Sierra National Forest, offering breathtaking views and a serene atmosphere.
---
Service
Friendly, cheerful, and always ready to help. That is how I would describe my interactions with every single staff member I came in contact with at Tenaya Lodge, from the bellman to the General Manager.
It was like every single worker was on a mission to ensure my family had the best possible stay. This is what extraordinary service looks like.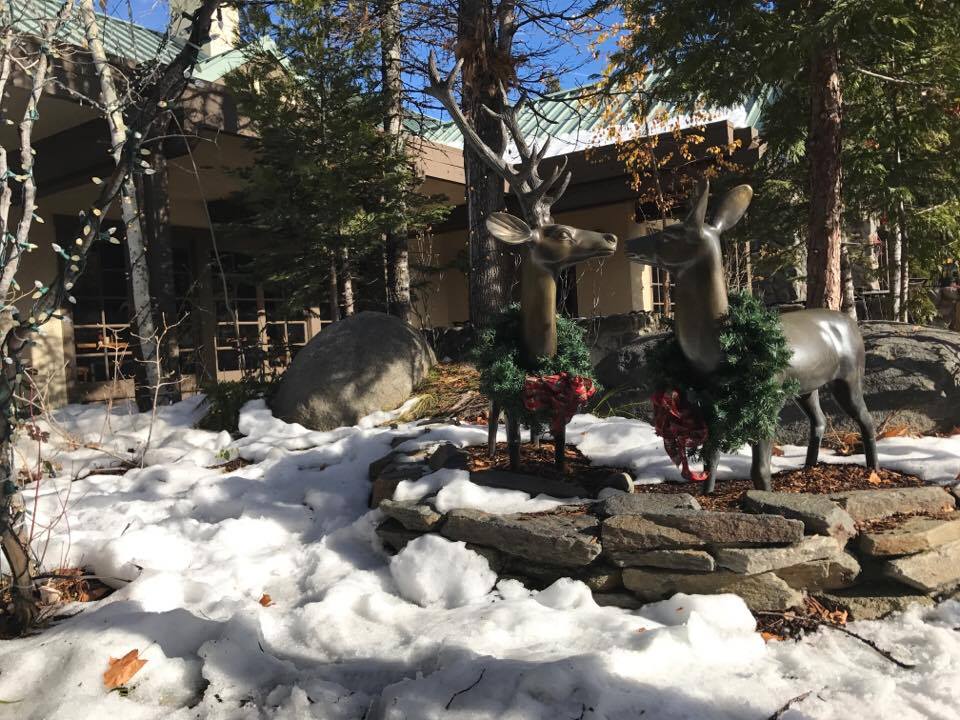 And, to be honest it can be a rare find in the luxury family travel genre.
The only other resort that offers this level of service for both adults and kids, that I have experienced, is Disney's Aulani. So, you can expect to be well cared for should you choose to stay at Tenaya Lodge.
We were fortunate to visit Tenaya Lodge during December when the resort transforms into a winter wonderland. I mean, how gorgeous is the 30+ foot tall REAL Christmas Tree? It made the whole lobby smell incredible!!!

The staff hosts a bunch of fun activities for families during the holidays like the Gingerbread Workshop hosted by the resort's culinary team. That is their creation (above). Looks like we need a little more practice when you compare our gingerbread house (below)- ha!
But, this was by far the best way to do gingerbread houses with kids. More candy than the kids could have ever dreamed of lined the tables and no clean up for me. Woot! Woot!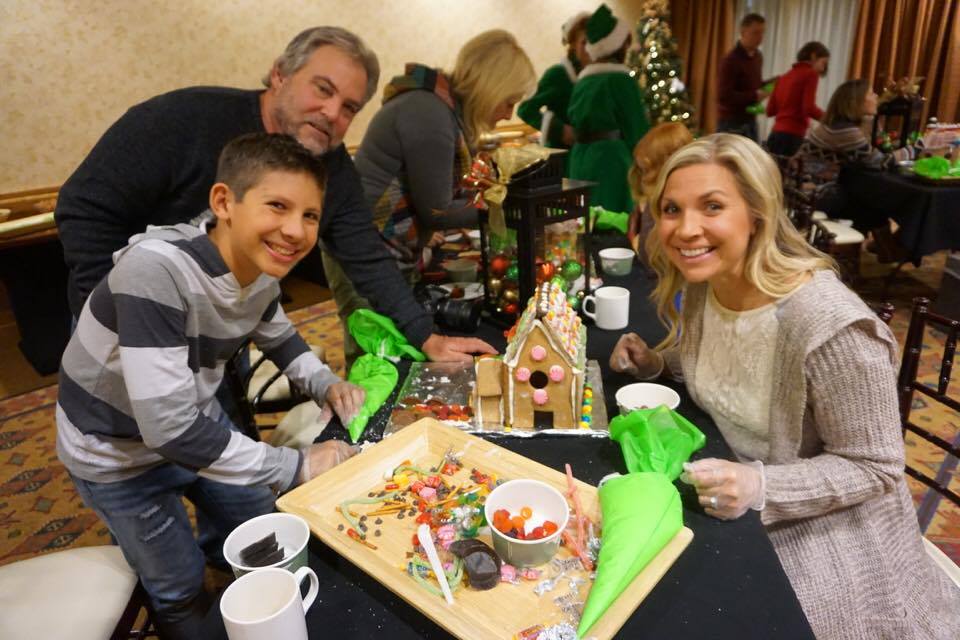 Tenaya Lodge Activities
Ice Skating
There is also an outdoor ice skating rink on the property.
The staff there helped fit our skates, showed us where the hot cocoa and s'mores-making kits were, and also let us know if we wanted to order food the hotel's restaurants would deliver it to the rink. See what I mean about the staff going out of their way. Love it!!
The BEST S'MORES EVER!
I don't know if it was the chill in the air or maybe the fresh mountain smell but the s'mores we made at Tenaya Lodge were the BEST S'MORES I have EVER had.

The Tenaya Lodge Pools
The staff also encouraged us to check out the pools. The resort boasts multiple swimming pools, a splash area, and 5 hot tubs during the summer months.
During the winter, when we visited, the outdoor pools were closed. However, you can still enjoy the hot tubs and the indoor heated pool which Owen thought was pretty spectacular. I highly recommend booking an extra day or two just to spend at the resort. There is SO much to do there!!!
Additional Tenaya Lodge Adventure
For the more adventurous members of our family, the resort offers a variety of outdoor activities, including a climbing wall and rock climbing in the nearby Yosemite Valley.
The climbing wall is a great way to get the kids active and teach them the basics of climbing, while the more advanced climbers in the family can venture out into the park for a more challenging climb.
---
Rooms
Tenaya Lodge recently went under a $5 million dollar remodel which included refreshing 240 of the Yosemite resorts main rooms and suites.
The update included enhancements like granite countertops in the bathrooms, new sofa sleepers, all new luxurious bedding, fresh paint, and carpet. How beautiful is the suite below?? I want them to come decorate my home, not kidding!
Since we visited on a press trip we were gifted with some amazing Tenaya goodies upon arrival. I was super impressed with the quality of all of their products.
So, definitely check out the gift shop while you are there. And, get your kids some of the bear poop candy- they will get a kick out of it 😉
Families will love the various accommodation options available at Tenaya Lodge as they have everything from plush multi-room suites and cottages to multiple bed configurations in their standard rooms.
*TIP- One room type I think is extremely family & budget friendly is their extended double queen room. As it has an extra living space with a pull out sofa.
There are also suites with separate bedroom and living space areas. And, the cottages are going to be remodeled into gorgeous villas later this year (2017).
Villas are by far my favorite way to stay with a family as big as mine, or when traveling with a group so I CANNOT WAIT for those to open.
The rustic mountain vibes, plush bedding, sweeping mountain views, beautiful tiled bathrooms, and tons of storage space provided in the rooms made Tenaya Lodge a lovely place to call home during our trip.
I was in a standard double queen room and the mini fridge and coffee maker with individual k-cups were also very handy. Not to mention the fantastic high-speed internet connection, who would think, in the mountains?
Explorer Cabins
If you're looking for a more unique experience, the resort also offers Explorer Cabins, which are perfect for families.
These cabins are located in a secluded area of the resort and offer all the amenities of a hotel room, with the added bonus of a kitchenette and living area. It's the perfect place to unwind after a day of exploring the park.
Our Room Tour
---
The Tenaya Lodge Ascent Spa
One of my favorite features of Tenaya Lodge is the Ascent Spa, which provides the perfect retreat for some much-needed relaxation and rejuvenation.
The spa offers a range of treatments, from massages to facials, and even has a sauna and steam room. It's the perfect place to unwind after a long day of exploring the park.
Not just any spa, but a world-class spa with fantastic treatment options and the BEST massage I had all year long!! They are NOT kidding when they say staying at Tenaya is "roughing it, minus the rough part"- ha!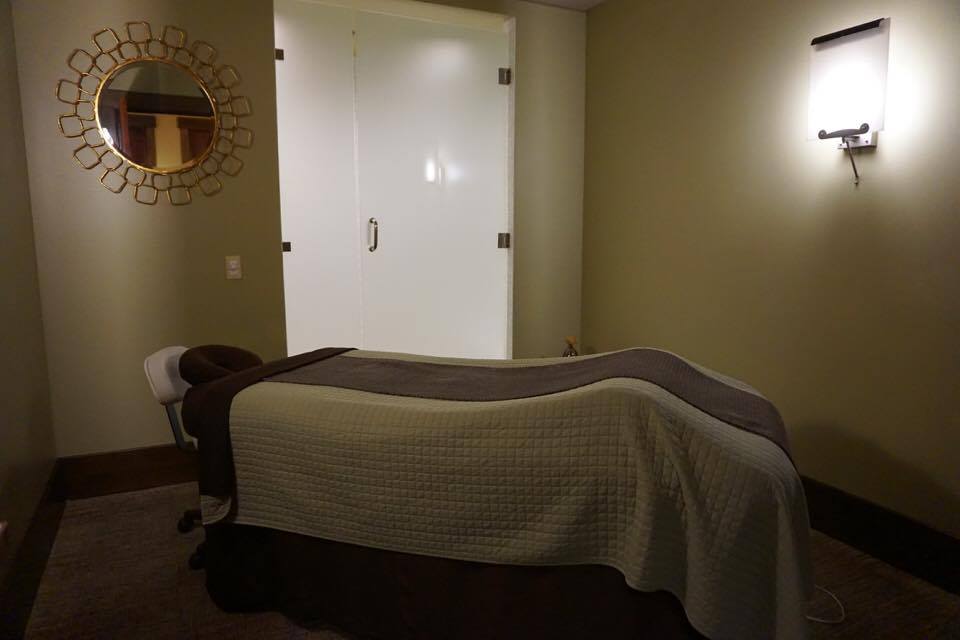 I also took a kick-butt yoga class during my stay and had a chance to workout in the fitness room. So, if you are worried about staying on track while visiting Yosemite- relax!
I couldn't help but purchase a few gifts for myself. Who could resist these cute cups and prints in the spa gift shop?
Dining
Whether you are looking for casual fare after a long day in the park or a romantic candlelit experience sure to impress your loved one, Yosemite's Tenaya Lodge has a restaurant just for you.
Sierra Restaurant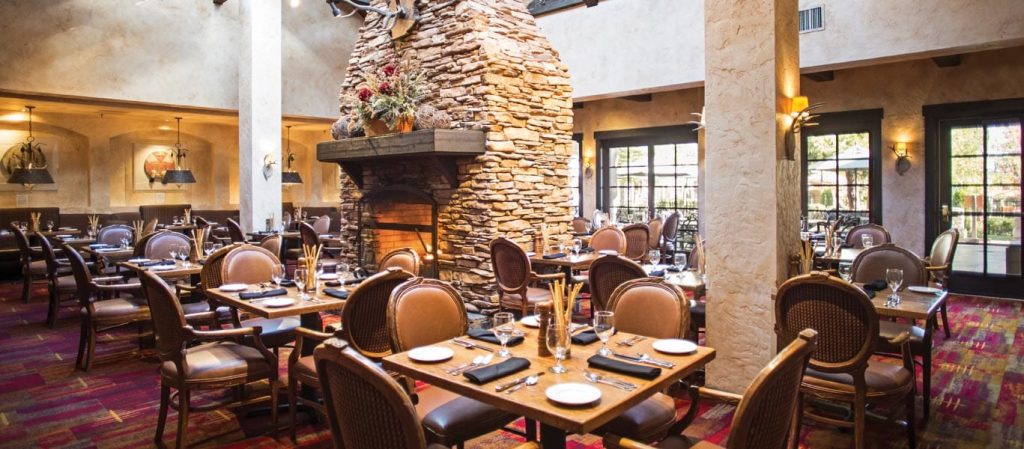 A sophisticated, yet relaxed family-friendly dining room with both indoor and outdoor seating serving breakfast, lunch, and dinner. This is your go-to spot for dining on the property as the food here is excellent and the seating is plentiful.
Don't miss their delicious breakfast buffet and at dinner, I highly recommend their Coq Au Vin. Sierra also has an excellent kids menu- Owen approved. He recommends the kids PBJB, it is a triple decker peanut butter, jelly and sliced banana sandwich with the crusts removed and served with a side of your choice. I have to admit it was pretty tasty!
Jackalope's Bar and Grill
If you are in the mood for some burgers and beer, a light vegan wrap or a salad, Jackalope's Bar is your place. Saddle up at the bar or take a seat in one of the cozy booths.
Just be sure not to eat too many of those delicious housemade potato chips sitting at every table. You will want to save room for your meal.
As with the rest of the restaurants at Tenaya portion sizes are large and easily splittable for those who are more petite or watching their weight. I loved their Thai Lettuce Wraps!
Embers
If you are looking to treat yourself you MUST visit Ember's. You will need to check the kids into the amazing kids club first though as this is an adult only restaurant. Embers is a timeless, intimate, upscale dining experience that will sure to WOW.
The wine list is extensive but the well-trained staff will happily help you pair a drink with your exquisite meal. Make sure you save room for dessert, the Bananas Diablo not only tastes delicious but it also doubles as entertainment as well. Check out the photo below.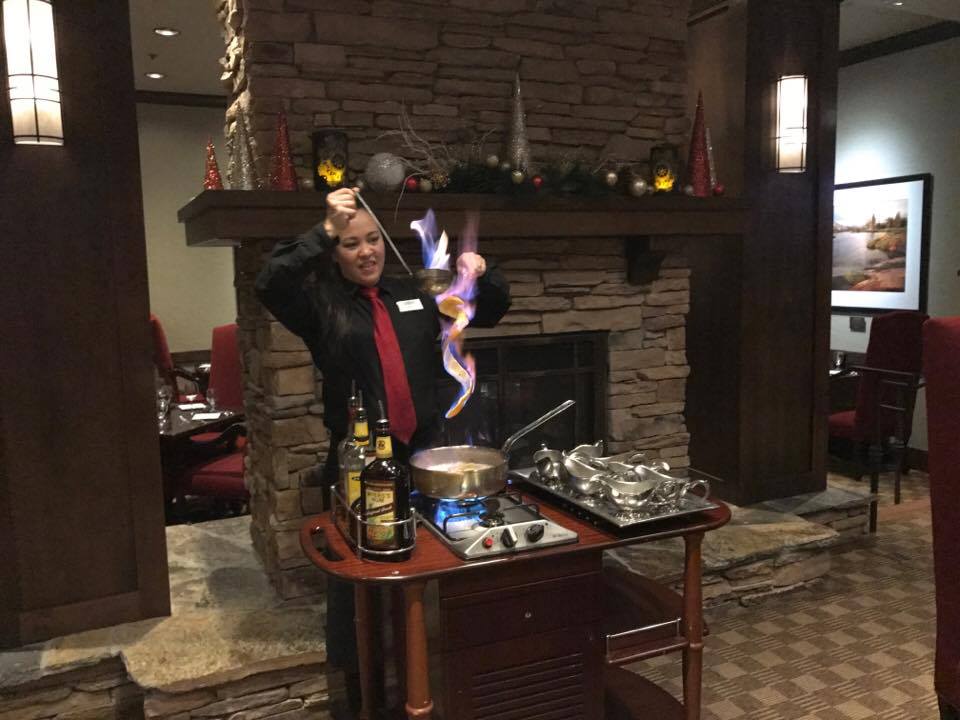 Timbers Pizzeria
Timbers Pizzeria is a seasonal restaurant located near the cottages serving brick-oven pizza, pasta dishes and more.
We didn't have a chance to dine here during our stay but the menu looks delicious and pizza is always a kid-friendly crowd pleaser.
Parkside Deli
If you just need to grab something quick or a morning latte the Parkside Deli is an easy choice.
Room Service

Tenaya Lodge also offers amazing room service as well which is great for powering up before hitting the trails. Their breakfast burrito and monkey bread are crazy delicious!
---
Kid-Friendly Rating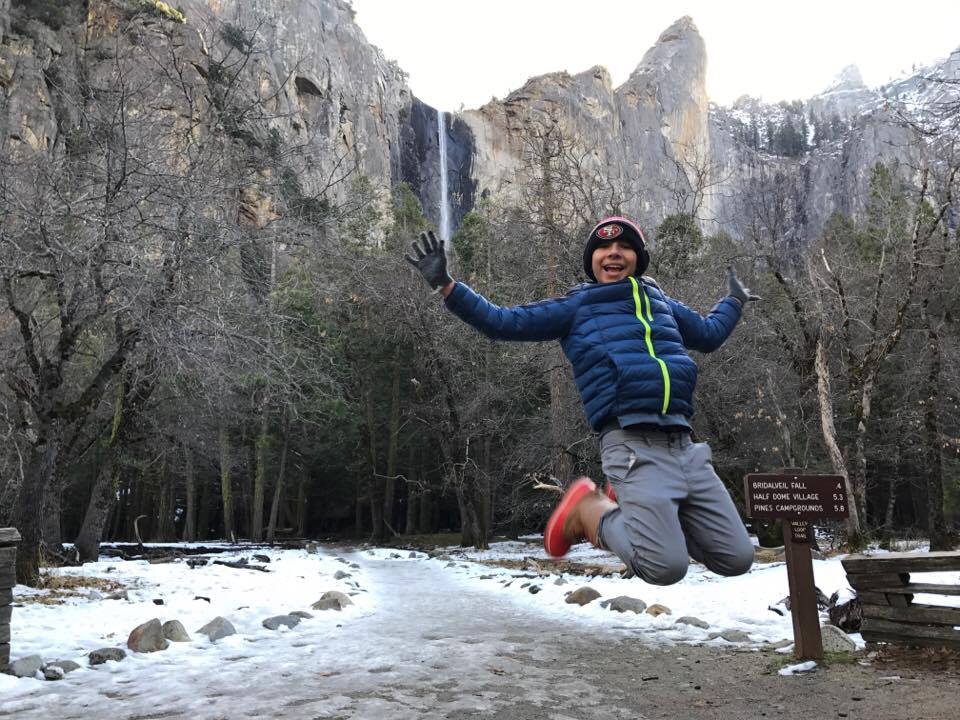 Tenaya Lodge is an incredible place to stay with kids in tow. In fact, they recently won their second coveted Sunset Award for the Best Resort for Families.
Staying here seriously makes the entire trip to Yosemite more relaxing and just flat out easier because kids get all the comforts of home like a comfy bed, mini fridge, washers and dryers, and delicious kid-approved food.
A far cry from the conditions we experienced as campers. My poor parents had overtired whiny kids out on the trails- no fun!
As you can see, Owen was more than happy to explore the parks being well rested and well fed.
That means- I was a happy mama too!
Tenaya also offers a wonderful kids club that plans a ton of activities for your kids. Owen adored the counselors when we checked him in so that we could enjoy a delicious dinner at Ember's.
---
Pet-Friendly Rating
We sometimes travel with our pups so we were excited to hear that Tenaya Lodge at Yosemite was named the Best Pet-Friendly Resort in 2015 by Sunset Travel.
We will have to return with our dogs and check it out someday. I hear they have specially made treats for your pet and cozy dog beds too. Although, we didn't have our dogs with us on this trip I did see quite a few furry friends walking through the lobby and they seemed very happy 😉
---
Things to Do & See Nearby (in winter)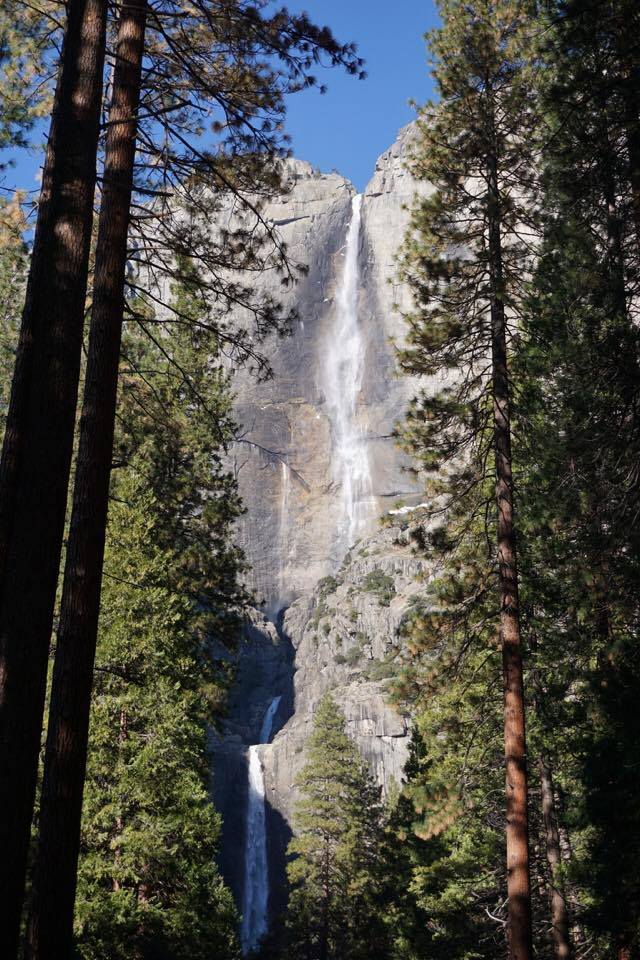 ---
Find more fun kid-friendly things to do in Yosemite here.
---
Overall
I honestly could not have had a better stay. Staying at Tenaya Lodge is, hands down, a MUST when traveling to Yosemite with your family. In fact, I can't wait to return with my whole crew next winter when those villas open up!!!
---
For more information on Tenaya Lodge Visit their website, Facebook, Instagram and Twitter pages.
---
Looking for other AMAZING National Parks to Visit? Check out these posts from some of my favorite Family Travel Writers
---
*A special thanks to Tenaya Lodge for providing some of the above photos and for hosting us on our recent visit. As always, all thoughts and opinions are 100% my own.
---
If you

enjoyed

reading about Yosemite Resorts and Tenaya Lodge, you might also enjoy:
BEST HAWAIIAN ISLAND FOR KIDS – AMAZING ACTIVITIES, RESORTS & MORE
10 UNBELIEVABLE NATURE RESORTS TO ENJOY THE GREAT OUTDOORS
DAVID'S DVC RENTAL REVIEW – BIG SAVINGS, IS IT WORTH IT?
THE 10 BEST ARIZONA RESORTS IN 2023!
BEST SANDALS RESORTS IN 2023! A LOOK AT THE LEADER IN ALL-INCLUSIVE RESORTS
---
Pin-it for later: The Ultimate Guide to Yosemite Resorts & Tenaya Lodge
---
Have any questions? Leave a comment below, I LOVE to help families get out and travel the world together!!!
---
Frequently Asked Questions about Yosemite Resorts and Tenaya Lodge
How much does it cost to stay at Tenaya Lodge?
The cost of staying at Tenaya Lodge can vary depending on the season and type of accommodation chosen. It's always a good idea to check the resort's website or contact their reservations department directly for the most up-to-date pricing information.
How far is Tenaya Lodge from the entrance to Yosemite?
Tenaya Lodge is located just outside the southern entrance of Yosemite National Park, also known as the South Gate entrance.
The distance from the resort to the entrance is approximately 2 miles (3.2 kilometers), making it a convenient location for visitors looking to explore the park.
Latest posts by Mama Munchkin
(see all)