Since our home is just a couple of hundred miles from the Arizona border, our family often finds ourselves in the Grand Canyon State. We have explored some of the best resorts in Arizona from posh resorts for couples, to spring break adventures, to unique outdoor experiences, incredible hotel water parks, there are a wide variety of resorts to suit anyone's needs.
Let's look at some of the best Arizona resorts so that you can find the right one for you and your family!
---
Loews Ventana
Loews Ventana is probably one of the most dramatic and luxurious resorts in this particular region. It is a Great Option for Family-Friendly Resorts in Arizona. It sits at the foot of the Santa Catalina mountains, offering prime, picturesque views to all that stay. Just a few steps from the lobby is a gorgeous waterfall.
You can expect to see tons of wildlife while you're there too, including coyote, deer, and, of course, great horned owls!
There are two massive pools, two golf courses designed by Tom Fazio himself, a scenic walking trail, and a few lighted tennis courts. Every room is beautifully furnished with desert-like, muted Earth tones, and a double-wide tub.
---
Westin Kierland Scottsdale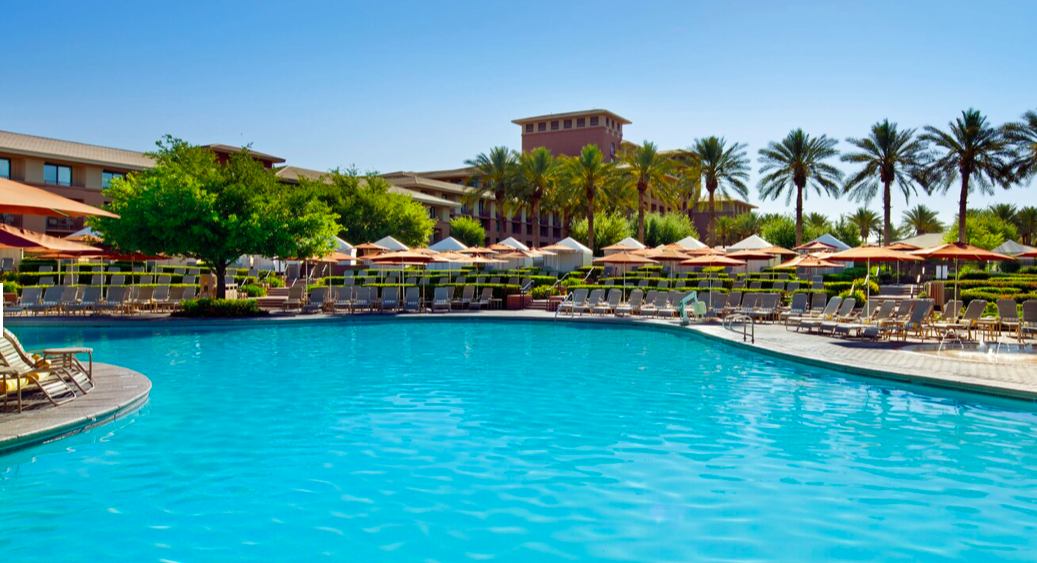 Calling All Luxury Family Travelers, the Westin Kierland resort in Scottsdale is probably one of the most family-friendly resorts in all of Arizona. We have stayed here on numerous occasions.
There are plenty of things to keep the whole family entertained, from the massive waterslide to the man-made FlowRider wave for surfing to the lazy river pool and complimentary weekend s'mores.
There are three golf courses on the property, each set upon the foreground of impressive desert scenery. Take a break from the little ones and recharge at the adults-only pool. For a little refreshment, make sure to check out the Agave Spa.
The Westin Kierland has definitely earned its place on our list of best Arizona resorts!
---
The Phoenecian
The Phoenician might just be one of the most well-known resort names in the southwest. This award-winning resort features several renovated rooms that sit in front of a beautiful desert landscape.
Golfers will love the first-rate, 27-hole championship golf course while relaxation specialists will enjoy the 22,000 square-foot spa. There are plenty of dining options for all palates, as well as a kids club for when you and your special someone needs a break.
If you're looking for ultimate luxury, look no further than the Phoenician.
---
Under Canvas – Grand Canyon
If you are looking for a unique experience than Under Canvas near the Grand Canyon is the resort for you. We had a trip planned this summer to visit Under Canvas, but unfortunately, had to postpone it.
This glamping experience looks simply amazing. You will find yourself at a glamping resort that will provide luxurious amenities like organic bath products and a zen garden. But then add the fun of camping with s'mores and fun camp activities. All of this in a beautiful setting
Under Canvas has tents large enough for a family and the resort is just 25 minutes from the southern entrance to the Grand Canyon, so it is perfect for your Grand Canyon vacation.
---
Arizona Grand Resort
Best Resorts in Arizona for Families with Teens
Another wonderful, family-friendly resort is the Arizona Grand Resort. This modern resort is known for its fun activities and an incredible water park for resort guests only.
On 220 acres sits a massive water park, 18 holes of prime golf, and a cutting-edge athletic club with a full-service spa attached. This is one of the more popular family-friendly resorts in Arizona and one of the best hotel pools in the nation.
Scattered throughout the resort are six pools and tons of dining options for all different tastes. The hotel went through a major renovation back in 2017, giving the one, two, and three-bedroom suits a luxurious yet homey feel.
---
Tanque Verde Dude Ranch
If you're taking a road trip through Arizona or simply traveling to the southwest, you might be looking to take on the full experience of ranchers. In that case, why not stay at a dude ranch?
Of course, hanging with the cowboys doesn't mean you have to sleep in an old, weathered tent or creaky wooden inn. The Tanque Verde Ranch provides a mixture of American Southwest authenticity and total luxury.
At one point in time, Tanque Verde was a real, working ranch with cattle. In fact, the resort still has around 60,000 acres for its cattle.
There are plenty of activities to enjoy at Tanque Verde Dude Ranch, including cave exploring, rock climbing, jeep riding, hiking, and exploring hundreds of acres of beautiful desert on horseback.
---
Hilton Sedona Resort at Bell Rock
Sedona is one of the most magical places in all of Arizona. There is no better way to experience that magic than from the comfort of a gorgeous Hilton resort. The Hilton Sedona is great for mid-range vacationers who want to enjoy the luxury of spas, golfing, and poolside sipping without the insane costs.
The resort sits about 20 minutes from Sedona, yet there are still plenty of red rock views to enjoy. It is no surprise that it was voted one of the best Arizona resorts!
---
Boulders Resort & Spa Scottsdale
Boulders Resort & Spa in Scottsdale has received many accolades over the years. The resort casitas overlook many miles of desert mountains, even as tucked away in the giant, canyon boulders as they are. This is one of the best resorts for luxury travelers who really want that authentic Arizona feel!
Every room features pueblo-style half walls, private balconies or patios, and one-of-a-kind log beam ceilings. The luxury spa is one of the top-rated in the state and the golf course is one of the favorites in the region. There are plenty of restaurants to enjoy as well, including classic, south of the border cuisine, and American eats.
---
Fairmont Scottsdale Princess
You can't talk about luxury hotel brands without mentioning Fairmont. When you first step foot into the Scottsdale Princess, you'll know why.
Looking past the high-class decor and incredible scenery, there are four top-notch restaurants, two separate golf courses, six pools, and much, much more. You can choose from 750 guest rooms, including 69 Fairmont Gold Rooms and two presidential suites.
With the Gold Rooms, you get access to the five-star gold lounge and an escort to a special reception area.
---
JW Marriott Tucson Starr Pass Resort & Spa
Not only does the JW Marriott Tucson Star Pass Resort & Spa offer pure luxury, but it also sits in a prime location — right next to Tucson!
The resort comes complete with a multi-level pool (lazy river and waterslide included), a golf club, a signature spa, and tons of dining options for both couples and families. The resort is probably one of the most affordable on our list too, as rooms typically sit in the higher end of $200 during the peak summer season.
If you are a business traveler or a student, having the ability to drive to the Tucson Convention Center or the University of Arizona in just a few minutes is very helpful too.
---
The Best Arizona Resorts Takeaway
Now comes the hard part, choosing which one of these incredible resorts in Arizona is the perfect fit for your family's adventure! From water parks to spas, horseback rides, and sleeping under the stars in luxury these resorts really offer it all.
---
Want a resort with an awesome water park? Check out Trekaroo's article about 14 awesome water park resorts in Arizona here!
---
Which of these resorts in Arizona catches your eye? Let us know in the comments!
---
If you enjoyed learning about the best Arizona Resorts, you may also like:
Explore the Culture and Arts in Tempe
Airbnb Sedona; 10 Amazing Place to Stay in Sedona Arizona
10 Unbelievable Nature Resorts to Enjoy the Outdoors
---
Frequently Asked Questions: Best Arizona Resorts
What are the best luxury resorts in Arizona?
Here are some luxury resorts in Arizona to consider.
The Phoenician, Scottsdale
The Ritz-Carlton, Dove Mountain, Marana
Sanctuary Camelback Mountain Resort and Spa, Paradise Valley
Four Seasons Resort Scottsdale at Troon North
Miraval Arizona Resort & Spa, Tucson
The Canyon Suites at The Phoenician, Scottsdale
Enchantment Resort, Sedona
Is it better to stay in Scottsdale or Sedona?
Deciding between staying in Scottsdale or Sedona depends on your preferences. If you prefer a vibrant urban setting with luxury resorts, shopping, and nightlife, Scottsdale may be a better choice.
On the other hand, if you seek natural beauty, outdoor activities like hiking, and a more serene, spiritual atmosphere, Sedona might be the ideal destination. Both locations offer unique experiences, so it's important to consider your desired activities and ambiance before making a decision.
---
Pin-It for later: The 10 Best Arizona Resorts in 2023!