There is nothing better than cozying up in your favorite holiday pajamas at Christmas time! Since we are a Disney family and love to visit the Disney Parks frequently, we also love to incorporate our love for Disney with our pajamas!
If you are also a Disney fan, you are going to love our list of our favorite Disney Christmas Pajamas! From Frozen to Mickey Mouse, we have an amazing list for you to start your holidays off right by adding some Disney magic to your Christmas Eve!
---
Do you have a Frozen fan in your life? Talk about Christmas, Frozen, and winter, and you get the perfect blend of everything in the form of Frozen-themed Disney Christmas pajamas.
This four-piece snug-fit set comprises 4 pieces, having 2 pairs of Anna and Elsa-themed pajama sets. A perfect pick for parents who have two daughters at home. Girls can even buy them to match the set with their sister or best friend.
The lounge pants are incredibly comfortable and snug to wear on winter nights as one indeed looks to wear them for something warm and comfy at the same time. This Disney Christmas Pajamas set perfectly completes the Disney theme while also being appropriate for the cold Christmas season.
---
We don't talk about Bruno, RIGHT? Are you an Encanto fan? Check out these adorable two-piece Disney Encanto Long John Pajama set! We love that it has two style options as well!
---
One can't separate Disney from Mickey Mouse and vice versa. Anything that is Disney-themed is bound to feature Mickey Mouse for all the good reasons. A unisex pajama set with Mickey Mouse printed on it while decorating a Christmas tree for the holiday season is all you need to show off.
As the pajama pair is unisex, it can be worn by boys and girls both and tend to make anyone look their best. The print and the color combination ideally provide the ideal blend of colors, vibrancy, and the much-needed Christmas feel of the holiday season.
The Mickey Mouse Holiday Disney Christmas pajamas also provide a celebratory feel which will help you stay in the holiday zone for an extended period. Plus, you can also wear it at your home, to anyone's house, or even to a family get-together wherever you like because the pajama set has a very stylish and relaxed feel attached to it.
---
Another great Disney animation series is Toy Story, which every kid loves. A unisex toddler pair of Toy Story Disney Christmas pajamas is all you need to get your toddler for this Christmas if they are a fan of the animated series.
The essential combination of red and white is probably the most famous and oldest Christmas combination, which can be seen in almost everything related to holiday decorations. This color blend provides a sophisticated and decent look to the pajama set, while the print of it adds a little pinch of funkiness to it.
You can get this unisex toddler Disney Christmas pajamas to your baby to help them feel comfortable and joyous at the same time this holiday season.
---
While some people refrain from matching clothes, the majority are fond of it, and why not? Matching clothes look utterly cute for all the right reasons. Wearing Mickey and Minnie-themed Family Matching Disney Christmas Pajamas for this year's Christmas will be the most adorable thing you can do this holiday season.
This fantastic family pajama set has a combination of the most beautiful and primary colors of Christmas, which are red, green, gray, and white. Not only are the prints cute, having Mickey mouse and Minnie Mouse wearing their Christmas-related dresses, but they also look great when you wear them with your family.
You can match clothes to attract everyone's attention and compel them to appreciate your style by wearing these pajama sets on a family get-together at your house or even at someone else's.'
---
Red is the color of celebration and likewise of Christmas celebrations. The wonderful Mickey Mouse Holiday Disney Christmas Pajamas can help you match your outfit with all of your family while also managing to look your best in comfy attire.
This family-matching pajama set is red, with Mickey Mouse printed. The colors and prints will surely provide you with the holiday vibe and feel that everyone loves to feel.
The vibrant colors and the popping prints will, needless to say, compel anyone who sees it to appreciate the bright attire and your dressing sense. Match clothes to wear at a special holiday event or even at your home to feel bonded and in the proper Christmas and holiday feel.
---
When everyone wants to stay their warmest in the cold winter season, you can opt for a warm pajama set that serves the proper purpose and indicates its benefits through its message. This pajama set's excellent pink and white combination can make any girl look pretty and stylish, even sleepy.
The shirt is of bright pink shade that reads 'The Warmest Holidays' while the pajama is of white color having tiny pink Mickey mouse printed on it. It is a women's wear pajama set that has the brightest colors and most funky designs for a pajama set.
However, The Warmest Holidays Disney Christmas pajamas are a must-have for any girl's wardrobe to look their stylish best and also to feel the warmest and coziest in the holiday season.
---
As Disney and Mickey mouse can't be separated from each other, similarly, Jingle bells and Christmas holidays can't also be separated from each other.
If you want a blend of all four components in a single product, you can go for the Jingle All the Way Disney Christmas Pajamas.
This pajama set has all the bright colors of the holidays in it, such as red, green, black, and gray. It has Minnie mouse printed on the shirt and J-shaped Christmas candies printed on the trousers. Although needless to say, they are comfortable and relaxing to wear while also serving as the perfect attire for this year's holiday season.
You can unapologetically wear this to any of your sleepovers, your house, or even somewhere you prefer to stay comfortable.
---
Other Disney Pajamas – Non-Holiday
Snuggle up at bedtime with this adorable Mickey Mouse three-piece sleep set! The set includes top, pants and a pillow!
---
Do you have a Minnie Mouse fan in your life? Then you are going to want to check out these cozy Minnie Mouse Disney Pajamas from Shop Disney!
---
We loved these adorable and cozy Mickey Mouse pajamas! Not only are they soft and warm, they are perfect for trips to the Disney Parks when you are staying at one of the resort hotels!
---
Who isn't a fan of Mickey and Minnie? We loved the simple look of this two-piece Mickey and Minnie pajama set! Perfect for just lounging around the house, or opening Christmas presents on Christmas morning!
---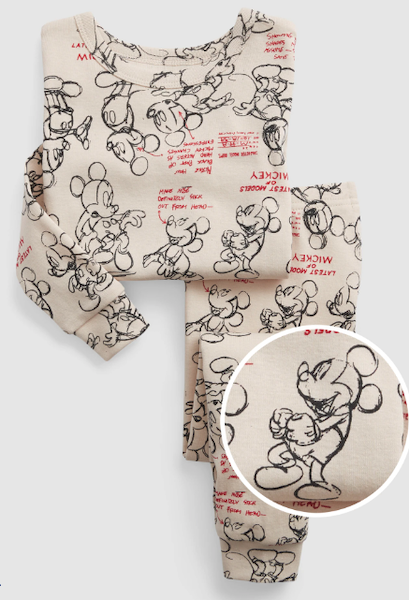 Another great find for our Disney Christmas pajamas list are these 100% organic cotton Mickey Mouse Sketch Pajamas from BabyGap!
---
These adorable pajamas will really put you in the magical mood! The Disney Minnie Mouse Hanna Anderson collaboration pajamas are definitely ones you have to add to your list of Disney Christmas Pajamas to purchase!
---
We don't talk about Bruno, RIGHT? Are you an Encanto fan? Check out these adorable two-piece Disney Encanto Long John Pajama set! We love that it has two style options as well!
---
To Infinity and BEYOND! These warm and cozy Buzz Lightyear pajamas are going to make that Toy Story fan in your life VERY HAPPY!
---
Frequently Asked Questions about Disney Christmas Pajamas
Do Disney hotels provide pajamas for families?
A large number of Disney Hotels provide pajamas for adults in medium and large sizes at the guest rooms. Pajamas for the children or small-size for adults are available at the guest service counter, for which guests have to make a request when checking in.
Where can you find vintage Disney pajamas and loungewear?
Some of the top places to find your vintage Disney pajamas and loungewear include:
H&M
Primark
Shop Disney
Amazon
Walmart and lots more
Which is the best set of  Disney Christmas matching pajamas and loungewear for families?
If you want matching pajama sets for your entire family to spend the Halloween and Christmas season in, then the Family Halloween Disney Christmas Pajamas is the most adorable option for you. You'd give your extended family and friends major family holiday goals by flaunting these adorable matching pajamas in your season's postcard too. 
Conclusion
As Disney Christmas pajamas are a new thing and trend for the holiday season, wearing them can not only help you look stylish and trendy but will also make you feel the holiday vibe throughout the season. You can wear these pajamas or match them with your family to create a wholesome look.
If you enjoyed our list of Disney Christmas pajamas, you might also like:
THE BEST HOLIDAY MATCHING PJS FOR LESS!
Pin for later! – Disney Christmas pajamas
Latest posts by Ashland Hendrix
(see all)