My husband and I have been going to Disney World and Disneyland for years. In fact, our first vacation together was to Disney World and we may or may not have sported a Disney Couple shirt.
Back then, the idea of Disney couple shirts was adding a Mickey and Minnie shirt to our Disney World Packing List. Nowadays, there are endless options, so we scoured the web and social media to find some amazing Disney Couple shirts. (Also, check out our amazing finds for Disney Family Shirts)
Our 10 Favorite Disney Couple Shirts.
---
Toy Story Disney Couple Shirts
If you love Toy Story, this might be the cutest Disney Couple Shirt on the market. You can't beat the iconic duo of Woody & Buzz.
---
These Shirts are a little Salty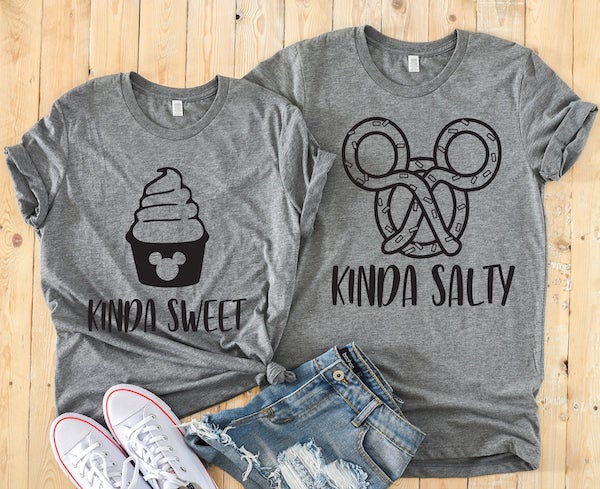 On these cute Disney snack-themed his and hers Disney shirts, you get to specify who in the couple is sweet and who is salty!
The best part about these shirts is that you can get the Minnie bow cut, leaving just two Mickey Mouse heads on them, making them unisex! Furthermore, these Disney couples shirts have some great color options.
---
Frozen Couple Shirts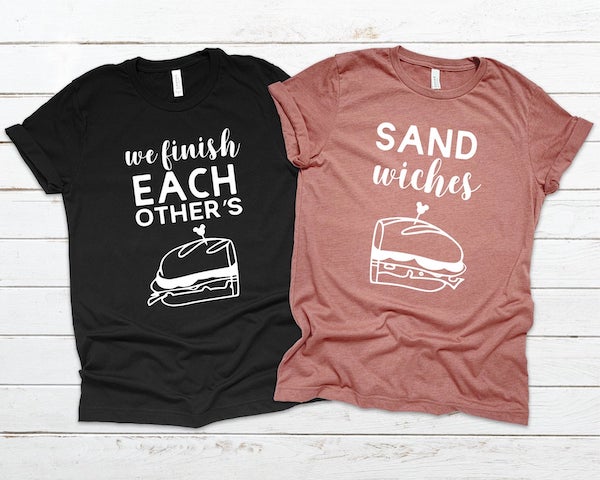 This Disney couple shirt collection is funny and relevant at the same time, based on Anna from Frozen who lets the dreamy side get the best of her! After all, love is a matching shirt, right?
This shirt is ideal for even the most laid-back Disney fans to show that they, too, want to show their love in Disney World, with over a dozen color options and a plain but innovative vinyl style.
---
Wanda Vision Couples Shirts
Wanda Vision has been quite a big thing in our household this year. Our teens absolutely loved the show. This shirt is perfect for the couple that loves Wanda Vision
---
Star Wars Couple Shirts
I Love You….. I Know is a classic Disney Couples shirt for anyone who loves star wars. The look on these shirts were much better than the simple text I have seen in the past.
---
Ears or Beers Shirts
This awesome ears/beers his and hers pair is another fantastic Disney couples shirt with a touch of humor. This cute grey shirt with signature Minnie Mouse ears goes well with the matching men's shirt. Of course, the women's shirt reads, "I wear the ears," while the men's reads, "I buy the beers," keeping the Minnie and Mickey Mouse theme going.
---
UP! Disney Couple Shirts
How adorable are these Carl & Ellie Shirts. If you loved up (and weeped like me) these are some amazing Disney Couple shirts for the iconic couple everyone wishes to be.
---
Wall-E Shirts
Wall-e and Eve Couple Shirts are just awesome. Perfect for any trip to Disney World.
---
Coco Couple Shirts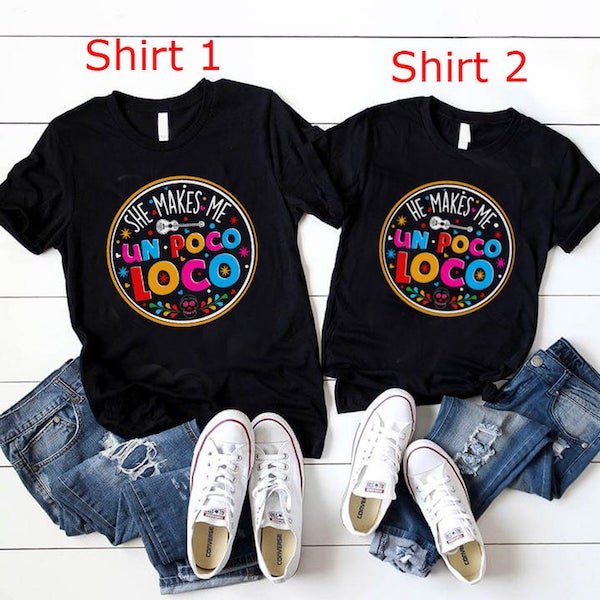 Love the movie Coco? Then these are the shirts for you. They only come in 6 darker colors but I think that's what makes the graphic pop.
---
Disney Shirts for Couples from Amazon
---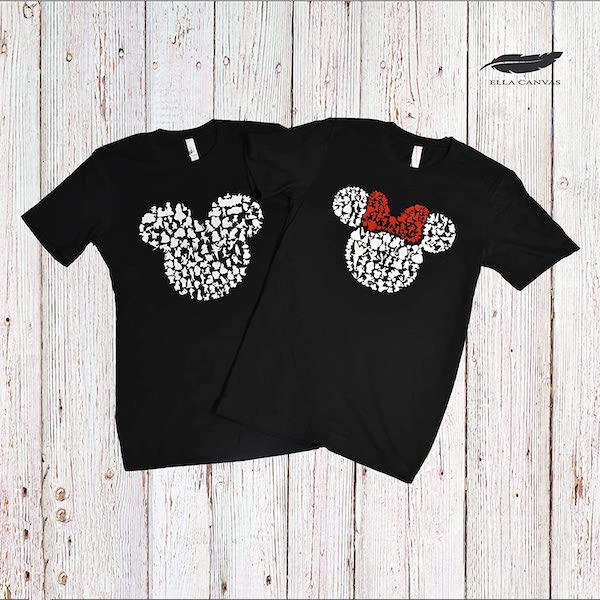 Matching Vacation Shirts, Mickey Minnie Disney Trip Tanks
Available in white, black, athletic heather, dark grey heather
---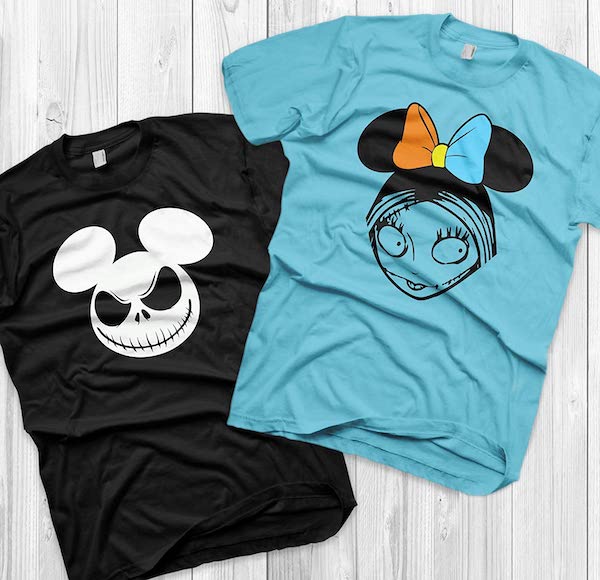 Jack and Sally Matching Shirts Disney Couples Shirts – For those who love Nightmare before Christmas, this is a must have couples shirt.
---
Bride & Groom Disney Couple Shirts
---
Wedding Rings Mickey & Minnie Shirts
These shirts are perfect for the newly married couple. The Minnie ring is set up to look like diamonds on the ring.
---
Bride & Groom Printable for Cricut
This is a super affordable way to creat a bride and groom Disney couples shirt. For only $3.50 you get the file to download and print on your own machine at home.
---
Mr. & Mrs. Force Shirts
These Mr & Mrs. Force Disney Couple Shirts are great as they have the date your marriage was "Established" on it. If you love Star Wars then this is the shirt for you.
---
Funny Disney Couple Shirt Ideas
---
My Favorite Villain is my Wife Shirt
You have to be a brave spouse to wear the "My favorite villain is my wife shirt" but it surely will make people chuckle as they pass by you in the parks.
---
Spoiled & Broke Disney Couple Shirts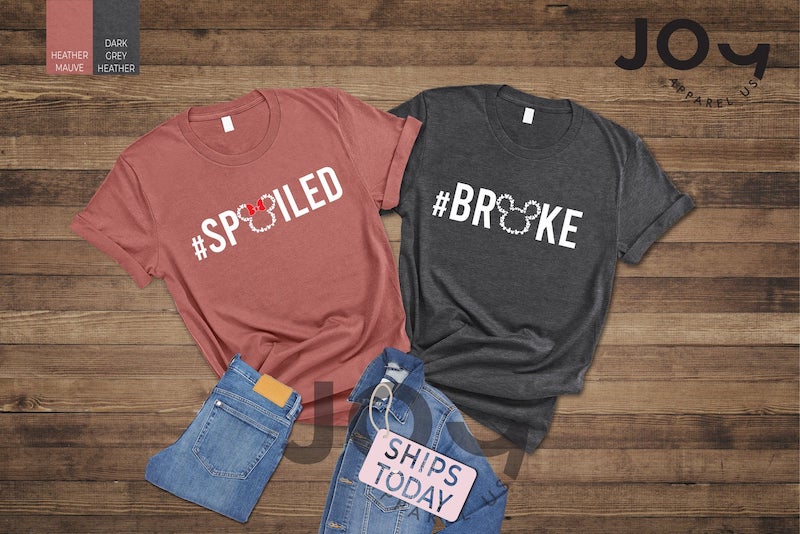 This fun little take on How much a Disney World Vacation costs is a great Disney Couples Shirt. They come in a ton of different color options and the shirts are priced very reasonably.
---
I Don't even know why these shirts are funny, but they just are. The people who reviewed them absolutely loved wearing them around the parks. They have a great price too at $10.99 so check them out.
---
Do you have a favorite Disney Couple Shirt? Let us know in the comments and we might add it to our list.
---
Pin-It for later: 21 Amazing Disney Couple Shirts + [3 You Have to See]
---
If you enjoyed reading about our top favorite Disney Couple Shirts, you might also enjoy:
33 AWESOME MATCHING DISNEY FAMILY SHIRTS [+3 WEIRD ONES!]
ULTIMATE DISNEY WORLD PACKING LIST [+ 12 UNIQUE ITEMS YOU MUST PACK]
75 AMAZING DISNEY WORLD TIPS [+ TOP 10] TO SAVE TIME & MONEY!
11 AMAZING STAR WARS DISNEY SHIRTS YOU'LL LOVE!