There are plenty of reasons to spend a day in Hollywood Studios when visiting Disney World; the thrilling rides, awesome shows, and especially with the new Star Wars Land. While sitting down for a meal at Hollywood Studios can be nice every once in a while, with 5 kids often I prefer quick service dining the majority of the time when we are in a Disney park. Now, I'll be honest, Hollywood studios quick service dining is probably my least favorite of the 4 parks, but I still found some delicious gems to share with you.
This list will be especially helpful if you are on a Disney Dining Plan and looking for the most delicious quick service locations while in Hollywood Studios. Thus, In no particular order, we present to you the best Hollywood quick service dining options.
If you're looking for adult beverages, which is sometimes the only way to get through a crowded day, Woody's Lunchbox is a great place to find one. They have a couple options for a beer and a refreshing Grown Up's Lemonade. Bonus, they also have a delicious quick service breakfast if you are headed to Hollywood Studios early.
8. Pizzerizzo
Looking for a quick service option that will please everyone? Pizzerizzo might just be the quick service dining option for you. It is my least favorite but I still find myself here.
You can choose from pizzas, a salad, or a sub. You have got to love dining at a quick service restaurant with more than just 2 kid's meal options, and Pizzerizzo has 4! They also have menu items that are wheat and gluten allergy friendly, milk allergy friendly, peanut/tree nut allergy friendly and all decent.
The pizzas here are very simple but have long been a favorite for theme park food lovers. When in the mood to treat yo'self, definitely order a cannoli or tiramisu here because they are to die for.
If you are NOT on a Disney Dining Plan, this is one of the most affordable places to grab a bite to eat while on the other hand if you are on the dining plan you won't be getting the most bang for your buck choosing Pizzerizzo. View Menu Here
7. Backlot Express
One of my favorite quick service options has got to be the Backlot Express. Yes, the fact that I can get a slushy there on a hot summer day does play a big role in making them a favorite. This being said Backlot Express does have a whole lot more on their menu than just slushies, from Cuban sandwiches to chicken and biscuits to a really popular Southwest salad. The Backlot Express is covered by a large warehouse roof. Under the roof you can escape the sun or the rain while munching on some good eats.
6. Dockside Diner
At the Dockside Diner, you will take a step back in time to 1950's California where crazy architecture and footlong hot dogs ruled the day. You will want to be really hungry before making a stop to eat here. You can enjoy a loaded chili cheese nachos, pulled pork, or a hot dog. This quick service diner is right on Echo Lake with comfortable shaded seating. It's hours vary day to day so double check that it is open before heading out of your way to eat there.
5. Rosie's All American Cafe
For another Hollywood Studios quick service American classics option, we give you Rosie's. There are two items that deserved to be mentioned before all else; 1). The Fried Green Tomato Sandwich topped with jalapeno ranch served on ciabatta bread. 2). The Incredibles Cupcake made of red velvet with mouthwatering cream cheese frosting. They also have burgers, chicken, and classic kid's meals. At Rosie Cafe, you will find plenty of shady tables to sit out at and enjoy a nice Orlando day.
4. ABC Commissary
The ABC Commissary will make you feel like you have stepped right off the set of the next big movie for a lunch or dinner break in the studio cafe. Some of their menu items have a bit of an international twist. The international twist is awesome if you are looking for something different than the usual. They have BBQ ribs, fish and shrimp platters, a Mediterranean salad (my personal fave), and even a vegan burger. They are a good option if you are looking for a bigger variety of kid's meal options. Inside you will find props from some of the most popular ABC shows. It also has a clean relaxing atmosphere to take a break from the chaos of the park.
3. Woody's Lunchbox
We can't help but put this brand new Hollywood Studios quick service option first on our list. Along with the awesome addition of Toy Story Land, Woody's Lunchbox has been opened and is serving up yummy American classics and one delicious rootbeer float. Kiddos and Toy Story fans of all ages will love the bright outdoor eating atmosphere.
Because you have "shrunk" to toy size you will get to sit at a table made of a Babybel cheese wrapper or use a lunchbox note from Andy's mom as your table. The must-try entrees here are the grilled three cheese sandwich and the "Totchos". They also have great kids meals and sides for small portion options.
2. Starbucks – My daughter's favorite Hollywood Studios Quick Service dining.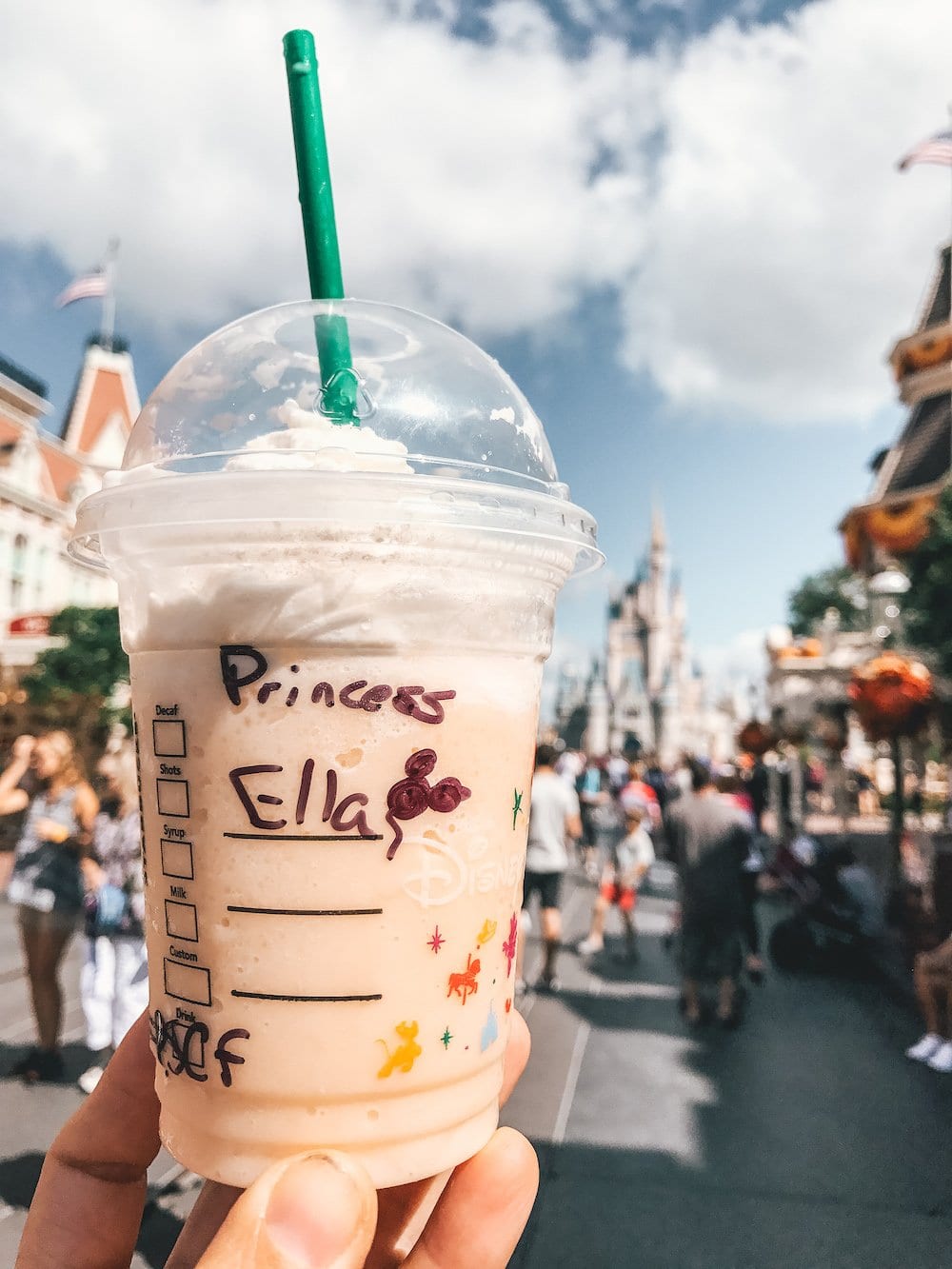 If you are a Starbucks lover like my Ella, well you are in luck because every Disney World park has one, so you can enjoy your favorite beverages and also their delicious bites. If you are on the quick service dining plan you can grab a sandwich and the largest and most delicious Starbucks drink you can order. You can also grab one of the very popular Starbucks Disney World mugs to add to your collection.
** Pro Tip** Ask for Disney in a cup and get a fun magical Disney Drink
1. DOCKING BAY 7
Located inside of a working hangar bay, Docking Bay 7 is a fun dining experience for the entire family. Serving breakfast, lunch, and dinner, your travel party can choose which meal sounds the most appealing to you. Breakfast specialties include Rising Moons Overnight Oats and the sweet Mustafarian Lava Roll.
Exclusively at lunch, you can enjoy the Felucian Garden Spread. It features plant-based Kefta, herb hummus, and tomato-cucumber relish with pita bread, and all-day entrees like Smoked Kaduu Pork Ribs and Yobshrimp Noodle Salad. The dinner menu features two additional entree options, the vegetarian Ithorian Garden Loaf and Braised Shaak Roast with Pasta.
You Might Also Enjoy:
The Best Rides at Hollywood Studios; [Top 7 Choices]
The 8 Best Epcot Quick Service Dining Options; A world of Deliciousness
Top 7! The Best Quick Service Dining; Magic Kingdom!
The Best Animal Kingdom Quick Service Dining Options! [Top 5!]
How do I reserve dining at Hollywood studios?
You can call 407-WDW-DINE (or book online) up to 180 days in advance 
What is the best quick service meal at Hollywood studios?
Docking Bay 7 is our favorite place to grab a bite to eat in Hollywood Studios
Pin for Later – We Ranked Every Hollywood Studios Quick Service Dining
Latest posts by Mama Munchkin
(see all)