Washington DC is a wonderful family-friendly destination filled with amazing museums, gorgeous monuments and beautiful parks- most of which are completely FREE. DC also boasts a wonderful (easy to use) transportation system and plenty of family-friendly dining too. To make sure you get the most out of visiting this awesome destination I have compiled the ULTIMATE Guide of things to do in Washington DC with kids. Check it out!
Getting to Washington D.C.
By Air:
The Washington, DC area has three airports for major commercial airlines: Dulles, Reagan National, and BWI. Reagan is known to be the most convenient and is the airport I would recommend to families.
But, that said any of the three airports will get you to DC without too much trouble. The Metro has a useful page to help you get from your airport of choice to DC (and vice versa on your return): Using Metro to get to and from the DC area airports
By Car:
The major north-south highway is Interstate 95 (I-95). Other major highways into the area are Interstate 270 (connecting to I-76/ I-70 to the north) and Interstate 66 (I-66) from the west.
The beltway, Interstate 495, surrounds the Washington DC area. If you are unfamiliar with the Beltway, you should be familiar with the names of your entry point and your exit point. The Beltway has an outer ring and an inner ring, and connects to Interstate 66 on the west (Port Royal), Interstate 95/395 on the south (Richmond), Interstate 95 on the north (Baltimore/ New York) and Interstate 270 on the northwest (Gaithersburg). You can find a map here.
By Train:
Amtrak serves Washington DC through their main station- Union Station. Union Station is a masterpiece of itself and is worth visiting even if you are not taking the train, to be honest!
Several commuter rails also service the area including: Virginia Railway Express (VRE) and Maryland Rail Commuter (MARC). And, the Metro Red Line also has a convenient stop at Union Station.
We rode Amtrak from DC to NYC and had a wonderful experience so I highly recommend Amtrak as a way to get around when traveling with kids. You can read more about that soon as I am working on finishing up a complete review of our trip.
Transportation:
Once in DC transportation is super easy. DC has a fantastic metro system that is affordable and convenient. We also found it was easy to walk to most places we wanted to be. DC is a fairly small area and easy to get around with lots of large walking paths.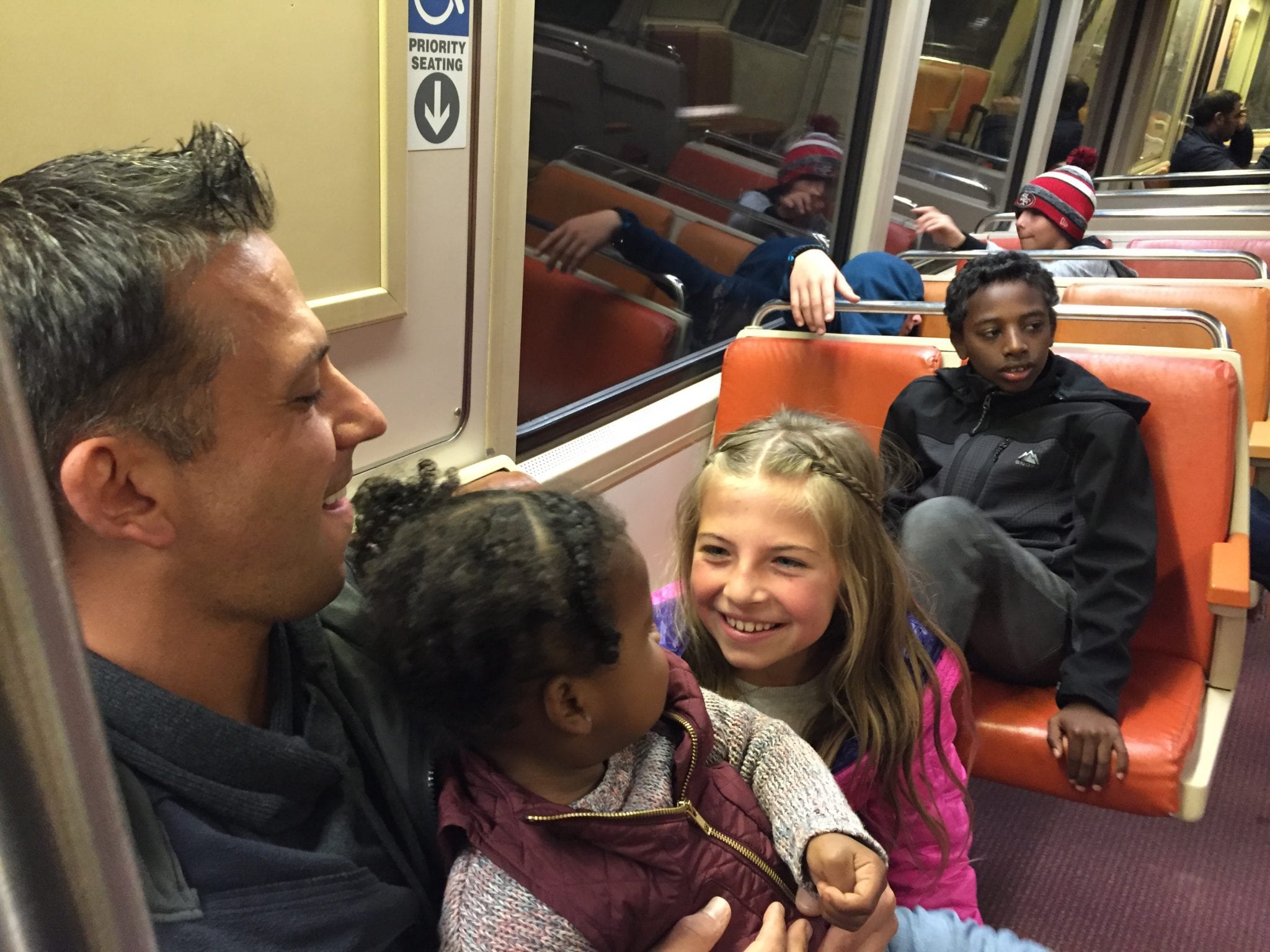 Other choices include: hopping on a bike, hailing a cab or calling an Uber to come and pick you up.
*Did you know that Uber XL offers larger vehicles that easily fit families. And, many Uber drivers now have carseats you can use as well. This is our main way of getting around everywhere that we go.
New to Uber? Get a FREE Ride:
Use my invite code and get a FREE ride up to $20!
Where to Stay:
There are many options when you start researching lodging in Washington DC as there are a plethora of hotels, B&B's and vacation rentals. Many are not budget friendly and are quite small.
If you are like us you are looking for a spacious room (preferably with a separated bedroom and living room situation), in a safe neighborhood, near the city center and close to public transportation. Of course a pool is always nice too! You not only want all of these things but you want them at an affordable price tag, too- right?
Well lucky for you I have done the hard research and found two wonderful hotels that are perfect for traveling to Washington DC with kids.
The two great finds we have come across are the One Washington Circle Hotel and the DoubleTree by Hilton- Crystal City.
You can click on each of their names and read my full review of the property plus take an inside peek at our rooms and the hotel grounds. As you can see both are equipped with a pool- BONUS!!!
You're welcome!!
Things to Do in Washington DC with Kids:
Oh boy, this list could go on & on & on &… well you get the point. There is A LOT to do in DC and you are not going to be able to do it all in a week. So, here are my Top 10 Things to do in DC with kids:
1. Fat Tire Tours: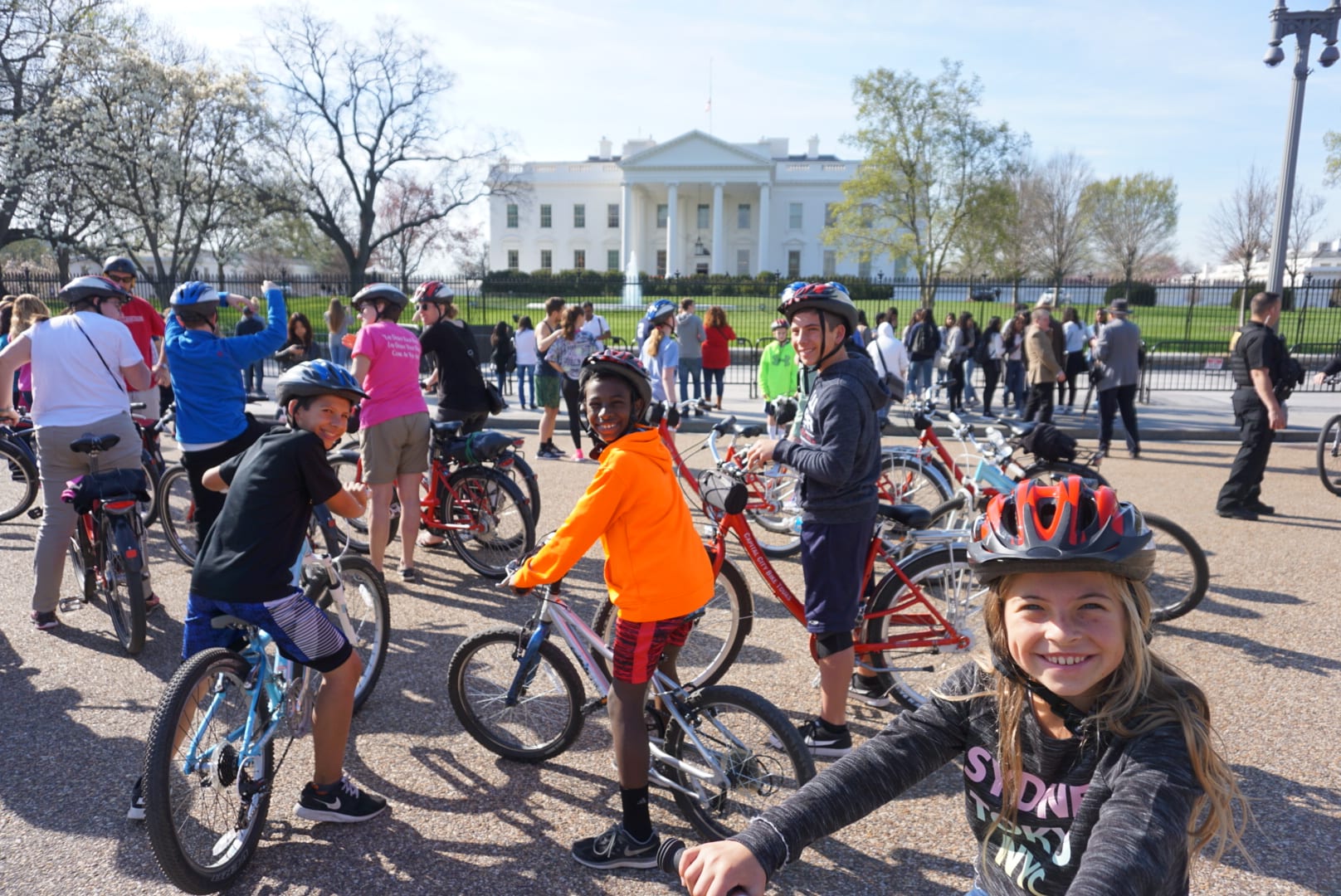 One of our favorite things to do in Washington D.C. with the kids was a bike tour. The kids LOVED Fat Tire Tours. As a general rule we typically love doing a bike tour within the first few days we arrive in a new destination. It allows us to get acquainted with the area. The kids burn some energy and we cover a lot of ground. Fat Tire Tours did an awesome job! They were informative and funny. Fat Tire has great options as far as types and sizes of bikes available and I would highly recommend them. They even had trailers to tow younger children!! *Check out our post on Fat Tire Paris here.
Don't believe me? Check out Owen's review on Global Munchkin's Facebook page by clicking the photo below 😉

2. National Mall:
This one is a no-brainer… everyone that visits DC will head to the National Mall. That is where you will find the Lincoln and Jefferson Memorials. I also really enjoyed spending time at the Martin Luther King Jr. and Roosevelt Memorials as well.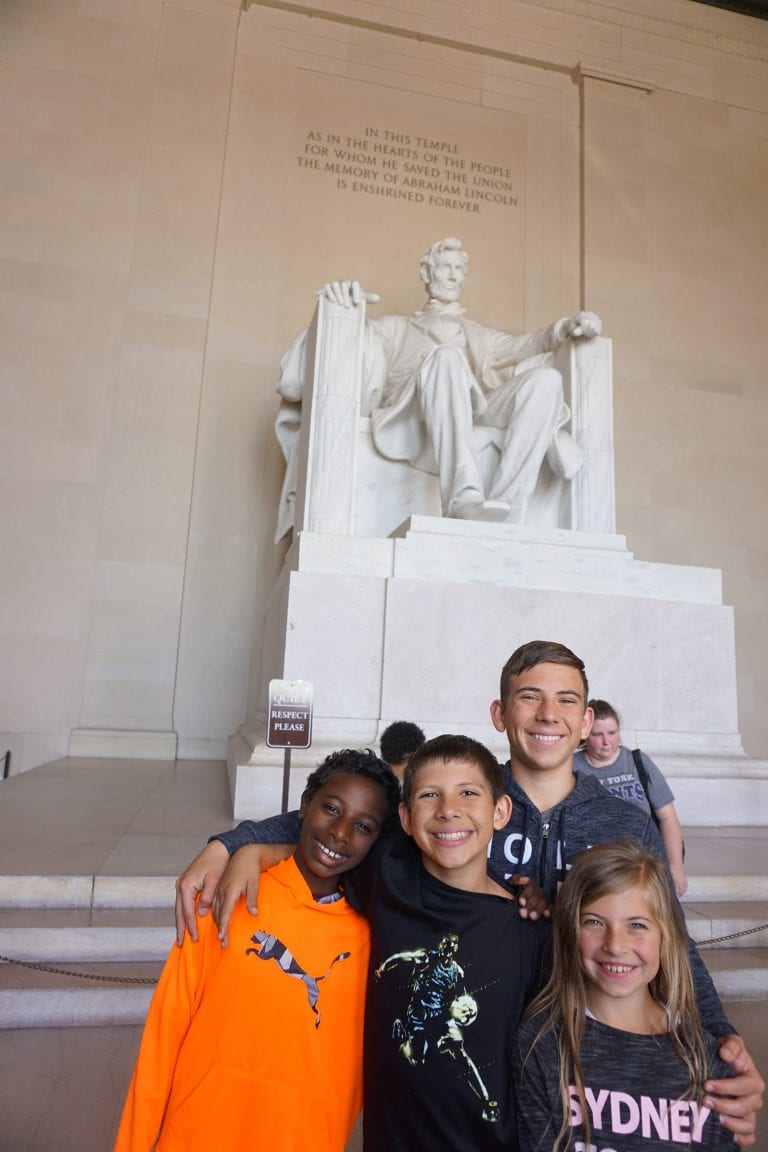 The entire mall is pretty spectacular. There are plenty of food vendors and restrooms plus open grass areas for the kids making it an excellent and easy choice for families.
*It is worth noting that it is easy to get around the National Mall (and most of DC for that matter) with a stroller for those traveling with little ones.
See our video of the National Mall below:

Find and book Washington DC tours and activities on Viator.com. Book ahead to save time and money!
3. Spy Museum:
This was one of our FAVORITE museums while in DC. The kids got a kick out of getting to choose their own character and become a spy at the International Spy Museum.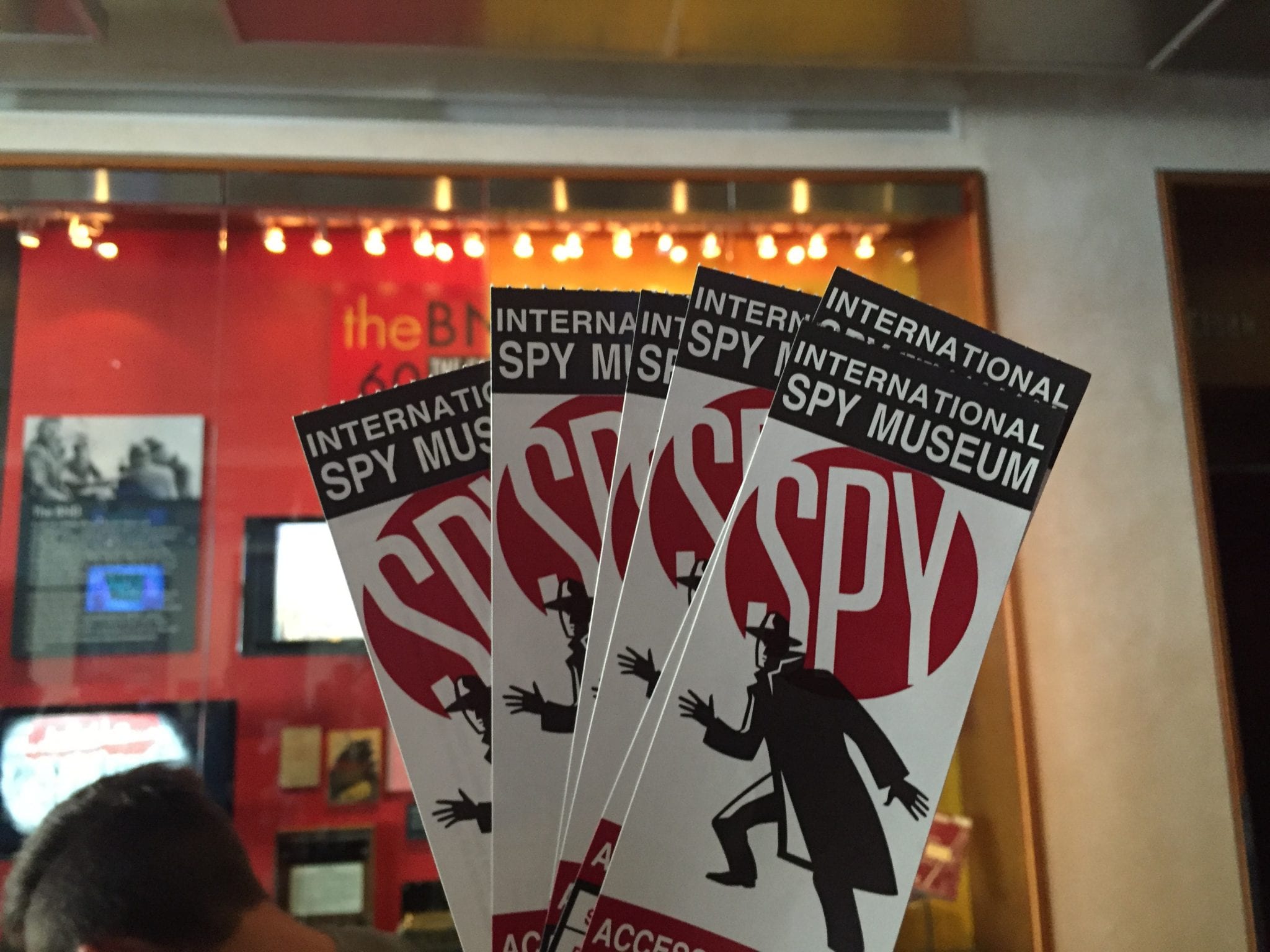 Not only did they love getting to play a character but they were also blown away by all of the authentic spy gadgets too. The exhibits were really interesting. There were displays, actual spy gear, mock displays that were interactive and more! We all walked away pretty blown away by what we had learned. Most of which we thought only existed in Hollywood.
Speaking of Hollywood the Spy Museum also has an entire floor dedicated to James Bond memorabilia which was also fun to walk through.
This is a museum that does have a fee attached unlike all of the Smithsonian's but it is well worth the money. We spent a good 3 hours in there and if we didn't have the baby with us I am positive the older kids would have begged us to stay longer.
Here is Ella talking about it on the Global Munchkin's Facebook page:

4. Newseum:
The Newseum is another museum that our family absolutely loved. Where else do you get to become a news broadcaster, learn about all the President's dogs, get to see a piece of the Berlin Wall and go behind the scenes to see how the FBI is fighting terrorism and cybercrime?
Not to mention seeing the front page of every major newspaper in the country. This museum will fascinate and educate both you and the kids.

You will walk away with a better appreciation for the right to have free press in our country. As well as an appreciation for the sacrifices our journalists make to give us the truth!
5. DC Ducks Tour:
What kid doesn't want to ride in a car that can drive into the Potomac River and become a boat? I mean c'mon how cool is that??

This was probably the most thrilling city tour we have taken. Of course, the kids and I enjoyed all the great sights like the National Mall, Capitol Hill, and the Smithsonian Museums. But, what really makes this tour special is getting to ride in a car that can drive into the water and turn into a boat! Getting to see all the sights from the new vantage point of the Potomac River is pretty awesome!!!
Watch the video of us going from land to water by clicking here.
The driver was extremely kid friendly. He even allowed the kids to take turns driving the boat while we were in the river. The quackers he handed out made the kids day although I don't think the parents had the same level of euphoria- ha ha ha!!! Maybe in the future, they should pass the quackers out to the kids along with ear plugs for the adults 😉 But, in all seriousness, this was a really fun and unique way to experience Washington DC. For more about DC Ducks click here.
6. Visit the White House
I never realized you could take a leisurely stroll past the White House until we did it when we were in DC. It was an absolute sight to see. Just incredible to think of the history that building holds. Amazing! Not to mention another completely FREE activity for families visiting DC.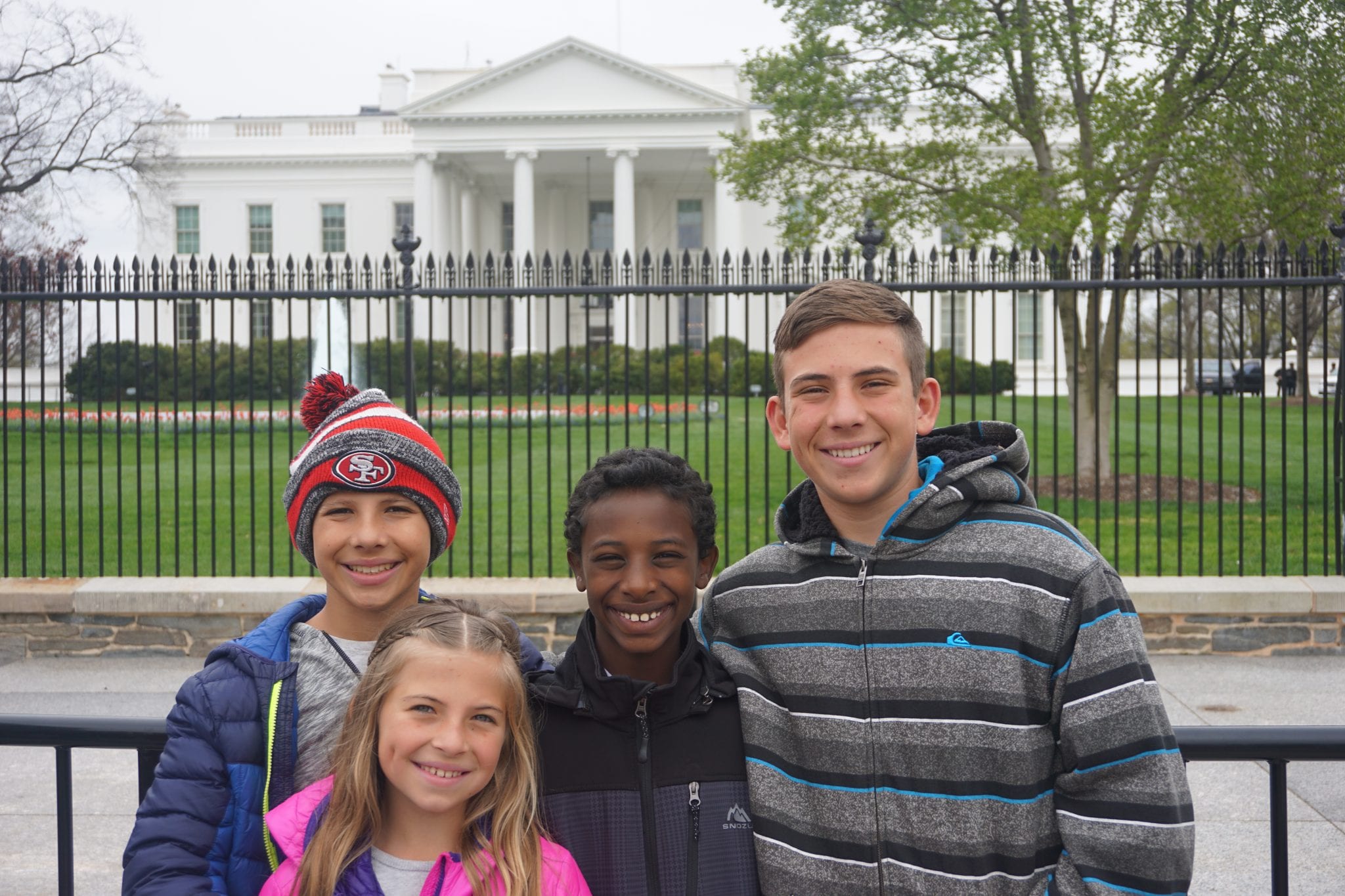 7. Air & Space Museum
The Smithsonian has 18 total museums and zoos in the DC Metro area. These museums are 100% FREE to the public and they are absolutely incredible too! One of our favorites was the Air & Space Museum. The kids loved checking out the Hubble Space Telescope test vehicle. Another favorite was the Apollo 11 command module. Getting to see what life as an astronaut is really like is one of those childhood fantasies I think.
Besides the kids' favorites listed above, the museum was also filled with tons of actual aircraft, spacecraft, missiles, and rockets to keep them entertained for hours.
For more information check out the Smithsonian website here.
8. Natural History Museum
If your kids have seen "Night at the Museum- Battle of the Smithsonian" stopping by the Natural History Museum will be a must. Not only is it filled with amazing educational exhibits but your kids will love racing around the museum recollecting- and if they are anything like my kids recreating- moments from the film as well.
For more information check out the Smithsonian website here.
9. Tour the Capital
I highly recommend you contact your state Senator and/ or Congressman to gain access to a staff-guided tour through the Capital. It was one of the highlights of our trip. Not only do you get a fantastic tour with your own guide but you also get VIP service and skip ahead most lines. Both of which make a tour so much easier when you have little ones in tow.
Get more information about contacting your state representatives for a tour here.
10. Relax in the Park
If you visit in the spring or summer you most definitely need to spend some downtime in our gorgeous parks. The kids get to burn off steam and you can relax. There are plenty of places around the National Mall & the Smithsonian Museums to take a break.
Bonus:
11. US Botanical Gardens
An unexpected treasure that we happened to come across was the United States Botanical Gardens. I would have never guessed the gardens were a place for kids but with their Tarzan like rainforest area and spacious outdoor gardens & fountains, the kids were fully engaged and having fun.
Pair that with the fact that the gardens are only a quick walk from the Smithsonian's making the Botanical Gardens a perfect addition to your itinerary. And, to be honest breathing in that fresh air and taking in the amazing scents. Every mom deserves that!
For more information on the United States, Botanical Garden check out their website here.
I really wish we would have been able to add a trip to Jamestown when we visited DC. It is only a few hours away. Check out We3Travel's post and see what makes Jamestown an awesome activity for families.
Visiting Boston? We3Travel also has a great article on the Boston Tea Party Museum and I also love this article from Y Travel Blog on Legendary things to do with kids in Boston over here.
Places to Eat:
Of course, one of our favorite things to do in Washington DC with kids (well, honestly anywhere) is eat good food! We tend to grab quick bites when we are traveling with the kids for 3 reasons. 1) They don't have the patience to sit, 2) It saves us money and 3) It is hard to find a table for 7.
Quick Service Restaurants we LOVED in DC:
Roti Mediterranean Grill:
Think of this as a Mediterranean version of Chipotle. You walk up and choose between a plate, salad or wrap. Then move down the line choosing your choice of meats and toppings. It was DELICIOUS and we ate at several different Roti's while we were in town. Super healthy and delicious!
Protein Bar:
Now this didn't look like a place the kids would enjoy since its all healthy protein based food. However, after coming here to grab protein shakes for my husband and I the kids begged us to return. They enjoyed the chili, wraps, and shakes. All which were healthy on the go options. It was a great place for breakfast or lunch.
Pret A Manger: (pictured above)
Ever since we visited a Pret in London we have fallen in love. These healthy quick bite establishments are great for breakfast, lunch or dinner. They have hot and cold grab and go items plus serve delicious organic coffee. This is one of our favorites and it is incredibly affordable too!
Extreme Pizza:
Pizza is always an easy choice. When we were staying in Arlington we found this pizza place near our hotel and we LOVED it. They had an amazing garden/ veggie pizza that I just couldn't get enough of. The kids had their plain pizza and there was plenty of seating and tv's to keep the kid's attention. Perfect after a long day of sight-seeing.
Cantina Mexicana:

This one makes the list because I imagine it must be hard to find authentic Mexican food so far away from Mexico. In southern CA we are spoiled with some of the best Mexican food around so when we happened to stop at this restaurant my expectations were pretty low. Boy, was I surprised? The food was excellent, the servers were amazing with the kids and the owner even asked if he could get the kids ice cream sundaes on the house. Great spot!
Sweet Treats:
Astro Doughnuts & Fried Chicken: (pictured above)
a fellow travel blogger (@WalkingOnTravels) told me about this amazing little doughnut shop. I could tell by the huge line when we arrived that we were in for a treat. Astro had some of the most creative and tasty doughnuts I have tried (almost as good as my homemade ones- but that's a different story). You will definitely want to make it over to this hip little joint!
Captain Cookie & the Milkman:
we stumbled across this amazing find. Fresh baked cookies meet homemade ice cream. You get to choose your top and bottom cookie flavors as well as your flavor of ice cream. The Nutella cookie with vanilla ice cream may sound plain but it was a flavor explosion in my mouth. YUM!!!
One we missed but worth a visit I think:
Good Stuff Eatery: (pictured above) You may remember seeing Obama and the secret service in this tasty dinner on the news. Their fries and shakes look incredible. We will definitely have to come back and give it a try!
Pin for later: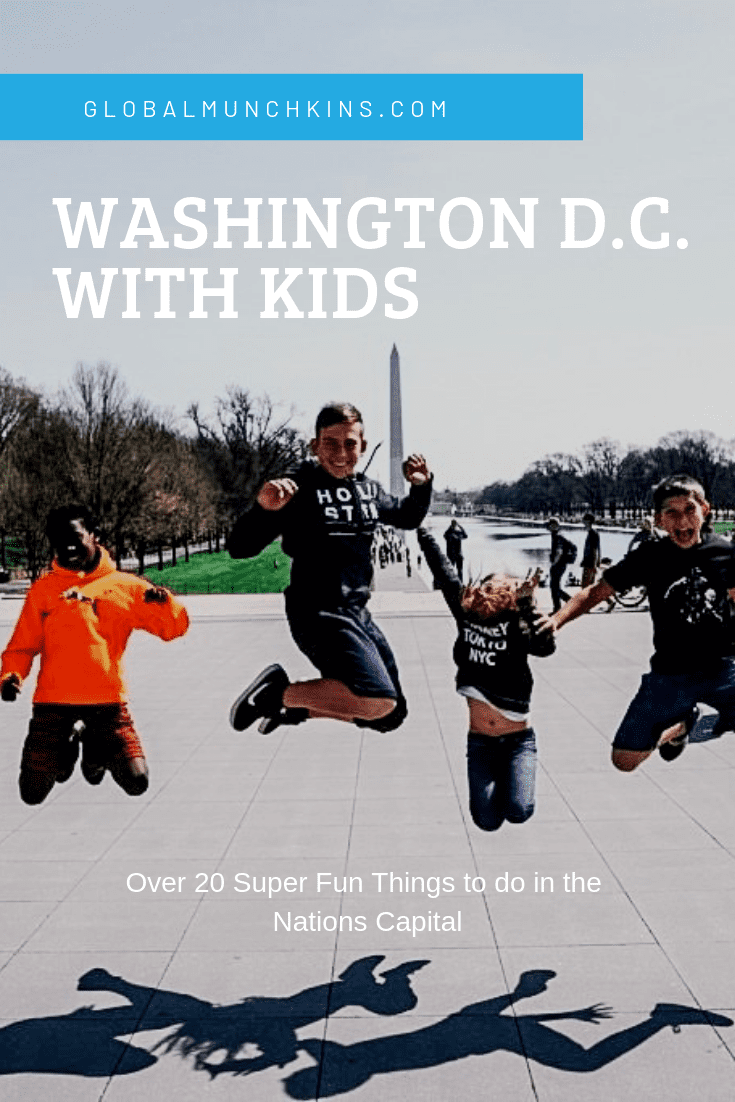 Have you visited Washington DC?
Know of a great family activity, restaurant or place to stay that I missed? Let me know about it in the comments below. Thanks!!
You may also like these hand-picked related posts-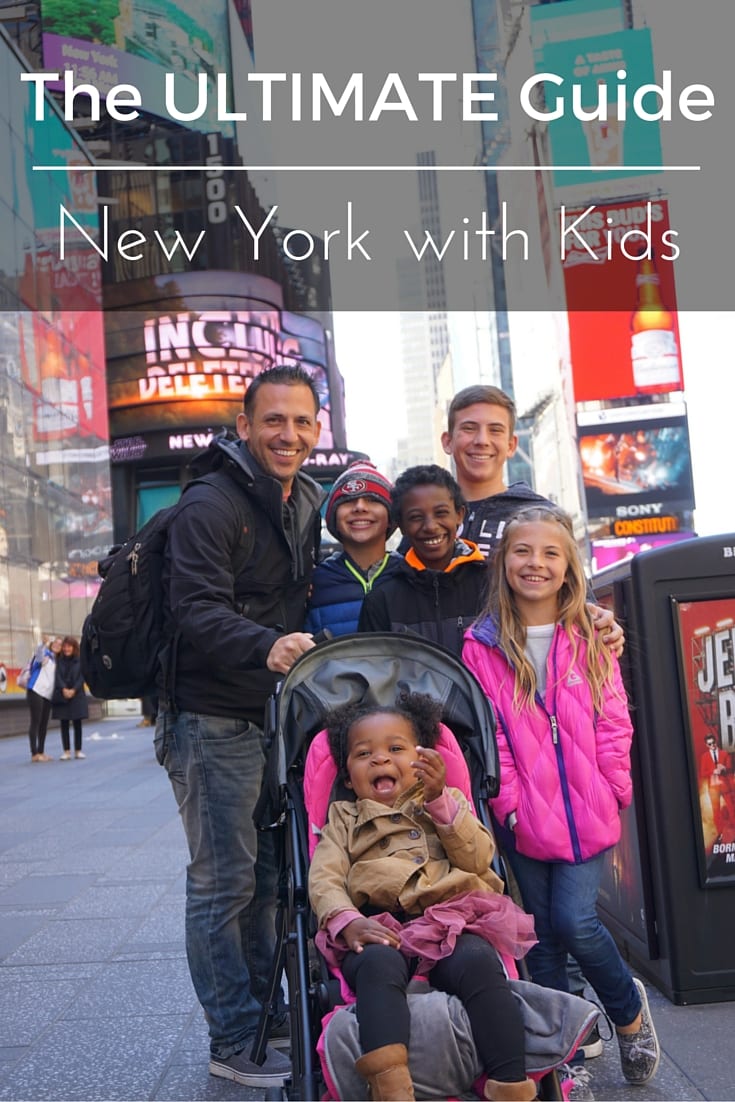 *Disclosure- This is a personal blog all thoughts and opinions expressed are for informational purposes only. At times Global Munchkins receives discounted or complimentary services and/ or products, however, all thoughts and opinions expressed are, as always, 100% my own.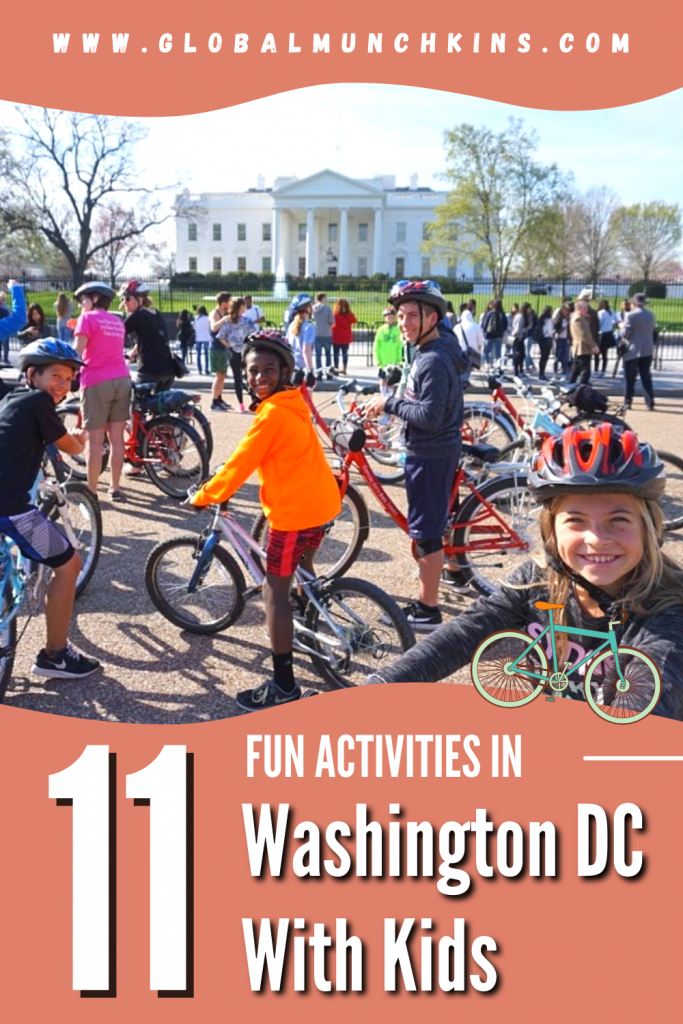 Latest posts by Mama Munchkin
(see all)